Southwest Airlines pilot discontent as the union pushes to be paid for industry leading productivity
Analysis
The record profitability enjoyed by US airlines during the past couple of years has arguably added another layer of complexity onto already intricate labour negotiations. Airlines are faced with explaining generous shareholder rewards while stressing the need to preserve competitive costs.

Negotiations between Southwest Airlines and its pilots - that have dragged on for four years - represent some of the most contentious collective bargaining in the airline's history; they have culminated in a recent lawsuit filed by the pilots to prevent Southwest from operating the Boeing 737 Max next-generation narrowbody until the two sides broker a new contract. The airline is scheduled to take first deliveries of the aircraft in 2017.

Pilots are suing the airline as Southwest weighs a contract proposal that it received earlier in 2016, which entails ample raises. Southwest's pilots argue that they are the most productive pilot workforce among the largest four US airlines. Company executives, meanwhile, have to satisfy the demands of both labour and Wall Street as they work toward reaching a new collective bargaining agreement with pilots.
Southwest has to balance rewarding employees and staving off cost creep
In 2011 – prior to the pilots' contract-amendable date – the Southwest CEO, Gary Kelly, sent a note to employees warning that the airline was losing its cost advantage due to the Chapter 11 bankruptcy organisations undertaken by the US major airlines – now merged to form American, Delta and United.

Mr Kelly stated that Southwest's labour rates were the highest in the industry: "We can't have lower overall operating costs if our labour costs aren't lower. We can't have lower labour costs if we aren't more productive", he cautioned.

Between 2013 and 2015 Southwest's salaries, wages and benefits grew 6%, 8% and 17.5%, respectively.
Southwest Airlines annual salaries, wages and benefits: 2008 to 2015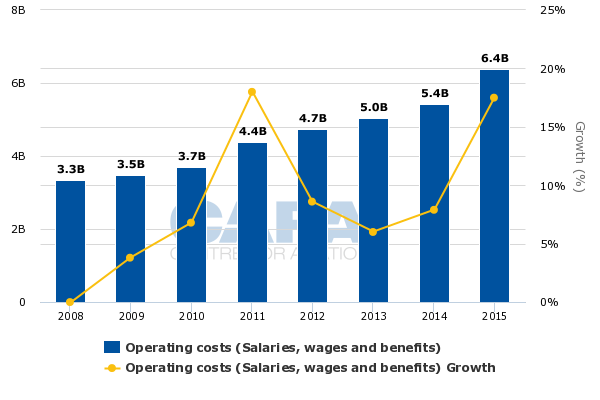 Although Southwest's operating costs were flat in 2013 and 2014, and fell 4% in 2015 (largely due to decreasing fuel costs), the percentage of labour expense as a total of operating costs continued to increase during that period.
Southwest Airlines annual operating costs: 2008 to 2015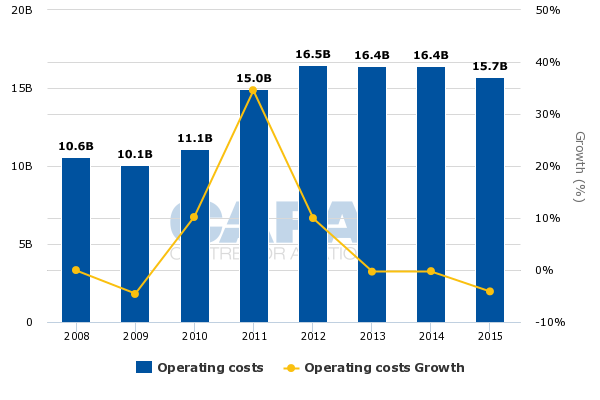 Southwest salary, wages and benefits as a percent of overall operating expense: 2013 to 2015
| | | | |
| --- | --- | --- | --- |
| Year | Salary, wages & benefits expense | Total operating expense | Percentage of total as labour |
| 2013 | USD5 billion | USD16.4 billion | 30% |
| 2014 | USD5.4 billion | USD16.4 billion | 33% |
| 2015 | USD6.4 billion | USD15.7 billion | 41% |
Negotiations between Southwest and its pilots began in 2012, and in 2014 – as bargaining began to drag on – the pilots filed for mediation with the US National Mediation Board, which is not uncommon in airline negotiations but somewhat rare in Southwest's history.

In May-2015 Southwest's pilot union staff decided to fund a strike-preparedness committee, with pilots noting that management had not created an economic offer that could bring both sides to agreement.

Later in 2015 Southwest's pilots rejected a tentative agreement that entailed a 17.6% raise over a four-year period. But the board of directors of the Southwest Airlines Pilots Association (SWAPA) did not either reject or endorse the deal, noting that the agreement featured some givebacks that were important to pilots including codesharing.

See related report: Delta, United and Southwest navigate vital labour talks as profits surge
Southwest pilots have sued to block 737 Max operations – unless a new contract is forged
Pilot frustration continued to simmer in 2016, reflected in silent picketing conducted by the work group at Southwest's annual shareholder meeting in May-2016.

Additionally, Southwest has accelerated the retirement of its Boeing 737 Classics from YE2018 to 3Q2017. Part of the reason the company decided to speed up the retirements was an unsuccessful effort to reach an agreement with pilots to segment the operation between the Classics and 737 Max aircraft that are scheduled to begin arriving at Southwest in 2017.
The airline is the launch customer for the next generation jet and has 170 on order.
Southwest Airlines fleet summary as of 3-Jun-2016
See related report: Southwest enjoys revenue benefits from credit card deal; labour issues force early 737 Classic exit

Southwest pilots recently sued the airline, arguing that the Max is not included in the current bargaining agreement, and therefore pilots cannot be required to operate the aircraft until a new contract is brokered. Southwest has told the local news outlet, the Dallas Morning News, that the lawsuit was unnecessary and premature. The airline has also stated to the paper that if a new contract is not reached before first delivery of the 737 Max, it believes that the company has the right to operate the jets under the current contract.

It is a high-stakes move by the pilot union, but one born out of years of frustration over the collective bargaining process – years in which Southwest has made handsome profits and steadily increased shareholder rewards.

In the years between 2013 and 2015 Southwest's profits increased 79%, 51% and 92%.
Southwest airlines annual profits: 2008 to 2015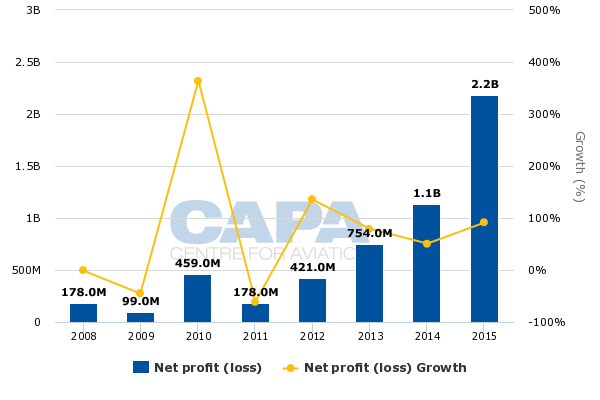 The airline's pilots estimate that total shareholder rewards from 2013 to 2015 have been USD5.5 billion.
Southwest Airlines shareholder returns: 2013 to 2016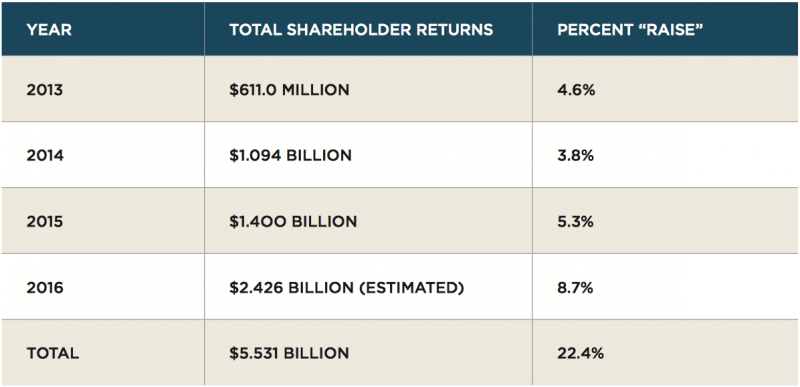 Southwest pilots believe their superior productivity warrants pay rates above their peers
Southwest pilots understand the necessity of sharing some of the company's profitability with shareholders, but question the level of those returns.
"SWAPA recognizes the fact that Southwest Airlines is a for-profit business and our shareholders deserve their share, but as with most of corporate America, that equation is out of balance today", the union recently stated.

In Mar-2016 SWAPA sent management a proposal that requests a 33% compounded raise over seven years by Oct-2019. Pilots also seek an 18% increase in pay rates upon contract ratification to cover the negotiation period in which pilots did not receive pay increases. Under the proposal, a 12-year seniority Southwest captain would receive USD289.44 per hour – compared with USD245.80 at United, USD234.67 at American and USD235.56 under a tentative deal rejected by Delta in 2015. (All the rates are calculated for 12-year captains on similar 737 aircraft)

Although the Southwest pilot proposal leapfrogs the pay rates of the three large US global network airlines, SWAPA argues that its pilots produce industry-leading productivity. The union calculates that Southwest pilots average 35 percent more block hours than pilots at American, 44 percent more than at Delta, and 53 percent more than at United.
Southwest, American, Delta and United annual pilot productivity: 2015 (measured in block hours)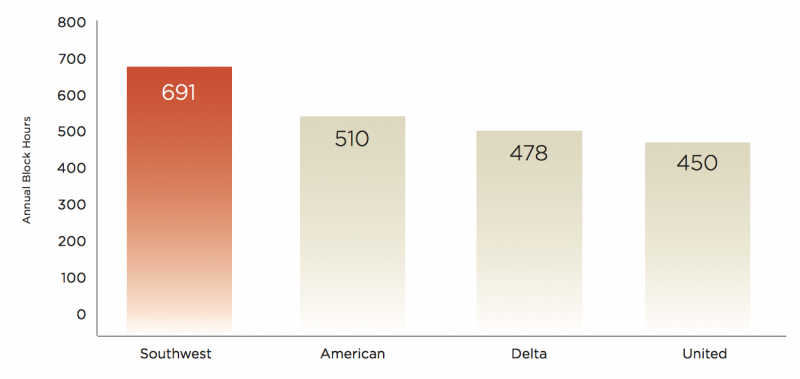 SWAPA has stated that its proposal recognises that Southwest's pilots are the most productive in the industry, and the proposed pay rates "were derived to reflect increases in market rates since our contract became amendable".

There are many ways to calculate the effects of the proposed pay increases on Southwest's costs. Some Wall Street analysts have estimated that the pilot proposal could result in a CASM increase of two points.
Southwest's lower average stage length results in higher unit costs than its US low cost peers, including JetBlue and Virgin America, according to CAPA's CASK database (the latest data available in 2014).
Prior to the ratification of pilot and flight attendant contracts in 2015, American during 2014 had the lowest unit costs among the three large US airlines. American's top-line salaries, wages and benefits increased nearly 12% in 2015.
Southwest, JetBlue, Virgin America, American, Delta and United unit costs: 2014*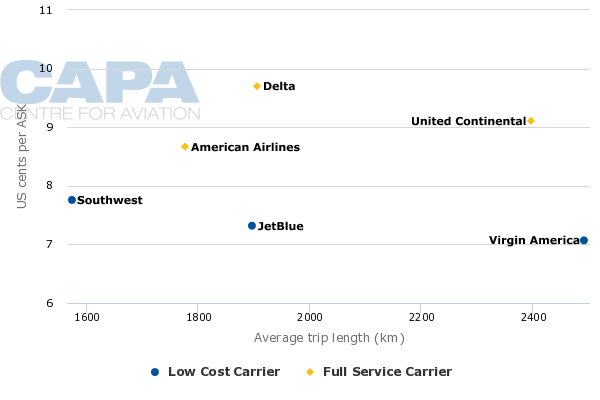 The reality is that SWAPA's proposal is an opening offer that will be subject to further – and likely intense – negotiations: "All of this has to be addressed at the negotiating table, and with an eye towards rewarding our people, and compensating them handsomely, but doing so in a way where we maintain industry leading productivity and efficiency so that we can sustain our low cost structure", the Southwest CEO Mr Kelly recently said.
Southwest Airlines can ill afford prolonged employee discontent. It is time for a new pilot contract
Both Southwest and its pilots have valid points of negotiation as they work to forge a new collective bargaining agreement. These contentious negotiations have dragged on for years, and have tarnished Southwest's image of superior employee relations.

Although Southwest needs to ensure that a new contract offers favourable economics, if negotiations spill over into a fifth year pilot discontent will only expand and grow louder.
Southwest no doubt recognises that it needs satisfied employees to sustain its popular brand image, and more importantly – to sustain its growing revenues.