Northeast Asia aviation 2018 outlook: Chinese airlines begin to take on the role of disrupters
Analysis
The world's airlines are increasingly putting aside their concerns about Gulf superconnectors to acknowledge instead the growing competitive concern about airlines in mainland China, which, in just one indication of their might, have opened over 100 new long haul destinations in the past decade.
Chinese fleet growth is still characterised by orders placed for near term delivery. They operate young 777-300ER fleets, so 777X sales are not an immediate concern. A350 sales are increasing, while the A330neo and the assumed 797 will one day be good fits for the region's airlines.
There is much to be addressed in the way that the airlines interface with each other through partnerships and alliances. There were significant changes in 2017 that will be put to bed in 2018 – or perhaps overturned.
Summary
Partnerships are still in flux in Asia, unlike their settled nature in North America and Europe
LCCs taking longer than expected to grow in mainland China
A330neo and 797 are a good fit for Asian airlines
Mainland Chinese airlines opening new long haul routes, but dependent on subsidies and incentives
Airlines outside China are putting aside concerns about Gulf airlines to worry about the growing role of Chinese airlines
2017's partnership developments to change shape in 2018
2017 was a year of new beginnings. Japan Airlines came off government-imposed growth restrictions resulting from its bankruptcy restructuring. New beginnings were felt with partnerships, but these need time to evolve, and for the ability to see how the suitors fit – or don't.
American Airlines crossed alliance lines to invest in China Southern. Besides China Southern being the most major Chinese airline amenable to a partnership, its expanded presence at the new Beijing airport in Daxing from 2019 should help American (much more so than does China Southern's existing home hub at Guangzhou, which American doesn't serve).
Korean Air and Delta Air Lines settled a long spat, with plans to form a joint venture. Besides needing regulatory approval, Korean Air needs to be convinced this is a partnership for the long term. Korean Air still harbours ill will from Delta's heavy-handed tactics. Korean Air feels that Delta has the better arrangement in the JV, and can play Korean Air against China Eastern.
An unexpected partnership was Qatar Airways' minority investment in Cathay Pacific. Qatar purchased its shares from a vocal industrial conglomerate that the reserved Cathay was probably happy to forgo. But for Europe, where Cathay and Qatar overlap the most (and thus might partner), Cathay was planning to tie its future to Lufthansa.
Many of Northeast Asia's full service airlines have undergone a leadership change in the last two years, and the new crop of executives – often younger and not taking full service dominance for granted – are starting to make their mark. For all the LCC growth and achievements there is still great potential, but at the same time significant infrastructure challenges and lack of government support, especially in mainland China.
Domestic LCC market share at China's largest airports: Jun-2017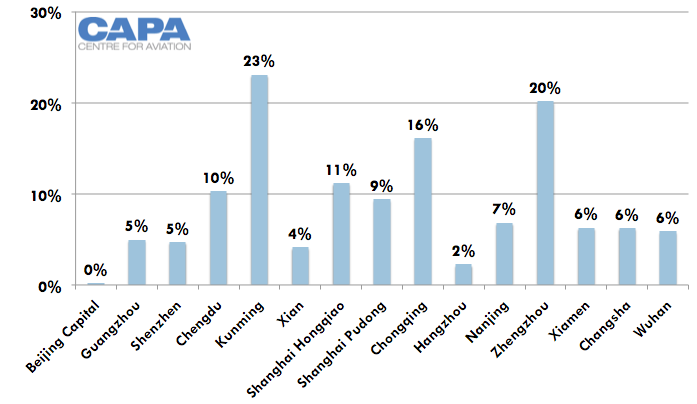 Fleet: A330neo and Boeing's 797 have a home in Asia
Asia is often thought of as the land for big aircraft, but there are notable developments with smaller types: at the end of 2017 Korean Air took delivery of its first CSeries (the first in Asia); Bombardier and Embraer hope China's aviation master planners will take their attention off international and trunk domestic routes to realise the opportunity for regional aircraft in China, where the country's sprawling high speed rail network does not overlap. China is continuing testing of its C919, and will garner more high-profile customers.
Boeing has more potential in Northeast Asia for 777X sales (many airlines still operate young 777-300ERs), and in 2017 Airbus made further A350 inroads – especially in mainland China.
But the focus is turning to even newer aircraft: there are large A330 fleets across Asia that could be replaced by the A330neo.
777-300ER age comparison: Nov-2017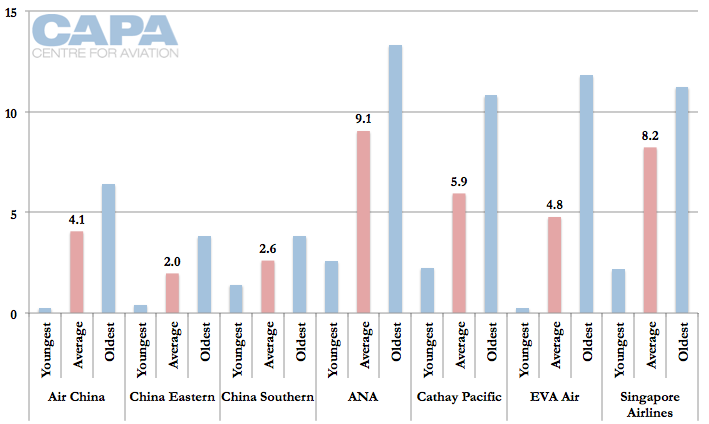 Boeing's study of a middle-of-the-market aircraft (surely what will be the 797) could be particularly attractive to the region's growing low cost airlines, which are seeking either more capacity to trunk airports (though these are typically constrained), or want to fly further without acquiring high-capacity widebody aircraft.
Higher-capacity A321neos will increasingly be present at Asia's LCCs, but so far there is limited appetite for the longer-range narrowbodies that are making headlines (and creating new city pairs) in the trans-Atlantic market.
A350 and 787s in service/on order (known) for mainland China: as of 01-Aug-2017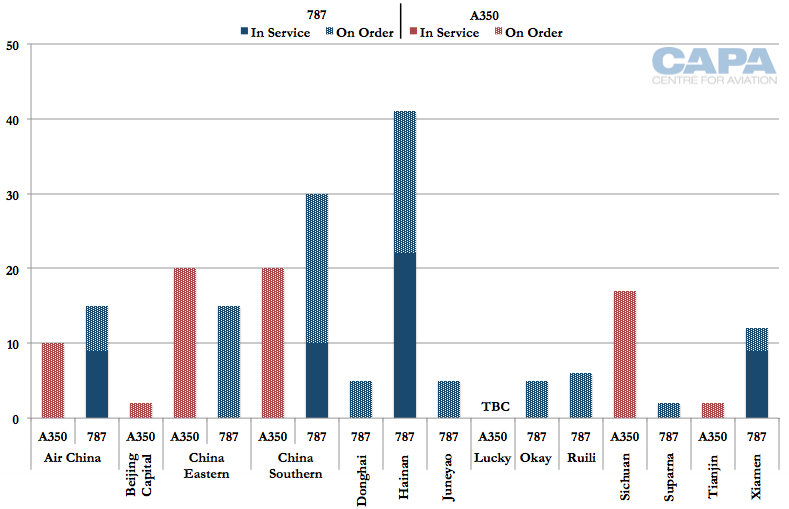 Routes: Northeast Asia leads the world in new connectivity
Connectivity in Northeast Asia continues to boom, mostly due to mainland Chinese airlines that have opened new destinations by the dozen (albeit from a low base). This growth has been artificially accelerated due to the combination of Chinese airlines wanting to grab precious traffic rights while taking advantage of handsome subsidies, often from secondary and tertiary cities.
There will be some slowing of growth now that traffic rights in key long markets are constrained, and expanding the agreements is often contentious because foreign airlines are unable to access slots at Chinese airports.
Mainland Chinese airlines' long haul destinations opened or planned since 2006: as of 09-Oct-2017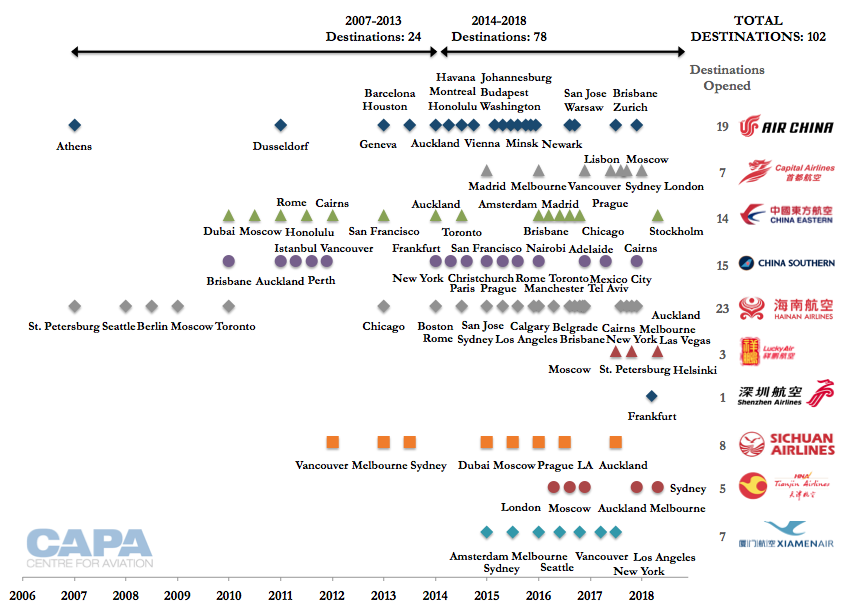 Headline growth is not just from mainland Chinese airlines.
Cathay Pacific, Hong Kong Airlines, All Nippon Airways and Japan Airlines also lead, with strong growth of new destinations. Hong Kong Airlines and Japan Airlines are expected to continue to open new destinations, although they are not keeping pace with their larger home rivals, Cathay and ANA.
For the Japanese operators the key focus is on trans-Pacific connectivity, where their hubs are ideally positioned geographically to facilitate growth. That means growth in North America but also regional Asia, to feed connectivity. Southeast Asia also has growing local demand due to outsourced Japanese manufacturing and inbound tourism. India presents an opportunity, too.
Although Cathay and Hong Kong Airlines are based in the same city, their growth is different. Hong Kong Airlines has lower frequency on its long haul services, lacks foreign partners, and mostly feeds its flights from mainland China. The airline has yet to establish reputable local strength in Hong Kong, or the strong regional Asia market that powers Cathay's long haul flying.
Northeast Asian airlines' long haul destinations opened or planned since 2006: as of 09-Oct-2017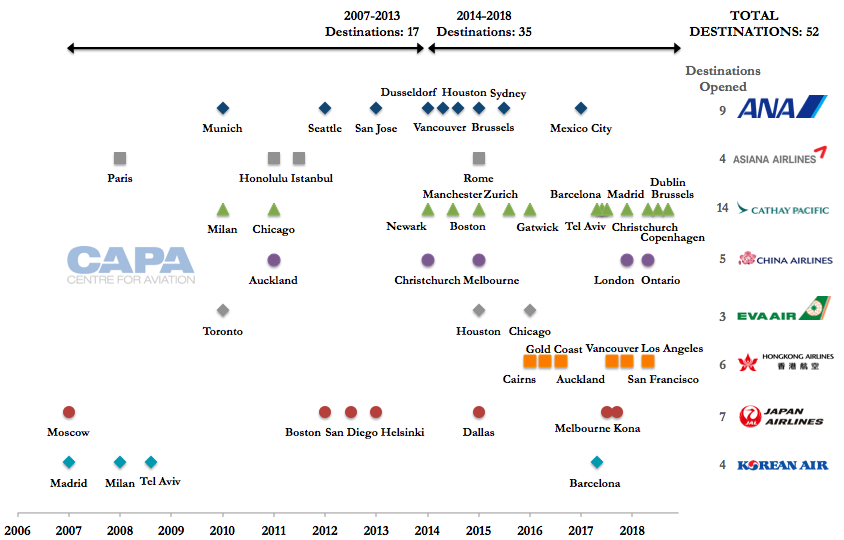 Outlook: competitive concerns begin to shift from the Gulf to China
Mainland Chinese airlines are supplanting their Gulf peers as the competitive long haul concern for other airlines. This is partially as Etihad slows down (as do others, in some forms), but is mostly a realisation of the potential the Chinese airlines, and their intent to have their fair share (or more) of the market.
Despite some restructuring efforts, Asia's established airlines are still bloated and not making full commitment to radical changes, as their North American and European peers have. But there is also a sense that making these changes – stripping out service – is a road that is difficult to turn around from.
It is cheaper to be a full service airline in Asia than elsewhere. Asia's airlines also have a feeling (with good reason) that many of their recent problems are due to a significant short term overcapacity, which has depressed yields.
Before making seismic and potentially brand-devastating changes, airlines want a more rational market. Slowing Chinese growth in 2018 will give a sense of what the future may hold.