Mexico's Interjet looks to exploit new opportunities in the US during 2016. An IPO perhaps to follow
Analysis
Mexican airline Interjet celebrated its 10th anniversary at the end of 2015, and predicted it would transport 10 million passengers for the year. For the first 11 months of 2015 the airline maintained a tie with fellow low cost airline Volaris for the second largest domestic airline in Mexico. Interjet during 2015 also extended its reach into Cuba with new flights from Cancun, Monterrey and Mexico City.

Interjet's international footprint is smaller than its two main rivals Aeromexico and Volaris, but it is more diverse, covering the US, Cuba, Central American and upper South America. Its strong position as Mexico City Juarez's second largest airline also makes Interjet a strong candidate for potential partners, evidenced by a recent codesharing pact between Interjet and LATAM Airlines Group.

Lower fuel prices seem to be lifting Interjet to profitability even as yields and unit revenues remain under pressure due to a slow recovery in the Mexican domestic market. Its rivals are facing similar pressures, but appear to be focusing most of their growth on international markets in 2016. Interjet's ambitions seem to be trending in that direction, resting on the ratification of a new agreement that liberalises service between the US and Mexico.
Interjet over the last decade has worked to become Mexico Juarez's second largest airline
In late 2015 Interjet projected transporting 10 million passengers for the year as it celebrated a decade in operation. Interjet emerged on the Mexican landscape during a period in which a raft of new airlines were being established to capitalise on Mexico's growing middle class. Interjet's rivals Volaris and VivaAerobus were also established around the same time period.

Unlike Volaris and VivaAerobus, Interjet has managed to gain a number of slots and entrench itself as Mexico City Juarez's second largest airline measured by seats.
On a system-wide basis, Interjet represents 22% of the airports seats (4-Jan-2016 to 10-Jan-2016), and holds a 29% share of the airport's seats deployed into the domestic market.
Mexico City Juarez International Airport domestic capacity (% of seats): 4-Jan-2016 to 10-Jan-2016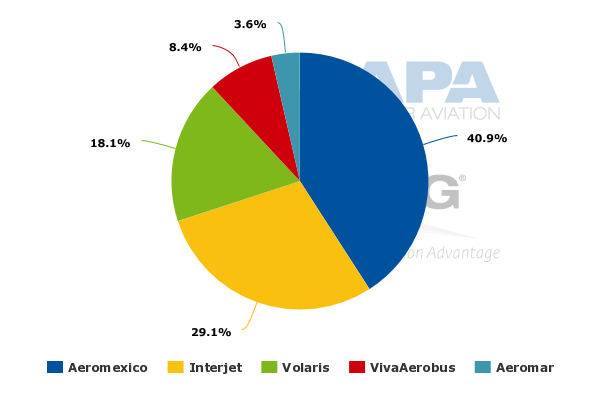 Interjet's positioning at Juarez has drawn interest from some notable airlines. During the last couple of years the company has forged partnerships with oneworld airlines American and Iberia, and during 2015 began a codesharing agreement with oneworld's LATAM Airlines Group.

See related report: Dynamics shift in the Mexico to Latin America market in 2015 with new partnerships and routes

Interjet's international reach is not as vast at Aeromexico and Volaris. Data from CAPA and OAG show that for the week of 4-Jan-2016 to 10-Jan-2016 27% of Interjet's ASMs are deployed into international markets compared with 31% for Volaris and 67% for Aeromexico. Long haul routes to Asia and Europe drive Aeromexico's disproportionately higher number of international ASMs.
Volaris and Interjet's international networks are focused on North America, Central America the Caribbean and South America.
Interjet international vs domestic capacity % of ASMs: 4-Jan-2016 to 10-Jan-2016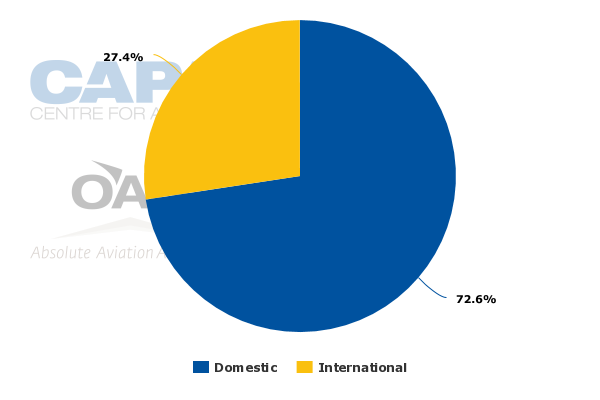 Interjet's position at Juarez is key as the US-Mexico air transport pact is liberalised
Presently (4-Jan-2016 to 10-Jan-2016), Interjet serves 10 international destinations – five in the US and five in the Caribbean, Central and South America. Interjet is the second largest airline operating between the US and Cuba with an approximate 37% share.
Interjet's seats on offer have jumped 148% year on year with the addition of Mexico City Juarez to Varadero, Monterrey to Havana and Cancun to Havana. Varadero is Interjet's second market in Cuba, and it is the only Mexican airline serving the airport. It serves Havana from Cancun, Mexico City Juarez and Monterrey.
Mexico to Cuba (seats per week, one way): 5-Jan-2015 and 4-Jan-2016

Interjet's other international destinations outside the US transborder market include Bogota, Guatemala and San Jose, Costa Rica served from Mexico City Juarez. Its 10 international destinations are far fewer than Volaris' 23 (21 in the US and 2 in Latin America) and Aeromexico's 85 international markets, which span North America, Latin America, Asia and Europe.

Interjet seems interested in adding more US destinations once a new bilateral agreement that liberalises the number of airlines allowed to operate on routes between the US and Mexico takes effect in 2016. It could be more pertinent for Interjet, which targets business travellers with its slightly more upscale product than Volaris. Interjet also wants to capitalise on its strong position at Mexico City Juarez by adding routes attractive to more high yielding customers including Los Angeles and Dallas. Interjet has reportedly criticised the planned joint venture between Aeromexico and Delta, concluding the two airlines could harm competitors on a given route with lower fares while compensating for the lower prices on routes with higher fares.

The new bilateral agreement is subject to Senate approval, and has faced criticism from Mexico's unions. It is not entirely clear when legislators intend to vote on the agreement. Until the new deal is finalised, Interjet cannot pursue new US markets.
Interjet and Volaris battle for the title of Mexico's second largest domestic airline
Interjet is the only one of Mexico's new generation low cost airlines that operates a dual fleet of 93 seat Sukhoi Superjet 100s and Airbus A320 narrowbodies. CAPA's Fleet Database shows that the airline is currently operating 41 A320s and 19 Superjet 100s as of 5-Jan-2016. It has 40 A320neos on order and 11 additional Superjet's scheduled for delivery, all of which are occurring in 2016.
Interjet projected delivery dates for aircraft purchased from OEMs and leased from lessors as of 5-Jan-2016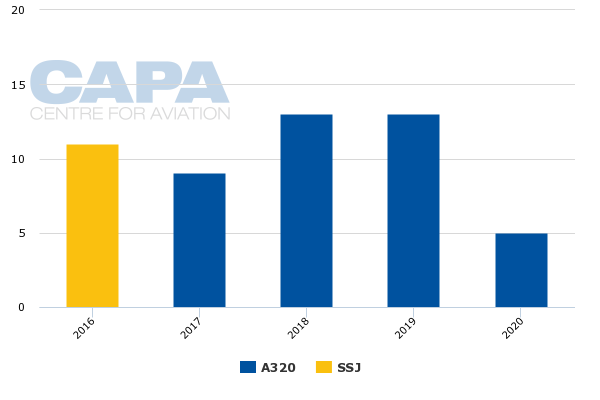 The airline uses its Superjet 100s/95 aircraft with a 2,950km range on some shorter haul international routes including Juarez/Monterrey to Houston, Cancun to Havana and Miami and Juarez to San Jose.

The bulk of Interjet's Superjet fleet is used on domestic operations, on routes too thin for the A320 and to complement narrowbody operations at slower periods of the day. Interjet and Volaris were tied for second place in Mexico's domestic market for the 11 months ending Nov-2015, with each holding a 25% market share behind Grupo Aeromexico's 34%.
The market share of the two airlines has trended within one or two ppt during the last couple of years. At the beginning of Jan-2016 Volaris served 38 domestic destinations and Interjet offered flights to 37 domestic markets. Mexico's airlines transported a total of 34 million domestic passengers from Jan-2015 to Nov-2015, compared with 31 million the year prior.
Mexican airline domestic market share: Jan-2015 to Nov-2015
Low fuel prices underpin Interjet's profits after yields in 1H2015 were under pressure
Interjet posted a USD4 million profit for 1H2015, reversing losses from the year-ago period. The airline's top line fuel costs in 1H2015 fell nearly 17% to USD20 million. But Interjet's yields during that timeframe sank nearly 13% and its unit revenues fell 3%. Load factor grew by 5.5ppt to 74.8%, which indicates Interjet was trading yield for loads in part to maintain its share in the still developing Mexican market. Volaris has recently estimated Mexico's air trips per capita in 2014 were 0.25 compared with 2.05 for the US and 0.45 for Brazil. Mexico is Latin America's second largest aviation market behind Brazil.

At YE2015 Mexico's economy was slowly recovering, but Aeromexico indicated that similar to 2015, the bulk of its capacity would be directed to international markets. Its total capacity growth is projected in the high single digits. Volaris dedicated the majority of its ASK growth to international markets in 2015, and will likely follow the same pattern in 2016.

Privately held Interjet has not offered capacity guidance for 2016. It seems to be waiting for the new bilateral agreement with the US to take effect before offering definitive capacity or network plans.
Interjet aims to enlarge its US transborder presence. An IPO may be in the wind
Interjet has carved out a niche as a low cost hybrid airline in Mexico's market. Its movements are not as pronounced as Mexico's two publicly traded airlines Aeromexico and Volaris; but Interjet has held firmly to a second or third place position in the domestic market for the past two three years, and also added international markets of strategic significance.

Interjet also has a significant number of aircraft deliveries scheduled during the next two to three years. Its delivery pipeline could warrant consideration of another attempt at the public markets in 2016 after the airline shelved plans for an IPO in 2014, but it has not firmed up plans to follow its rivals and engage in an IPO. However, one definitive desire emerging at Interjet in 2016 is to capitalise on liberalised access to enlarge its US footprint.