Mexico's domestic market remains stable as the four largest airlines sustain their market share
Analysis
Mexico's domestic aviation market appears to be undergoing a slow and steady recovery, reflected in healthy passenger growth of roughly 12% for 1H2015. Economic indicators are generally trending in the right direction, although conditions still remain choppy.

Low-cost airline Volaris has a reasonably positive view of the domestic market, and is opting to increase its capacity on some routes in 2H2015. Its yields are continuing on a positive trajectory as Mexico's largest airline Aeromexico posted a decline in yield and unit revenues for 1H2015. But Aeromexico has inherent strategic benefits, including a leading position at Mexico City Juarez International Airport, and a deep partnership with Delta Air Lines for added connectivity within the domestic market, and on US transborder routes.

Domestic market share allocation among Mexico's largest airlines remained fairly stable year-on-year for 1H2015, with no major jumps by a single airline. Much untapped demand remains in the market place, but it remains to be seen if four major airlines are required to absorb that demand.
Mexico's domestic market has embarked on a slow recovery
Mexico's two publicly traded airlines Volaris and Aeromexico were profitable in 1H2015, with each airline reversing losses from the year ago period. Volaris posted a USD42 million profit and Aeromexico recorded net income of USD18 million.

Volaris' yields during 1H2015 grew by 8.9% and passenger unit revenues increased by 9.4%. Aeromexico's yields fell 2.4% and passenger unit revenues decreased 3.4%. Aeromexico's load factor dropped 0.8% to 78.5 and Volaris' system loads increased 0.3ppt to 81.5%. Aeromexico highlighted in early 2015 that it was working off a low base for yield recovery, stating that yields were roughly 15% lower year-on-year in the Mexican market during the previous 18 months.

Aeromexico does have the strategic benefit of holding the title of Mexico City Juarez's largest airline, and has spent most of the last year undertaking a rebanking at the airport to phase out 50-seat jets and maximise connections. It also has a partnership with Delta Air Lines to flow passengers over the airport. No other Mexican airline has the benefit of a partnership with a transborder partner, which remains the largest international market for Mexico.

At the end of 2Q2015, Volaris characterised the Mexican macroeconomic environment as improving, but still volatile. The airline cited GDP growth of 2.5% in 1Q2015, and increases in the consumer confidence index of 1.2%, 1.4% and 4.1% in Apr-2015, May-2015 and Jun-2015.

Volaris CEO Enrique Beltranena recently concluded that during the past 46 months, the Mexican air passenger market has grown at rates around 10%, which was two to four times higher than Mexico's GDP growth rate for the same period, "a behaviour similar to an emerging market under stimulation by locals". He declared that yield environment for most of Volaris' markets was stable, with the exception of some short-haul regional markets out of Mexico City.
Domestic market share in Mexico remains stable in 1H2015 with 12% passenger growth
Data from Mexico's SCT show that during 1H2015 passenger levels in Mexico's domestic market grew 12% year-on-year to 17.3 million. The market share distribution was relatively stable year-on-year. Grupo Aeromexico's (Aeromexico and Aeromexico Connect) share declined 2ppt to 35%, Interjet gained 1ppt to 25%, VivaAerobus' share declined 1ppt to 11% and Volaris gained 1ppt for a 24% domestic share.
Mexico domestic market share 1H2015 vs 1H2014
1H2015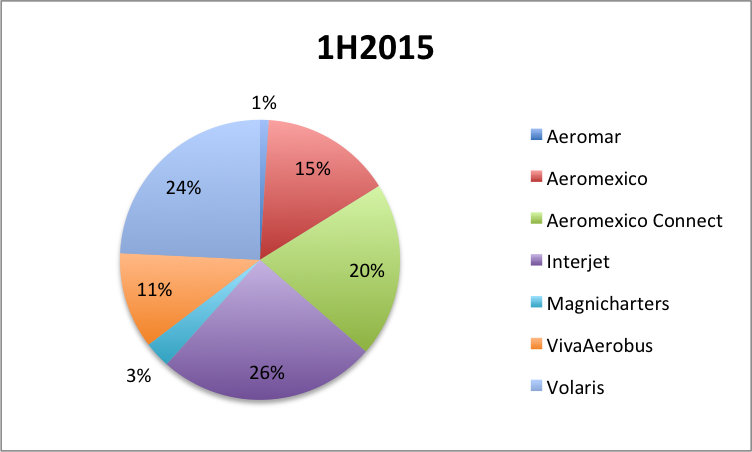 1H2014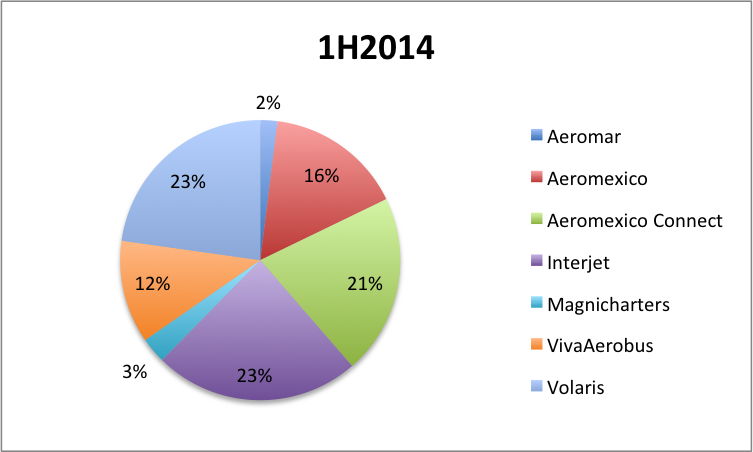 The market share distribution in some ways correlates with the number of domestic markets served by each airline. Data from CAPA and OAG show that as of 9-Aug-2015 Aeromexico serves 45 domestic markets, Volaris 38, Interjet 37 and VivaAerobus 23.
Volaris opts to raise its domestic capacity for 2015 higher as routes need more supply
Mr Beltranena remarked that most of Volaris' routes "are requiring more capacity" as more passengers in the Mexican market switch from bus to air travel. The airline's new domestic route additions in 2015 include Cancun to Tuxtla Guiterrez and Villahermosa, Culican to La Paz Leon and Los Cabos. Volaris has also introduced flights from Mexico City Juarez to Chetumal, and Guadalajara to Torreon.

See related report: Mexico's LCC Volaris continues to bolster its network breadth internationally and domestically

Volaris has raised its overall capacity growth projections for 2015 from 10% to 12% to 12% to 15% with a 5% to 7% increase (up from previous estimates of 2% to 4%) in domestic capacity. The airline is adding domestic capacity opportunistically, said Mr Beltranena, in markets that Volaris has deemed to have strong demand with a pronounced shift from bus travel. Most of the capacity additions are occurring in the Pacific corridor and Northern Mexico, he said.
VivaAerobus tames down its transborder push as Volaris steps up domestic pressure
Volaris has stepped up competitive pressure with VivaAerobus in the domestic market during 2015 as VivaAerobus serves Volaris' new routes from Cancun and Culiacan.

VivaAerobus' new domestic services launched within the last year include Ciudad Juarez to Mexico City (operated by Aeromexico, Interjet and Volaris) and Tampico to Guadalajara and Villahermosa where it is uncontested.

VivaAerobus has also made a transborder push in 2015, but it is reportedly suspending several of the recently launched markets in Aug/Sep/Oct-2015 including Monterrey to San Antonio, Dallas and Las Vegas, Cancun to Houston Intercontinental and Guadalajara to Dallas and Houston. At least two other airlines operate on each of the routes, with the exception of Monterrey-Dallas, where American is the only other airline operating in the market.
American and Interjet operate from Monterrey to San Antonio, and Volaris operates from Guadalajara to both Houston and Dallas. American offers flights from Guadalajara to its Dallas hub and United operates service from its hub in Houston to Guadalajara. Aeromexico and Interjet operate flights from Monterrey to Las Vegas and Spirit Airlines and United operate between Houston and Cancun.

VivaAerobus was obviously attempting to diversify its network outside the Mexican domestic market as new Airbus narrowbodies were coming online to replace is Boeing 737 Classic jets. But it seems as if perhaps the competition from US airlines was too intense operating from their fortress hubs and Mexican airlines with larger scale. VivaAerobus is the smallest among Mexico's airlines bases on fleet size, with Interjet and Volaris each operating fleets twice the size of VivaAerobus.
Operating fleet of Mexico's largest airlines as of 8-Aug-2015
See related report: Mexico's airlines continue transborder push as they await a new bilateral agreement to take effect
Interjet undertakes some domestic expansion and engages in charter operations
During 2014 Interjet increased competitive overlap with its three main Mexican domestic rivals, launching flights from Tijuana to Guanajuato (served by Aeromexico and Volaris), Culiacan (operated by Aeromexico, VivaAerobus and Volaris) and Oaxaca (operated by Volaris).

Interjet in 2014 also launched service from Monterrey to Guanajuato (also operated by Aeromexico and VivaAerobus), Veracruz (served by VivaAerobus and Volaris) and Villahermosa (operated by VivaAerobus and Volaris).

Interjet has made an interesting move by striking a partnership with Vacation Express to operate charter flights for the company as part of inclusive travel packages to resort destinations within Mexico. Under the arrangement, Interjet has operated service to Mexico from the US cities of Raleigh-Durham, Richmond, Charlotte, Cleveland, Columbus, Nashville, Newark and Pittsburgh. It is not clear how many aircraft Interjet is dedicating to the charter operations, but perhaps it was a move by the airline to develop a guaranteed revenue stream as conditions in the Mexican domestic market were weak for most of 2014 and are starting to slowly recover in 2015.

Interjet's domestic market share has remained relatively stable during the last couple of years, but its product is more high end than that of Volaris and VivaAerobus. It has faced the same yield pressure in the domestic market as its rivals, reflected in a 15% drop in yields for 2Q2015 and a 12.7% decline in 1H2015. But Interjet posted profits in both periods, recording net income of MXP139 million in 1H2015 (USD8.5 million) and MXP21 million (USD1.3 million) in 2Q2015, reversing losses in each time period.
Mexico's airlines are co-existing peacefully for now, but only the strongest will survive
The Mexican domestic market appears relatively stable given the choppiness created by Mexico's economic performance during the last couple of years. Consumer confidence seems to be rising, and overall it appears the country's airlines are acting rationally with their capacity expansion.

More broadly, it remains to be seen if the domestic market warrants four major airlines over the long term. For now, those airlines are co-existing and have weathered a depressed yield environment.
But in the future, only the airlines with the most robust financial foundation and agile business strategy will remain as mainstays in the Mexican domestic space.