Mexico's LCC Volaris continues to bolster its network breadth internationally and domestically
Analysis
Mexican low cost airline Volaris is continuing both domestic and international expansion during 2015, but adhering to previous projections that the bulk of its capacity growth will be deployed into international markets, including its first flights outside the US transborder market.

Domestically, Volaris appears to be increasing its competitive overlap with VivaAerobus, the smallest of the four largest Mexican airlines, adding some routes where VivaAerobus previously held monopoly status, from bases where it can leverage positions of strength.

Volaris seems well positioned to take advantage of a still-slow recovery in Mexico's domestic market while branching out internationally where it can gain more yield traction to strategically diversify its network into markets ripe for low cost service.
Volaris maintains healthy load factors even after a drop in international loads
Volaris estimates overall capacity growth of 10% to 12% in 2015, with a 2% to 4% increase in domestic ASMs and a 33% to 36% rise in international capacity.
Volaris total, domestic and international capacity projections: FY2015

The airline in 1H2015 increased its ASMs by 12.5% while traffic increased by 13%, resulting in load factor notching up 0.3ppt to 81.5%. Domestic capacity grew 5.7% and traffic rose 7.6%, resulting in 1.5ppt growth in load factor to 81.6%.

Volaris grew its international capacity by 33% in 1H2015 and traffic increased 28%, resulting in a 3.1ppt decline in load factor to 81.3%. Previously Volaris has cited that there is better demand in cross-border traffic, so the company could be trading yields for loads on those routes.
Although Volaris has diversified its international offerings during 2015, the bulk of its ASMs remain dedicated to US transborder service.
Volaris international capacity by country (% of ASMs): 6-Jul-2015 to 12-Jul-2015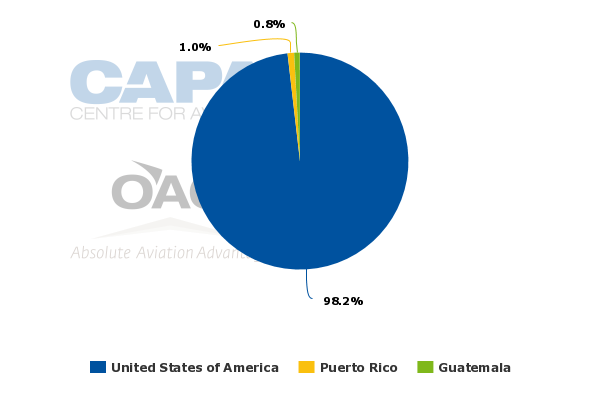 Volaris continues its transborder push in 2015 with additional expansion from Guadalajara
Volaris' new transborder flights launched in 2015 includes Guadalajara to Houston Intercontinental, Dallas, New York JFK (beginning 15-Jul-2015). It has also introduced flights from Tijuana to Oakland and Leon to Los Angeles.

Its competitors on Guadalajara to Houston are United and VivaAerobus. Data from CAPA and OAG for the week of 7-Jul-2015 show that there are roughly 3,480 one way seats in the market with United holding a 74% and Volaris and VivaAerobus each retaining a 13% share.

VivaAerobus also operates on the Guadalajara-Dallas pairing along with the largest airline in the market, American. There are approximately 2,650 seats on the route, with American holding a 66% share and VivaAerobus and Volaris each have a 17% share.

Volaris will be the lone operator on flights from Guadalajara to New York JFK and between Tijuana and Oakland. Its competitors on the Leon-Los Angeles pairing are US airlines Delta and United. Delta holds a 42% share of the roughly 2,686 one-way seats on offer, United has a 39% share and Volaris has a 21% share.

Volaris has been leveraging its position in Guadalajara for both international and domestic expansion. The airport is its third largest measured by seats and fourth by ASMs. Presently, it holds a 49% ASM share at Guadalajara and a 42% share of the airport's seats.
Volaris top 10 hubs/bases/stations by seats: 6-Jul-2015 to 12-Jul-2015
Guadalajara Miguel Hidal Airport capacity by airline (% of seats): 6-Jul-2015 to 12-Jul-2015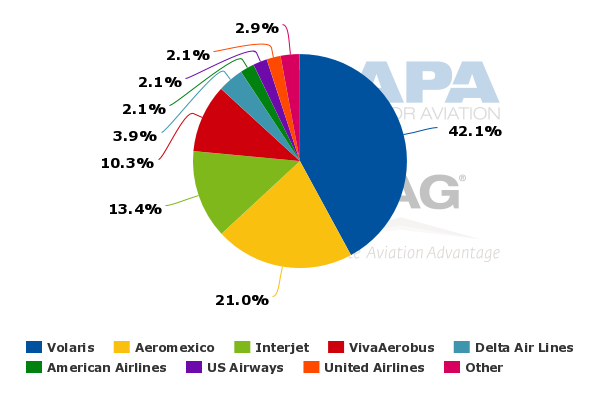 Guadalajara Miguel Hidal Airport capacity by airline (% of ASMs): 6-Jul-2015 to 12-Jul-2015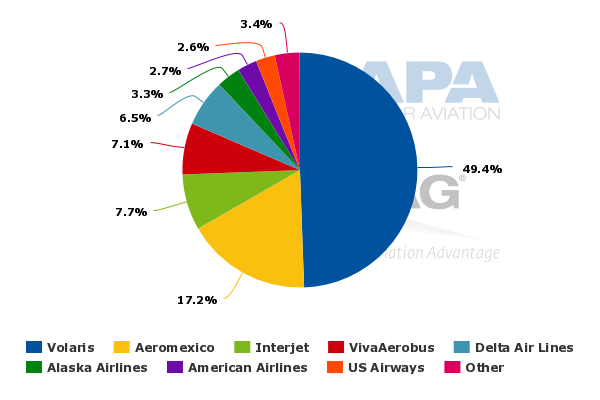 Volaris' strategy in the US transborder market is largely to target VFR traffic given routes with higher concentrations of those types of passenger have less competition. But its rivals VivaAerobus and Interjet started making a transborder push in 2014 that has continued in 2015, which means Volaris' competitive overlap with those airlines in some transborder markets will grow.
In the case of competition with VivaAerobus on service from Guadalajara to Houston and Dallas, Volaris has some advantage given its large presence in Guadalajara.

Previously, Volaris has stated that its point of sale mix on US routes is roughly 50/50, which could also give it competitive traction since it has a much broader transborder reach and more brand recognition. It serves more than 20 transborder markets, compared with four for VivaAerobus – DFW, Houston, Las Vegas and San Antonio.
Volaris branches out to Guatemala, San Juan and Costa Rica as transborder still grows
Volaris is taking a strategic step in its network diversification in 2015 with the launch of service outside the US. It has introduced flights from Cancun and Guadalajara to Guatemala City, and from San Juan to Cancun. During Sep-2015 it is inaugurating service from Guadalajara and Cancun to San Jose, Costa Rica.

Both Interjet and Aeromexico serve Guatemala City from Mexico City Juarez international airport, and together with Volaris offer roughly 4,137 one-way seats between Mexico and Guatemala. Aeromexico holds a 47% seat share between Guatemala and Mexico City, Interjet represents a 39% share and Volaris has a 21% share.

As previously reported by CAPA, the local Mexico-Guatemala market is relatively small, but connecting passengers through its hub in Guadalajara could be key in making its routes a success and building up frequencies.

See related report: Volaris expands its international scope beyond the US transborder with new flights to Guatemala

Aeromexico and Interjet also operate flights from Mexico City to San Jose Juan Santamaria International airport, offering roughly 4,160 one-way seats in the market. Aeromexico holds a 71% share and Interjet represents a 21% share. At the time Volaris unveiled its plans to serve Costa Rica, officials from the country remarked that Mexico was its top Latin American market for tourism by air.
With new flights to leisure dominated Cancun, and the ability connect passengers through Guadalajara to other Mexican destinations, Volaris also has a reasonably solid chance of succeeding on the new service to Costa Rica. Mexico is Costa Rica's fourth largest international market based on seat deployment.
Costa Rica international capacity by country (% of seats): 6-Jul-2015 to 12-Jul-2015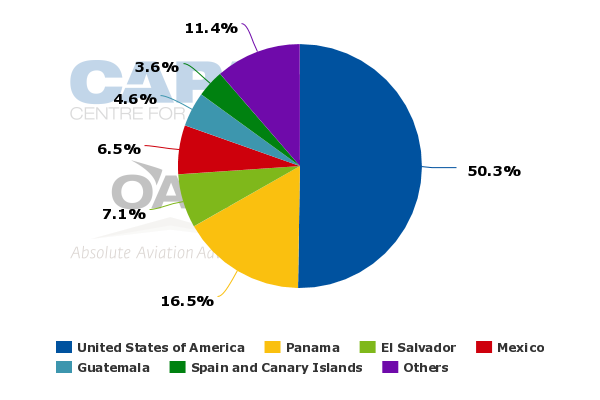 Volaris makes a push from domestic points of strength, adding pressure to VivaAerobus
Volaris is estimating that during 2Q2015 it will have 66% competitive overlap with Interjet, 65% with Aeromexico and 32% with VivaAerobus. But Volaris is increasing competition with VivaAerobus in some domestic markets in 2015.
Volaris' estimated competitive capacity overlap with Mexican rivals: 2Q2015

During 2015 Volaris has added new service from Cancun to Tuxtla Gutierrez and Villahermosa, two routes that were previously served only by VivaAerobus. Volaris' seat share in each market is relatively small, 33% in Tuxtla Gutierrez and 28% in Villahermosa.
But Volaris is the largest Mexican airline in Cancun measured by domestic seats and ASMs, so it should have an ability to mature those markets rather quickly.
Seats on offer and seat share from Cancun to Tuxtla Gutierrez and Villahermosa: 7-Jul-2015
Route
Approximate one-way
weekly seats on offer
Airline seat share
Cancun-Tuxla Gutierrez
1,068

VivaAerobus 67%

Volaris 33%

Cancun-Villahermosa
1,248

VivaAerobus 72%

Volaris 28%
Cancun Airport domestic capacity by airline (% of seats): 6-Jul-2015 to 12-Jul-2015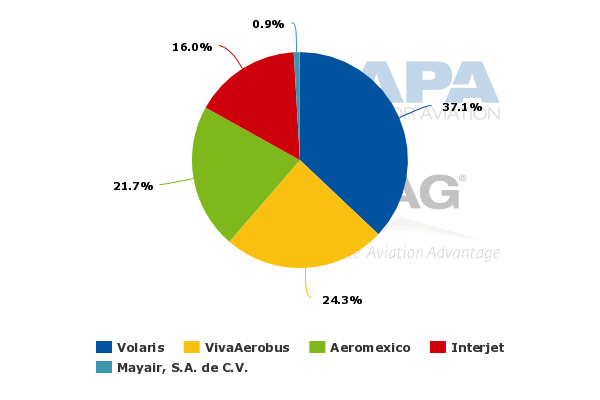 Volaris is also increasing competition with VivaAerobus on two routes from Culiacan, an airport where Volaris has a commanding seat and ASM share of 49% and 55%, respectively. Volaris has broken VivaAerobus' monopoly on service to La Paz Leon and Los Cabos, representing a 44% share on service to La Paz and 29% on flights to Los Cabos.
Seats on offer and seat share from Culiacan to La Paz Leon and Los Cabos: 7-Jul-2015
Route
Approximate one-way
seats on offer
Airline seat share
Culican-La Paz Leon
1,176

VivaAerobus 56%

Volaris 44%

Culiacan-Los Cabos
1,182

VivaAerobus 71%

Volaris 29%
Other domestic additions by Volaris in 2015 include Tijuana-Torreon, where it faces no competition and Mexico City Juarez-Chetumal (beginning in Oct-2015), where it is competing with Interjet. Volaris has also added flights from Guadalajara to Torreon, where it is competing with Aeromexico. It is a small market with a total of roughly 444 one-way seats, Aeromexico has a 68% share and Volaris holds a 32% share.

It seems as if Volaris in 2015 is connecting some dots in the Mexican domestic service, adding new routes from its points of strength in Cancun, Guadalajara, Tijuana and Culican.
The overlap with VivaAerobus shows that Mexico's four largest airlines will continue to increase their competition with one another as they clamor to sustain and grow their market share.
Volaris should get a jump on rivals in markets where LCC service is lacking
Volaris has previously expressed cautious optimism about a rebound in Mexico's domestic market, where yields have been weak due to a sagging economy. The airline at the start of 2Q2015 concluded that while capacity seemed rational, pricing still remained fragile.

The airline estimates that its unit cost excluding fuel for the 12M ending Mar-2015 was USD5.3 cents, which among the lowest of LCCs and ULCCs in the Americas. With a certain level of scale in the Mexican market and a strong cost base, Volaris should be able to weather the slow recovery of domestic yields.

It was only a matter of time before Volaris expanded beyond the transborder space, and its approach to new international markets seems measured as it works to build network utility for the long-term. There are many markets in Central and Latin America that would benefit from more LCC service; perhaps now is Volaris' time to seize on those opportunities before its rivals start to branch out in those regions.