Memphis and Cincinnati Airports look to low cost airlines as they work to revinent themselves
Analysis
The Memphis International and Cincinnati/Northern Kentucky International airports have learned the art of reinvention during the last year as the anchor airline at both facilities – Delta Air Lines – has continued to significantly reduce service to support growth in other regions throughout its network.

Both airports are targeting more O&D traffic as their roles as connecting points have diminished. Cincinnati is starting to show signs of promise as the new breed of ULCCs attempts to capitalise on opportunities at the airport in wake of legacy airline restructuring ushered in by consolidation.

ULCCs have not flocked as quickly to Memphis; but the airport has recorded some encouraging service increases as it works to rebuild itself now that it is no longer a hub for Delta.
CAPA's first America Aviation Summit will he held at the Hilton Lake Las Vegas Resort & Spa on 27/28 April 2015. To experience CAPA's unique aviation conference format and to meet the movers and shakers in the Americas and worldwide with 20+ airline CEOs, click here:
CAPA Americas Aviation Summit
There are some encouraging signs behind the passenger decline in Memphis
Roughly a year ago Delta revealed its plans to de-hub Memphis, which was somewhat inevitable given the dynamics of the combined Delta-Northwest network and Memphis' unfavourable geography – it is located roughly 525km from Delta's megahub in Atlanta.

See related report: Delta finally dehubs Memphis after years of pruning unprofitable flights

In the early 2000s, Northwest Airlines offered approximately 300 daily departures from Memphis. But after the reductions started with the Delta-Northwest merger, Delta ultimately trimmed service to 60 daily departures. In early Jun-2013 Delta retained a 71% seat share at the airport. Data from CAPA and OAG show for the week of 13-Oct-2014 to 19-Oct-2014, Delta's seat share is approximately 42%.
Memphis International Airport capacity by airline (% of seats):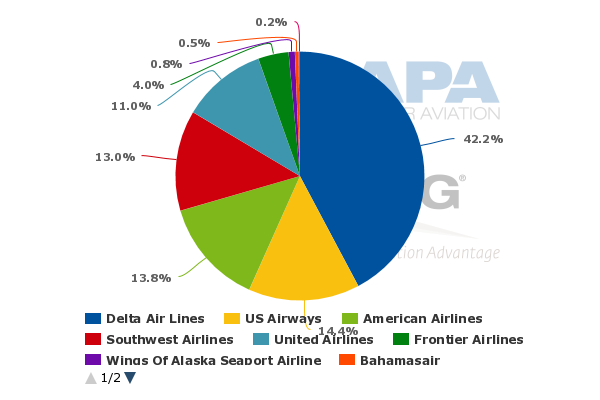 Delta's cuts are evident in passenger throughput in Memphis, which declined by between 20% and 30% each month through Jul-2014.
Memphis International Airport monthly passenger numbers: CY2012 to Jul-2014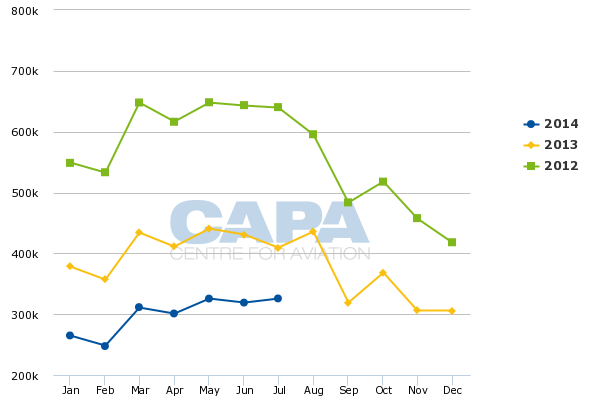 But behind the dramatic passenger declines is some slight upside as Frontier and Southwest introduce new service from Memphis and American Airlines and United add frequencies in existing markets.

Southwest represents roughly 13% of the seats and 12% of the ASMs deployed from Memphis. After the merger with AirTran it retained AirTran's service to Baltimore Washington International Airport, Chicago Midway and Orlando. It has also added flights to Tampa Bay and and Houston Hobby.

Frontier, which holds an approximate 4% seat share in Memphis, resumed service at the airport in Mar-2014, and now offers flights to its Denver hub and Washington Dulles. It plans to introduce new service from Memphis to Dallas/Fort Worth during Oct-2014.

During May-2014 American added a single daily flight from Memphis to its hub in Chicago O'Hare and United opted to add another daily flight to its Denver hub.
Memphis embraces its new role as an O&D airport
Obviously those service additions do not come close to filling the void created by Delta's downsizing, but the moves by those airlines reflect Memphis' transition to an O&D airport.

Recently the Memphis-Shelby county airport authority CEO Scott Brockman told local news outlet The Memphis Daily News that at its peak, Memphis enplanned about 6 million passengers, of which 70% were transfers or connecting travellers. Now the airport has roughly 2 million enplanments, and 98% of those passengers are local, said Brockman.

It is unlikely that Memphis will regain the peak passenger throughput it recorded when Delta operated the airport as a hub. But there could be opportunities for additional O&D service, particularly from lower cost airlines.

Similar to Cleveland and Cincinnati, Memphis appears to be an ideal candidate for ultra low cost airlines – an airport still primarily dominated by a legacy airline with higher than average fares.

There are benefits for locals and visitors to the city. Data from the US Department of Transportation (DoT) show that during 1Q2014 the average fare in Memphis fell approximately 7.5% from USD485 to USD449. But fares in Memphis are still roughly USD68 above the US average of USD381.

Frontier, which has transitioned to an ultra low cost airline, has made strikes all three US airports that have endured the most visible service reductions post US legacy airline consolidation – Cincinnati, Cleveland and Memphis. It has the smallest presence in Memphis, and has not indicated that it will build up its presence at the airport to the levels of Cincinnati and Cleveland. By mid Nov-2014 Frontier is projected to hold a 7% seat share in Cincinnati and and 13% of seats deployed from Cleveland.

See related report: Frontier Airlines moves on Cincinnati and Cleveland, increasing overlap with Allegiant and Spirit
Spirit Airlines often touts numerous markets ripe for its ultra low cost model, and has recently thrown down the competitive gauntlet against Frontier in Cleveland. But so far Spirit has not opted to operate service from Memphis. Airport officials have reportedly talked with Allegiant, Spirit and JetBlue about launching service from Memphis, and are likely offering incentives to attract new airlines.
Of those three markets, Memphis has the smallest population in its metro area – roughly 1.3 million – (Cleveland has roughly 3.5 million and Cincinnati's metro population is approximately 2.2 million), so perhaps other cities are higher on Spirit's priority list.
See related report: Spirit Airlines unleashes new competitive dynamics in Cleveland with challenge to Frontier
Cincinnati sees some promising traffic figures in 2014 as new service launches
The decline in Cincinnati's passenger counts slowed to 5.3% in CY2013 after plummeting 14% in CY2012. So far passenger growth in 2014 has been encouraging, with the airport recording a 0.9% rise in Mar-2014, a 2.6% increase in Apr-2014, 3.7% growth in May-2014, a 2.8% increase in Jun-2014 and a 3% rise in Jul-2014.
Cincinnati/Northern Kentucky International Airport monthly passenger numbers: CY2012 to Jul-2014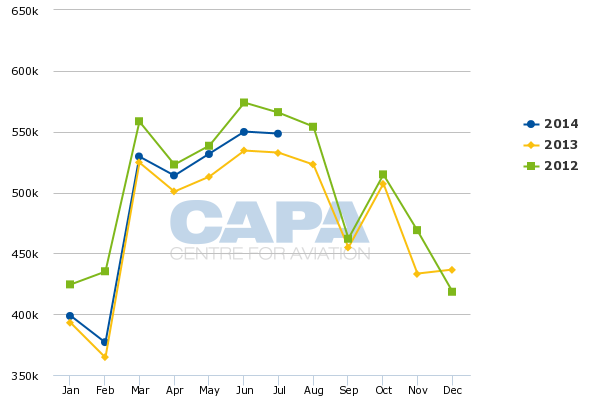 In its 2014 annual report the Cincinnati Northern Kentucky International airport noted that it held CY2013 operating expenses at 2007 levels, and has retired a large portion of debt. As a result, the airport stated that it has reduced landing feed by roughly 30% for 2014 and 2015, giving it an advantage in recruiting airlines.

Despite the service reductions in Cincinnati – reflected in the airport's passenger numbers falling from 8 million in CY2010 to 5.7 million in CY2013 – Delta remains the airport's dominant airline representing nearly 65% seat share for the week of 13-Oct-2014 to 19-Oct-2014.
Its domination is reflected in Cincinnati's status as the highest fare airport in the US, with an average airfare of USD514 during 1Q2014 (a 2.4% decline year-on-year).
Cincinnati/Northern Kentucky International Airport capacity by airline (% of seats): 13-Oct-2014 to 19-Oct-2014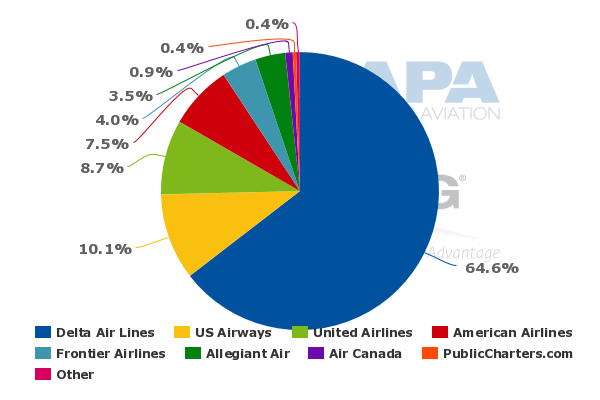 The decline in landing fees, coupled with Cincinnati being consistently ranked as on of the highest airfare markets in the US, has drawn both Allegiant and Frontier to the airport. Allegiant is considering establishing a base in Cincinnati after rapidly building up to 18 weekly flights from the airport by YE2014.

See related report: Allegiant Air continues its expansion from Cincinnati as smaller airlines seize on hub de-valuation

As both Frontier and Allegiant add flights from Cincinnati, their otherwise small competitive overlap is starting to increase. By YE2014 the airlines will compete on service from Cleveland to Las Vegas, Orlando (Allegiant serves Orlando Sanford), Fort Lauderdale and Phoenix (Allegiant serves Phoenix Mesa).

If Spirit decides to enter the Cincinnati market, all three US ULCCs would serve the airport, which would inevitably drive down fares - and stimulate traffic. But the decrease is not likely to be dramatic given that Delta still holds a dominant position in all the major business markets from the airport. However, on specific leisure destinations, fares could be markedly lower, which should continue to help Cincinnati recapture some of its lost traffic.
Similar to Memphis, most of Cincinnati's new service is O&D. After the Delta-Northwest merger and hub rationalistion, Cincinnati's hub benefits were diminished given its proximity to Detroit, which is 417km from Cincinnati. During CY2013, Cincinnati estimated that its local passenger growth increased 2.8%. In Dec-2013 that metric jumped 13%.
Hard work continues for Memphis and Cincinnati in their reinvention
Network realities ushered in by US airline consolidation dictate that Memphis and Cincinnati are unlikely ever to regain the passenger levels each airport enjoyed when they were full fledged legacy airline hubs.

The reinvention of each airport will take some time, reflected in the drastic passenger declines in Memphis, and to a lesser degree Cincinnati.

Interest by ultra low cost airlines does create opportunities for each airport; but those airlines attempt to employ a certain nimbleness that allows for service cuts if a market does not quickly spool up to profitability. ULCCs offer some hope to airports affected by consolidation, but it is too early to suggest they will be a panacea for the challenges Memphis and Cincinnati face. The story of their reinvention is far from over.
Meanwhile, many cities (and airlines) across the US will be watching with more than casual interest to see the impact of new ULCCs on these point to point markets.