Frontier Airilnes moves on Cincinnati and Cleveland, increasing overlap with Allegiant and Spirit
Analysis
Frontier Airlines continues to be one of the most prominent airlines exploiting opportunities created by consolidation in the US market place, underscored by its rapid expansion from two hubs that have endured dramatic service reductions during the past few years – Cleveland and Cincinnati.

The airline during the last year has rapidly expanded from Cleveland as United made the inevitable decision to downsize its smallest hub. By Nov-2014 Frontier will serve many of the top markets from Cleveland, and rise to become the airport's second largest airline measured by ASMs.

Frontier is also making a push from Cincinnati alongside its fellow ultra low-cost airline Allegiant Air, which is evaluating establishing a base at the airport. Cincinnati is also fertile ground for the low-cost model following Delta's draw down as a result of its merger with Northwest Airlines. As Frontier's changes take effect, the two ultra low-cost airlines are upping their competitive overlap from the airport, creating interesting competitive dynamics within the ULCC space.
Frontier makes a push from Cincinnati as the market seems ripe for ULCC penetration
Frontier recently unveiled some new branding initiatives ahead of the launch of a raft of new routes, with a pronounced push from Cincinnati/Northern Kentucky International Airport, which has become a hotbed of low-cost airline activity in 2013 and 2014 in the wake of Delta's steady pull-down to roughly 104 daily departures.

Frontier during the past year has added flights from Cincinnati to Denver, Cleveland, Trenton, New Jersey, Washington Dulles and Cancun. Earlier this year officials from Cincinnati airport remarked that Frontier's load factor on service to Denver was averaging 90%. Data from CAPA and OAG show that for the week of 8-Sep-2014 Frontier holds a 58% seat share of the approximately 3,166 one-way seats on offer from Denver to Cincinnati. United and Delta also offer service on the pairing and hold seat shares of 27% and 14%, respectively.

In many ways Cincinnati is a ripe market for Frontier's ultra low-cost model. Even with Delta's draw down, it remains the largest airline measured by seats from Cincinnati with a 66% share. Delta's still-dominant position in Cincinnati is reflected in the airport's consistent ranking as one of the highest airfare markets in the US. During 4Q2013 Cincinnati's USD501 average fare was the second highest in the country.

Frontier is planning a second wave of expansion in Cincinnati in Oct-2014 when it introduces service to Dallas/Fort Worth, Las Vegas, Orlando International, Fort Lauderdale and Phoenix.

The service additions are obviously elevating Frontier's profile in Cincinnati. Presently, (8-Sep-2014 to 14-Sep-2014), Frontier holds a 4% seat share in Cincinnati and accounts for 5% of the available seat miles (ASMs) deployed from the airport. For the week of 10-Nov to 16-Nov-2014 Frontier's seat share rises to 7% while its share of ASMs increases to 10%, resulting in Frontier becoming the second largest airline from Cincinnati measured by ASM deployment.
Cincinnati/Northern Kentucky International Airport capacity by airline (% of seats): 10-Nov-2014 to 16-Nov-2014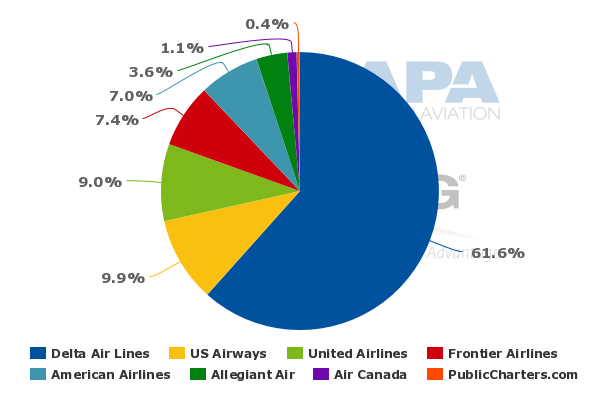 Cincinnati/Northern Kentucky International Airport capacity by airline (% of ASMs): 10-Nov-2014 to 16-Nov-2014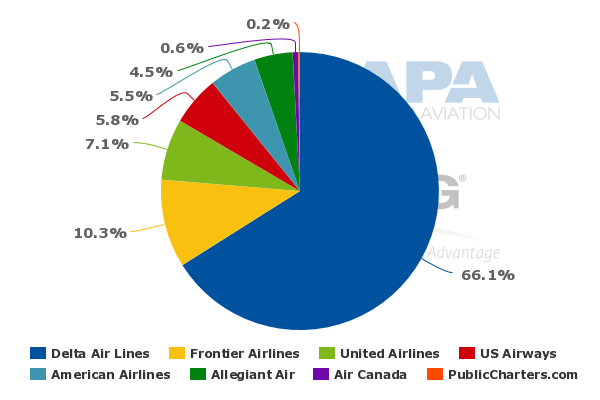 Frontier and Allegiant create new ULCC competitive dynamics in Cincinnati
It is not surprising that Frontier is competing with Delta on its new service from Cincinnati to Dallas/Fort Worth, Las Vegas, Orlando and Fort Lauderdale. But Frontier will also be competing with Allegiant on service Las Vegas, Orlando (Allegiant has a base at Orlando Sanford), Fort Lauderdale and Phoenix (Allegiant serves Phoenix Mesa).

Recently Allegiant concluded that it only overlaps with Frontier on two routes; but that will change once the two airlines complete service roll-outs in Cincinnati. CAPA previously highlighted that some of Allegiant's frequencies in markets to Cincinnati are reaching four weekly, which is the upper limit of its low-frequency leisure model. The majority of Allegiant's routes are operated with approximately two weekly frequencies.

See related report: Allegiant Air continues its expansion from Cincinnati as smaller airlines seize on hub de-valuation

Based on data gleaned from CAPA and OAG, Allegiant in some cases is offering more one-way weekly seats than Frontier in markets from Cincinnati where the two airlines will eventually overlap. For the week of 9-Nov-2014 Allegiant is offering approximately 664 one-way seats in Fort Lauderdale compared with 414 for Frontier. When it launches flights to Las Vegas from Cincinnati in Dec-2014, Allegiant will offer 332 seats compared with 552 at Frontier. In the Orlando market Frontier is also offering 552 seats while Allegiant's seats to Orlando Sanford rise from 664 to 830 in mid-Nov-2014 and peak again at 830 in mid-Dec-2014. On service to Phoenix Mesa, Allegiant's seats jump from 166 at the end of Nov-2014 to 332 in Dec-2014. Frontier is offering 414 weekly one-way seats to Phoenix Sky Harbor.
Is Cincinnati becoming the test bed for new ULCC competitive dynamics?
Previously Allegiant has highlighted that Cincinnati is a unique opportunity for its model. A few years ago a larger market such as Cincinnati may have been too large for Allegiant to link to some of its smaller leisure destinations. But as it has grown in scale, Cincinnati is now more viable.

Cincinnati could also be a test case to determine if two ultra low-cost airlines can co-exist in a mid-size market. Allegiant and Frontier do have some product similarities through their a la carte sales of various items outside the ticket price including checked bags, carry-on items and seat assignments. So while Frontier still may have a slight scheduling advantage, ultimately the two airlines will compete on price.

Frontier president Barry Biffle recently told the Denver Business Journal that he does not foresee a price war with Allegiant in Cincinnati as its mantra of "low fares done right" would distinguish Frontier from Allegiant and Spirit Airlines, which has yet to enter the Cincinnati market.

There is some nuance in the competitive dynamics given that Allegiant serves the Orlando market via Orlando Sanford and Phoenix through Phoenix Mesa. That could result in Frontier stimulating demand through lower fares to Orlando International and Phoenix Sky Harbor. Once the introductory fare period ends, it will be interesting to see how much fares are lowered to Fort Lauderdale and Las Vegas given Delta's presence in those markets and its ability through sheer scale to match fares long enough to potentially drive other airlines out of the market.

One lingering question for those markets in particular is if there are stimulation opportunities for two ultra low-cost airlines. Cincinnati seems to be becoming a test bed for the co-existence of two ULCCs in the US consolidated market place.
Frontier continues to build up Cleveland in the wake of United's service reductions
Frontier has also rapidly built up Cleveland during the past year as United cut its daily departures (largely regional operations) from the airport by 60%.

See related reports:
Frontier presently operates service from Cleveland to Atlanta, Cincinnati, Dallas/Fort Worth, Orlando, Tampa, Fort Lauderdale, Fort Myers, Pittsburgh, Denver, Trenton and Las Vegas. In Oct-2014 it is introducing flights from Cleveland to Chicago O'Hare, Dulles and New York LaGuardia.

Presently, (8-Sep-2014 to 14-Sep-2014) Frontier accounts for a 7% seat share in Cleveland and 11% of the airport's ASMs. By 10-Nov-2014 it will account for 17% of Cleveland's ASMs and 13% of the airport's seats.
Cleveland Hopkins International Airport capacity by airline (% of ASMs): 10-Nov-2014 to 16-Nov-2014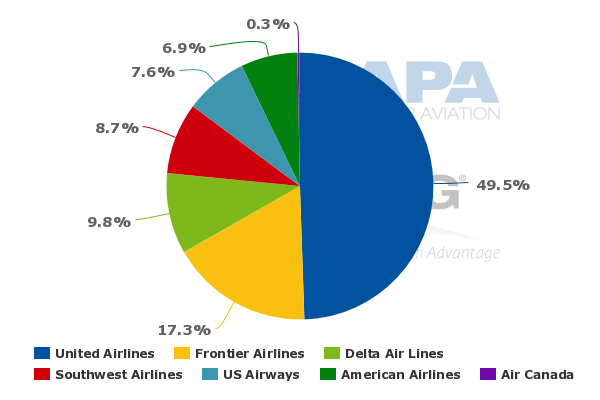 Cleveland Hopkins International Airport capacity by airline (% of seats): 10-Nov-2014 to 16-Nov-2014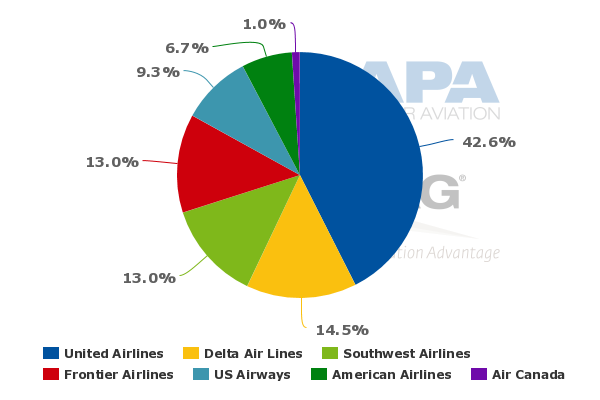 By mid-Nov-2014 Cleveland will rise to become Frontier's second largest base measured by seat deployment, compared to the week of 8-Sep-2014 to 14-Sep-2014 when Cleveland is Frontier's sixth largest base measured by seats on offer.
Frontier Airlines global top 10 hubs/bases/stations by seats: 8-Sep-2014 to 14-Sep-2014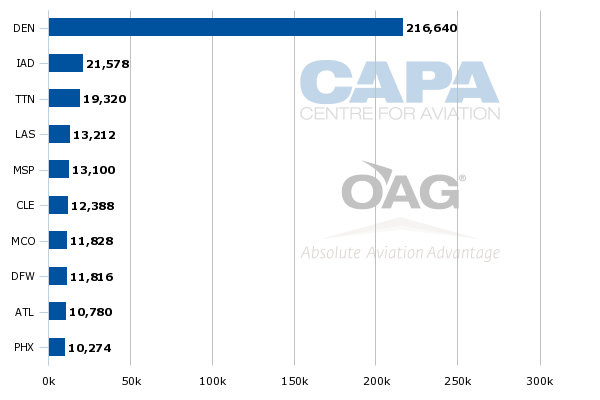 Frontier Airlines global top 10 hubs/bases/stations by seats: 10-Nov-2014 to 16-Nov-2014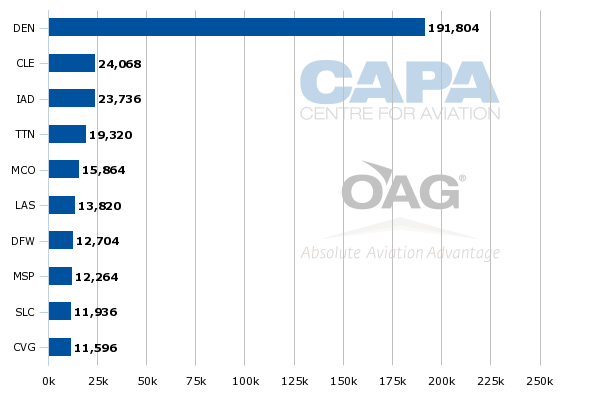 Once all the service roll-outs from Cleveland are complete, Frontier will serve five of the airport's top 10 markets – Chicago O'Hare, Atlanta, Dallas/Fort Worth, Denver and LaGuardia.
Cleveland Hopkins International Airport top 10 domestic routes by seats: 10-Nov-2014 to 16-Nov-2014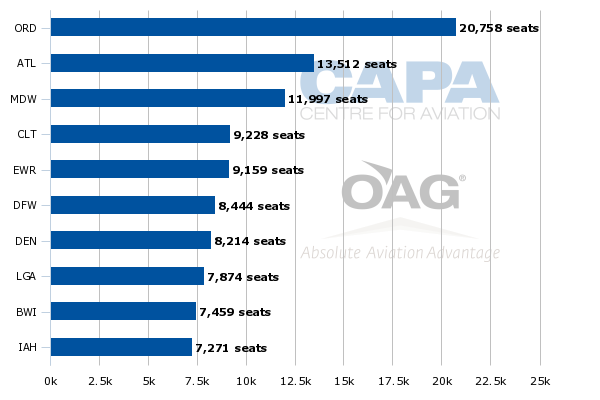 Is Frontier taking a page from Spirit's playbook in Chicago?
Frontier is making some interesting moves in the Chicago market with the launch of flights from O'Hare to Atlanta, Cleveland, Denver and Orlando in late 2014. Presently most of Frontier's service in the Chicago market is centred at Midway, where its service offerings include Denver, Trenton and New Castle airport near Wilmington, Delaware. Current schedules in CAPA and OAG show that Frontier offers flights from O'Hare to Montego Bay and Punta Cana, offered in conjunction with Apple Vacations.

It seems unusual for a low-cost airline to split its operations in a market, and Frontier has stated the push from O'Hare is not expected to affect Midway's operations, according to the Denver Post. Frontier is opting to compete with major network airlines on its route from O'Hare – United and American on flights to Cleveland; United American and Spirit on service to Denver; and Delta, United and American on service to Atlanta. Spirit plans to launch flights from O'Hare to Atlanta in late 2014. United, American and Spirit also serve Orlando International from O'Hare.

Spirit has added numerous flights from O'Hare during the past couple of years and its current service offerings include Baltimore/Washington, Houston Intercontinental, Boston, Minneapolis, Dallas/Fort Worth, Fort Lauderdale, Las Vegas, New York LaGuardia, Los Angeles, Orlando, Kansas City, Portland, Oakland, Denver and Myrtle Beach.

Frontier now has more of a working knowledge of Spirit's operations at O'Hare with the appointment of Spirit's former chief marketing officer Barry Biffle as Frontier's new president earlier in 2014. It seems Frontier has calculated that it can stimulate traffic among cost-conscious travellers in the O'Hare market. But again, it is not clear if the routes Frontier is launching can support two ULCCs.

When he was still with Spirit, Mr Biffle told Crain's Chicago Business that Spirit could peacefully co-exist with the major network airlines at O'Hare concluding that, "Wal-Mart doesn't hurt Nordstrom." Frontier is billing itself as a step above Wal-Mart, likening itself to mid-market discounter Target. What remains to be seen is if Wal-Mart, Target and Nordstrom can all co-exist and thrive at O'Hare.

Frontier and Spirit do compete on several routes from Denver including Las Vegas, Houston Intercontinental, Fort Lauderdale and Detroit. United and Southwest also serve Denver to Las Vegas, Fort Lauderdale and Detroit (also served by Delta from Denver). United also links is hub in Denver to its hub in Houston. For now Spirit and Frontier seem to be holding their own against one another and other airlines in those markets, perhaps showing that there are stimulative opportunities remaining within large markets in the US market place.
Frontier plans other changes in its network through the beginning of 2015
Frontier is also adding more new markets in the Dec-2014 to Jan-2015 timeframe. These include Atlanta-Orlando, Denver-West Palm Beach, Milwaukee to Fort Myers and Orlando, St Louis to Fort Lauderdale and Orlando, Trenton to West Palm Beach and Washington Dulles to Cancun.

To support some of that expansion Frontier is also making some service cuts from Denver to smaller markets including Cedar Rapids, Eugene, Little Rock and Sioux City. Other service cuts include Trenton to Cincinnati, Detroit and Nashville.

Frontier during Jan-2015 is cutting flights from Washington Dulles to Detroit and Minneapolis, where it competes with United and Delta. Dulles has also been an area of expansion for Frontier in 2014, and it presently operates service to Atlanta, Charlotte, Cincinnati, Fort Lauderdale, Las Vegas, Memphis, Minneapolis, St Augustine, Orlando, Fort Myers, St Louis and Tampa.

Frontier launched new flights from Dulles to Detroit and Minneapolis in Aug-2014, which means they will operate for just five short months. Perhaps Frontier has concluded it can achieve better returns by placing the aircraft used on those routes elsewhere in its network.
Frontier sets the stage for a new competitive landscape in the US ULCC space
Frontier has undertaken numerous changes during the past few years that culminated with the airline's purchase by Indigo Partners in late 2013 to oversee its full transformation into an ultra low-cost carrier. Indigo Partners were previously the largest shareholder in US ULCC pioneer Spirit Airlines and have global experience in establishing and operating LCCs.

Since Indigo's acquisition of Frontier, former executives from Spirit, Allegiant and Ryanair have joined the airline as it works to fully exploit the ULCC model while attempting to distinguish itself from Spirit and Allegiant.

Frontier's latest network moves show that those three ULCCs will encounter one another on a more regular basis as consolidation opens up the opportunity for true low fare stimulation in many US markets. Spirit's financial track record is hard to beat, and it displays a certain nimbleness in exiting markets that don't quickly reach maturity. Allegiant has a niche model that it believes is not fully exploited in the US marketplace, and it too records a consistently admirable financial performance.

The Indigo purchase adds a level of stability to Frontier's future in the US marketplace, where Indigo and Frontier are setting the stage to determine if the US can support three ULCCs.
The full service airlines have done them the favour of freeing up a number of opportunities, but the challenge now is for Frontier to pick the fights that they can win. Going head to head with other ULCCs as they enter new markets is not where they want to be.