Spirit Airlines unleashes new competitive dynamics in Cleveland with challenge to Frontier Airlines
Analysis
The new ultra low-cost airline competition is more aggressively probing the soft underbelly of established pricing at Cleveland and Cincinnati as Spirit Airlines plans to enter the Cleveland market in early 2015. Spirit's moves follow a rapid expansion by fellow ULCC Frontier Airlines in Cleveland after United dramatically downsized its smallest hub by cutting roughly 60% of its daily departures from the airport.

Now that Spirit plans to introduce flights from Cleveland, the market is also set to become the most visible test case of the US market's ability to support two ultra low-cost airlines. Spirit and Frontier will compete on most of Spirit's new routes from Cleveland alongside major airlines.

It is also Spirit's most blatant competitive response to Frontier since Frontier was purchased by former large Spirit shareholder Indigo Partners. Spirit has offered little public comment about Frontier's transition to the ultra low-cost model Spirit pioneered in the US roughly a decade ago; but perhaps Spirit's network moves speak volumes about how it views a new ULCC entrant in the market place.
| | |
| --- | --- |
| | CAPA's first America Aviation Summit will he held at the Hilton Lake Las Vegas Resort & Spa on 27/28 April 2015, to experience CAPA's unique aviation conference format and to meet the movers and shakers in the Americas and worldwide with 20+ airline CEOs, click here: CAPA Americas Aviation Summit |
Frontier has moved quickly to backfill hubs that have fallen victim to consolidation
Frontier quickly seized on United's downsizing in Cleveland, and by early Nov-2014 the ULCC will account for 17% of the ASMs deployed from the airport and approximately 13% of Cleveland's seats. The airline presently offers service from Cleveland to Atlanta, Cincinnati, Dallas/Fort Worth, Orlando, Tampa, Fort Lauderdale, Fort Myers, Pittsburgh, Denver, Trenton and Las Vegas. In Oct-2014 it is introducing flights from Cleveland to Chicago O'Hare, Dulles and New York LaGuardia.

Frontier's moves in Cleveland and Cincinnati are direct results of the consolidation by US global network airlines, which have had to inevitably scale back at hubs that do not make significant contributions to the combined networks of the mega airlines.

In both markets Frontier will face increased competition from Allegiant and Spirit Airlines, the two well established US ultra low-cost airlines. Allegiant's model is slightly different as it targets cost conscious travellers in smaller cities with low frequency service to large leisure destinations.

But Allegiant believes a unique opportunity exists in Cincinnati, and by YE2014 aims to operate 18 weekly flights from Cincinnati after only launching service from the airport at the beginning of the year.

See related reports:
Cleveland and Cincinnati have the right elements for ultra low-cost airlines
Cincinnati and Cleveland epitomise the opportunities created for ultra low-cost airlines from consolidation. Both markets have higher than average fares and are still dominated by network airlines even with the service reductions that have taken place at each airport.

Delta still holds an approximate 66% seat share in Cincinnati (22-Sep-2014 to 28-Sep-2014) and United has a 43% share of the seats on offer from Cleveland.
Cincinnati/Northern Kentucky International Airport capacity by airline (% of seats): 22-Sep-2014 to 28-Sep2014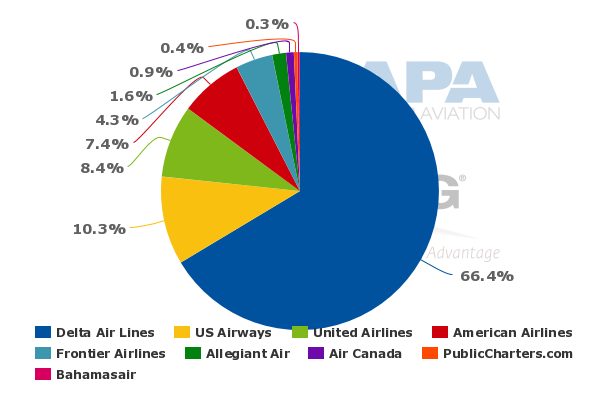 Cleveland Hopkins International Airport capacity by airline (% of seats): 22-Sep-2014 to 28-Sep-2014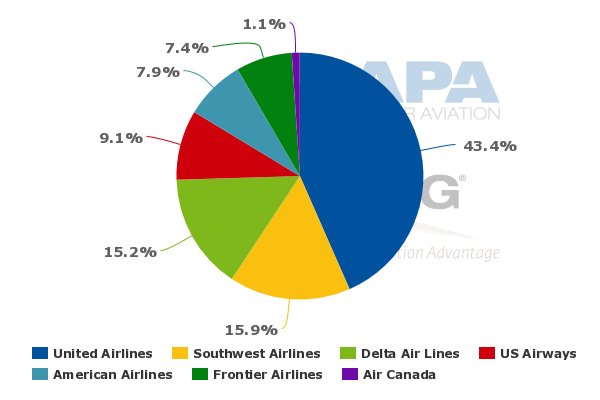 The dominance of the large network airlines in those two markets has resulted in Cincinnati and Cleveland having higher than average fares. The latest data available from the US Department of Transportation (DoT) show that during 1Q2014 Cincinnati was the highest priced US domestic market with fares of USD514 compared with an average domestic fare USD381.

Cleveland's average fare was USD458 during 1Q2014, up 3.2% from the year prior. Cincinnati's average fare decreased 2% year-on-year.

The higher fares in both markets create a window for ultra low-cost airlines to stimulate traffic with lower fares, which is leading to the rapid expansion by Allegiant, Frontier and now Spirit into those markets
Spirit is competing with Frontier on the majority of its new markets from Cleveland
Until it announced plans to launch eight new routes from Cincinnati between Jan-2015 and Apr-2015, Spirit had not aggressively pursued expansion at legacy hubs that have endured sharp service reductions during the past few years. Instead, Spirit set it sights on hub markets in Dallas, Houston and Chicago O'Hare where it concluded some passengers were priced out of the market.
Spirit Airlines global top 10 hubs/bases/stations by seats: 22-Sep-2014 to 28-Sep-2014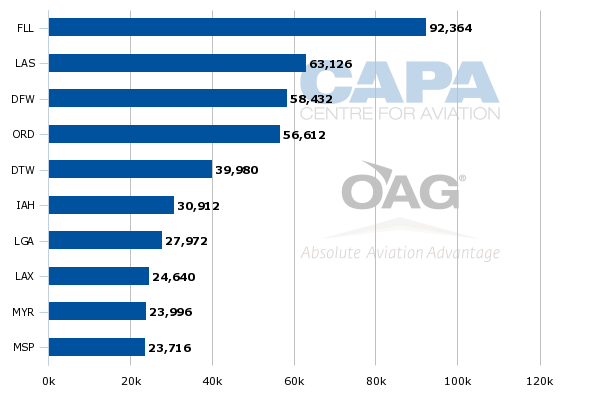 Spirit has managed to largely co-exist with the major airlines in those markets without causing excessive market disruption. The majority of its competition is with the US majors (including Southwest), so it has been able to presumably stimulate traffic with its lower base fares rather than attempting to steal passengers from other airlines.

But those dynamics change when Spirit launches service from Cleveland. Frontier offers service to six of the eight markets Spirit plans to serve from Cleveland beginning in 2015 – Orlando, Fort Myers, Tampa, Fort Lauderdale, Dallas/Fort Worth and Las Vegas.
United operates in all the markets Spirit is introducing from Cleveland with the exception of Myrtle Beach. Spirit is breaking United's monopoly on the Cleveland-Los Angeles pairing.
Airlines operating on Spirit's planned new routes from Cleveland: 22-Sep-2014 to 28-Sep-2014
Spirit and Frontier do compete on several routes from Frontier's Denver hub including Las Vegas, Houston Intercontinental, Fort Lauderdale and Detroit. But Denver is a larger market than either Cincinnati or Cleveland, reflected in 52 million passengers travelling through Denver in 2013 compared with 9 million in Cleveland and 5.7 million in Cincinnati. With Denver's larger passenger base, it could be easier for two ULCCs to exist in that market.

Cleveland provides a transparent test bed to determine if two ULCCs are capable of competing head-to-head. Shortly after Spirit detailed its plans to enter the Cleveland market, Frontier made a pre-emptive strike, offering discounted fares on some of the routes Spirit plans to launch. It is a boon for consumers, but could create some revenue headwinds for the competing airlines. Even ultra low-cost airlines need a price point that sustains their profitability.

It also not clear how vast the stimulative opportunities are in a market like Cleveland. Its passenger stats have remained at about 9 million from CY2010 to CY2013, and based on information published by city-data.com, Cleveland's population has declined by 18% since 2000.
United could just let Frontier and Spirit battle for the cost sensitive passenger
Of course Spirit's entry into Cleveland also creates some pressure for United, which could be forced to lower its fares in some of the markets where Spirit is introducing service. In many of those markets United's seats on offer are down year-over-year for the week of 22-Sep-2014.
Data from CAPA and OAG show that United's seats have decreased 34% year-on-year between Cleveland and DFW, 62% to Las Vegas and 44% to Orlando. Its seat share has also fallen by about 31% from Cleveland to Los Angeles.

But United also likely still retains a loyal frequent flyer base in Cleveland that does not find the bare-bones operating model of Frontier and Spirit attractive. So United could easily leave Frontier and Spirit to compete for the more cost conscious traveller.
It is not clear if two ULCCs are necessary to stimulate traffic in Cleveland
The competition about to unfold in Cleveland will provide a litmus test of the stimulative opportunities still available in the seemingly mature US domestic market. Until this point Frontier and Spirit have taken different network approaches – Spirit's entry into large metro markets and Frontier's mixed approach of leveraging its Denver hub while building up a focus city in the small Trenton, New Jersey market.

With similar product offerings and presumably similarly priced fares now competing head to head, Frontier and Spirit are essentially competing on passenger preference. Both airlines are betting that they can lower Cleveland's fares and stimulate traffic. Consumers and airllines alike will be watching with more than passing interest as this new phase of competition breaks out in the US market.