Manchester airport: new routes boost 'Northern Powerhouse'
Analysis
Two airlines have announced they will launch new services to and from Manchester Airport UK (MAN) towards the end of 2018 – Jet Airways of India and Ethiopian Airlines.
The attraction of these airlines to the airport can be marked down as a success not only for Manchester Airport but also for the 'Northern Powerhouse' concept, which seeks to reposition the North of England and its 15 million population as a serious economic competitor to London and the Southeast.
Attracting foreign airlines from outside Europe has taken on greater importance since the UK's decision to leave the European Union, which takes effect from Mar-2019.
Summary:
Two new much-coveted air routes to and from Manchester Airport (MAN) in northern England will begin operations at the end of 2018.
Both will support the 'Northern Powerhouse' concept, which is to redistribute economic growth in the UK.
While both flights ex Manchester are to either the capital or the major economic city of each country, they both offer extensive onward services.
Users will include entrepreneurs, students and even sports fans.
But existing operators will not throw in the towel, and the new ones can expect tough competition.
Manchester has been the first mover in attracting non-London long haul services since the mid-1980s, from airlines such as American Airlines (the Chicago route), Singapore Airlines, Qantas, Cathay Pacific, Malaysia Airlines, British Airways (services to New York and Hong Kong, for example).
Then, most recently, Saudia, Hainan Airlines and Oman Air, with others such as Thai Airways having the route well in their sights. Some of them have stayed the course, while others haven't. One (Cathay) has come, and gone, and come back again.
Typically these new services prompt other airports in the British Isles to seek such routes, or prompt the airlines to begin services on them anyway, once the Manchester "experiment" has produced verifiable results.
So, for example, Hainan Airlines will shortly add flights to Dublin, Ireland (one of them via Edinburgh), and Cathay Pacific will also begin a Dublin service. Previously, Manchester was the proving ground for the "MEB3" Middle Eastern airlines (Emirates, Qatar Airways and Etihad Airways), before those companies moved on to smaller airports. A recent example is Qatar Airways' daily service to and from Cardiff Airport – a relative minnow airport that hosted just 1.4 million passengers in 2017.
So, services like these are ultimately beneficial to other airports, beyond the connecting domestic traffic they develop in the first instance.
Northern Powerhouse prepares the North of England for economic life after Brexit
The so-called 'Northern Powerhouse', was once just an idea, then a strategy, and is now an entity with its own Government Minister. It seeks to rebalance the British economy, drawing emphasis and investment away from the southeast of the UK. It has also taken on the role of preparing the region for new economic opportunities beyond "Brexit" in Mar-2019, including those within India – possibly the most attractive of the 'BRIC' economies right now – and Africa, which does not have a direct MAN service into a significant capital city and/or hub.
The Powerhouse has been flagging recently (it is referred to cynically as the 'Powercut'), with major rail upgrades 'downgraded' (so to speak) by the Government, so this announcement is of great significance.
The route map for Manchester Airport demonstrates the dearth of routes into Africa and the absence of India.
Manchester Airport route map: May-2018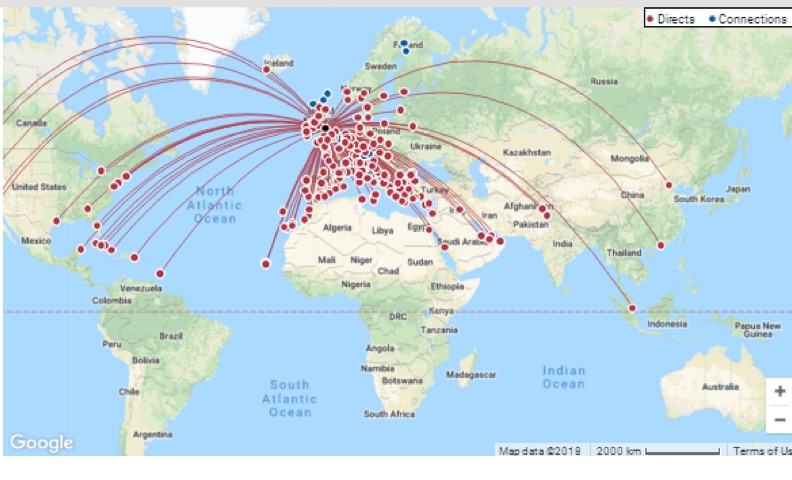 The new destinations have not previously been served
The only African services currently operated from Manchester are to vacation destinations in Morocco and Tunisia and in Cape Verde, off the west coast. The last long haul service was a short-lived one to Cape Town in South Africa in 2004. There has never been a direct service to East or West Africa.
There are direct services to Pakistan, owing to a large Pakistani population in the north of England, but none to India. The equivalent Indian Diaspora population in the UK outside London is congregated around the West Midlands (Birmingham) and the East Midlands (Leicester). They are served by flights from Birmingham Airport to Delhi and Amritsar.
In both cases, the cities in question are served indirectly from Manchester via London, via European hubs and increasingly through Middle Eastern ones.
On 14-May-2017 Ethiopian Airlines announced it would start operating a four times weekly service between Addis Ababa and Manchester on 01-Dec-2018, initially via Brussels, using two-class (business/economy) B787 equipment. Manchester will be the airline's second destination in the UK after London Heathrow.
Ethiopian will offer connections to 58 countries via Addis Ababa, most of them in Africa (and some in the Middle East and Asia), and the airline is particularly strong on sub-Saharan routes. It might even challenge the MEB3 on some routes. Doubtless, UK domestic airlines will be looking to tie up deals with it if they don't exist already.
Ethiopian Airlines route map as of May-2018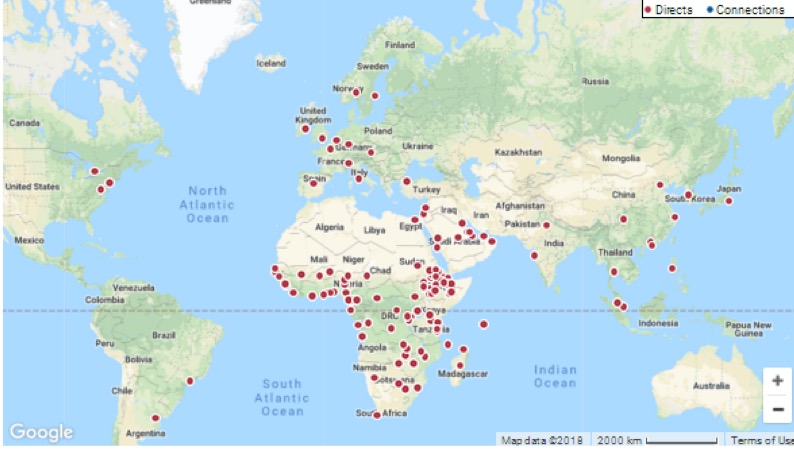 The Ethiopian Airlines connecting routes with the greatest number of seats at Addis Ababa are shown below. Many are in Africa (for example Johannesburg, Nairobi, Khartoum and Accra), but interestingly two are in India, including Mumbai.
Ethiopian Airlines top ten international routes by seats: week commencing 13-May-2018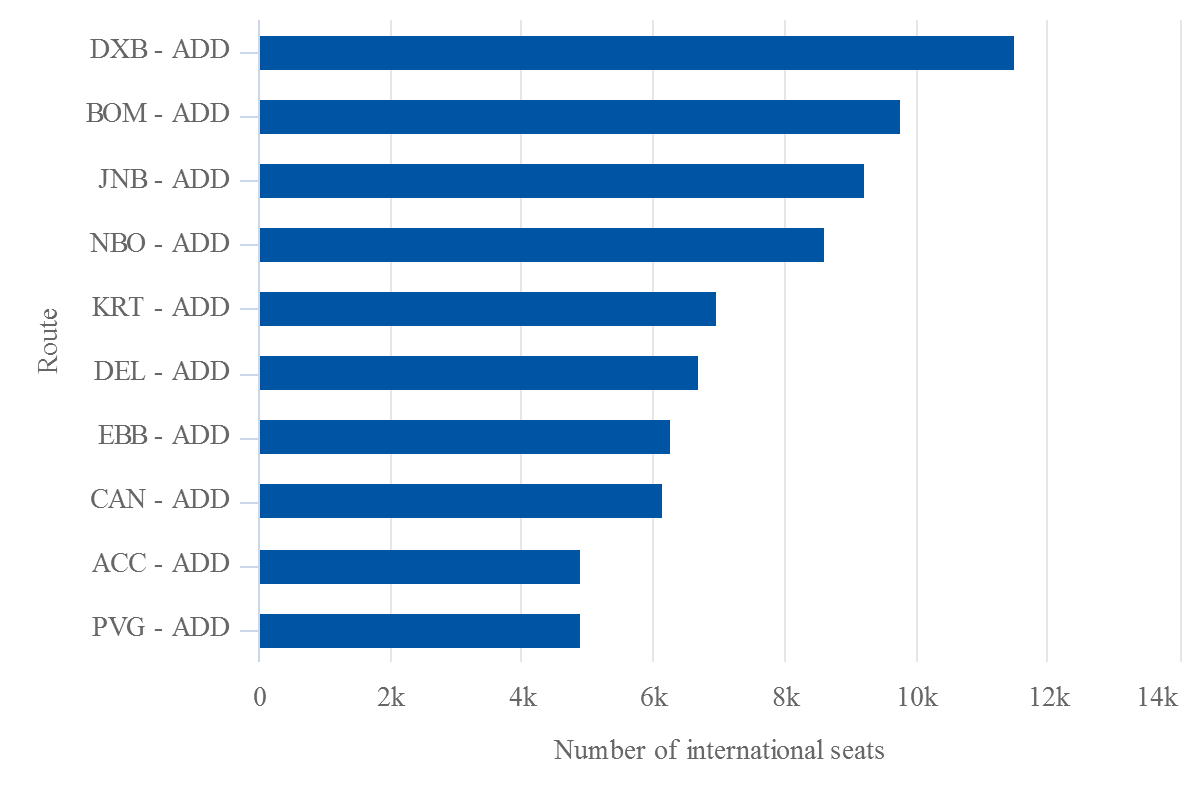 Addis Ababa route: easier access for African students to a big university cluster in northern England
The route is based on traffic statistics that show that each year 400,000 people in Manchester Airport's catchment area are travelling to key cities across Africa via other travel options, including to Addis Ababa. Ethiopia is the second most populous country in Africa, with over 100 million inhabitants and a growing, if not exactly burgeoning, middle class. The World Bank thinks it will become a 'Middle Income' country by 2025.
While the new Ethiopian route initially operates via Brussels, there is no reason why it should not ultimately operate as a 'stand-alone' service, or why Manchester could not be the fifth freedom point to an onward destination – as is the case in Dublin from the Ethiopian service there.
However, most major North American cities are now covered by direct services from Manchester, and the UK-U.S. bilateral has to be renegotiated as a result of the UK leaving the European Union. That will put the UK outside the Europe-U.S. open skies agreement.
Putting Manchester on the route of an Africa–Latin America service such as Rio de Janeiro looks to be improbable, though for Manchester it would kill two birds with one stone, since new routes to both continents are highly coveted.
Potentially the route opens up new export markets, not only in East Africa but throughout much of the continent. The flight timings are such that the value of the Addis Ababa hub is optimise. The aircraft actually stays on the ground in Manchester for several hours more than it needs to, and this is in order to maximise the transit opportunities with as little time spent in the capital's Bole International Airport in Addis Ababa as possible.
Tourism should also be boosted and the service will offer easy access to universities in Manchester, and in the Northwest of England generally, that are positively thriving on foreign students and the high fees they pay. Those universities will be updating their Africa strategy very soon.
The key question is whether the public will use the service. Socio-economic projections are one thing; winning business is another.
There will not be a massive demand to Addis Ababa itself (though there might be a growing demand from there). Many of the passengers will travel on connecting services after arrival, but with many destinations that will mean winning passengers from Emirates, Qatar Airways, Etihad, Turkish Airlines, KLM, Lufthansa and other airlines that are already well established. They will not give them up without a fight.
Only time will tell if Ethiopian has the marketing credentials to make a success of this route.
Mumbai: having an Indian route has been prized by Manchester for many years

The other new service is even more greatly prized.
Manchester has been chasing an Indian service for years. Mumbai is a more realistic gateway than Delhi. It is the more important commercial city, quite apart from being the premier hub for, and home base of, Jet Airways, which is marginally the largest airline at Mumbai by seat capacity.
Mumbai Chhatrapati Shivaji Maharaj International Airport, total system seats for all business models: week commencing 21-May-2018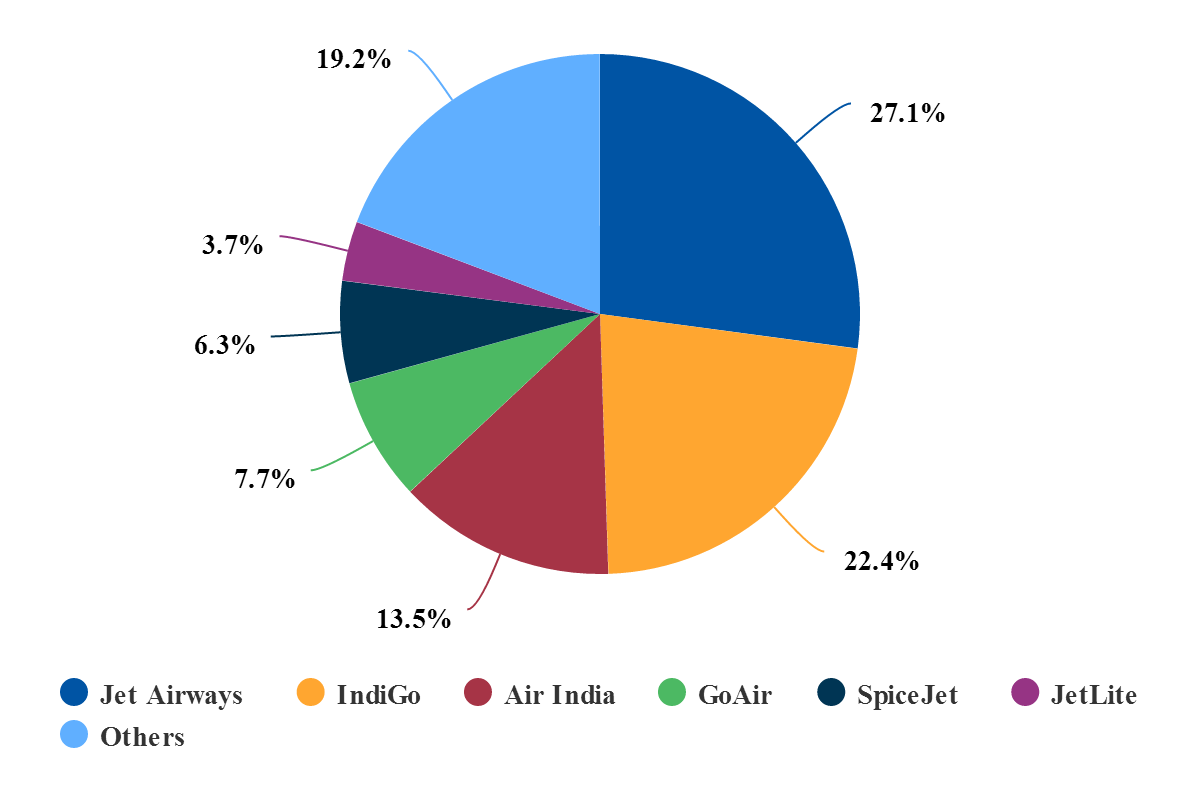 Jet Airways' Indian/South Asian cities
As mentioned earlier, there are existing non-London services from Birmingham Airport to both Delhi and Amritsar (Air India), but a little more than they target commercial passengers, those services target expatriate extended families living across the English Midlands and Indian-based relatives.
The catchment area of Manchester Airport affords Jet Airways the opportunity to target this Indian Diaspora in the Midlands who originate from Mumbai or cities that are connected to it by that airline. In just the same way, Air India has been able to target and attract Indians living in the north of England to Birmingham, to its Delhi and Amritsar flights. Those catchment areas overlap in the North Midlands, with the city-region of Stoke-on-Trent usually regarded as the epicentre.
Jet Airways' service to target commercial travel rather than leisure
But the four times weekly Mumbai-Manchester flights, which start on 05-Nov-2018, are intended primarily to strengthen connections between "two major global cities and the wider Northern Powerhouse", according to the British Secretary of State for International Trade, Dr Liam Fox, a key mover and shaker in the Brexit movement and a powerful advocate for non-EU-related trade growth. He has hailed the service as a "milestone in the UK's relations with one of the world's most important economies".
There will be close to 8000 weekly seats between the cities. Over a hundred Indian companies are based in the North West, and this route is expected to further trade relations worth GBP18 billion annually between the world's largest and oldest democracies.
The industries in northern England most likely to want to take advantage of these services, apart from those that are Indian-owned, include specialised and advanced engineering, pharmaceuticals, biotechnology, CIT, digital and creative, and environmental, all of which are clustered there.
A direct Indian service opens the door to the world's second largest test bed after China for developing consumer applications of graphene; the National Graphene Institute is based in Manchester.
Traffic originating in India will undoubtedly include entrepreneurs for whom the UK market offers potentially rich pickings, and who will be welcomed with open arms; inward investment is particularly sought from a country and city from where many such entrepreneurs have already made their journey to the UK.
Students will be targeted as in the case of the Ethiopian flight. The target market may also include middle class soccer supporters (Manchester United is reputed to have millions of supporters in India – the influence of sport on air travel should never be underestimated).
The influence of the Northern Powerhouse is limited in the 'north'
There is the question, though, of how far the influence of the 'Northern Powerhouse' goes. Living 'in it' does not automatically mean that you support the international air services that operate from it.
Potential passengers in places like Newcastle or Leeds or Sheffield might still prefer to fly via London from their local airport when they can, or via a European hub, rather than making a surface journey to Manchester for what is (initially) not a direct flight anyway. For many years that has been a problem for Manchester Airport, which still loses up to four million passengers a year to Heathrow alone. And for business passengers – Mumbai is not a daily service, which means some will always be lost to the opposition.
Both these new services will produce winners and losers. Winners include Manchester Airport, which may attract other airlines from Africa and India. Just as Hainan Airlines' Beijing service prompted immediate talk of a Shanghai service (though that has not materialised yet), and just as Emirates' Dubai service spawned sixth freedom copycats in the form of Qatar Airways, Etihad Airways, Turkish Airlines and Oman Air.
London Stansted Airport, also in the Manchester Airports Group and having recently secured a daily Emirates Dubai service, will no doubt also covet Jet Airways, at least, examining its credentials.
Losers may be the MEB3 airlines, all three of which could experience a diminution of their passenger numbers – not so much because of the Ethiopian flight, but rather the Jet Airways one, and especially if it becomes daily. Many of Jet Airways' Manchester passengers have South Asia as their ultimate destination and vice versa.
Parts of this report first appeared as an article in the Blue Swan Daily, a CAPA publication.