Macau Airport faces biggest test in its 13-year history
Analysis
Macau International Airport (MIA) has had its share of challenges since opening in 1995; from the Asian Financial Crisis, to September 11 and SARS. These resulted in sharp reductions in traffic generally of short duration. This current crisis has seen a decimation of cargo demand (traffic is down around 40% this year, falling approximately 60% in Oct-08 alone), while passenger numbers have fallen in eight of the past nine months - and worse is to come.
Macau International Airport passenger numbers vs cargo volume growth
(% year-on-year): Nov-07 to Oct-08
2007 could be the high water mark for a couple of years
In its first full year of operations in 1996, MIA had 12 passenger airlines flying to 17 destinations, and handled 1.3 million passengers and 25,000 tonnes of cargo. Today, there are 15 passenger airlines flying to 28 destinations, and in 2007 the airport handled 5.5 million passengers and 180,000 tonnes of cargo.

But 2007 could be a high water mark for MIA for at least a couple of years. Airport operator, CAM-Macau International Airport Company Ltd (CAM), which is 13 years into a 50-year exclusive airport concession agreement, faces a complex array of challenges, which are all out of its direct control:

Economic slowdown: The Mainland's economic slowdown has hit demand for air travel to the former Portuguese enclave. The Pearl River Delta economy is in serious difficulty and job losses in the region are mounting as manufacturing activity drops.

Cross-Straits: Improving cross-Strait relations and the opening up of direct weekend charter flights between Taiwan and the Mainland has had a major impact on Macau's core transit passenger market. The situation will only worsen with the planned introduction of daily charter services from mid-Dec-08 and scheduled services mid next year.

Hording of rights by Air Macau: A major challenge for the airport is the reluctance by exclusive airline concession holder, Air Macau, to utilise its extensive portfolio of air services rights. Viva Macau, an ambitious new entrant (utilising a sub-concession agreement from Air Macau) has been frustrated in the expansion of its network by a lack of access to markets it would be keen to develop.

Thai political tensions: The shutdown of Bangkok's airports will also have a short-term impact on Macau, as Thailand is a key market for the city, with 45 flights per week.
Diversification is the key
Airport officials recognise the severity of the challenges. A company spokesman recently stated, "with the overall downturn of economy, airlines have been watching carefully in developing the most profitable routes for business". In this environment, airlines tend to focus on the major hubs, with Hong Kong and Guangzhou looming large in the Pearl River Delta.

MIA has been preparing for the loss of Taiwan-Mainland transit traffic for several years, but aims to re-double its efforts to diversify its short-haul network "aside from our well served markets like Bangkok, Kuala Lumpur, Philippines and Taiwan". The airport has had some success in attracting new airlines, to reduce its dependence on Asia's arguably most unimaginative airline, Air Macau (currently accounting for 34% of the airport's passenger capacity).

CAM stated there are currently five LCCs operating routes to Macau (it counts Bangkok Airways in this group), with their passenger loads accounting for around 30% of total airport throughput.
Macau International Airport capacity breakdown by carrier
(seats per week as % of total): Week commencing 24-Nov-08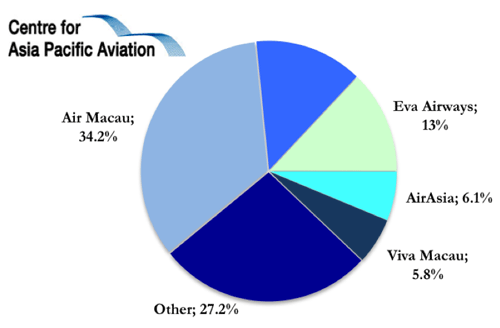 CAM is targeting the major tourism outbound markets like Japan, Korea and India, as well as the Middle East, "which are expected to be the next biggest drivers of traffic to Macau in the future".
Assistance package announced
In view of the problems facing the airline sector, CAM has recently coordinated and submitted proposals to Civil Aviation Authority of Macau requesting approval for an aid package. CAM stated it is "working with all the airport entities and airlines, aiming to create the possible conditions to minimise the difficulties arising from the difficult times ahead for the industry".

The yet-to-be-approved proposals focus on:

1. "Global and temporary airlines cost relief" - in the form of an up-front subsidy for each flight planned for the coming months, "giving airlines a reason to continue to operate to the airport and maintaining the scheduled frequencies even with fewer passengers per aircraft".

2. Increased incentives for growing traffic - rewarding growth in airline passenger numbers, "to keep them motivated in developing the traffic at our airport and to sustain lower ticket prices.

While the amount of incentives on offer has not been disclosed, during SARS, CAM offered a 30% reduction on landing fees to airlines that were willing to maintain existing scheduled services and a 30% reduction on their airport office rentals.

It is not clear when the incentives will be implemented, but they are expected to provide further support particularly to the LCC sector serving Macau.
Diversification is the key
Despite the challenges, CAM's Marketing Director, Antonio Rato, remains optimistic, noting that the government's strategy of developing diverse visitor attractions in the city provides a future "full of opportunities for Macau and its aviation industry".

Business aviation is another area that has seen significant growth for CAM. An increasing number of business executives, as well as gaming clients are arriving in the territory by private jet. 2007 saw around 750 business jet arrivals and departures, a 25% increase on the previous year, and a further 20% increase is expected by the end of this year.

CAM recently opened the renovated Macau Business Aviation Centre (MBAC). Built in 2000, the centre caters specifically to the arrivals and departures of private jet passengers, providing streamlined customs and immigration services, as well as a private waiting lounge and bar.

Other airport developments, which are scheduled for completion next year, include an expansion of the existing terminal, providing additional gates for boarding, and to diversify the range of shopping and F&B facilities, as well as the construction of a new multi-level car park.
Outlook: Further expansion may have to wait
Beyond this, major expansions to increase the current capacity of the airport from 6 million to around 12 million passengers are part of CAM's broader planning initiatives, which are subject to final government approvals. This will involve building additional aircraft and passenger facilities, and will require significant land reclamation.

These plans, estimated to cost USD625 million, were expected to be implemented over the next three to eight years. However, the current set of challenges that has seen Macau's traffic slide this year (and likely stagnate in 2009), could reduce the pressure for the near term expansion of facilities.
In neighbouring Hong Kong, Cathay Pacific has already moved to defer the development of its dedicated freight terminal. If this downturn is protracted, some of Macau's ambitious development plans, including the expansion of the city's airport, could join the wait-list.
Background Information:
Macau Airport opened in 1995 and is operated under a 50-year concession agreement with the Macau Government by CAM-Macau International Airport Company Ltd;
The airport handled 5.5 million passengers in the 12 months ended 31-Dec-07, up 11% year-on-year.
As passenger traffic swells, the airport plans to increase capacity from six to 12 million passengers p/a.