Lufthansa to complete takeover of Brussels Airlines for possible integration into Eurowings
Analysis
Lufthansa's supervisory board has approved the exercise of its call option to buy the remaining 55% of SN Airholding, the parent company of Brussels Airlines. Lufthansa acquired 45% of the company in 2009 and negotiated the option to buy the balance of the shares for no more than EUR250 million. The deal is expected to close in early 2017, once the details of the purchase have been agreed with the other SN Airholding shareholders.
Lufthansa and Brussels Airlines have an extensive codeshare agreement and are partners in the Star Alliance. Their existing relationship is such that Brussels Airlines already feels like a member of the Lufthansa Group. The main draw for Lufthansa has always been its Belgian partner's extensive African network (it is the number two airline on Western Europe-Central/Western Africa).
However, it now seems that Lufthansa will, at least partly, integrate Brussels Airlines into its Eurowings low cost brand. Lufthansa is keen to accelerate Eurowings' expansion through partners (and is also to wet-lease up to 35 aircraft from airberlin). Brussels Airlines' fleet and single-class configuration on short/medium haul should fit with Eurowings, but its unit cost and network airline business model are not characteristic of an LCC.
Lufthansa bought 45% of Brussels Airlines; took option over the remaining 55% in 2009
Brussels Airlines was formed from the merger of Virgin Express and SN Brussels Airlines (itself formed out of the ashes of Belgium's historical flag carrier Sabena). The two airlines came under the common ownership of SN Airholding in October 2004 and continued to operate separately until a full merger in Mar-2007. The 'SN' flight code originally applied to Sabena, and then to Brussels Airlines, where it has survived.
On 15-Sep-2008 the Lufthansa Group announced its purchase of a 45% stake in SN Airholding, approved by the EU Commission in Jun-2009 when it granted regulatory approval for a strategic partnership between Brussels Airlines and Lufthansa. Brussels Airlines became a member of the Star Alliance on 9-Dec-2009.
Lufthansa's 45% stake in SN cost it EUR65 million and it agreed that the remaining 55% would cost up to EUR250 million, depending on performance-related factors. The option became exercisable in 2011 and was originally due to expire in Apr-2014, but was extended when Lufthansa provided SN with a shareholder loan.
The fact that Lufthansa chose not to exercise this option until now indicates that it was satisfied that its relationship with Brussels Airlines was providing sufficient benefit without Lufthansa taking full control.
The largest airline at Brussels Airport in a competitive market
Brussels Airlines is the leading airline at its hub, Brussels Airport. It does not have a dominant market share at the airport, but its 37% of seats is comfortably larger than second placed Ryanair's 9% share (week of 26-Sep-2016, source; OAG). Ryanair entered the airport in 2014, just as Vueling significantly increased its capacity there.
Jetairfly, the Belgian subsidiary of leisure group TUI, is third, with 7% of seats, and Lufthansa is fourth, with a share of 5%. LCCs easyJet and Vueling come next, with 5% and 4% respectively.
Overall, LCCs have a combined share of 25% of seats at Brussels and charter airlines have 3%.
Brussels Airport: airlines by share of seats, 26-Sep-2016 to 2-Oct-2016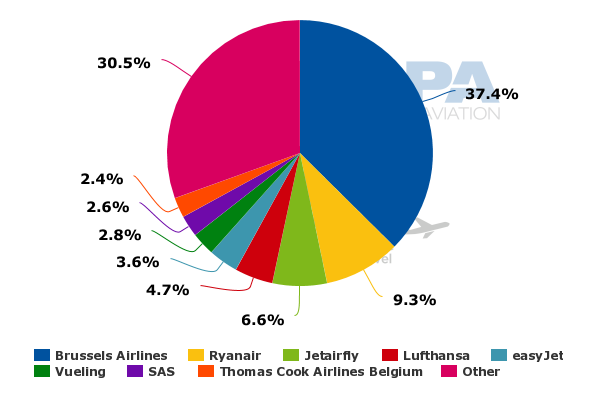 When the situation is viewed in combination with the city's other airport – Brussels South Charleroi Airport – it looks even more competitive.
The top six airlines remain in their respective rankings, but Brussels Airlines' share of the two airports' aggregated seat numbers is 30% and this is more closely followed by Ryanair's 24%, thanks to the Irish LCC's strong presence at Charleroi. Wizz Air's presence at Charleroi ranks it in seventh place by seats across the two airports.
LCCs have a combined share of 41% of seats and charter airlines have 2% in the airport system in Brussels. The city (Brussels is the administrative centre of the European Union) combines business markets with leisure markets that are best served by LCCs and charter airlines.
Combined seat capacity by airline at Brussels Airport and Brussels South Charleroi Airport: 26-Sep-2016 to 2-Oct-2016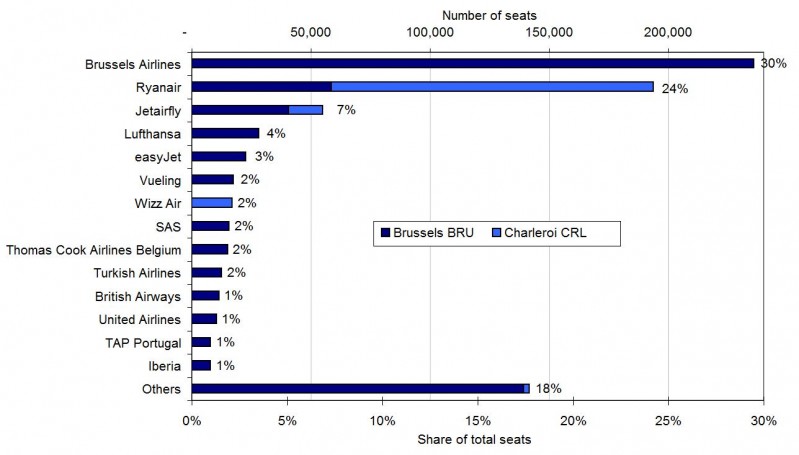 Double-digit passenger growth in 2014 and 2015, interrupted by terror attacks in Mar-2016
Brussels Airlines carried 7.5 million passengers in 2015 – an increase of 13.5% compared with 2014 and the second successive year of double-digit growth. Its growth since 2013 has mainly come from the addition of new routes in its Europe network.
This growth, coinciding with a strong increase in LCC capacity in Brussels, may have given Lufthansa increased confidence in its Belgian partner's ability to compete with LCCs.
Strong passenger growth continued in Jan-2016 (+8.5%) and Feb-2016 (+15.8%), but was interrupted by the impact of the terrorist attacks that hit Brussels Airport and Brussels city centre in Mar-2016, when passenger numbers fell by 19.1% because the airport had to be closed for 12 days.
The airline used alternative airports for part of its programme, but could not avoid its first monthly passenger decline in more than two and a half years. In Apr-2016 there was also a decline, of 16.9%, but growth resumed in May-2016 and the YTD cumulative growth for 8M2016 was up by 0.7%. Its 8M2016 passenger numbers of 5.0 million compare with Eurowings' 12.1 million.
Data from OAG indicate that Brussels Airlines plans to grow its seat numbers by 10.6% in 2016.
Brussels Airlines: passenger numbers (million), 2009 to 8M2016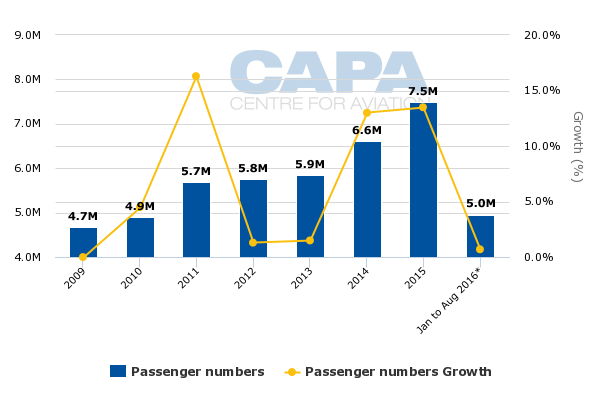 Load factor falls short of Lufthansa Group and LCC levels
Brussels Airlines achieved a steady improvement in passenger load factor from 62.6% in 2009 to 74.4% in 2015. However, this remained well below the Lufthansa Group average of 80.4%, and significantly lower than the 90%-plus levels achieved by leading European LCCs such as Ryanair and easyJet.
In 2016 load factor grew strongly in January and February, but fell in March and April (for the reasons noted above). From May-2016 to Jul-2016 load factor improved again, before declining in Aug-2016. Brussels Airlines' YTD level of 74.0% for 8M2016 was 0.7ppts above load factor in the same period a year earlier.
Brussels Airlines: passenger load factor, 2009 to 8M2016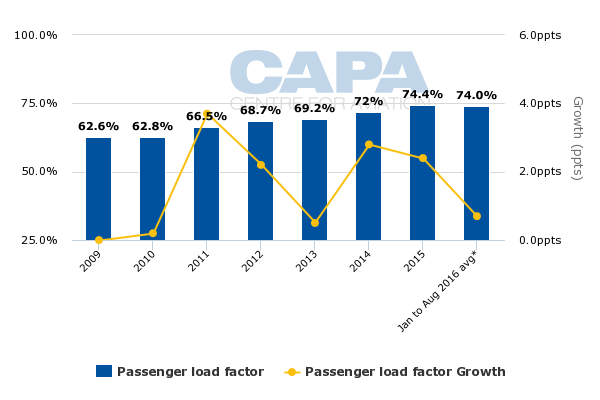 Although not yet controlled by Lufthansa in terms of majority share ownership, in many ways Brussels Airlines has operated as a de facto member of the Lufthansa Group in operational terms since 2009. Under the partnership Lufthansa and Brussels Airlines have extensive codeshares, and there is considerable coordination of flight operations.
Brussels Airlines is smaller than the other national airlines in the Lufthansa group in passenger terms. Its 7.5 million passengers compared with 79.5 million for Lufthansa, 17.5 million for SWISS and 10.8 million for Austrian Airlines in 2015. Nevertheless, it has enjoyed faster passenger growth than the other three since 2013.
Brussels Airlines, Lufthansa, SWISS and Austrian Airlines: passenger numbers, 2008 to 2015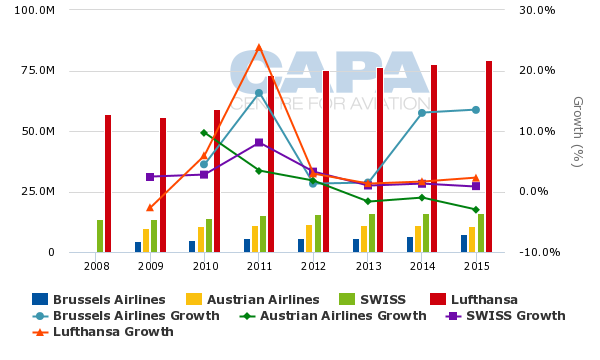 More than four fifths of Brussels Airlines seats are in Europe, but its Africa network gives it a distinct niche
With no domestic routes, Brussels Airlines' capacity is all international and dominated by Europe, which accounts for 82% of its seats (week of 26-Sep-2016, source: OAG). Out of a total of 84 destinations, it flies 61 in Europe and one in the Middle East (Tel Aviv).
Its European destination count has grown from 43 since summer 2013.
Brussels Airlines international seat capacity by region: 26-Sep-2016 to 2-Oct-2016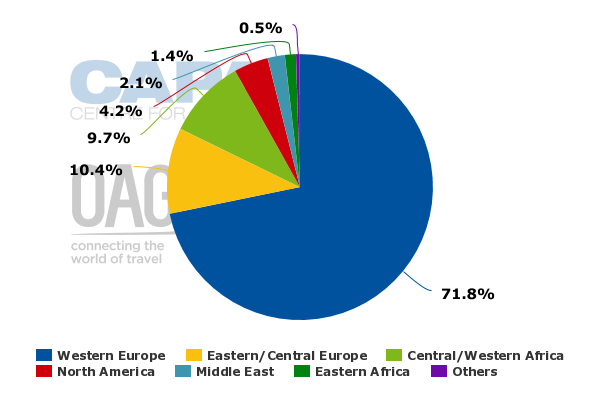 Brussels Airlines' long haul network consists of 19 destinations in Africa, which is the same number as in 2013, and three North American routes (New York JFK, Washington Dulles and Toronto, the last of which was launched in Mar-2016).
Within Africa it has particular strength to Central/Western Africa, where it is the second largest Western European airline after Air France.
Lufthansa itself has seven times the total number of network-wide seats as Brussels Airlines, but the Belgian airline's African network is approaching the size of Lufthansa's, with 80% of the number of seats that Lufthansa has in Africa.
Around 9% of Brussels' seat capacity is on African routes, compared with around 2% for the wider Lufthansa Group. Brussels Airlines contributes only 7% of total group seat numbers, but 36% of the group's African seats.
It is its African network that gives Brussels Airlines a niche and has always defined its distinctive role within the wider Lufthansa Group. It is not clear how this will be treated if Brussels Airlines is to be folded into Eurowings.
Brussels Airlines' fleet consists of 48 aircraft, of which 9 are A330 widebodies, 29 are A320 family narrowbodies and 10 are BAE regional jets (source: CAPA Fleet Database). All but one aircraft are leased. The fleet has grown from 44 aircraft in summer 2013 and 46 in summer 2014.
The average age of the fleet is 15.1 years, with the A330 and BAE aircraft averaging 19 years and the A320 family aircraft averaging 12.6 years.
If this fleet is to be merged into Eurowings it will significantly increase the scale of Lufhansa's LCC brand, which currently operates 90 aircraft.
In addition, Brussels' Airbus aircraft will fit with Eurowings, which consists of 76 A320 family aircraft and 12 remaining Bombardier regional jets that will be replaced with A320s (note this is the combined fleet of Eurowings and Germanwings, which both operate within the Eurowings brand). Eurowings also deploys three A330-200s operated on its behalf by SunExpress Germany.
Some minor seat configuration changes to Brussels Airlines' narrowbodies would be needed if they were to conform to the Eurowings approach. According to OAG, Brussels Airlines' A319s have 141 seats and its A320s have 180 seats, both in an all-economy configuration. Germanwings' A319s have 144 seats and its A320s have 174 seats – also all economy class – while the newer A320s operated by Eurowings have 178 seats.
There would also need to be changes to Brussels Airlines' long haul aircraft configuration if all of its widebodies are to be integrated into Eurowings (although this may not be the case). Its A330 fleet consists of nine A330-200s and 6 A330-300s. Its A330-200s operate with 22 business class seats and 250 economy class seats, while its A330-300s have 30 business class and 254 economy class seats.
The A330-200s operated for Eurowings by SunExpress Germany have 310 all-economy seats.
Brussels Airlines fleet as at 29-Sep-2016
Eurowings partnership model allows accelerated expansion
Lufthansa has said that Eurowings plans to add further operators to its network, flying a consistent product under a single brand. The 'Eurowings cooperation model' envisages partner airlines joining under one of three possible approaches.
1. wet-lease/ACMI arrangement
The simplest form of cooperation is under a wet-lease/ACMI arrangement as a subcontractor to the airline management company Eurowings Aviation. This allows a quick ramp up, but does not give strong incentives for the partner beyond its hourly rate and is Eurowings' least-preferred option over the longer term.
This is the method adopted by Lufthansa in its recently announced agreement to wet-lease up to 35 Airbus narrowbodies from airberlin. It is also the arrangement under which SunExpress Germany provides Eurowings' long haul capacity.
2. Become an 'AOC Partner'
The second form of cooperation is to become an 'AOC Partner', where the partner shares central admin and commercial functions with Eurowings and keeps its revenue, less a fee to Eurowings.
3. An equity relationship
The third form of cooperation is an equity relationship between Eurowings and the partner airline. This is the closest form of partnership envisaged under the Eurowings cooperation model. It seems that Brussels Airlines could be the first to be brought under the Eurowings brand using this approach.
In seeking partner airlines Eurowings is considering a number of criteria. These were set out in a 10-Jun-2016 presentation to equity analysts in London by the management of Lufthansa and Eurowings.
They include having a level of cost per available seat kilometre (CASK) that is competitive with easyJet's (while taking into account different stage lengths and levels of airport charges); daily aircraft utilisation rates in the region of 10-10.5 hours; labour productivity efficiency; and numerical benchmarks such as EBIT margin and return on capital. There must also be a strategic rationale and the ability to implement the partnership plan.
See related report: Eurowings develops innovative partnership approach, but CASK reduction may not go far enough
One important question mark that is raised by the folding of Brussels Airlines into Eurowings is that it does not seem to conform to the CASK criterion mentioned above.
The chart below compares Brussels Airlines with other European airlines in terms of its unit cost and its average trip length. CAPA has calculated that Brussels Airlines' CASK fell by 14% between 2012 and 2015.
As indicated on the chart, Brussels Airlines has a fairly efficient cost base in comparison with other European legacy airlines (including Lufthansa). Moreover, it has a lower level of unit cost than Eurowings, but Eurowings is not a true low cost airline in CASK terms (as noted in the above-referenced CAPA report). Eurowings expects to cut its unit cost by 28% by 2020, but this will still leave a cost gap between it and Europe's leading LCCs.
However, Brussels Airlines' unit cost is higher than that of European LCCs (including easyJet), and higher still than that of the ultra-LCCs (including Ryanair).
Cost per available seat kilometre (CASK, USc) versus average trip length (km) for Brussels Airlines and Germanwings/Eurowings compared with other European airlines: 2015

Eurowings also to take up to 35 airberlin aircraft on wet lease
In addition to the prospect that Lufthansa may bring Brussels Airlines into Eurowings, it is pushing the expansion of its LCC brand further through the wet lease of up to 35 Airbus A320 family aircraft from airberlin (a further five airberlin wet-leased aircraft will also be allocated to Austrian Airlines).
For airberlin this is part of a new strategic restructuring that also entails the carving out of a separate leisure business unit, and up to 1,200 redundancies.
The core airberlin operation will then comprise a fleet of 75 aircraft, focusing on higher-yielding scheduled network operations from twin hubs at Berlin and Duesseldorf. After many years of losses, and several bailouts by its largest shareholder Etihad, airberlin needs radical change.
See related reports:
Lufthansa has said that its Eurowings partnership strategy will not involve it propping up or bailing out ailing airlines, but it could argue that a wet-lease arrangement for part of airberlin's fleet does not contradict this pledge.
Moreover, Lufthansa probably has an interest in not allowing airberlin to collapse, since its disappearance would create a vacuum that would likely be filled by more aggressive competitors such as Ryanair.
Lufthansa has refrained from taking full control of Brussels Airlines for seven years, until now
The Lufthansa Group has worked with Brussels Airlines for more than seven years without taking full control - until now. Why?
Lufthansa management said earlier in 2016 that any decision to exercise its option over the remaining 55% would be based on a detailed route-by-route analysis of its network and the potential synergies with other Lufthansa group airlines.
Brussels Airlines' main strategic asset, and its main attraction to Lufthansa, has always been seen as its African network. Through codeshare agreements and Star Alliance membership, in addition to its existing 45% stake, Lufthansa already benefits to a large extent from its partner's niche without having to own it outright.
Moreover, for each of the years 2011 to 2014 Brussels Airlines was loss-making, and the merits to Lufthansa of paying for a full share of these losses were debatable. The Belgian airline's return to profit in 2015 may have increased its attraction to Lufthansa, although the German airline deferred making a decision earlier this year due to the Brussels terrorist attacks.
Brussels Airlines operating profit (EUR million): 2011 to 2015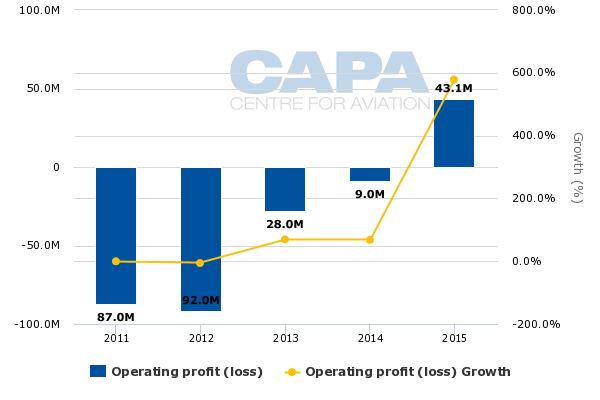 However, Lufthansa's thinking appears to have been influenced more by the urgency of its desire to expand its Eurowings LCC brand. Lufthansa has previously indicated that the possibility to integrate Brussels Airlines into Eurowings would be a strong consideration if it were to take full control.
Growing competitive pressure from LCCs in Germany, and the need to demonstrate alternatives to its mainline workforce during protracted labour negotiations, have contributed to Lufthansa's resolve to grow its low cost platform. Its growth can be more rapid through the use of partnerships than it could be by purely organic growth.
See related report: Lufthansa linked to possible acquisitions of SAS, Brussels Airlines & Condor. Eurowings is priority
Brussels Airlines has greater stability, but its integration into Eurowings raises questions
Lufthansa's decision to take full control gives Brussels Airlines greater security and stability as a full member of the Lufthansa Group. It gives Lufthansa the opportunity for a step change in the scale of its low cost brand Eurowings (further boosted by the airberlin wet-lease agreement).
However, Brussels Airlines is a network airline (and an alliance member), while Eurowings is primarily (but not exclusively) a point-to-point airline. Furthermore, Brussels Airlines cannot be defined as low cost from a CASK point of view, even if its unit cost is below that of Eurowings. It should be said however that Brussels Airlines has managed to grow in the face of increased LCC competition in the past two years).
These discrepancies – in business model and in CASK levels – suggest that Lufthansa's vision of Eurowings is not that of the kind of LCC with which it increasingly competes in Europe. Perhaps it is more a pragmatic recognition of the limitations on how far it can take the LCC model. Perhaps, too, it will only integrate part of Brussels Airlines into Eurowings.
Expect further clarity of Lufthansa's thinking to emerge over coming weeks. It is quite probable that thinking is still evolving.