Lufthansa and Etihad bedfellows - at last - but unions may make marriage a distant prospect
Analysis
There can be no understating the symbolic change in mindset of Lufthansa agreeing to partner with Etihad. Lufthansa has spent the better part of a decade rallying against Gulf airlines to the press, lobbying in Europe's power corridors and seeking a range of aeropolitical measures to wind back new competitors. Etihad has been the prime target for its investment and ongoing top-ups in a range of European airlines including Lufthansa's home competitor, the failing airberlin. Despite that, it is not well known that the two have come close to a liaison before, suggesting that each sees an intrinsic logic in a relationship.
The partnership has potential to be more significant than Emirates-Qantas, Qatar-IAG or Etihad-AF-KLM. But for now it is limited in scope and caution should be exercised in extrapolating too far at this stage.
Lufthansa CEO Carsten Spohr is seeking new growth platforms that sidestep the flagship business' uncompromising unions who would seemingly prefer a status quo that exists only in memory. Their support will be necessary if the partnership is to work and grow. Then Lufthansa, which has rallied the Star Alliance and JV partners against Gulf airlines, will need to explain its change of heart. For now Lufthansa will not partner on Etihad's beyond-Abu Dhabi network, a move that would embrace the fundamental business plan of Etihad and peers. That upside remains a matter for speculation.
Lufthansa and Etihad to codeshare in addition to the airberlin wetlease arrangement
Lufthansa and Etihad on 16-Dec-2016 announced some potentially game changing developments. First was the finalisation of the previously mooted wet-lease agreement between Lufthansa Group and airberlin, which Etihad Aviation Group indirectly holds a 29 per cent stake. Under this agreement, Lufthansa's point-to-point carrier Eurowings and Austrian Airlines, a Lufthansa Group airline, have signed an agreement to wet lease 38 aircraft from airberlin.
33 of these aircraft are to be operated for the Eurowings Group, and an additional five aircraft are to be flown for Austrian Airlines. The agreement has a term of six years and becomes effective from Feb-2017 subject to regulatory approval.
See related report: Airberlin: airline's latest, more radical, restructuring gets help from TUIFly and Lufthansa
What was new – and not widely expected – was a codeshare agreement between Lufthansa and Etihad, although this initially starts on a small scale on a handful of routes, summarised in the table below.
Etihad and Lufthansa initial partnership arrangements: 16-Dec-2016
Lufthansa placing its code on Etihad's Abu Dhabi services means Etihad will carry the airberlin AB and Lufthansa LH code from Frankfurt and Munich to Abu Dhabi (among other airlines). In terms of sheer codeshares irrespective of symbolic meaning, Lufthansa is not a major addition - but it is the symbolic meaning that gives this agreement its great significance.
Etihad in the week commencing 19-Dec-2016 has 19 weekly codeshares on Air Europa to four points in Latin America, according to OAG data. Air Europa serves one of the points (Bogota) that Etihad will codeshare with Lufthansa; but Air Europa does not carry Etihad's code to Bogota.
Etihad warmly embraces the German heavyweight while Lufthansa is more coy
Etihad and Lufthansa issued a joint statement about the development. While some discretion is to be exercised about such statements, the two obviously are mindful of how the development appears to the public. Etihad's attributed quotes were warm and flattering of Lufthansa as a company while Lufthansa's comments were reserved and avoided directly complimenting the competitor it has long derided.
Etihad and Lufthansa comments about each other in announcing partnership: 16-Dec-2016
Etihad
Lufthansa

"Lufthansa is highly respected globally and I'm very pleased that we will work together in the future for the benefit of our customers. It is very clear to us at Etihad Airways that Lufthansa is a like-minded, forward thinking organisation with which we can do strong, meaningful and mutually beneficial business."

-Etihad Aviation CEO James Hogan

"We are looking forward to partnering with the Etihad Aviation Group. The wet-lease contract with airberlin fosters the growth of our Eurowings Group. The codeshare agreement of Lufthansa and Etihad will offer our customers more benefits and complement both airlines' networks. We will consider extending our cooperation in other areas."

-Lufthansa Group Chairman of the Board and CEO Carsten Spohr
German government has pressed Lufthansa for Gulf partnership solution
An early public sign of changing winds for Lufthansa's intercontinental strategy occurred in May-2016, with remarks from a German government official that Lufthansa should forsake its stridently protectionist tone and consider a Gulf partnership. "Walling off the market won't help, and the Gulf carriers have a geo-strategic advantage due to their location...One should think about other possibilities," Bloomberg quoted Brigitte Zypries, Germany's Economy Ministry state secretary who coordinates the country's aviation and aerospace policy.
Besides the direct comment about not restricting the market and promoting protectionism, it seems there is a message the government was unlikely to intervene before Lufthansa had exhausted all options. Inevitably in the background was always the need to bring along the unions, notably Lufthansa's pilots.

There is some inconsistency however: as Lufthansa struggles with its labour problem, the government is unwilling to amend labour laws to the support the airline. In some ways Lufthansa was between a rock and a hard place, directed to fix its problem by authorities reluctant to address the underlying labour issue.
Codeshare does not yet embrace Etihad's fundamental – and contentious – business model
Although the partnership envisages cooperation between two airlines previously at opposing ends of the spectrum, the cooperation is at this stage modest only. Critically, the cooperation does not embrace Etihad's fundamental business model of intercontinental traffic flows through a Gulf hub.
The partnership at this stage is heavily tilted in Lufthansa's favour with little to lose, and thus should appease its sensitive unions. Etihad will place passengers onto Lufthansa's network while Lufthansa's cooperation is limited to codesharing only to Abu Dhabi. Lufthansa served Abu Dhabi until mid-2015.
Lufthansa served Abu Dhabi as part of a multi-city routing with other Gulf destinations, which over the past decade have included Kuwait, Sana'a, Muscat, Dammam, Doha, and Bahrain. Lufthansa even served Abu Dhabi as a tag from Dubai for a number of years, a 72 mile hop (Great Circle distance) with a block time as short as 45 minutes.
The range of tags, and other changes to Lufthansa's Gulf network, indicate the challenge (not just to Lufthansa) of serving small markets without beyond traffic. There is also a lesson in costs: when Lufthansa exited Muscat, also in 2015, it said passengers could continue to access Muscat via group airline Swiss, which has lower costs than Lufthansa.
Lufthansa's statement in Oct-2014 when it announced the Abu Dhabi exit was terse:
Substantial capacity has arisen in recent years on services between Germany and the United Arab Emirates because state-subsidised Gulf carriers have massively increased their presence...The service between Frankfurt and Abu Dhabi has become increasingly uneconomical for us. We are now taking the consequences...This development has been further exacerbated by the fact that Etihad Airways has unfairly been allowed to offer and market code-sharing flights with airberlin.
Lufthansa-Etihad partnership evolution: from tactical to encompassing
Lufthansa's actions so far make Etihad a tactical partner in that Etihad once again gives Lufthansa access to the Abu Dhabi market it exited, while Etihad brings Lufthansa more passengers. But the partnership is not – or at least not yet – a broad cooperative deal that is encompassing.
Outside of the short-haul European market, Lufthansa's challenge is the competitive overlap on intercontinental traffic flows. For this challenge, Lufthansa is not yet embracing Etihad as a solution. Lufthansa is not partnering with Etihad beyond Abu Dhabi the way airberlin does. By contrast, Air France-KLM in 2012 announced a partnership with Etihad that included beyond-Abu Dhabi services.
Lufthansa's strategy so far resides in JVs with Air China, ANA and Singapore Airlines, among other measures such as the new Eurowings platform. Until Lufthansa partners with Etihad beyond Abu Dhabi, or forms a partnership encompassing both European and Abu Dhabi hubs, it is difficult to say Lufthansa views Etihad as any more than a tactical solution for Abu Dhabi and matters at home (airberlin), but a more encompassing partner that can provide real substance to Lufthansa's continuing long haul challenge.
Limits of Etihad-Lufthansa partnership more reflective of union concerns than management intent
While Lufthansa is not (yet) making Etihad a comprehensive solution, the Gulf carrrier offers an array of possibilities. This may already be contemplated by Lufthansa management. Mr Spohr's statement directly addresses further expansion of the partnership. The direction of Lufthansa, and especially AF-KLM, has been dictated largely by unions in recent years. It would surely be difficult to announce a broad partnership that could be interpreted by unions as shifting growth from Lufthansa to Etihad. Gradual development is a sound strategy (and indeed is a celebrated practice of Chancellor Angela Merkel).
Still, it is surprising Lufthansa did not at least add one or two small beyond Abu Dhabi points around the larger Middle East region that Lufthansa (and partners) do not yet serve. This would allow Lufthansa to test how the partnership might work. Partnerships progress from agreement in principle to practice, exploring commercial and human factors as the airlines explore how much inventory a partner makes available, and how the two management teams mesh.
The longer standing AF-KLM partnership with Etihad appears to have fizzled, no doubt strained by Air France's berating of Etihad, but also the anaemic role of the French government when push comes to shove. But there have also been concerns from Etihad partners that Etihad's own organic growth and large range of partnerships make it difficult to access Etihad inventory, thereby limiting the effectiveness of the partnership.
Etihad potentially brings the Lufthansa Group 21 un-served Asia-Pacific destinations
There are many directions for the partnership to expand, ranging from the direct flying business to (more profitable) ground-based activities, of which Lufthansa is a leader. Within the flying arena, one logical assumption would be for Lufthansa to look to grow its footprint to the east.
Etihad so far in 2017 will serve 21 points in Asia-Pacific that Lufthansa Group (full-service units and Eurowings) have no plans to serve.
This seems impressive, but nine of the points are part of existing Lufthansa JVs that may constrain an additional partnership (if warranted). The remaining 12 points are around South Asia, and potentially cooperative points, although many could be covered better under a deeper partnership with fellow Star member Air India.
Etihad Asia-Pacific destinations not served by Lufthansa Group: 2017
The largest opportunity of un-served destinations is around South Asia. This presents potential challenges. In terms of market access, Etihad is unlikely to be satisfied with existing access – this region is heavily constrained aeropolitically. As a result, there may not be space to give up, although partnerships require gives and takes.
In terms of value, South Asia presents the opportunity to connect to intercontinental markets where the revenue to distance ratio is high. As a result, the airline carrying the passenger on the longer leg typically gains more. Unless there is a JV, this appears unlikely to be resolved.
India is a dynamic market for both Etihad and Lufthansa - which used to dominate westbound transfer traffic. Etihad's partnership with Jet Airways (which it has invested in) is losing momentum: Jet is re-asserting management control from Etihad secondments while Jet formed a partnership with Air France-KLM-Delta instead of Etihad's wish for an airberlin partnership.
Air India has meanwhile entered Star Alliance, of which Lufthansa is essentially the captain But Air India ends up competing with the Star trans-Atlantic JV. Etihad and Lufthansa may engage here under an expanded partnership, but at some stage they would need to define their larger partnerships.
An expanded partnership appears driven more by cost opportunities than network reach
A deeper Etihad partnership thus does not appear to be about growing the Lufthansa footprint so much as expanding existing options in terms of hubs, in-flight amenities – and, ultimately, a lower cost choice of travel for passengers. If Lufthansa and Etihad management can work together, Lufthansa unions would be most concerned about Lufthansa using Etihad as a long haul, low cost but premium partner.
Lufthansa's weak Middle East passenger numbers (exemplified by its Abu Dhabi exit) are one area in need of a remedy. But more pressing are a number of other larger markets. For example, between Europe and Southeast Asia Lufthansa and SIA have achieve limited change, while Gulf airlines have multiplied their presence there, with a high proportion of traffic connecting to/from Europe – a market Lufthansa and others are in.
Average daily seats from Gulf carriers (Gulf-Southeast Asia), Lufthansa (Western Europe-Southeast Asia) and SIA (Western Europe-Southeast Asia): 2005-2015
Etihad is big enough to be of interest to Lufthansa and give a meaningful alternative to Lufthansa's services, with their higher cost and lower quality product compared to Gulf peers. Yet Etihad is far from the size of Emirates and Qatar. As shown in the chart below, South Asia is where Etihad's larger size relative to Lufthansa Group is most apparent.
Etihad is also twice the size of Lufthansa Group in Southeast Asia. But in Northeast Asia Lufthansa is larger, even without the contribution from larger JV partners Air China and ANA. In Australia and New Zealand, which Lufthansa Group does not directly serve but relies on Singapore Airlines under a new JV, SIA is considerably larger than Etihad.
Etihad is relatively innocuous competitively for Lufthansa, compared with Turkish
This is not to discount the pricing impact of competitors, however small. But in every market, Emirates and Qatar are larger than Etihad, often by some distance (with the exception of Australia/NZ, where Etihad is larger than Qatar). At the very least, Etihad is the lesser of the Gulf "evils". More strategically, recent times have shown Qatar Airways to be a major competitive concern as it injects almost as much capacity as Emirates despite its smaller size and some network imbalances.
Comparison of Gulf airlines and Turkish Airlines by market with Lufthansa Group (and Singapore Airlines for Australia/NZ): week commencing 19-Dec-2016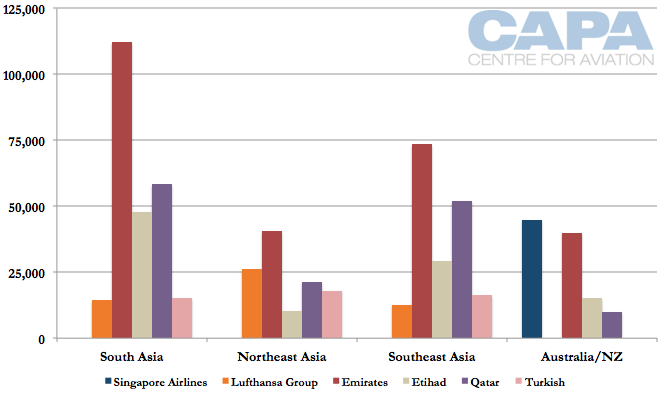 In the above graph, Turkish Airlines is even smaller than Etihad in all regions except Northeast Asia (a region that has reduced relevance in this context given the large backtracking needed from Northeast Asia to Europe via the Gulf). Turkish's competitive pressure however is not reflected in its size abroad but its large size in Europe that has already led to Lufthansa concluding it was an unsuitable partner.
Now that Etihad's airberlin investment becomes less of a threat to Lufthansa, Etihad is also less of a competitor than Turkish in Lufthansa's home markets. When considering the presence of Etihad and Turkish in Asia Pacific, geography dictates that Turkish relies more on Europe as a source market while Etihad pulls from around the Middle East and Africa. Turkish also has some role in the North America-Western European market despite its far eastern geography.
The below chart measures the seat capacity into 10 European countries comprising Lufthansa Group home bases and key source markets. In countries where Lufthansa Group has a local airline (including Belgium), Turkish Airlines is larger than any of the individual Gulf airlines in three of four home markets; the exception is Switzerland where Turkish is slightly smaller than Emirates.
In key source markets, Turkish is generally the second or third largest of the new superconnectors. This is not a precise measurement of competitive threat given different levels in O&D versus transfer traffic, which varies by airline and market, but Turkish's role as the "fourth Gulf airline" is undeniable.
Turkish Airlines and Gulf airline seat capacity in home and key source markets for the Lufthansa Group: week commencing 19-Dec-2016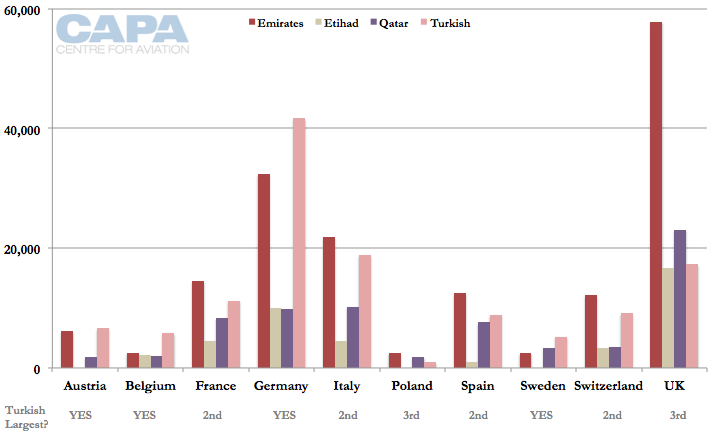 717" height="437" />
Another aspect of the way deeper a deeper Lufthansa partnership with Etihad may disturb market equilibrium is in helping head off rising threats from smaller Middle East airlines that have been on the fringe of transfer traffic but are looking to grow their share. This category includes Oman Air, Kuwait Airway and the mighty Saudia. Iran Air could also fit into this group in the future.
While momentous, it is a long road to a Lufthansa-Etihad joint venture
A deeper partnership between Etihad and Lufthansa hinges on a question more sophisticated partnerships are trying to address: how to incorporate multiple varied hubs? Existing partnerships already encompass multiple hubs, but these tend to be relatively similar to each other, for example the multiple European hubs under a trans-Atlantic partnership.
Yet, as the industry becomes more complex, the nature of partnerships must evolve. This will mean experimenting with and adapting to internal conflicts, where the end result is to fend off fiercer competition from other airlines and partnerships.
Incorporating the Lufthansa Group's European hubs into a complementary role with Abu Dhabi is a challenge; but likewise British Airways is workign out how to blend its Heathrow hub with Qatar Airways' Doha hub. Revenue (and in the most developed partnerships, profits) needs to be accounted for differences in cabin configuration/density, routing, etc. In the highly successful Emirates-Qantas JV the partners are constantly adapting and exploring how to evolve their JV from a single hub at Dubai to a Perth-London non-stop and potentially Qantas re-introducing an Asian stopover.
See related report: Emirates-Qantas JV expands as partnerships become more intricate, while some airlines go it alone
Lufthansa's JVs in Asia – with Air China, All Nippon Airways and Singapore Airlines – may inhibit Lufthansa in working with others, such as Etihad. That is a legal and technical matter for Lufthansa to address. Lufthansa may also need to recant the evils of Gulf airlines it preached to partners and Star Alliance about for so long. Lufthansa has had a guiding role in shaping attitudes towards Gulf airlines. Even if it is now willing to change, its partners – to which Lufthansa is contracted – may not be willing to change so rapidly.
There is the potential for a domino affect: as Lufthansa embraces a Gulf partnership, its partners do too – and then their competitors will as well. It is a distant leap and multiple steps to see a scenario unfold of Lufthansa's anchor partner United having to warm up to Gulf competitors. But if United does, then American will surely grow closer to the Gulf.
American has been the weakest link in the US tirade against Gulf airlines, not only growing codeshares with Eithad and Qatar but evaluating joint venture opportunities and placing its own metal into a Gulf hub. Delta, which in the wake of the election of Donald Trump is stepping up its anti-Gulf rhetoric, begins to appear lacking in strategic innovation.
For now, the deals between Etihad and Lufthansa bring great benefit in Germany. Lufthansa wins from having an airberlin that is reduced in size but not so small that there is an opportunity for easyJet and Ryanair to move in. They present a far greater threat to Lufthansa than the inefficient airberlin. There is some lost territory then to easyJet and Ryanair, which do not have (large) crumbs to pick up from a faltering airberlin.
For the German government it is good news as it looks likely to avoid public upset from any job losses were airberlin to restructure independently of Lufthansa. Job losses from airberlin in Berlin would be especially worrying to Ms Merkel, whose party is losing traction in the German capital.
airberlin's financial situation should now improve, allowing Etihad to begin to rinse its hands of an airline whose losses were on-going and required repeated investments. airberlin's drain on Etihad was beginning to undermine the Etihad equity network, now under greater scrutiny from its government shareholder following shuffling of government ministers and Etihad board members.
If Mr Spohr succeeds with unions about Etihad, a long list of more synergies awaits. AF-KLM looking limited, devoid of growth and partners
Closer cooperation between Lufthansa and Etihad, although very complicated, has upside for the two with potential global ramification in attitude and commercial practices. The loser looks to be Air France-KLM, whose new management plan is underwhelming and devoid of growth ahead of market demand. The strong and respected KLM (and its government) must already be losing patience with how Air France's management (and its government's) failures hold back the more efficient Dutch operation.
See related report: Air France-KLM: Attempting to rearrange the deckchairs while pilots remain on full steam ahead
AF-KLM reported to the French Senate in Nov-2016 that 85% of KLM's routes are profitable versus 65% of Air France's. IAG CEO Willie Walsh was typically blunt in his assesment of Air France's restructuring, remarking in Nov-2016:
"I looked to my good friend, Oscar Wilde, to find a good quote for this one. And what he says, the world is divided into two classes: those who believe the incredible and those who do the improbable. Air France does not do the improbable and we certainly do not believe the incredible. They are not going to succeed...I do not believe that Air France will ever be able to restructure. I do not believe there is any determination, any commitment, any desire. There is nothing there that would suggest that Air France will be able to address the challenges that they face. Even if they do, the pace at which they do it would be so slow that the world will have moved on so far from where they are today, that they will still have a huge gap to close."
And then there is Mr Spohr. Progressive for a Lufthansa CEO, he has worked hard at giving himself alternative platforms and options to divorce full reliance on mainline Lufthansa and its unions. He is still constrained, but available platforms – Austrian, Swiss, Eurowings, JVs – are growing. An Etihad partnership with union blessing may give confidence for bolder and far more sensitive developments in the Lufthansa Group's long term development. Its hubs, especially Munich and Vienna, have too much overlap. Brands are becoming redundant. The Austrian brand surely faces a ticking clock and the Swiss brand has lost much of its gloss, now that diminished profitability no longer affords Swiss the distance it commanded from headquarters while it out-performed.
Etihad and Lufthansa went close to forging a relationship some time ago. So there is a recognition and willingness in several of Lufthansa's senior board members of the need to contemplate a broader marriage. They will be there to support Mr Spohr. But whatever radical changes he brings the group with the airberlin and Etihad changes, the next challenge for him and successors in European aviation is far deeper and closer to home. Labour, and in particular the pilot union, is often irrational, guided by emotion and a yearning for past glory rather than commercial reality.
Affection for flying is put ahead of the possibility to be sustainable. This adds to the stack of challenges: Lufthansa Group's other matters to address are not just deep and close to home, but also close to the heart, albeit less romantically. Time is running out for those who would cling to the past.