LCC stocks slip again: Allegiant slumps, Virgin Blue, AirAsia, easyJet and Southwest lower
Analysis
Allegiant Air stock fell significant yesterday, with the LCC still feeling the aftershock from its minor taxiway incident last week. Also in North America, Southwest reported a 0.8% share price reduction, as the US share market experienced reductions of over 1%.
Selected LCCs daily share price movements (% change): 16-Jun-09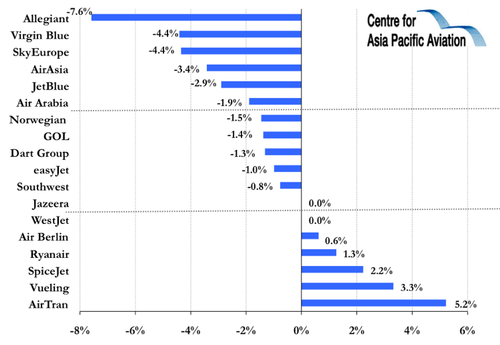 For daily updates on American aviation stock prices and a complete wrap of the day's breaking news, sign up now for a complimentary subscription to America Airline Daily.
In Europe, Ryanair's shares returned to positive territory, up 1.3%, with Air Berlin also up, by 0.6%, although easyJet shares slipped 1.0%. Among the Asian LCCs, AirAsia's shares slipped 3.4%, while Virgin Blue experienced a 4.4% reduction. However, the carrier's current share price still represents an improvement for levels experienced at the beginning of the year, when the share price slipped below AUD0.20/share.
NB: All these carriers all feature prominently in The Centre's forthcoming LCC Outlook 2009 report.
Virgin Blue today announced a new interline agreement with Emirates and stated it expects to soon announce an agreement with Delta Air Lines covering their respective domestic networks. The announcement follows news from Qantas earlier this week of plans to expand its codeshare agreement with American Airlines, while also boosting trans-Pacific services in preparation for the launch of Delta Air Lines services on the route next month.
Virgin Blue's shares continue to trade around the AUD0.30 range.
Virgin Blue share price graph: Jan-09 to Jun-09