LCC stocks mixed: GOL jumps, easyJet up, Southwest and AirAsia steady, Ryanair down
Virgin Blue over the weekend stated it was hoping a 5% capacity reduction by it and rival Qantas Group in FY2009-10 would assist the carriers' to recover by mid-2010. Virgin Blue however conceded that it would be difficult to earn back the AUD60 million it ploughed into launching V Australia any time soon, due to the global financial downturn.
Selected LCCs daily share price movements (% change): 19-Jun-09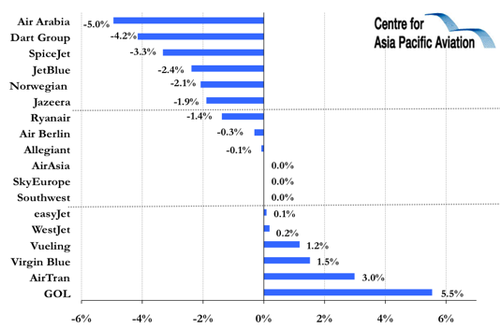 Among the North American LCCs, AirTran and WestJet rose 3.0% and 0.2% respectively, while Southwest remained stable. Allegiant and JetBlue fell 0.1% and 2.4%.
NB: All these carriers all feature prominently in The Centre's forthcoming LCC Outlook 2009 report.
Shares in Brazilian LCC, GOL, surged 5.5% on Friday on an improving demand outlook and a stronger Brazilian Real, which has strengthened 19% against the US Dollar this year. GOL's shares closed at their highest level since 19-Jan-2009, with the carrier's share price gaining 14% so far in 2009.
GOL share price growth: Jan-09 to Jun-09