Kingfisher slips, Japan Airlines and Singapore weaker, Qantas and Air New Zealand gain
Most Asia Pacific airline shares slipped on Tuesday (21-Jul-09), with Kingfisher leading the reductions, down 4.9%, following an 8.9% gain on Monday. Kingfisher stated its Board of Directors would consider a proposal to issue further share capital of up to USD104 million and other "consequential matters" at a Board Meeting to be held on 28-Jul-09.
Thai Airways also slipped yesterday, falling 1.5%, following Monday's 2.4% gain. The carrier stated it has not experienced significant cancellations or deferment of services to Indonesia following the hotel bombings in Jakarta (the carrier is seeing bookings of 90-93% for Bangkok-Denpasar services over the next two weeks). However, as evident by the carrier's weak Jun-2009 results, Thai Airways has seen a severe reduction in passenger traffic from East Asian countries, as a result of the swine flu scare.

Japan Airlines and Singapore Airlines shares also slipped yesterday, both down 2.1%, while Cathay Pacific remained stable.
Asia Pacific selected airlines daily share price movements (% change): 21-Jul-09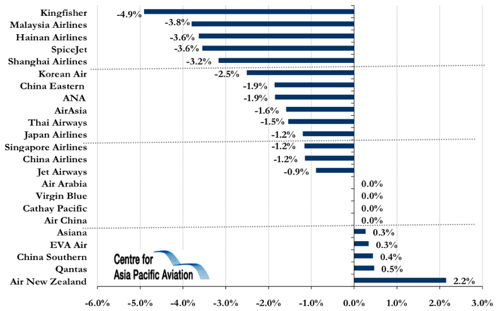 Air New Zealand was the largest gainer yesterday, up 2.2%. New Zealand and Canada yesterday signed a Blue Sky air transport agreement, allowing an unlimited number of carriers from either country to operate passenger and all-cargo scheduled air services with unlimited frequency and designation. The agreement also enables fifth freedom rights for the countries' carriers. A bigger issue for Air New Zealand is combating the proposed JV between V Australia-Delta Air Lines, after Air NZ's tie-up with Air Canada on the route was rejected.

Also in the Asia Pacific, Qantas' shares gained 0.5%, despite reports of a continuing loss of market share. According to Australia's Department of Infrastructure, Transport, Regional Development and Local Government, Qantas' market share on international services fell 3.8 ppts to 22.4% in Apr-2009, with Jetstar increasing its market share to 6.9% (up 1.1 ppts), for a Group market share of 29.3%. Among the Top 5 international carriers, Emirates was the only carrier to gain market share, up 0.7 ppts, to become the fourth largest international carrier, with a 7.5% market share.