Jet Airways re-writing the rules in India
Analysis
The Indian aviation market is undergoing a thorough – and rapid – transformation, as the full service incumbent airlines embrace LCC operating structures. In Jan-2006, Jet Airways Founder and Chairman, Naresh Goyal, dismissed the LCC threat, stating, "we are catering to an entirely different market compared to the so-called LCCs. There is no such thing as an LCC in India; the costs are all the same for every airline". Two and a half years, and USD150 million in accumulated losses later, Jet Airways has confirmed that, by Oct-2009, its new Jet Konnect unit, described on its website as a "Jet Airways Low Cost Carrier", will constitute two-thirds of the Group's domestic capacity, up from one third at present.
After the transfer, there will be 19 B737 and ten ATRs under Jet Konnect, up from nine B737s and ten ATRs at present. Jet also plans to merge Jet Konnect and its budget airline, JetLite, once the ongoing legal dispute with Sahara Group is resolved. A timeframe for the merger and the proposed branding have not been disclosed. (See related article: Airline segmentation - or how to be 'half pregnant'?)
Jet launched Jet Konnect in May-2009, officially "to meet the needs of the low fare segment introduced in May 2009" - ie to stem the loss of market share to fast-charging LCCs, such as Indigo and SpiceJet. It started with three B737s and six ATRs.
Delhi-based SpiceJet, backed by US-based billionaire investor, Wilbur Ross, had a stunning turnaround in profitability in the three months ended 30-Jun-2009, reporting net earnings of USD5.5 million, helped by lower fuel costs. SpiceJet CEO, Sanjay Aggarwal, stated with justification, "in the current environment, it's an amazing result".
Jet Airways, by contrast, reported a USD47.0 million loss in the same period, including a USD30.9 million loss in the domestic market, as domestic revenues slumped 29.4%. However, EBITDAR improved from a USD56.2 million loss in 1QFY2009 to a USD81.6 million profit in the first quarter of the current financial year.
LCC now account for 55% of capacity in India – and rising
The contrasting fortunes of LCCs and full service carriers, which is playing out around the world amid the current economic downturn, is vindicating the faith investors in Indian LCCs have had for the model.
Overall capacity within India fell 3.6% last month, but the LCCs expanded by 4.4%.
Indian domestic market: Key facts
| | |
| --- | --- |
| Total market size (seats in Jun-2009) | 6,108,698 |
| Total capacity growth (year-on-year) | -3.6% |
| - LCC capacity growth (year-on-year) | 4.4% |
India's LCCs control over 55% of the domestic market – the highest in the world. The rationalisation of capacity by the full service carriers, led by Jet Airways Group, amid spiralling losses has helped to propel the Indian LCC sector forward.
LCC capacity share within India: Jun-01 to Jun-09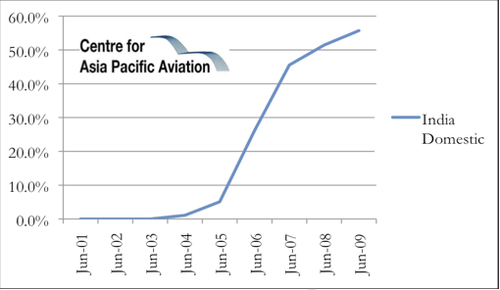 LCC capacity to/from India surging
LCCs also now control 14% of capacity to/from India, up from less than 1% just four years ago. This figure is expected to rise sharply in coming months as more carriers from Asia and the Middle East target India and domestic carriers such as SpiceJet prepare to expand abroad.
Indian international market: Key facts
| | |
| --- | --- |
| Total market size (seats in Jun-2009) | 3,655,865 |
| Total capacity growth (year-on-year) | 2.1% |
| - LCC capacity growth (year-on-year) | 45.7% |
In particular, Jetstar Asia, AirAsia, nasair and flydubai are looking to rapidly expand to India from Singapore, Kuala Lumpur, Riyadh and Dubai, respectively, over the next 12 months.
LCC capacity share to/from India: Jun-01 to Jun-09
Jet2.png" alt="" />
It is no surprise therefore that Jet Airways, Air India and Kingfisher are expanding their short-haul international operations in an attempt to defend against the coming LCC surge in these markets. Jet stated it is "looking at deploying more B737 capacity on short haul international routes like Riyadh, Jeddah, Sharjah and additional frequencies to Dubai, Bangkok, Dhaka, Singapore
Outlook: Everyone will "be an LCC" by the third quarter – and everyone stands to lose
As we enter the low season, domestic losses in India are expected to rise in the second quarter to 30-Sep-2009 and the earnings outlook beyond that is also questionable for full service and LCC carriers alike.
The problem for the incumbents is they are entering the LCC sphere with still-higher cost structures relative to their peers, while their mainline operations remain subject to intense competition. The problem for the LCCs is that everyone is now moving to imitate them.
By the third quarter, with all the LCC structures in place, yields can be expected to fall even further. Industry over-capacity remains an issue, despite some recent positive steps. Add in rising oil prices, and the Indian airline earnings outlook looks increasingly challenged. The cost reduction battle must intensify.