Investors flee airlines as traffic weakens, fuel surcharges fall
Airline share prices suffered yesterday in Asia as optimism over China's economic stimulus package faded and investors focused on the risks to regional growth. The sell-off comes as dozens of Asia Pacific airlines reduce their fuel surcharges. More will be compelled to follow suit as oil prices crashed below USD60 per barrel in New York overnight for the first time in 21 months.
Fuel surcharges have now become a competitive weapon.
AirAsia is leading the movement, scrapping its surcharges altogether and raising the pressure on rivals to do likewise. Tiger Airways - which never levied fuel surcharges - is also pressing this point. Rival airlines have been holding their surcharges as long as possible to counteract weaker demand and wrong-way bets on fuel hedges.
Falling oil prices have emboldened AirAsia to maintain its aggressive expansion strategy, with an expectation the loss of revenue from fuel surcharges (in AirAsia's case about USD63 million p/a) will be offset by higher ticket sales and load factors. The carrier aims to market its way out of the crisis, with promotions such as its 500,000 free seats giveaway announced yesterday.
CEO, Tony Fernandes, stated, "we are confident, because a lot of our routes will mature so we'll have higher load factors, and our ancillary income is also very strong". AirAsia's shares slipped 1.8% yesterday amid broader market weakness in Malaysia.
Asia Pacific selected airline's daily share price movements (% change): 11-Nov-08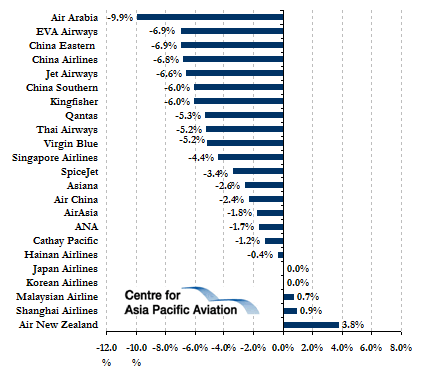 Qantas is meanwhile expected to cut more capacity amid weakening traffic. The airline's shares fell 5.2% as September traffic figures showed reduction in passenger numbers in Qantas mainline operations and lower load factors.
Cathay Pacific chief executive Tony Tyler told an airports conference in Perth that a rebound in demand could take longer than expected. It is a view shared by Airbus CEO, Tom Enders, who predicts it will be 2010 before the airline industry enjoys a recovery in demand.
Jet Airways' stock slipped by 6.6% on 11-Nov-08, despite rumours Temasek could acquire a 10% stake in the company at a significant premium to the current share price. Investors must be viewing the deal with scepticism.