Hong Kong Express enters next phase as its LCC launch nears: strategic growth, ancillary & branding
Analysis
Hong Kong will welcome its first home based low-cost carrier on 27-Oct-2013 when Hong Kong Express re-launches as a LCC and over the next few weeks serves eight cities in China, Japan, Malaysia, Taiwan and Thailand. The transformation of the HNA-backed carrier occurred in a speedy five months. At first blush that may seem insignificant, but Hong Kong Express had been highly integrated with sister carrier Hong Kong Airlines. Those ties were largely cut as Hong Kong Express defined its own route network and handled its own distribution, marketing and staffing while re-configuring its fleet.
The tight timeframe meant Hong Kong Express had to forgo some strategic decisions. Implementing those while pursuing growth will now largely comprise the carrier's plans for the rest of 2013 and much of 2014. The carrier plans to introduce a new booking platform to provide a more robust offering from connections to ancillary revenue options.
Hong Kong Express will undergo a re-branding exercise, likely re-naming itself "HK Express". Much more prominent in the public domain, Hong Kong Express plans to more than double its destinations by northern summer 2014. More Chinese cities will be brought online as the carrier has the scale to absorb operational factors in China that are not conducive to efficiency.
New HK Express brand likely to appear around Feb-2014
The next major change to occur at Hong Kong Express will likely be a re-branding exercise to be conducted around Feb-2014. The carrier for now is maintaining its existing name of "Hong Kong Express", which was useful (and part of the reason) the carrier was relatively indistinguishable from sister carrier Hong Kong Airlines. Despite significant overlap, the airlines were maintained largely to preserve the AOCs.
But now the difference in strategy and customer expectation from Hong Kong Airlines and Hong Kong Express necessitates a branding difference so passengers do not get confused - for example booking a Hong Kong Express LCC ticket but expecting the full service of Hong Kong Airlines. A new brand will also provide another marketing opportunity, a critical point as the Hong Kong market is still relatively unclear about Hong Kong Express' transformation. These factors were known when Hong Kong Express began the transformation process in Jun-2013, but re-launching by Oct-2013 meant there was not time to handle a re-branding.
Re-branding options largely consisted of keeping the name but updating the visual elements (which currently are very basic), or pursuing a new brand. While a final decision has yet to be made, the carrier is leaning towards adopting the name "HK Express". That name brings it in line with its existing website URL and what some already use to refer to the carrier. The name also provides a difference from the full-service carrier, which is maintaining its full "Hong Kong Airlines" name.
Hopefully this re-branding will be enough. Even internally the names are seen to be so similar that Hong Kong Airlines and Hong Kong Express are simply referred to as "A" and "E". Abbreviations are especially popular in Hong Kong (almost every neighbourhood can be reduced to two or three letters, a press conference is known as a "PC"), so there is risk Hong Kong Airlines may be colloquially known as HK Airlines. That would stymie the attempt to differentiate the brands.
An entirely new brand could also yield more attention. While some may not like names such as "Peach", "Scoot" and "Vanilla", there is no doubt those carriers are different from their owners and that they have received considerable attention.
Destinations will double for summer 2014; Hong Kong Airlines/Express will rival Cathay/Dragonair on destinations served
Hong Kong Express will launch on 27-Oct-2013 with service to five cities: Chiang Mai, Kota Kinabalu, Kunming, Phuket and Taichung. Four of those had been served by Hong Kong Airlines/Express while Chiang Mai was launched in Sep-2013. In Nov-2013 Malaysia's Penang and Japan's Osaka Kansai and Tokyo Haneda come online with a daily service.
Most other destinations will, for now, be served daily, except Taichung with a double daily service and Phuket with nine weekly flights.
Hong Kong Express route map: as of Oct-2013
Hong Kong Express plans to more than double its destinations for northern summer 2014. Destinations are being finalised but many will be announced before the end of 2013 to ensure a long booking period to maximise loads. The carrier commenced ticket sales as a LCC in Sep-2013 and in the first month sold over 100,000 seats – about 20% of its available inventory. While many seats were sold at the very favourable lead-in fares, not all of them were at that discounted level.
Bookings from Hong Kong groups have been strong. The carrier is beginning to examine data of how many bookings are from passengers around the Pearl River Delta who will take ground and ferry transport to Hong Kong airport.
Hong Kong Express fares (return from Hong Kong excluding taxes and surcharges): 23-Sep-2013
The high demand lead to IT pressure resulting in bookings being accepted but confirmation e-mails not being sent. This received negative local press attention, and Hong Kong Express is finalising IT upgrades in response. Until those upgrades are in place, the carrier has been unwilling to have more sales. (IT pressure from high demand is not unheard of: AirAsia has had problems and even Cathay experiences problems with its "fanfare" promotions.)
16-plus destinations coupled with Hong Kong Airlines' existing 22 North/Southeast Asia destinations brings the two to about 40 regional North/Southeast Asian destinations compared to the 50 or so offered by Cathay Pacific and Dragonair: 20 in mainland China, 18 around Southeast Asia, nine in Japan and Korea, and three in Taiwan. The destinations offered by Hong Kong Airlines and Express are an impressive number, although compared to Cathay and Dragonair's seat capacity and frequency, significantly lower. But Hong Kong Airlines/Express know they will always be much smaller and will not match rivals on capacity.
If Hong Kong Express continues its growth rate, the Hong Kong Airlines/Express grouping could serve more regional destinations than Cathay and Dragonair as early as 2015, although once again the latter two will easily have more available seats, especially to key business cities.
As Hong Kong Express grows and takes delivery of new A320s, it should be able to fit them out with 180 seats, the aircraft's certified maximum and typical configuration for LCCs. Hong Kong regulations require a minimum amount of space per passenger, and Hong Kong Express' existing thicker seats means it cannot offer 180 seats with the minimum space requirements.
The maximum it can fit with its existing seats are 174. The seats are thicker as they had been used when Hong Kong Express had more of a full-service offering. Future deliveries could have aircraft with thinner seats, which will enable Hong Kong Express to have 180 seats while meeting regulations. Until then, the carrier will play its 174 seat configuration to its advantage, boasting of extra space.
More Chinese cities will come online as scale gives flexibility in congested China
Hong Kong Express initially spoke of serving many Chinese cities, but its initial network consists of only one: Kunming. The challenge was constructing a launch route network that could maximise utilisation, which brings down unit costs. China's delays are well-publicised; for a period over summer 2013 delays of at least three hours were normal. There are multiple impacts on putting a LCC into such a market. First, utilisation would be sacrificed. Second, some passengers would inevitably blame the delay on Hong Kong Express being a LCC, even if the cause is well outside its hands.
Hong Kong Express is especially sensitive as it must have strong reliability and on time performance at the start while it is in the spotlight (AirAsia Japan and Jetstar Japan had low reliability and OTP at their start, creating a weak lasting impression with consumers). Third, providing compensation or accommodation as a result of the delays would largely be outside standard procedures for a LCC.
Operationally it made sense to not immediately build up a China network. That also made sense strategically as many points in China would see strong demand for connections beyond Hong Kong, which Hong Kong Express can only partially accommodate at present (connecting Hong Kong Express-Hong Kong Express flights can have baggage forwarding but the flights are on separate PNRs; so far Japan-Malaysia is a popular connection). In the future, connections will be more seamless. The carrier's initial destinations are strong point-to-point markets, especially from Hong Kong, where Hong Kong Express wants to build its brand most.
As Hong Kong Express builds its fleet from five A320s at launch to 30 A320s by 2018, it will become more operationally feasible to accommodate Chinese cities. But Hong Kong Express does not expect to fly into first-tier cities or even second-tier cities (Shanghai and Beijing are firmly off the cards for the time being). This is due to congestion and where delays are prone, but also because Hong Kong Airlines will be the preferred vehicle to serve first and second-tier cities. A number of Hong Kong Express' mainland China destinations are likely to be in the more central and western parts of China. Congestion there is not as bad, and the cities are also developing economically, so a lower-priced carrier is strategically more appealing. Hong Kong Express may be unable to serve certain mainland airports as they do not accommodate night-time arrivals/departures, which would restrict Hong Kong Express' utilisation.
Hong Kong Express is half of the dual-brand strategy being implemented with Hong Kong Airlines. There is no set rubric on how this "should" work or even what is common. Pairings like Jetstar-Qantas and Scoot-Singapore Airlines frequently operate the same routes, but others like Germanwings-Lufthansa less so. Hong Kong Express expects to fly alongside Hong Kong Airlines in the long term, but not anytime soon. There are many markets for Hong Kong Express to explore. Also, Hong Kong Airlines has yet to cultivate the premium image it deserves following a heavy investment in product. Flying the two alongside each other could see Hong Kong Express eclipse Hong Kong Airlines. On the other hand, Hong Kong Airlines' heavy use of widebody A330s gives cost advantages over Hong Kong Express' narrowbody A320s.
The two are taking a unique approach to joint selling. Hong Kong Airlines will sell Hong Kong Express seats on its website, but Hong Kong Express will not sell Hong Kong Airlines seats. This is driven by Hong Kong Express wanting to avoid expensive re-ticketing or accommodation charges if there is a mis-connection.
This approach varies from Scoot-SIA, where Scoot interlines on SIA and SIA's regional subsidiary SilkAir, but SIA and SilkAir do not sell Scoot tickets. This is driven from a branding and experience point of view as SIA and SilkAir do not want a passenger to book a Scoot ticket thinking they will receive SIA service. The larger size of SIA and SilkAir compared to Hong Kong Airlines also means there are a greater number of re-accommodation options if there is a mis-connection. Frequencies at SIA and SilkAir are high, so a passenger could more easily be put on the next flight in a few hours, rather than at Hong Kong Airlines where the next flight may not be the same day.
Hong Kong Express has basic interline agreements with over 10 airlines, and will maintain those but does not want to sell other airlines' ticket stock, as is the case with Hong Kong Airlines.
Hong Kong Airlines route map: Oct-2013
Network tweaking is already under way: Phuket reduced while Japan is likely to grow
Hong Kong Express has found there are limits to driving utilisation rates. The carrier planned, and started to sell, a double daily Phuket-Hong Kong service with both flights operating late at night and early morning. One left Hong Kong at 23:35 and returned at 07:25 the next morning while the other left at 01:35 and returned at 09:25 later that day.
Hong Kong Express has decided to reduce the service from a planned 14 weekly flights to only nine, a daily offering with extra services on the more popular weekends. The capacity will be re-deployed to North Asia, and while the exact destinations have yet to be announced, a strong candidate is Japan. Osaka Kansai and Tokyo Haneda services are so far looking strong. Osaka is edging above Tokyo. Osaka has daytime flights while the return Tokyo Haneda-Hong Kong service operates late due to slot restrictions at Haneda airport.
There are also concerns about Tokyo being too close to Fukushima, home to the nuclear power plant that is leaking radiation, potentially making Tokyo unsafe, which Japanese authorities have not found to be the case. (Some better marketing from Japan appears to be in order.)
Osaka's success is despite Peach moving to a double daily offering in Hong Kong just over a year after it launched Osaka-Hong Kong in 2012. This demonstrates the pent-up demand for lower cost flights throughout the North Asian region.
Hong Kong International Airport to Osaka Kansai International Airport (seats per week, one way): 19-Sep-2011 to 6-Apr-2014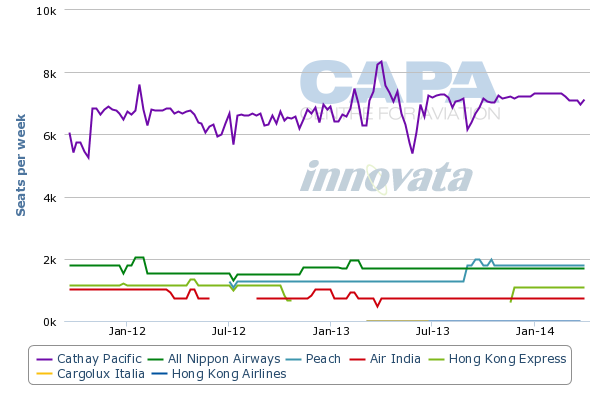 Hong Kong International Airport to Tokyo Haneda and Narita Airports (seats per week, one way): 19-Sep-2011 to 6-Apr-2014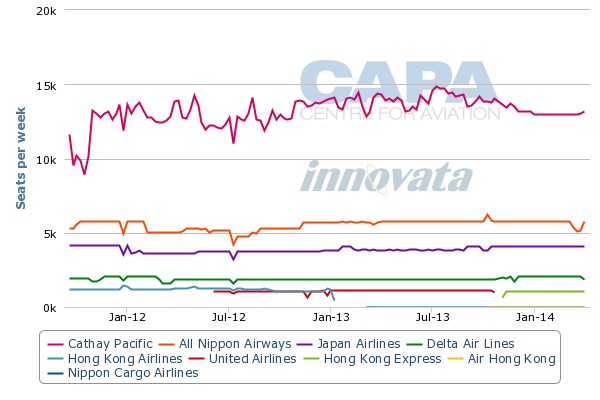 Selection of a new booking platform will be critical for long-term success
One of the most critical – if unsexy – decisions will be the selection of a new booking platform provider, for which an RFP is currently out. Hong Kong Express, like many other carriers, have found its current TravelSky system to have significant limitations. Promo codes and two-for-one offers cannot be easily handled, if at all. The inability to easily price flights in multiple currencies means Hong Kong Express cannot sell ex-Japan tickets on its website as Japanese regulations require the tickets to be sold in local currency. (Passengers have to buy ex-Japan tickets at travel agencies.) Connections and ancillaries are difficult to implement and scale-up.
The RFP has a few candidates. TravelSky could theoretically be re-selected if there was the ability – and financial compensation – to have heavy customisation. Mercator has an LCC platform, but this does not easily provide connections either. Navitaire excels on capability – demonstrated by its selection from major LCCs – but comes with a price tag.
Irrespective of the outcome, Hong Kong Express will continue to distribute on the GDS, including TravelSky, which dominates in mainland China.
Ancillaries will grow
Hong Kong Express' launch ancillary offering is relatively weak, comprising basically checked luggage and seat selection. But it should be remembered AirAsia did not start flying on day one with coconuts and bubble tea for sale. The ancillary offering has been further compounded by the likely switchover in booking platform. The short launch time – five months – also meant there was not enough time to feature a breadth of ancillaries, let alone conduct a full RFP process for providers.
Hong Kong Express is bringing in hotel, car and insurance providers, but these are existing relationships and will in due course be re-tendered. With time and the new booking platform, ancillaries can be expected to grow significantly. This is critical for financial success.
Launch culminates a bold move from HNA – will the success spread across the group?
Hong Kong Express' launch as a LCC will not be as strong as other recent Asian LCC launches like Peach and Scoot. But those carriers had over a year compared to the five months at Hong Kong Express. That shortened time impacts almost every area, from ancillaries to branding to employees. Jetstar Hong Kong still hopes to launch – and LCC plans from Cathay Pacific remain unclear – but this will not be in the short-term, so by moving first (and with regulatory delays on the Jetstar side) Hong Kong Express has gained time to close the gap that will appear if Jetstar, with its 10 year LCC history and experience, has.
The re-launch as a LCC is undoubtedly positive for Hong Kong Express. There is work to do, and the carrier acknowledges this and will most likely get it done. Larger picture questions remain on how Hong Kong Airlines will integrate the LCC and if a separate full-service premium regional carrier has merit.
The biggest impact may extend beyond Hong Kong's borders. Part-owner HNA is arguably China's most forward-thinking major carrier. But it is challenged by politics as well as a shortage of management talent, the latter even candidly discussed by the CAAC as a nationwide problem. There is exceptional pride in China to develop with only Chinese resources. This extends to airlines, themselves the pinnacle of national emblems. So HNA's introduction of consultants Mango Aviation Partners is a bold move. Hong Kong Express will be a depository within HNA for efficiency, best practices and LCC know-how. These will be anchor focuses of pending aviation reforms in mainland China. The permutations for HNA are multiple: making LCC West Air stronger, bringing efficiency to full-service carriers, launching new LCCs and even maybe looking at the nascent long-haul low-cost concept.
Hong Kong Express should do well, both on its own and for the larger objectives of the growing HNA Group.