HNA Group aircraft: delivery delays to new A330s
Analysis
Airbus is reportedly withholding delivery of new A330 jets destined for HNA unit airlines according to Reuters HNA's financial issues may be the cause. The CAPA Fleet Database shows that a number of HNA airline units had A330s manufactured as late as the end of 2017 and throughout 2018, and that these aircraft should have been delivered by now.
There may be other influences at play. Since last autumn mainland Chinese airlines overall have taken longer on average than non-Chinese airlines to receive an A330 on delivery after manufacture, according to CAPA's Fleet Database, but HNA Group airlines have taken even longer than the average of other mainland Chinese airlines.
The A350 has been delayed in delivery to Chinese airlines due to slow Chinese regulatory certification processing, but once this clears shortly, there are lingering concerns because a number of mainland Chinese HNA airlines have ordered the A350.
Summary
HNA has 20 A330s on order – many due for imminent delivery
The HNA Group has a known consignment of 20 A330s on order for its airlines in greater China. The largest customer is Hong Kong Airlines, with nine on order. Beijing Capital Airlines, Hainan Airlines and Lucky Airlines each have three on order. Tianjin Airlines has two on order.
HNA Group greater China A330s on order: as of 13-Jul-2018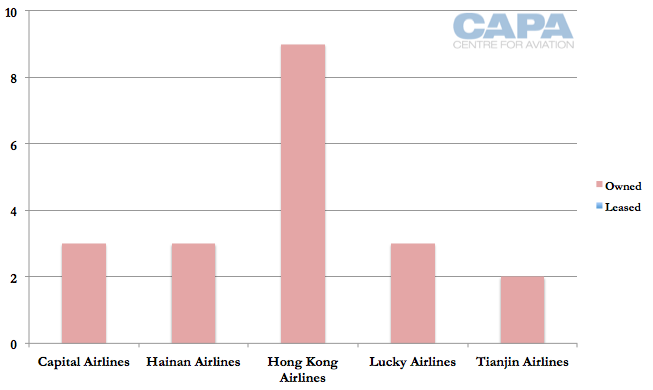 CAPA's Fleet Database indicates that about half of the A330s on order had manufacture dates of late 2017 or early 2018 and should have been delivered by now.
An A330 for Tianjin Airlines that is awaiting delivery was built around the same time (Nov-2017) as an A330 for Shenzhen Airlines. Yet the Shenzhen Airlines A330 was delivered in Jan-2018. While that Tianjin A330 has been awaiting delivery, A330s for Nepal Airlines and Iberia have been manufactured (May-2018 for both) and delivered (Jun-2018 and Jul-2018).
A330s to HNA have taken longer to deliver
The A330 production line has largely turned into an aircraft output plant for Chinese airlines. Since Sep-2017, Airbus has manufactured 47 A330s, according to CAPA's Fleet Database. Of the 47 A330s, only 11 were for airlines outside greater China. The average time between manufacturing and delivery for these 11 non-Chinese A330s is 48 days.
For A330s from Chinese airlines but not HNA-related airlines the average delivery period is longer, at 65 days. For HNA units, the average delivery is over 110 days and counting.
Almost all A330s to non-Chinese airlines have been delivered faster than any A330 to an HNA-unit airline. Some A330s to China Eastern and China Southern have been delivered at comparable times to A330s for non-Chinese airlines. But China Eastern has also had two A330s have a nearly 150-day delay between manufacturing and delivery.
Average days between manufacture date and delivery date for A330s: since Sep-2017, as of 13-Jul-2018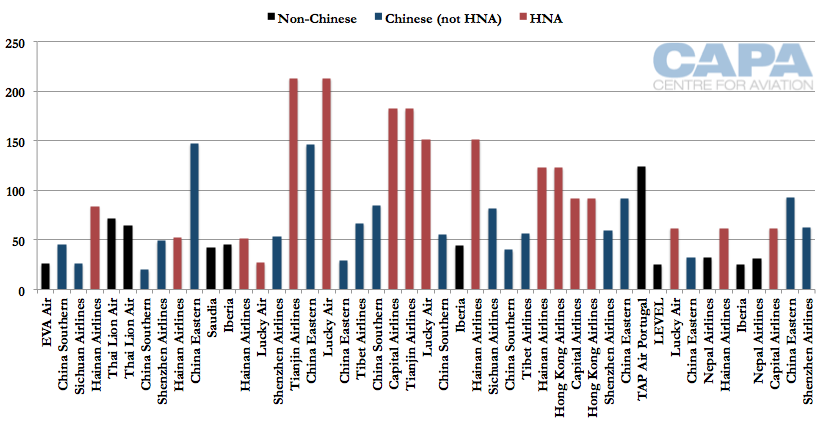 HNA Group has 63 in-service A330s, mostly leased
The 20 A330s the HNA Group has on order for its greater China units represent a substantial increase from the current 63 A330s that the HNA Group operates in greater China, according to CAPA's Fleet Database. The largest operators are Hainan Airlines (with 28) and Hong Kong Airlines (with 24). Those two units of the group account for most of the group's A330 fleet and will continue to do so after A330s are delivered.
HNA Group greater China A330s in service: as of 13-Jul-2018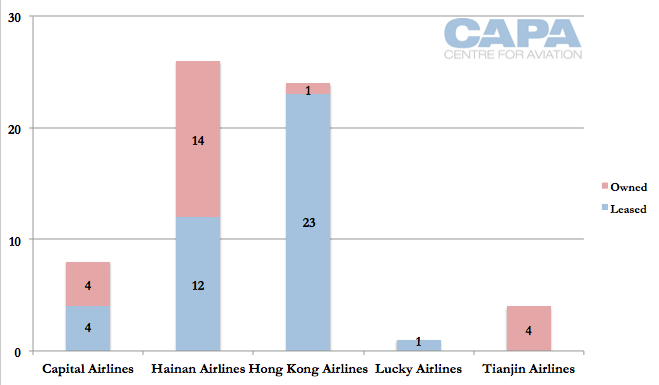 Whereas the A330s that the group has on order are so far planned to be owned, approximately two thirds – 40 aircraft – of the group's existing A330s are leased, although a few leases are from companies within HNA. After planned deliveries, the group is set to be equally split between leased and owned A330s.
The shift from majority leased aircraft can be for a number of reasons. Lessors have been able to supply aircraft at short notice, or while Airbus did not have production slots. The group's leased aircraft comprise frames taken directly from Airbus as well as frames that were previously operated by another airline, including Garuda Indonesia and Singapore Airlines.
Relations between China and the EU, and in particular France, have meant that there was support for a bulk order of A330s from China. Likewise, Airbus committing to an A330 completion centre in Tianjin was done on the premise that Airbus would receive more A330 orders.
Owning aircraft can be a sign of financial strength as the long term finances are generally better. Conversely, some leases are on exceptionally favourable terms. HNA's shift to aircraft ownership could also indicate reluctance from lessors and a view that HNA is high-risk. The concern is not simply whether the airline will collapse or not (Skymark's bankruptcy and A330 return are still harsh memories), but if lease payments will be late or later renegotiated.
Three mainland Chinese airlines are among the largest A330 operators
The largest A330 operator globally is Turkish Airlines, with 62 aircraft in service, according to CAPA's Fleet Database. But three Chinese airlines – Air China, China Southern and China Eastern – are the second, third and fourth largest operators.
Air China's backlog of 12 A330s means it will have a larger fleet than Turkish Airlines. Hainan Airlines is the 11th largest A330 operator, while its Hong Kong sister Hong Kong Airlines is the 12th largest operator. Cathay Pacific and Cathay Dragon combined are the third largest A330 operator, with 58 units.
Mainland Chinese airlines have 221 A330s in service, which means that they account for 17% of the global A330 fleet in service. Airlines in Hong Kong – Cathay Pacific, Cathay Dragon and Hong Kong Airlines operate 82 A330s – a further 6% of the world's A330 fleet.
A330 largest operators by in service fleet: 13-Jul-2018
Chinese airlines have had A350 delays, too
HNA's A330 delays are concerning, since a number of HNA units in mainland China will receive A350s. The longer-than-average acceptance time for A330s by other mainland Chinese airlines is also concerning, since they also have A350s on order. In fact, A350 delays to Chinese airlines are already a problem. The issue is understood not to be with the aircraft or financing, but rather because of Chinese regulatory approvals.
With approval coming, delivery times of A350s to mainland Chinese airlines should improve. There may however be lingering concern with HNA Group airlines.