Hawaiian Airlines continues to ride a wave of positive unit revenue momentum, outshining competitors
Analysis
As most US airlines suffered from a negative unit revenue performance during the past year, Hawaiian Airlines enjoyed positive results in that metric. This result was driven by its unique geography and benign industry capacity growth in its markets that appears to be continuing throughout most of 2017. As many US airlines believe they will finally recover to a positive unit revenue result in 2Q2017, Hawaiian expects another strong performance in that metric, despite continued capacity pressure in its interisland markets. Despite tougher year-on-year unit revenue comparisons as 2017 progresses, Hawaiian believes much upside remains in the sales of premium products.

Due to the timing of new Airbus A321neo deliveries, Hawaiian's capacity growth targets for 2017 have moved around. But the airline now believes its supply should increase between 2% and 5% as Hawaiian works to adjust its fleet to meet higher levels of travel demand at YE2017.

Hawaiian was one of the few US airlines that actually posted an increase in pretax margins year-on-year in 1Q2017, and it appears as if the company's valuation in 2Q2017 is reaping some rewards from that performance.
Hawaiian continues to benefit from rational capacity on North American routes
Hawaiian has posted a positive unit revenue performance since 2Q2016, at a time when increasing industry capacity and pricing weakness in the mainland US domestic market resulted in most US airlines struggling with negative unit revenue throughout 2016.
Hawaiian Airlines unit revenue performance: 1Q2014 to 4Q2016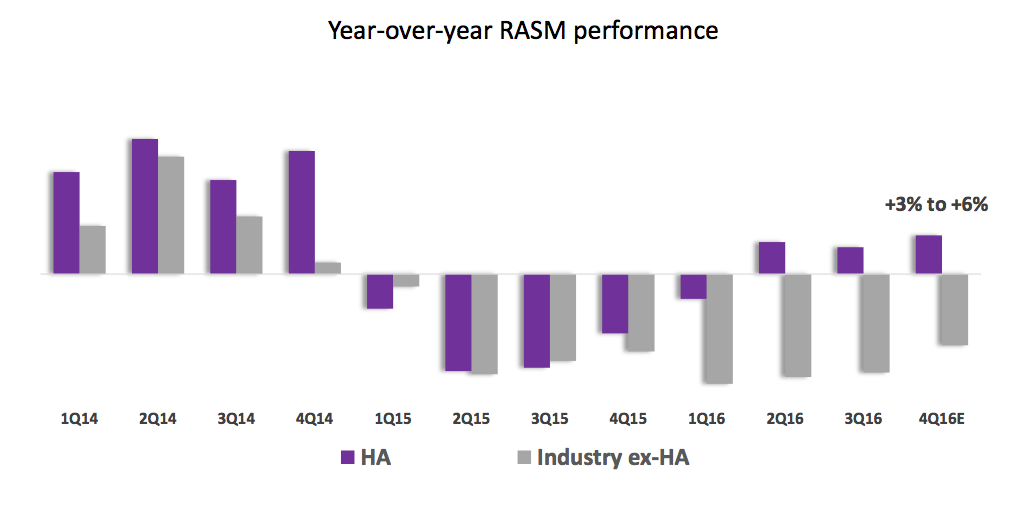 The company's positive performance continued into 1Q2017 as Hawaiian posted a 7.7% increase year-on-year in passenger unit revenue (PRASM).

Hawaiian's strong 1Q2017 PRASM performance was driven largely by its North American routes, which are projected to represent 49% of the company's 2017 revenues.
Hawaiian Airlines breakdown of revenue (%) by region: 2017
Airline executives recently explained that Hawaiian's own capacity on those routes during 1Q2017 had been reduced slightly as it made modest schedule adjustments to support new routes to Tokyo that it launched in 2H2016.
Competitive capacity in those markets was flat year-on-year, and although similar to those of 2016 when Hawaiian's North American routes benefited from increasing load factors, improved yields also helped the company's performance. Hawaiian posted a 4% increase in system yields year-on-year during 1Q2017, and load factors increased 2.9ppt to 84%.

Notably, Hawaiian said that bookings were strong throughout the quarter, which resulted in less discounting year-on-year, and when discounted fares were available they were slightly higher than the levels recorded in 1Q2016.

Hawaiian recorded a 6.8% rise in PRASM on international routes year-on-year in 1Q2017 as new service from Honolulu to Tokyo Narita (launched in Jul-2016) and a second Honolulu-Haneda flight (introduced in Dec-2016) were immediately accretive to its international passenger unit revenue performance. The company also benefited from Jetstar's exit from the Honolulu-Brisbane market, which occurred in Oct-2016.
Hawaiian faces competitive capacity pressure on its inter-island routes; Q400s added
Hawaiian posted a slightly weaker passenger unit revenue performance on its interisland routes during 1Q2017 due to a 9% rise in industry seats year-on-year. The airline's rival Island Air launched service from Honolulu to Lihue and Kona in 2016, and data from CAPA and OAG show Island Air's seats to Kona to have grown 17% year-on-year for the week of 14-Apr-2017, while its seats between Honolulu and Lihue have been reduced by 14%.
However, Island Air's seats on that route are projected to grow during 2H2017, jumping 78% from early May-2017 to late Aug-2017. Hawaiian still remains the dominant airline on the route, with a forecast seat share of 74% in late Aug-2017.

Management at Hawaiian has warned that industry capacity growth on interisland routes will reach the mid teens in 2Q2017, and that will continue to create some short term unit revenue pressure. Interisland routes are Hawaiian's second largest source of passenger revenue, representing 24% for 2017. Forward looking data from CAPA and OAG show Island Air's ASMs are projected to jump 190% year-on-year for the week of 12-Jun-2017, but the airline is undertaking a fleet expansion, adding Bombardier Q400 turboprops to its fleet for the eventual replacement of ATR 72 turboprops.
Island Air system ASMs per week: 2015 to Oct 2017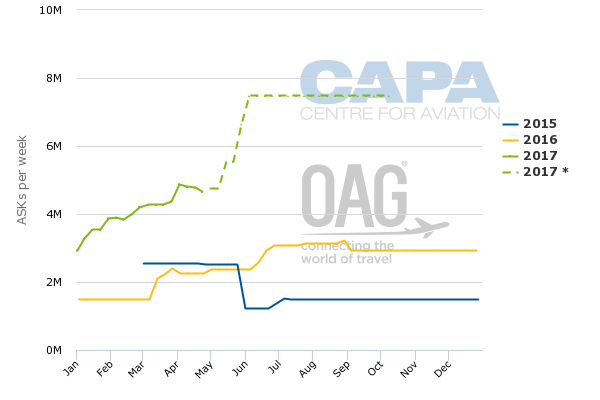 Hawaiian continues to march forward with its inter-island strategy, recently adding two Boeing 717s to its operations to add some peak middle of the day capacity to support connecting traffic from its long haul flights, which is helping Hawaiian to post interisland load factors of more than 90%.
Hawaiian Airlines fleet summary as of 28-Apr-2017
Hawaiian braces for tougher year-on-year unit revenue comparisons later in 2017
Hawaiian is forecasting a unit revenue increase of 5.5% to 8.5% for 2Q2017, which will be the fifth consecutive quarter of year-on-year improvement for the airline.
The company believes the rational capacity environment on its North American routes should remain intact, but does foresee some seat increases from some mid continent and other routes it does not serve directly. There is observable additional capacity on routes to Korea, and data from CAPA and OAG for the week of 24-Apr-2017 show Korean Air's seats from Honolulu to Seoul have risen 7% year-on-year.

Given Hawaiian's unit revenue outperformance in 2016, its year-on-year comparisons in that metric will grow tougher as 2017 progresses.
However, over the longer term Hawaiian believes it can capitalise on recent product changes to drive higher unit revenue. Company executives recently stressed that it had done a good job at increasing paid load factors on its premium product, even before the full rollout of new lie flat seats. The airline has rolled out the new premium product on flights to Auckland, Brisbane, New York, Sydney, Tokyo and Beijing.

Hawaiian also believes more upsell opportunities exist for its extra comfort seats as it expands the premium economy section on its A330s and new A321neos. Hawaiian's value added revenue per passenger increased USD1.32 to USD24.04, which shows some opportunity for an uptake in sales.
Hawaiian snaps back to its original 2017 capacity forecast, despite Airbus delays
Changes in Airbus delivery schedules have resulted in fluctuations of Hawaiian's capacity forecast in 2017. The airline has snapped back to its original projections of growth between 2% and 5%, after notching down projections to an increase of 1% to 4% in early 2017. That is higher than the 1% to 4% growth that Hawaiian forecast in early 2017.

Hawaiian adjusted its capacity forecast downward due to the A321neos not entering service until early 2018. But now the airline has adjusted its aircraft availability to add in some additional flying after the US Labor Day holiday.

In order to restore its growth forecast to original levels, Hawaiian has extended maintenance checks on a couple of Boeing 767s in its fleet, and also adjusted maintenance schedules for other aircraft to ensure adequate capacity during seasonal peaks for the airline. From a demand perspective, 3Q and 4Q are the strongest performers for Hawaiian.
Markets take notice of Hawaiian's favourable financial performance in early 2017
Hawaiian's 13.3% pretax margin during 1Q2017 was among the best of its North American airline peers. As it approaches its stronger demand periods in 3Q and 4Q, its margin upside remains strong.

The airline's passenger unit revenue, margin and generally positive financial performance (1Q2017 profits grew nearly 13% to USD56 million) has lifted Hawaiian's stock valuation recently. After posting strong quarterly results, the company's stock price reached USD54.25 in late Apr-2016 – a 17% increase from a trading valuation of USD46.45 earlier in the month.
Hawaiian Airlines stock price: late Apr-2016 to late Apr-2017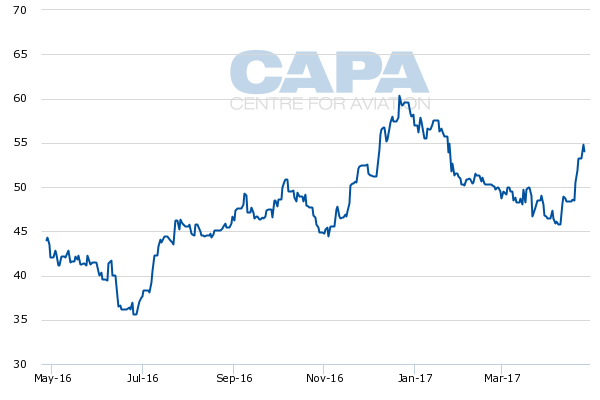 Hawaiian's business model is unique in that its selling point is Hawaii as a destination, and that strategy has shown a certain level of resilience as the US domestic market starts to emerge from a period of weakness.
Hawaiian continues to ride a wave of positive unit revenue momentum
During the past year Hawaiian Airlines has benefited from a benign capacity environment in its largest market by revenue – North America. But the airline has also engaged in some revenue management changes that appear to be taking effect, given its solid rise in yields during 1Q2017.

The company is poised to continue benefiting from favourable conditions in North America in 2017 as it works to combat increased competitive capacity on interisland routes. At this point, Hawaiian's unit revenue momentum shows no signs of slowing down.