Hawaiian Airlines aims to generate positive results in its long-haul network during 2H2014
Analysis
Hawaiian Airlines believes its long-haul international network could turn a corner in 2H2014 to become revenue positive on a unit level, a major accomplishment for geographies that have recorded negative results for the past year.

The main drivers for the improvement are network adjustments Hawaiian has made including eliminating service from Honolulu to Fukuoka and Taipei, and some flights the airline has introduced during the last four years reaching maturity.

At the same time a robust demand environment in North America is benefitting Hawaiian, which has re-deployed some capacity it cut from long-haul operations into seasonal flights to the US mainland from Kona and Lihue.

Hawaiian is also making other changes to its business as it starts to contemplate how it intends to allocate capital once it reaches positive free cash flow, which should occur in CY2015.
Hawaiian aims for a positive performance on long-haul routes for the remainder of 2014
Hawaiian's passenger unit revenues on long-haul flights to Asia and Australia fell 1.7% year-on-year in 2Q2014, a marked sequential improvement from 1Q2014 when passenger unit revenues on those routes fell 7%.

Company executives recently explained that the improvement was driven in part by the lapping of a period in CY2013 when currency depreciation, largely the devaluing of Japan's yen, undermined sales in foreign currencies. During 2Q2014, Hawaiian's revenue hit from currency fluctuations with USD5 million net of hedges.

Hawaiian concluded that absent currency and hedging effects, passenger unit revenues in long-haul operations would have increased 2% year-on-year in 2Q2014. The company believes that if no dramatic changes occur in currency values going forward that its long-haul unit revenues should log positive growth for the remainder of 2014.

Those conclusions, along with Hawaiian catching its breath in launching long-haul flights, should bode well for the airline's trans-Pacific network, which has suffered from currency woes and, in the case of Taipei, a miscalculation of traffic projections.

See related report: Hawaiian Airlines drops weak long-haul routes, returning to more familiar North American markets

Hawaiian's network capacity adjustments were reflected in the airline's revenue breakdown by geography during 2Q2014. In the quarter long-haul flights represented 26% of the airline's passenger revenues compared with 28% in 1Q2014. Routes to North America accounted for 50% of its revenue, up from 47% in 1Q2014 while inter-island routes represented 24% of Hawaiian's revenues in 2Q2014 compared with 24% in 1Q2014.
Hawaiian Airlines performance by geographical entity: 2Q2014
| | | |
| --- | --- | --- |
| Entity | Percent of total revenue | Passenger unit revenue performance |
| North America | 50% | 4% |
| Inter-island | 24% | 8.3% |
| International | 26% | (-1.6%) |
See related report: Hawaiian Airlines' 1Q2014 loss offers underlying encouragement; but its long-haul woes remain intact
Hawaiian remains confident its North American capacity additions are being absorbed
Hawaiian transferred some of the capacity deployed into Fukuoka and Taipei back into the US mainland as it launched seasonal flights from Lihue and Kona to Los Angeles and Oakland, transitioned Maui-Los Angeles service to year-round and re-launched service from Honolulu to San Jose.

In the not so distant past the Hawaii-US mainland market has suffered from overcapacity, creating revenue pressure for the airlines in those markets. Subsequently, both Hawaiian and Alaska Airlines made adjustments to restore a more rational supply-demand balance.

As Hawaiian opted to reallocate capacity back to the US mainland, it fielded some questions about creating another scenario of oversupply. But the company assures that demand remains strong, and that the new service to Kona and Lihue is performing well. However, Hawaiian does estimate industry capacity growth of 9% in 3Q2014 and 4Q2014, some of which is seasonal for high-demand travel season.

Overall Hawaiian believes the capacity is being absorbed, and reiterates the changes it has made to its US route network are positive.

See related report: Alaska Air Group faces tough 2Q2013 as competitive capacity hurts yields. Cost crunch looms
Hawaiian continues to benefit from a competitor exiting the inter-island market
Hawaiian's inter-island network was the airline's top performing geography in 2Q2014 in terms of passenger unit revenue growth, which increased 8% on those routes.

The airline no doubt is benefitting from the shutdown of its major inter-island competitor go!, which ceased operations in Apr-2014. Previously, Hawaiian has estimated industry capacity on inter-island routes would decrease by 3% in 2Q2014 and 2% in 3Q2014.

During 2Q2014 Hawaiian's new turboprop subsidiary Ohana added new service from Maui to Molokai and between Maui and the Big Island.

As the dominant airline in the inter-island market, it is not surprising Hawaiian expects favourable yield performance in those markets to continue.
Hawaiian changes its widebody fleet composition which allows for reduced outlay
Hawaiian has also made a key change to its widebody fleet, opting to swap six Airbus A350-800s on order for six A330-800neos. The change allows Hawaiian to push back deliveries of widebodies as the A350s were originally scheduled for delivery in 2017.

Deliveries of the A330-800neos have a 2019 delivery date, which allows Hawaiian to push back some capital commitments. As a result of the swap Hawaiian estimates a USD500 million reduction in capital outlays through 2018, which should help the airline ensure it meets a positive free cash flow target in 2015. Hawaiian expects to take delivery of its final A330-200 in 2016, which means it will have a three-year hiatus in adding widebody aircraft to its fleet. The airline begins taking delivery of A321neos in 2017.

As it works to generate positive cash flow, Hawaiian is examining optimal capital deployment in light of the changes to its fleet composition and delivery dates. For the moment the airline is not specifically discussing shareholder returns; but it does emphasise the evaluations are "front and centre" internally.
Hawaiian record favourable results in 2Q2014, trims capacity growth for CY2014
Hawaiian's overall financial performance in 2Q2014 was favourable as top-line profits increased to USD27 million from USD11 million year-on-year. Operating revenues increased nearly 8% to USD575 million and operating expenses grew nearly 6% to USD524 million. The airline's operating income jumped from USD37 million to USD51.5 million year-on-year.
Hawaiian Airlines financial results: 2Q2014 vs 2Q2013 and 6M2014 vs 6M2013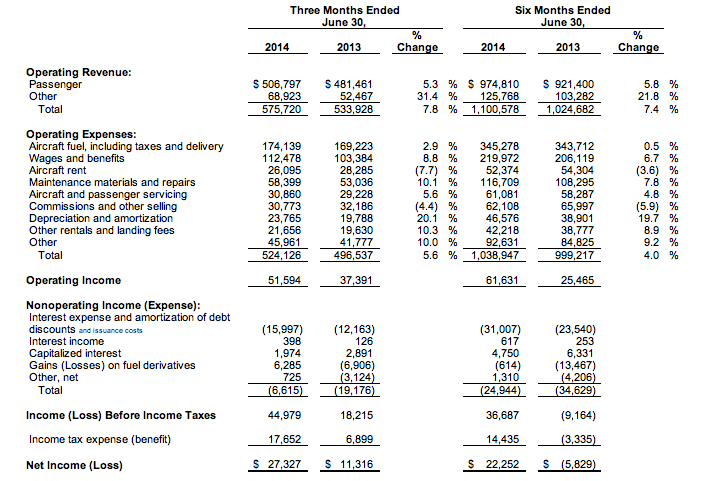 On a unit basis Hawaiian's total operating unit revenues (passenger and non-ticket) grew 6.7% as unit cost excluding fuel increased 5.8%. Hawaiian's unit cost performance during 2Q2014 was elevated by expenses stemming from changes in aircraft configurations to accommodate the airline's new extra legroom product and expenses associated with new pilot flight and duty time requirements.
Hawaiian Airlines unit revenue and unit cost performance: 2Q2014 vs 2Q2013 and 6M2014 vs 6M2013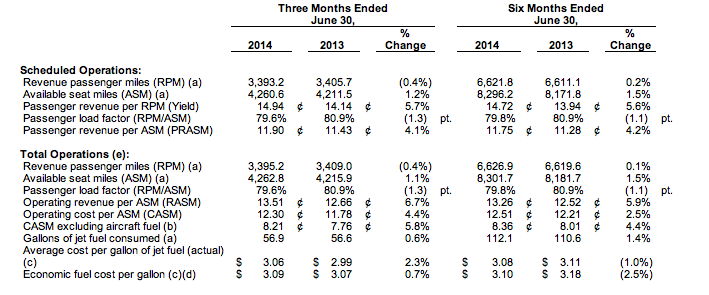 Hawaiian does forecast some unit cost relief in 3Q2014, with a projected unit cost rise of 1% to 4%, which is a wide range. The airline expects unit revenues to increase between 3% and 6% in 3Q2014. Hawaiian has also refined its CY2014 capacity guidance, and now projects an increase of 1% to 3% compared with previous projections of an increase between 1% and 4%.
Shareholder returns are a logical next step as Hawaiian completes a growth phase
Hawaiian is coming close to ending a transition period where it opted to diversify into long-haul operations. Even as the performance of those markets has been challenging in the short to medium term, over the long term Hawaiian's network diversification should continue to generate positive results for its business.

The airline is also turning an important corner as it works to create positive free cash flow, ensures it meets capital commitments and evaluates potential shareholder returns.
The timing is favourable for such contemplation as most of Hawaiian's US airline peers are delivering concrete return to their shareholders. Against that backdrop, it is only logical that Hawaiian works to create a framework to reward its investors.