Hawaiian Airlines' 1Q2014 loss offers underlying encouragement; but its long-haul woes remain intact
Analysis
Hawaiian Airlines was one of two US major carriers to report a loss during 1Q2014, joining United Airlines in losing money during the first three months of the year. But the similarities end there as Hawaiian's performance in many important metrics, including passenger unit revenue growth, was solid year-on-year.

While Hawaiian continues to make strides in its North American and inter-island performance, its relatively younger international network is still recording negative unit revenue performance.

The airline has taken steps to shore up its fortunes in its long-haul international network through the cancellation of short-lived service from Honolulu to Taipei and between Honolulu and Fukuoka. Much of that capacity is being deployed back to the US mainland, which Hawaiian feels confident should be absorbed by demand.
Hawaiian shows a strong performance on North American and inter-island routes in 1Q
Hawaiian recorded a strong performance in two of its three major geographies in 1Q2014, which is typically a seasonally weak period. Even as it has diversified rapidly into international markets during the last few years, North America remains Hawaiian's largest geography as measured in percent of revenue. During 1Q2014 the region accounted for 47% of Hawaiian revenues, and the carrier's passenger unit revenues on its North American markets increased 11.3% year-on-year.
Hawaiian Airlines performance by geographical entity: 1Q2014
Entity
Percent of
total revenue
Passenger unit
revenue performance
North America
47%
11.3% rise
Inter-island
25%
8.5% rise
International
28%
7.1% decline
A 0.5% decline in industry capacity from Hawaii to North American helped lift Hawaiian's results in the region, and the carrier projects competitive supply to grow 2% during 2Q2014 and 6% in the summer high season. The carrier assures it expects strong yields in North America during 2Q2014, and believes enough demand is present to absorb the increase in supply.

Hawaiian's unit revenues in its inter-island network increased 8.5% year-on-year and should sustain positive momentum in 2Q2014 as Mesa Air Group shuttered its inter-island operation go! in Apr-2014. Hawaiian estimates that industry capacity on inter-island routes should fall roughly 3% and 2%, respectively, in 2Q2014 and 3Q2014.

During 1Q2014 Hawaiian debuted its new Ohana subsidiary in Mar-2014 operating ATR 42 turboprops from Honolulu to Molokai and Lanai. The carrier estimates Ohana represents less than 5% of its inter-island capacity, so any overall contribution from the operation would be small. However, the airline deemed the service as important to ensure it offers a comprehensive Hawaiian network.
Same story, different quarter for Hawaiian's long-haul performance
On its long-haul international flights, Hawaiian's passenger unit revenue fell 7% year-on-year in 1Q2014. During the quarter the carrier's long-haul network represented about 28% of its revenues, down from 32% in 1Q2013 and up from 27% in 1Q2012.

Hawaiian continued to face currency pressure as many of its long-haul markets are in Japan. The airline estimates that absent currency effects, its passenger unit revenues would have fallen about 1% year-on-year on its Asian routes and Australian routes.

The carrier believes its fortunes on long-haul routes should improve absent any further deterioration of the yen and AUD. It also believes that the growing maturity of its long-haul network (some routes were introduced in 2010) and the network adjustments should ease the decline in passenger unit revenues throughout the remainder of 2014.
Hawaiian's elimination of Taipei was a "straightforward business decision"
The network changes Hawaiian instituted included cutting Honolulu-Fukuoka and Honolulu-Taipei. Hawaiian is cutting Taipei in Apr-2014 after roughly 10 months of service. Queried during a recent earnings discussion about cutting the route so quickly, Hawaiian CEO Mark Dunkerley reiterated previous reasoning that the traffic projections from the lifting of the US Visa Waiver programme failed to materialise.

Mr Dunkerley noted that visitors to Hawaii from Korea grew 100% after the lifting of the Visa Waiver programme, "and it was against those sorts of expectations that we launched service to Taipei after they became eligible for US visa waiver", he stated. But the waiver scheme ended up only stimulating the market by about 25%, "which was far lower than we anticipated, and that made the service infeasible".

He believes that Taiwan will eventually "grow to be the significant market, we just didn't feel that the costs of flying to Taiwan in the interim justify the returns...so we made a straightforward business decision", Mr Dunkerley concluded.

See related reports:
Hawaiian stands by its decisions to re-deploy capacity back to the US mainland
Hawaiian is placing the Airbus A330-200 operated on service from Honolulu to Taipei on flights from Honolulu to Seoul. The Airbus widebodies are replacing smaller Boeing 767-300s operated on the pairing, which means Hawaiian is upgauging aircraft on the route.

The carrier is also adding capacity to the US mainland by re-launching flights from Honolulu to San Jose, adding year-round service from Maui to Los Angeles and upgauging Honolulu-Oakland from 767s to A330s.

As previously reported by CAPA, Hawaiian cut Honolulu-San Jose in Jan-2014. Explaining the decision to recommence the service, Hawaiian chief commercial officer Peter Ingram noted that Hawaiian has seen strong demand in the metro San Francisco Bay area (San Jose is roughly 68km from San Francisco). He remarked that Hawaiian has a good presence at all three of the region's airports – San Francisco, Oakland and San Jose. Mr Ingram cited improving revenue trends in the market.

Mr Ingram also concluded Los Angeles-Maui ranks in the top four or five O&D markets between the US mainland and Hawaii. "LA is a place where we've got a strong loyalty base, we've been carrying passengers on our Honolulu flight for a long time and based on the strength of that seasonal route has done, we've been looking for an opportunity to add that route year round and in fact with LA-Maui we're going to double that up seasonally in the peak summer period," he said.
Hawaiian shrinks its 1Q2014 losses and posts positive operating income
As it works to improve the performance of its long-haul network, Hawaiian shrank its 1Q2014 loss from USD17 million to USD5.1 million year-on-year. A roughly 7% rise in operating revenue to USD525 million and 2.4% growth in top-line costs to USD515 million helped Hawaiian reverse and operating loss of USD12 million in 1Q2013 to operating income of USD10 million.
Hawaiian Airlines financial results: 1Q2014 vs 1Q2013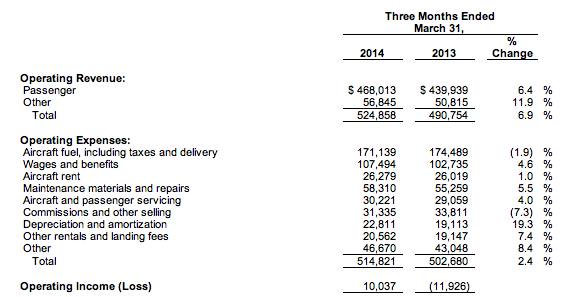 Despite continued weak international operations, Hawaiian's yields increased 5.7% year-on-year and passenger unit revenues increased 4%. Its unit cost excluding fuel grew 2.8% year-on-year.
Hawaiian Airlines unit revenue and unit cost performance: 1Q2014 vs 1Q2013
Hawaiian revises its CY2014 capacity projections to even slower growth
On a sequential basis, Hawaiian improved its unit revenue decline in long-haul markets from 10.6/% to 7% in 1Q2014. While any decline is not preferred, Hawaiian is at the mid-point of creating a long-haul network with the ultimate goal of de-concentrating its North American network.

Hawaiian plans to slow its capacity growth from high double digit expansion of roughly 14% in 2013 to 1% to 4% for CY2014. The carrier's full-year estimates are down from previous projections of 5.5% to 8.5% ASK growth. Hawaiian revised its estimates after making the adjustments in its long-haul network.

Of course there are concerns that Hawaiian's reallotment of capacity from long-haul Pacific routes to North American markets could create an oversupply, which was the case until about a year ago. But for the moment the carrier believes there is enough demand to absorb its capacity.
Is 2014 the year Hawaiian can turnaround its long-haul fortunes?
Hawaiian's struggles in executing its ambitious long-haul growth strategy have been well documented. Any project of that magnitude is bound to create some negative drag initially; but the key question for Hawaiian going forward is how long the carrier can endure negative results in those markets.

The carrier's larger geographical entities are performing well, giving Hawaiian some padding against its unfavourable long-haul performance. Its slower capacity growth should allow the carrier to dedicate more resources to improving the performance of its nearly four year old long-haul network.
Given some routes are hitting a mid-level point of maturity, 2014 could be a critical year for Hawaiian's long-haul ambitions.