Gol outlook brightens as Brazilian yields start to show signs of improvement
Analysis
Despite a slower growth for Brazil's economy, Gol is bullish on its outlook for 2012 as domestic yields, which dropped significantly earlier this year, are beginning to recover. Gol also expects to benefit in 2012 from a new cost reduction initiative, its recent acquisition of smaller low-cost carrier Webjet and its expanded partnership programme with other carriers. After incurring losses in 2Q2011 and 3Q2011, Gol will likely be back in the black in 4Q2011 and remain profitable throughout 2012.
Oct-2011 figures show Gol's domestic yields are again tracking higher than 2010 levels. Gol executives told analysts last month during the carriers' 3Q2011 conference call that yield improvements are expected to continue through 4Q2011 and into 2012 because the Brazilian airline industry overall have become more rational with fares and more disciplined with capacity.
Gol saw its yields drop by 8% in 2Q2011 and again by 8% in 3Q2011, leading to a BRL359 million (USD199 million) net loss in the second quarter and a BRL517 million (USD287 million) net loss in the third quarter (see background information). The fare environment improved around mid-year but yields continued to decline through the third quarter due to the large volume of forward bookings made during the 1H2011 fare wars.
Yields should further improve as Gol is taking a conservative approach to capacity for 2012. The airline group now plans to grow capacity next year by at most 4%.
Speaking to CAPA at the recent ALTA Airline Leaders Forum in Brazil, Gol CEO Constantino de Oliveira Junior said the small capacity increase will be driven by the replacement of B737-300s for larger B737-800s at Webjet. Mr Oliveira says capacity at the Gol operation will be flat next year.
Webjet to start replacing B737-300s with B737-800s this month
Gol unveiled plans in Jul-2011 to acquire 100% of Webjet, which operates 24 B737-300s and currently has a 5.5% share of Brazil's domestic market. While the deal has not yet closed as it is still being reviewed by the Brazilian antitrust court CADE, Gol is able to start the process of renewing Webjet's fleet. Mr Oliveira says Gol plans to replace Webjet's entire fleet with B737-800s over the next 18 months, with the first B737-800s entering service at Webjet by the end of this year.
Mr Oliveira is keen to swap out Webjet's B737-300s as fast as possible because B737-800s are much more fuel efficient, have lower per seat costs and are ideally suited for Webjet's network. Fleet synergies can also be pursued if both carriers operate the same type.
Gol has a large B737-800 order book consisting of 97 firm orders, 10 purchase rights and 40 options. But Mr Oliveira says Webjet will be receiving B737-800s that are currently in operation at Gol as all new aircraft will continue to be placed onto the Gol operating certificate as they are delivered.
The carrier is able to quickly replace Webjet's fleet because nearly all of Webjet's B737-300s are on short-term leases of up to two years. Gol also has the flexibility to pursue rapid fleet renewal at Webjet because it has a large number of its own B737-700/800s that are coming off lease. Gol has been returning several B737NGs per annum (mainly B737-700s) in recent years and replacing them with new B737-800s as part of its ongoing fleet renewal strategy. Mr Oliveira explains that Gol can renew leases on some of the aircraft it had been planning to return in 2012, thereby freeing up aircraft for Webjet without having to shrink Gol's own fleet.
Gol is now working on a revised fleet plan for 2012 which will determine how many leases it needs to extend to meet its fleet renewal goals at Webjet and its group capacity plan. Gol plans to end 2011 with 75 B737-800s and 40 B737-700s (excludes the 24 B737-300s at Webjet).
Prior to the Webjet acquisition, Gol was planning to only grow its fleet by a net of four aircraft in 2012 and two aircraft in 2013, for a total of 40 B737-700s and 81 B737-800s by the end of 2013. But Gol says this fleet plan is now in the process of being adjusted to accommodate fleet renewal at Webjet.
Webjet to retain managerial independence
Webjet will become a full subsidiary of Gol and be included in Gol's earnings from 4Q2011. To mitigate potential ant-trust concerns, Gol has agreed to have Webjet retain independence and operate as a separately managed entity. Gol, however, still expects to be able to exploit the full synergies from the merger including route network optimization. Webjet will allow Gol to increase its presence at several key Brazilian airports, including airports where growth opportunities are otherwise limited due to slot limitations or congestion.
See related article: Webjet acquisition improves Gol's position in world's fourth largest domestic market
Webjet will also allow Gol to recapture market share lost in recent years to archrival TAM. Through the first 10 months of 2011 Gol captured 37.8% of Brazil's domestic market, down from the 38.2% share it captured in the first 10 months of 2010. Adding Webjet's 5.5% share gives Gol a leading 43.7% share of the Brazilian market, compared to 41.3% for TAM.
Brazil domestic market share by carrier (based on RPKs), Jan-2011 to Oct-2011
While Gol has seen its market share slip in recent years (in 2010 Gol captured 39.5% of the domestic market compared to 41.7% in 2009), the carrier's more disciplined capacity approach compared to other Brazilian carriers has resulted in load factor improvements. Gol recorded a 2.5ppt improvement in its domestic load factor in 2010 to 68% as its capacity was up 13% compared to an 18% increase by the industry. In the first 10 months of 2011, a 2.8ppt improvement in domestic load factor was recorded to 69.8% as Gol's capacity was up only 6% compared to a 14% increase for the overall industry.
Gol's load factor slipped to 65% in Oct-2011 as the average fare on most core domestic routes increased. Gol believes the improvement in yields generated by the more rational fares more than offsets the impact of the lower loads. A similar trend is expected for the rest of the current quarter.
Gol domestic load factor, Jan-2009 to Oct-2011
Mr Oliveira is committed to continuing its conservative approach to capacity at Gol and now Webjet. Other Brazilian carriers including market leader TAM also have started to adopt a more conservative approach, which should benefit all players.
Gol now expects demand (RPK) growth in Brazil's domestic industry for 2012 of 7% to 8%. This is significantly lower than the 23% RPK growth recorded in 2011 and the 17% growth recorded through the first 10 months of this year. But as Gol CFO Leonardo Periera pointed out in Gol's 3Q2011 conference call, the growth over the last two years has been "extraordinary" and growth of 7% to 8% "is still very healthy".
The slower growth is expected next year as Brazil's economy (GDP) is now only expected to expand by 2.5% to 3% in 2012. Gol is assuming passenger traffic will grow at a multiple of 2.5 to 3 times GDP, leading to the 7% to 8% projection. Gol is hopeful that that the slowdown in growth will allow for improvements in yields compared to the discouraging yield declines of 2Q2011 and 3Q2011, which had a major impact on the bottom line because they occurred as fuel prices increased.
See related article: Profitability in Brazilian domestic market plummets as yield drop
In addition to more disciplined capacity and synergies from its purchase of Webjet, Gol expects to benefit next year from the BRL650 million (USD361 million) cost reduction programme which it quickly initiated earlier this year after slipping into the red in 2Q2011. Mr Periera says Gol is already realising BRL500 million (USD278 million) in annual savings from this programme and expects the remaining BRL150 million (USD83 million) will kick in by 1Q2012.
Gol's alliance strategy another example of conservative approach to capacity
Gol is also hoping to benefit from its conservative approach to international expansion. Gol reduced international capacity by 10% through the first 10 month of 2011. Mr Oliveira tells CAPA that Gol plans flat international capacity in 2012. While the carrier sees long-term potential in the international market, Gol for now sees more potential domestically as the Brazilian middle class continues to expand rapidly.
Currently only 95% of Gol's capacity (seats) is allocated to the international market, according to Innovata data. Webjet is entirely a domestic operator.
Gol earlier this year dropped its long-haul charter operation and scheduled flights to Bogota. The carrier over the last few years has dropped several international destinations and been focussing on a lower risk strategy of expanding its international network by adding codeshare partners.
Gol currently has six codeshare partners – Air France-KLM, Aeromexico, American, Delta, Iberia and Qatar. In Sep-2011 Gol forged a codeshare partnership with Aerolineas Argentinas, which will take effect in 2012.
Aerolineas expects to be the first carrier to implement a two-way codeshare with Gol. So far the Brazilian carrier's alliance partners only sell on Gol flights although Gol has been working the last several years on upgrading its reservation system to allow Gol to also sell on its partners.
Mr Oliveira tells CAPA that the upgrade of the reservation system, which is being pursued with Navitaire, will be completed in the "near future" and "within the next three months" the carrier should have the flexibility to start selling tickets on other carriers. But he says an exact date has not yet been set for the launch of tickets sales on other carriers.
Aerolineas codeshare to augment Gol's leading position in Brazil-Argentina market
Gol is particularly interested in selling on Aerolineas as it will allow the carrier to augment its position in Argentina, which is by far Gol's largest international destination with 78 flights per week. According to CAPA's route analyser tool, Aerolineas currently accounts for 22% of capacity between Brazil and Argentina while Gol accounts for another 36%. As a result the two carriers combined will have a commanding 58% share of the market.
Brazil to Argentina capacity by carrier (seats per week for 19-Sep-2011 to 12-May-2012)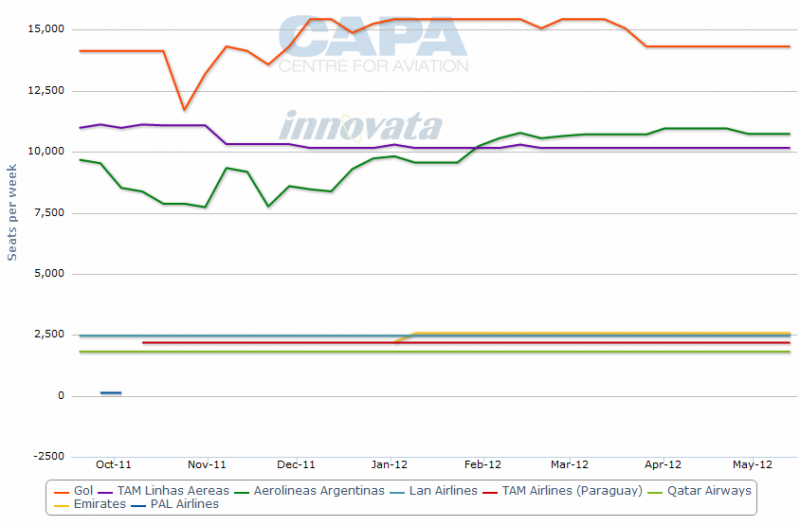 Mr Oliveira says Brazil-Argentina is a "big market" and being able to sell Aerolineas seats provides a better "balance" as it will be able to offer more frequencies to its customers. In addition to codesharing on Brazil-Argentina flights, Mr Oliveira envisions Aerolineas selling on Gol domestic connections and Gol selling on Aerolineas domestic flights, allowing it to expand its network in Argentina beyond the four airports and three cities it currently serves.
Selling on US and European carriers is not as critical for Gol because it currently doesn't offer long-haul services. The partnerships with Gol's existing six partners were pursued primarily to increase feed for Gol's domestic flights and give its frequent fliers an opportunity to accrue and redeem points on long-haul flights. As a result the partnerships were initially forged as one-way codeshares with frequent flier reciprocity.
Gol says it is continuing to seek further expansion of its network of partners, with a particular emphasis on long-haul carriers that serve Brazil. Foreign carriers provide valuable and high yield feed for Gol, helping in its ongoing effort to boost load factors and improve yields.
Overall Gol is in relatively good shape for 2012 despite the tough global economic conditions and expected slowdown in Brazil's economy. But as this year's challenges have shown, capacity discipline and fare rationality in the overall Brazilian market is required for Gol to be profitable. The Brazilian market is known for its steep ups and downs with irrational pricing often rearing its ugly head. Brazil is a fantastic growth market with incredible long-term opportunities but sustained profitability is hardly guaranteed.
This is the third in a series of analysis articles to be published over the next several days on Brazil's leading airlines. CAPA was recently in Brazil for the ALTA Airline Leader Forum. See first article in this series: Azul plans more rapid expansion, expects to capture 15% of Brazilian market by end of 2012. See second article in this series: Avianca Brazil accelerates expansion as ex-LAN A318s and new A320s are added to fleet
Background Information
Gol incurred a net loss of BRL517 million (USD287 million) in 3Q2011, compared to a BRL110 million (USD61 million) profit in 3Q2010. Revenues were up by 3% in the quarter to BRL1.84 billion (USD1.02 billion).
The carrier's net margin slipped to negative 28% in 3Q2011, below the already unhealthy negative 23% margin from 2Q2011. In 3Q2010 Gol reported a net margin of positive 6%.
(1USD=1.80BRL)
Gol financial highlights, 3Q2011 vs 2Q2011 and 3Q2010
Gol's operational highlights, 3Q2011 vs 2Q2011 and 3Q2010

Gol's operating profit/loss (EBIT) and EBIT profit margin, 3Q2010 to 3Q2011