Profitability in Brazilian domestic market plummets as yields drop
Analysis
Intense competition in the Brazilian domestic market led to a sharp drop in yields in 2Q2011 and is expected to have a major impact on profitability throughout the Brazilian airline sector for the remainder of the year. Gol, which is primarily a domestic operator, has particularly been impacted by the suddenly unfavourable market conditions with a BRL359 million (USD221 million) net loss incurred in 2Q2011. TAM also has been impacted but has the benefit of a large profitable international operation, allowing it to remain in the black in 2Q2011.
TAM was able to eke out a small net profit of BRL60 million for 2Q2011, compared to a net loss of BRL176 million in 2Q2010. Gol's net loss of BRL359 million compared to a net loss of BRL52 million in 2Q2010.
The second quarter is the weakest quarter in Brazil, particularly from a leisure demand perspective. Gol stated that load factors for Brazil's domestic industry were at a record high for the second quarter but this was only achieved by sharply reducing fares. The result was "a highly competitive scenario" with an "excessive increase in Brazilian market supply" leading to a drop in revenues despite a big increase in traffic.
Gol domestic yields drop by 8% and revenues by 17% compared to 1Q2011
Gol recorded a 14% drop in domestic yields compared to 2Q2010 and an 8% drop compared to 1Q2011 levels. As a result, Gol saw its revenues shrink despite recording a 14% increase in domestic traffic and improving its domestic load factor by 6ppt to 67%.
Total revenues at Gol - includes domestic, international and ancillaries - decreased by 2% in 2Q2011 to BRL1.591 billion. Revenues were down a shocking 17% compared with 1Q2011 levels, when Gol generated BRL1.896 billion.
Gol's costs, however, shot up 20% in 2Q2011 to BRL1.837 billion despite only a 3% increase in ASKs as fuel costs increased by 28%. Unit costs excluding fuel were also up an alarming 12%. As a result, Gol incurred an operating (EBIT) loss of BRL271 million, compared to an operating loss of BRL57 million in 2Q2010. The loss gave Gol a very poor operating margin of negative 17.3% in 2Q2011. On an EBITDAR basis, Gol's loss was BRL68 million, compared to a profit of BRL274 million in 2Q2010.
Gol's financial highlights, 2Q2011 vs 2Q2010 and 1Q2011

Gol's financial indicators over the last five quarters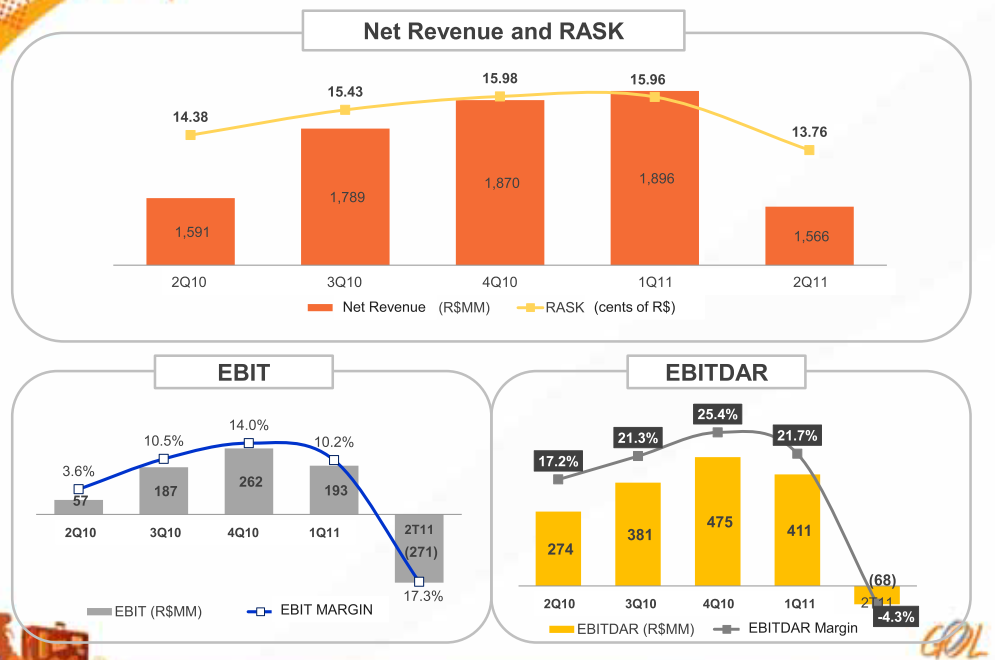 Gol's yield, RASK and load factor over last six quarters
TAM saw its domestic yield drop 21% compared to 2Q2010 and 2% compared to 1Q2011. The carrier's domestic RPKs surged by 31% and its domestic load factor improved 8ppt to 69% as capacity was only up by 15%. But despite the big surge in traffic, TAM was only able to grow domestic passenger revenues by 3% to BRL1.472 billion.
Strong growth in international and loyalty programme revenues offset TAM's domestic woes
TAM's total passenger revenues, however, increased 8% to BRL2.337 billion as international passenger revenues were up 18% to BRL865 million. Total for TAM revenues were up 17% to BRL3.175 billion, driven partially by a big increase in loyalty programme revenues. Operating expenses increased by 16% to BRL3.038 billion, driven by a 28% increase in fuel expenses and a 15% increase in capacity that was partially offset by a 4% reduction in ex-fuel unit costs.
As a result, TAM's EBIT improved from BRL1.4 million to BRL15.6 million. On an EBITDAR basis, the operating profit improved 8% to BRL313 million although the EBITDAR margin dropped 0.8ppt to 10.2% as a result of the higher revenue base.
TAM financial highlights, 1Q2011 vs 2Q2010 and 1Q2011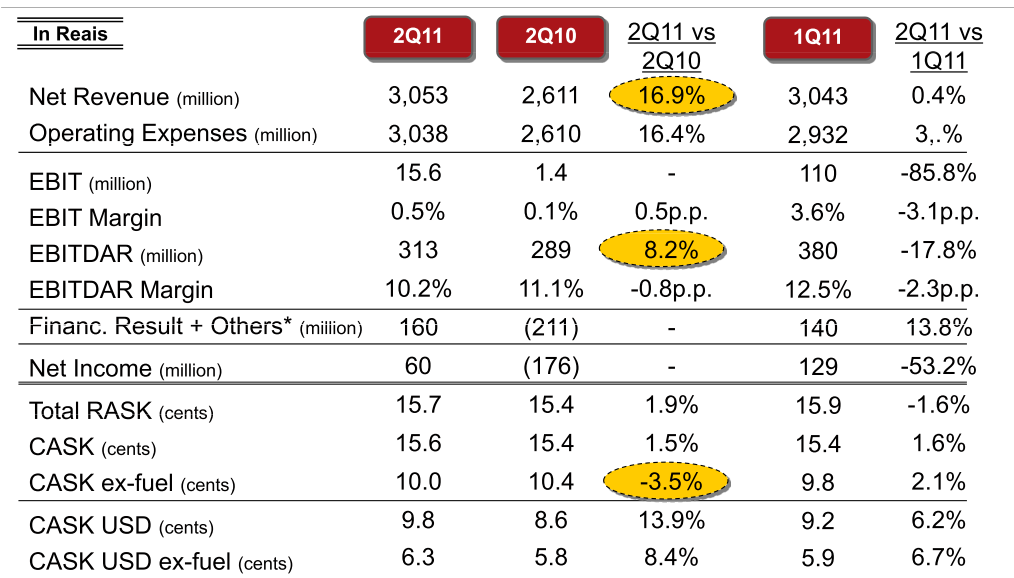 TAM's superior financial performance in the quarter reflects primarily its more balanced reliance on the domestic and international markets. Based on their 2Q2011 data, domestic operations account for 91% of Gol's ASKs but only 61% of TAM's ASKs. On a seat basis 95% of Gol's capacity is domestic while 90% of TAM's capacity is domestic, based on Innovata scheduled data for this week (see background information).
While its domestic yield dropped over 20%, TAM's international yield dropped by only 2% on a local currency basis and on a USD basis increased by 10% in 2Q2011. TAM's international traffic increased 21% while capacity was up only 14%, resulting in a 5ppt improvement in load factor to 81%.
TAM domestic operating performance, 2Q2011 vs 2Q2010 and 1Q2011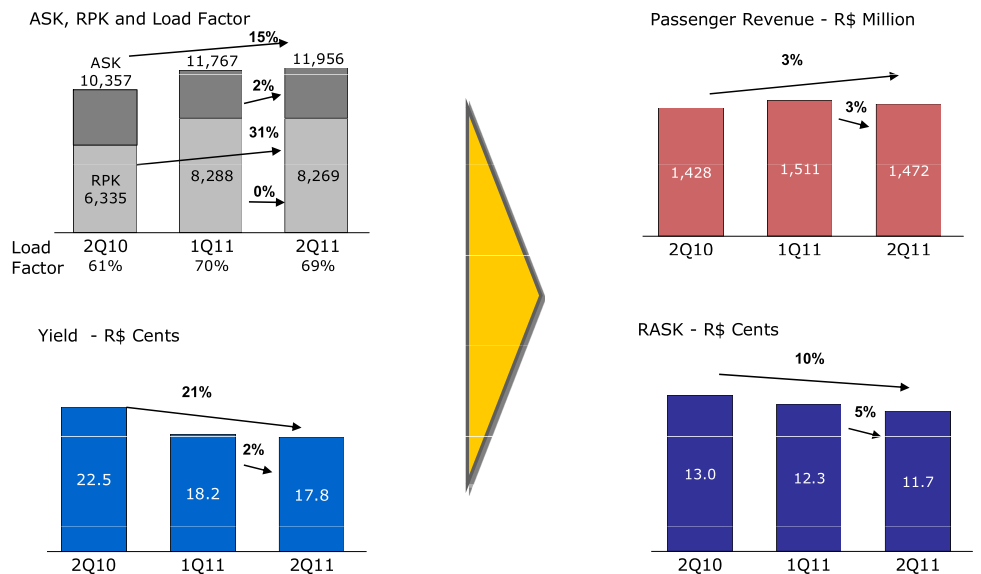 TAM international operating performance, 2Q2011 vs 2Q2010 and 1Q2011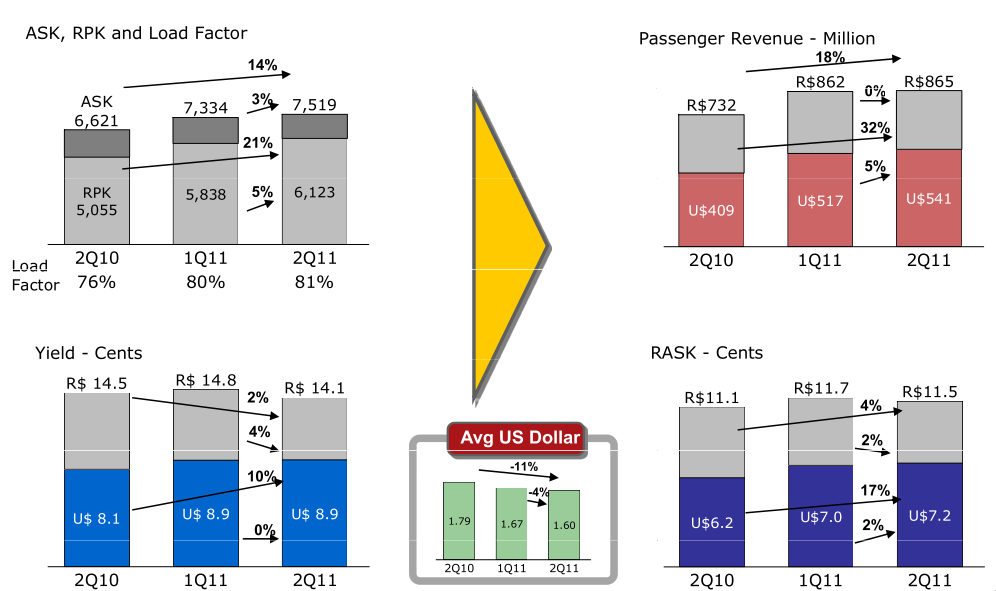 Gol did not provide a yield for its international operation, which is about a tenth the size of TAM's international operation, but it clearly performed better than domestic. Gol's international traffic was up 5% despite a 5% decrease in capacity. As a result, Gol's international load factor improved 9ppt to 62%.
Gol cut international capacity in the second quarter as it terminated its international long-haul charter operation, which has been included in its traffic and capacity figures, and returned its three remaining B767s. It also dropped scheduled flights to Bogota.
While its recorded large losses as a result of the intense competition in the domestic market it relies on, Gol pointed out that its domestic yield did not drop as much as TAM's yield or the industry average yield because it has been more disciplined with capacity. Gol only increased domestic capacity by 4% in 2Q2011 while other Brazilian carriers collectively increased capacity by 22%. This increase in capacity across the industry "led to lower yields and pushed up domestic passenger traffic in a quarter with a seasonally smaller share of leisure passengers".
Gol and Brazilian industry operating performance, 2Q2011 vs 2Q2010 and 1Q2011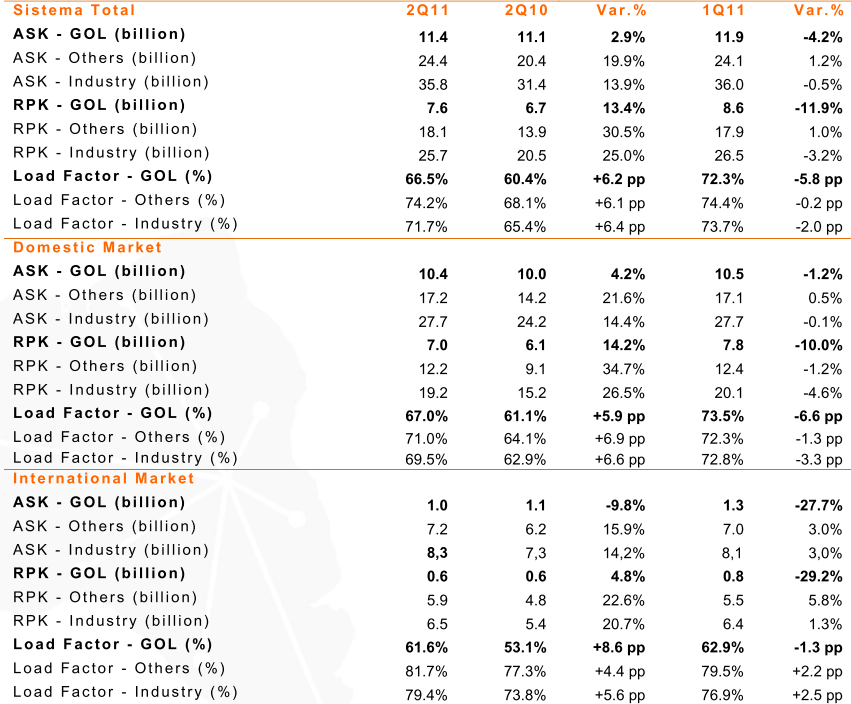 But Gol's relatively conservative approach to capacity compared to other Brazilian carriers does not seem to be paying off. While TAM has stayed profitable and is maintaining its profit forecasts for 2011, Gol two weeks ago significantly downgraded its 2011 forecast.
Gol now expects to end 2011 with an operating profit (EBIT) margin of only 1% to 4%, compared to previous guidance for an operating profit margin of 6.5% to 10%. Gol has not adjusted its capacity for 2011 and expects higher load factors than initially forecasted as domestic RPKs for the year are expected to come in 1 billion higher than earlier projected. But the competitive environment has forced Gol to significantly reduce its projection for yield.
Gol 2011 gudiance, revised forecast vs prior forecast

Faced with the prospect of fuel costs remaining high and yields remaining low, Gol has initiated a new cost reduction plan aimed at reducing ex-fuel unit costs and improving its profitability. Gol says some of the cost reduction measures have already been implemented but will not be fully effective until 2012.
Gol's cost reduction initiatives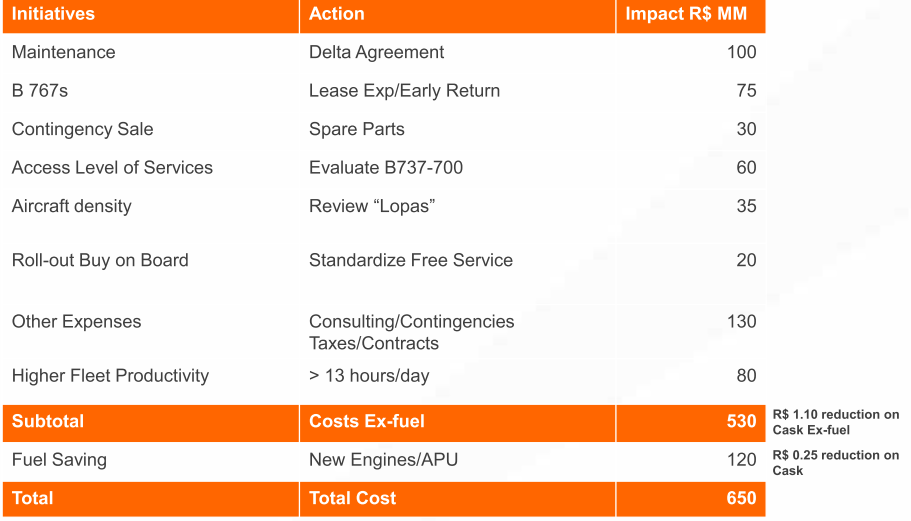 Once the cost reduction measures are fully in place, Gol expects to reduce annual expenses by BRL650 million. The low-cost carrier says given these measures it "expects to generate appropriate returns for its shareholders again in 2012".
Long-term outlook for Gol, TAM and Brazil overall remains bright
Despite expecting unusually small profits for the second half of the year, which is typically the stronger half in Brazil, Gol remains confident in its long-term outlook. Gol believes Brazil "has enormous growth potential in the coming years" as a larger sector of the population starts to fly and Gol is confident it has the right business model to exploit this growth.
While it appears the Brazilian market is now somewhat oversaturated given the 21% traffic growth experienced in 1H2011, which followed 24% traffic growth in 2010, Brazil remains one of the biggest emerging markets. The Brazilian economy is expected to continue to grow rapidly and the country's middle class is expected to expand even faster, increasing the number of Brazilians flying and the propensity to travel among those already flying.
While TAM has not revised its guidance for 2011 it expects its load factor to remain at roughly 1H2011 levels in 2H2011 although the second half typically sees stronger demand. TAM also expects its domestic traffic growth to slow in 2H2011, with a projection for full-year RPK growth of 15% to 18% after recording 21% growth in 1H2011. Capacity growth of 10% to 13% is planned for the full year, representing a slight slowdown from the 14% in 1H2011.
TAM 2011 guidance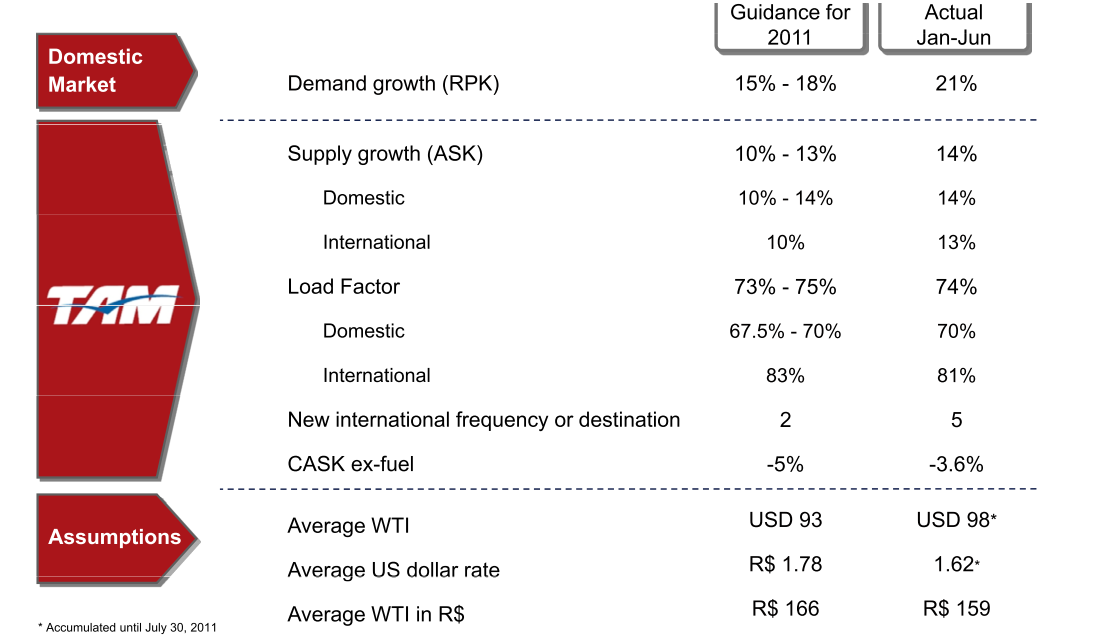 While it has seen its domestic yield drop drastically, TAM points out efforts to offer more affordable tickets on off-peak flights has helped the carrier boost its load factor significantly. As it caters more to the business sector than other Brazilian carriers, TAM traditionally has had low load factors of below 60% in the middle of the day while load factors are very high during morning and evening peaks.
TAM says lower ticket prices has allowed it to increase its middle of the day load factor (flights departing 10am to 5pm) to 65% in 2Q2011 compared to 54% in 2Q2010. This has resulted in lower yields overall as more passengers are flying on cheap off-peak flights while yields for peak flights, which are in high demand from TAM's core business passengers, have not been impacted as much.
TAM says the performance of its cargo business also has improved with cargo revenues increasing 4% in 2Q2011 to a record BRL297 million. Gol includes cargo in its ancillary revenues, which were also up 4%.
Consolidation expected with Gol-Webjet and TAM-TRIP
TAM currently has a larger share of the domestic market than Gol but Gol could overtake TAM once it completes its acquisition of Webjet, which is the fourth largest carrier in Brazil with a 5% share of the market. Gol signed an MOU in Jul-2011 to acquire 100% of Webjet and the agreement was finalised early this month. Gol plans to complete the acquisition sometime next year.
Meanwhile, TAM reports it has completed the due diligence process and is proceeding with its acquisition of a 31% stake in TRIP. TAM says the deal, which was first inked in Mar-2011, will allow it to "capture market growth" and increase its exposure on medium density routes. TRIP is the fourth largest carrier in Brazil with a 3% share of the domestic market.
TRIP, which operates ATR 72s and E170/190 family aircraft while TAM does not have any aircraft smaller than the A319, serves secondary destinations which are not part of TAM's network. The two carriers already have an extensive codeshare, which TAM says will soon transition from a block space to free sale arrangement. TAM says TRIP last week completed a transition to a new reservations platform that will support the expanded codeshare and free sale arrangement.
The free sale will give TAM access to more TRIP seats and improve its offering in secondary markets. TRIP has been growing very rapidly, exploiting the economic growth in Brazil's medium sized cities. Its traffic grew by 64% in 1H2011.
TRIP, Webjet, Azul (Brazil's third largest carrier) and Avianca Brazil (Brazil's fifth largest carrier) are currently not part of publicly traded companies. But given the extremely low yield in the overall Brazilian domestic industry it is unlikely any of the carriers have been profitable in recent months. All four carriers only operate domestically with the exception of a single international flight by Avianca Brazil.
TAM phases out remaining turboprops
TAM, meanwhile, stated in its 2Q2011 earnings report that it added one A319, one A321 and two A330s during 2Q2011 and ended the quarter with a fleet of 156 aircraft. It plans to also end the year with a fleet of 156 aircraft as five additional A320 family aircraft replace the group's five remaining turboprops.
TAM says the five turboprops - ATR 42s operated by its Pantanal subsidiary – already exited the fleet in Jul-2011 as two A319s were delivered. Pantanal was acquired by TAM at the end of 2009 and last year started transitioning to an A319 fleet. Pantanal last year also moved its base from Sao Paulo Congonhas to Sao Paulo Guarulhos, where it recently added a flight to Campo Grande and up-gauged its remaining turboprop flights (Bauru, Ribeirao Preto and Sao Jose do Rio Preto) to A319s.
TAM currently plans to expand its fleet by seven aircraft in 2012 as four A320 family aircraft, one A330 and four B777s are added while its two A340s are phased out. The current fleet plan has relatively modest growth over the medium-term with the fleet only expanding by five aircraft in 2013, six aircraft in 2014 and eight aircraft in 2015.
TAM fleet plan, 2011 to 2015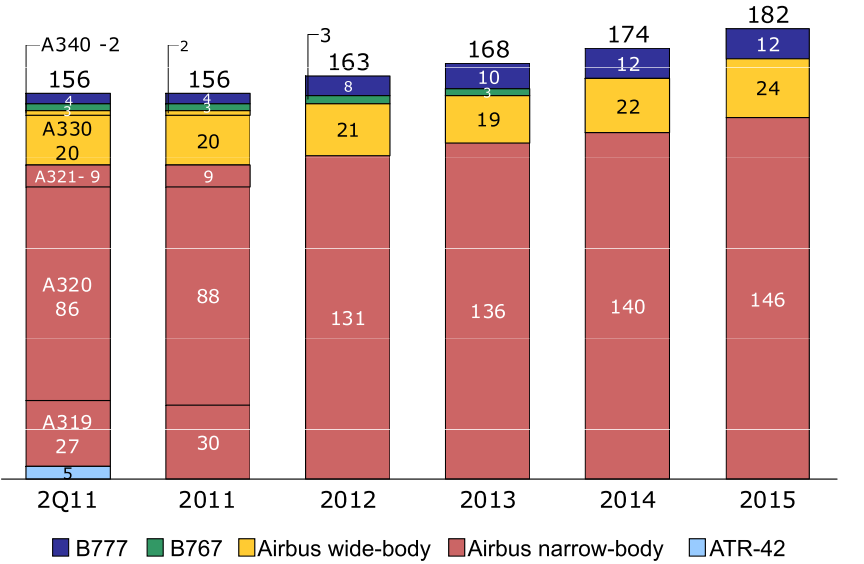 TAM is also now in the process of equipping 31 domestic aircraft with OnAir in-flight mobile technology. The first OnAir-equipped A319 began operating domestically in Jun-2011 on the Sao Paulo Congonhas-Rio de Janeiro Santos Dumont shuttle route and the 31 aircraft should have the technology by early next year. TAM says in about one year its entire long-haul fleet will also be equipped to support in-flight mobile use.
Gol ended 2Q2011 with an all B737NG fleet consisting of 40 B737-700 and 75 B737-800s, having returned its final three B767s during the quarter. Gol says during the quarter it took delivery of its first B737NG with the new Sky interior. Gol is not planning to expand its fleet in 2H2011 but will add four B737-800s next year followed by only two in 2013 and four in 2014.
Gol fleet plan, 2011 to 2015

More modest capacity growth is good news for all Brazilian domestic carriers
The relative modest fleet expansion for both Gol and TAM is encouraging as it should result in slower capacity expansion and a return to more rationale fares in Brazil. Consolidation, including Gol's acquisition of Webjet and TAM's purchase of a significant stake in TRIP, should also lead to slower capacity growth for the industry.
Brazil's domestic market will likely continue to grow, driven in part by continued rapid expansion at low-cost carrier Azul, but at lower double digit clips. While Brazil remains a hot market with huge potential, the 20% plus RPK growth that has been recorded consistently since mid 2009 simply cannot continue without the negative impact on fares and yields that is now dragging down the financial performance of Brazilian carriers.
Background information
Gol international vs domestic capacity (seats per week), 08-Aug to 14-Aug-2011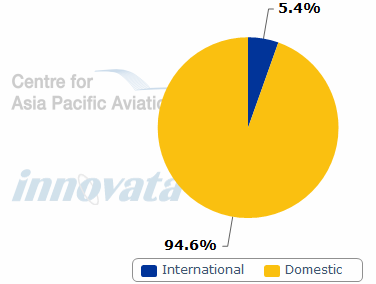 TAM international vs domestic capacity (seats per week), 08-Aug to 14-Aug-2011