Frontier Airlines will offer a more refined ultra low-cost (ULCC) product offering than rival Spirit
Analysis
Since closing its acquisition of Frontier Airlines in late 2013 investment group Indigo Partners have been busy with polishing off the airline's transition to an ultra low-cost carrier (ULCC), including the recruitment of new executives with experience at Spirit, Ryanair and Allegiant Air.

After Indigo Partners relinquished their stake in Spirit during 2013 in order to pursue Frontier, speculation grew over the competitive threat Frontier would create for Spirit. Now both carriers are making assurances that they will essentially co-exist, and emphasising the differences in their respective approaches going forward.

Frontier is also forging ahead with network changes, including a robust push from Washington Dulles airport beginning in Aug-2014 with the launch of 14 new routes from the airport. Additionally, the carrier is also harvesting opportunities created through US consolidation and building up service in Cleveland.
Frontier offers both bare bones and bundled fares in Target-like aspirations
During 2Q2014 Frontier unveiled a new two-tiered fare structure Economy and Classic Plus. The Economy level is the traditional ULCC bare bones fare that is "fully unbundled", which means passengers essentially pay for everything outside the basic fare including checked and carry-on baggage. Frontier's Classic offering includes a fully refundable ticket, the carrier's Stretch seating product, and one free checked and carry-on bag.

Frontier boasts that its Economy fares are now 12% lower on every non-stop flight it operates. It is a good marketing ploy for the unveiling of the new fare classes, but key to offering lower fares is lower costs. Now that Frontier is privately held, it doesn't not report quarterly results. But during 1H2013 Frontier's unit costs excluding fuel were USD7.7 cents compared with USD6 cents at Sprit.
However, after recording unit costs excluding fuel for CY2013 of USD6.06 cents in CY2013 Spirit's costs are expected to increase 1% to 2% in CY2014, which shows that even carriers adopting the ultra low-cost model are not immune from cost creep.

See related report: Spirit Airlines faces unit revenue and cost pressure ahead of a growth spike in 2014

Frontier's hybrid offering of bundled and unbundled fares is a bit different from Spirit's strategy of only offering a low base fare and then charging for add-ons. Frontier's approach may be a way for the carrier to preserve some of its hybrid strategy adopted in a former life, which could attract a passenger segment preferring the simplicity of a more all-in fare.

In attempting to distinguish Frontier's ultra low-cost product from ULCC pioneer Spirit, Frontier CEO David Siegel recently told The Denver Post: "We say Spirit is the dollar store and they aspire to be Walmart. We say we are Target, offering really good value for your money."
Spirit believes Frontier faces different market dynamics in Denver
Even as Frontier attempts to liken itself with a more upscale discount retailer like Target, the airline has recruited one of Spirit's top executives who was instrumental in the airline's transition to an ultra low-cost carrier. Frontier recently named Spirit's former head of marketing Barry Biffle as its president. Just prior to accepting the job with Frontier, Mr Biffle spent a short stint as CEO of ultra low-cost carrier VivaColombia, part of the Viva group franchise partially owned by Irelandia.

Joining Mr Biffle, as Frontier inches closer to completing its ULCC transition, is Jimmy Dempsey as CFO, a position he held at Ryanair. Frontier has also named former Allegiant vice president of marketing and sales Tyri Squyres as its new marketing vice president.

Frontier's fortification of its executive ranks with ULCC veterans and its recent marketing moves have done little to create any public anxiety for Spirit Airlines. Recently CEO Ben Baldanza reiterated Spirit's business model is based on offering the lowest total price to customers. He concluded Frontier "has a different market in Denver [Frontier's largest base, representing the bulk of its seat deployment]".

Denver's demographics are vastly different than South Florida, where Spirit chose to establish its ultra low-cost base at Fort Lauderdale Hollywood International Airport. South Florida has a significant hispanic population, and prior to Spirit's ultra low-fare offering, those lower yielding passengers had few low-cost options given American's dominance in nearby Miami.

United and Southwest are the dominant carriers in Denver, holding a 40% and 25% seat share, respectively. Even though Southwest still declares itself the low fare leader, its fares have been steadily rising, which could create some opportunities for a ULCC in the market.
Denver International Airport capacity by carrier (% of seats): 19-May-2014 to 25-May-2014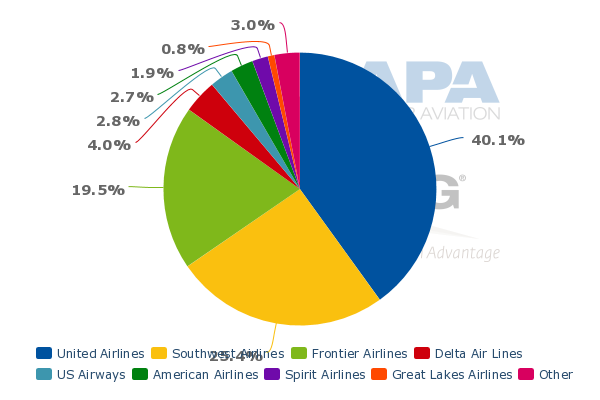 Mr Baldanza concluded that he was not certain how Frontier would compete in the long term, but Spirit would continue to set itself apart based on price. However, Spirit has launched a new campaign attempting to educate customers about its model. Buzzwords of the new marketing initiative include "frill control", and the carrier has also launched a new online Spirit 101 library that features various videos explaining the carrier's model and various charges using the tagline "bare fare".

Spirit's timing in introducing the new campaign is interesting given that its philosophy of charging for essentially all aspects of the travel experience outside the fare has angered customers for years. Its decision to launch a customer education campaign appears to be an offensive move as Frontier works to broaden its ULCC reach.
Frontier opts to make a push from Washington Dulles with new ULCC fare tiers
After rapidly building up a presence in Trenton, New Jersey, to target cost-conscious travellers in the New York and Philadelphia catchment areas, Frontier is introducing 14 new markets from Washington Dulles beginning in Aug-2014. The new routes are Atlanta, Charlotte, Chicago O' Hare, Cincinnati, Detroit, Fort Lauderdale, Fort Myers, Las Vegas, Memphis, Minneapolis, Orlando, St Augustine and St Louis.

Frontier faces no competition on flights to Atlanta, Charlotte, Fort Myers, Memphis and St Augustine. It will compete with United on service to O'Hare, United and Delta on flights to Cincinnati, Delta on service to its hub in Detroit, JetBlue on service to Fort Lauderdale and Orlando (United also serves Orlando), United and Delta on flights to Minneapolis and United on service to Las Vegas.

Flight frequencies on Frontier's new routes from Dulles range from four to six times weekly, which is a bit high for an ULCC, and for Frontier on service outside its Denver base. But passenger numbers at Dulles have fallen from 24 million annually in 2010 to 22 million in 2014, which could be creating an inroad for an ULCC to stimulate the market with markedly lower fares.
Washington Dulles International Airport annual passenger numbers: 2010 to 2013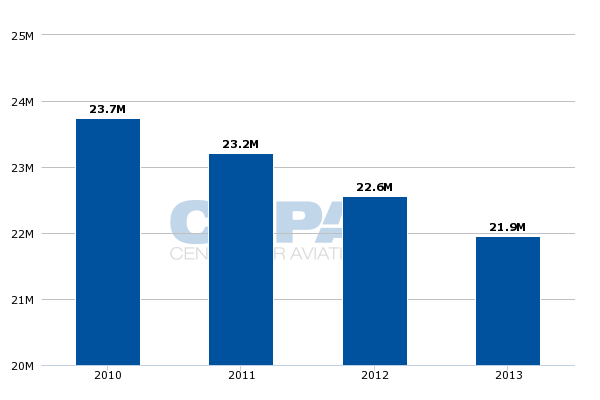 Frontier Airlines domestic routes served by frequency/week: 19-May-2014 to 25-May-2014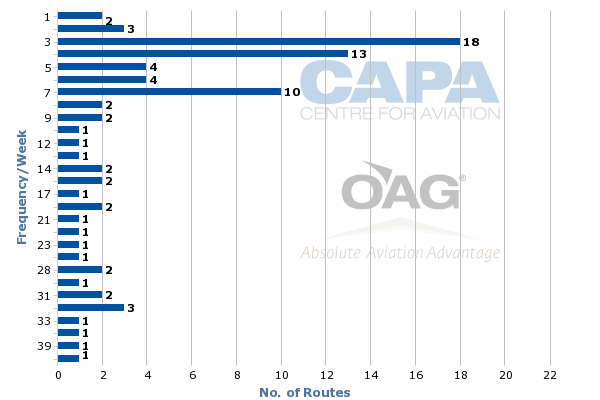 United is also the dominant carrier at Dulles, representing 65% of the system seats on offer and roughly 76% of the domestic seat deployment. United is a familiar competitor to Frontier, so perhaps the two carriers can co-exist on their overlapping routes. It will be interesting to see how Frontier competes against JetBlue as an ULCC with a bundled product offering.
JetBlue is in the process of equipping its fleet with Wi-Fi connectivity, but that may not be a huge competitive attribute for the carrier on leisure routes to Florida.
Washington Dulles International Airport system capacity by carrier (% of seats): 19-May-2014 to 25-May-2014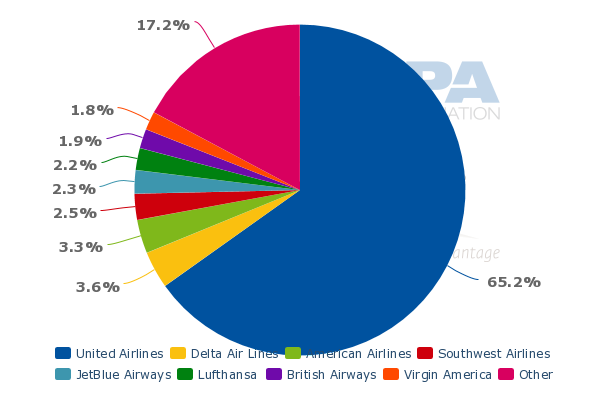 Frontier opts to add markets in Cleveland as United downsizes
Frontier is also taking advantage of United's decision to downsize its Cleveland hub through the introduction of new service to Dallas/Fort Worth and Las Vegas in Aug-2014. The carrier's competitors on the service to Dallas are American and United, and United and Southwest on new flights to Las Vegas. Once the new service starts Frontier will operate to 14 markets from Cleveland.
Although Frontier's expansion is a welcome sign for Cleveland, many of the small markets abandoned by United at the airport will cease to have service as the dynamics in a consolidated market place make those routes unviable.

See related report: US airline consolidation: United reduces service as Cleveland's hub role is paired back
There is room for two major ULCCs in the US market place
From a broad perspective, Indigo Partners seized on favourable timing to acquire Frontier and complete the airline's transition to an ultra low-cost carrier. American and US Airways were closing their merger to create three major network carriers in the US, opening room at the bottom for carriers eager to chase the low yielding passengers that could be shut out from air travel as the US industry shrinks.
With Spirit aiming to represent roughly 5% of the country's traffic near the end of the decade and Frontier likely to account for less than that total, the US market appears able to sustain two ultra low-cost carriers. The US is a big market that has seen little growth this century.
Walmart and Target seem to co-exist peacefully.
Frontier appears to be distinguishing itself from Spirit by offering a slightly more sophisticated ultra low-cost product proposition. In some ways it is a necessary move in order for the market to understand it is not attempting to become a carbon copy of Spirit. It may also reflect an intelligent reading of Congress' and consumers' emerging attitudes to product quality and pricing transparency.
But sophistication always comes at a price. Spirit may not be as polished as Frontier, but its margins speak for themselves.