Frontier Airlines steps into Cleveland as United downsizes – a litmus test for ULCC revival
Analysis
Frontier Airlines is seizing on an opportunity at Cleveland Hopkins International Airport created by United's decision to downsize its hub in the city. It is not a surprising move given Frontier's strategy to enter markets that are victims of US major airline consolidation - and there are plenty of them.

During Jun-2014 Frontier plans to add six new markets from Cleveland, which essentially makes the airport another focus city for the carrier, which has been building up Trenton, New Jersey as a major base since Nov-2012.

Delta Air Lines is however also adding some new markets from Cleveland in the wake of United's cuts. But only a small amount of the new services introduced by those carriers are backfilling markets exited by United, which total more than 30. The result is those small markets may have lost air service on a likely permanent basis, a direct byproduct of legacy airline mergers.
In early 2014 United outlined plans significantly to downsize its Cleveland hub, reducing daily departures from roughly 199 to 72 by Jun-2014. The cuts are largely in small regional markets that were not profitable given Cleveland's higher concentration of origin and destination passengers. The hub economics of Cleveland diminished drastically once the merger of United and Continental was complete. Maintaining service levels at Cleveland, a legacy Continental hub, was always going to be a challenge given United's mega hub at Chicago O'Hare, roughly 274nm (approx 500km) from Cleveland.

See related report: US airline consolidation: United Airlines reduces service as Cleveland's hub role is paired back
United's decision to pull-down service at Cleveland created questions over potential opportunities for other airlines, particularly ultra low-cost carriers that have benefitted from consolidation among the larger airlines in the US.

During the past couple of years Frontier has worked to transform itself into an ultra low-cost carrier, and during late 2013 Indigo Partners purchased the carrier. Indigo was Spirit Airlines' owner during its transition to a ULCC, and has held stakes in other ultra low-cost carriers around the globe.

Frontier has maintained its historical hub in Denver, which still represents the majority of the carrier's seats on offer by a wide margin, and its top markets measured by seat deployment are from its largest base and headquarters. But in late 2012 Frontier began building up Trenton, New Jersey following a short-lived experiment at building a base in Colorado Springs.
Frontier Airlines global top 10 hubs/bases/stations by seats: 31-Mar-2014 to 6-Apr-2014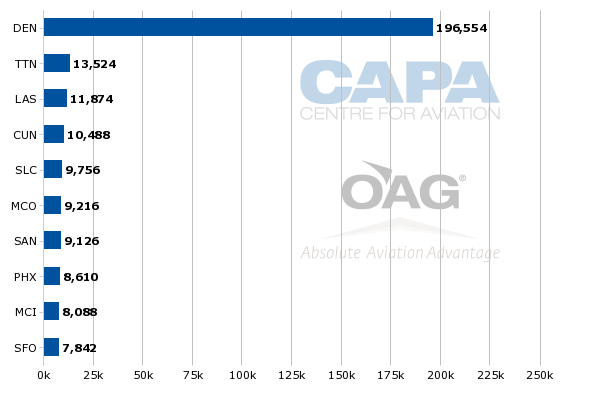 Frontier Airlines top ten domestic routes by seats: 31-Mar-2014 to 6-Apr-2014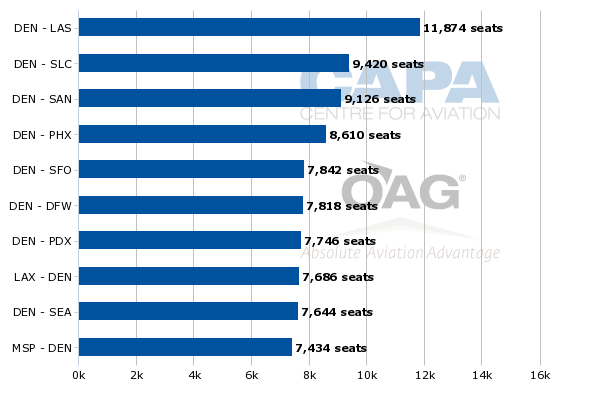 The experiment in Trenton has proven more fruitful for Frontier. Between Nov-2012 and mid Apr-2013 Frontier added 10 new destinations from Trenton, which has not had a lot of success with commercial airline service throughout the years.

See related report: Frontier has numerous fits and starts in its network as it remains on the selling block

Frontier has persevered in Trenton, and now offers roughly 13,500 weekly one-way seats from the airport (based on CAPA and OAG data for the week of 31-Mar-2014 to 6-Apr-2014) to Atlanta, Charlotte, Chicago Midway, Cincinnati, Cleveland, Detroit, Raleigh-Durham, Fort Myers, Fort Lauderdale, and Orlando. In Jun-2014 the carrier is adding flights to Milwaukee, Minneapolis-St Paul and St Louis after launching service to St Augustine, Florida in May-2014.
The carrier's selection of Trenton as a focus city was based on a calculation that it could attract passengers with low fares that would prefer to avoid driving to Philadelphia (58km from Trenton) and Newark (72km from Trenton). Frontier's ability to offer low fares from Trenton is made possible in large part by the airport's low operating costs. For the moment Frontier's calculations seem to be paying off. Data from the US Bureau of Transportation Statistics show that the carrier's load factors on routes from Trenton in 2013 were well above 80% in many markets and in the 90% range in others.
Cleveland presents a different set of market dynamics for Frontier
As United's service reductions in Cleveland culminate in Jun-2014, Frontier plans to introduce six new destinations from Cleveland – Atlanta, Fort Lauderdale, Fort Myers, Phoenix, Raleigh-Durham and Tampa. The carrier is offering three weekly flights to each destination, which is a typical service pattern for a Frontier focus city.

But Cleveland has different market dynamics than Trenton. Even with the service reductions United will remain the airport's largest carrier, with a 47% seat share for the week of 23-Jun-2014 to 29-Jun-2014 versus a 60% share for the week of 24-Mar-2014 to 30-Mar-2014.
Cleveland is probably a lower-cost airport than many others, but with higher operating costs than Trenton. And unlike Trenton, Frontier faces direct competition from major carriers on most of its new routes from Cleveland.
Cleveland Hopkins International Airport capacity by carrier (% of seats): 31-Mar-2014 to 6-Apr-2014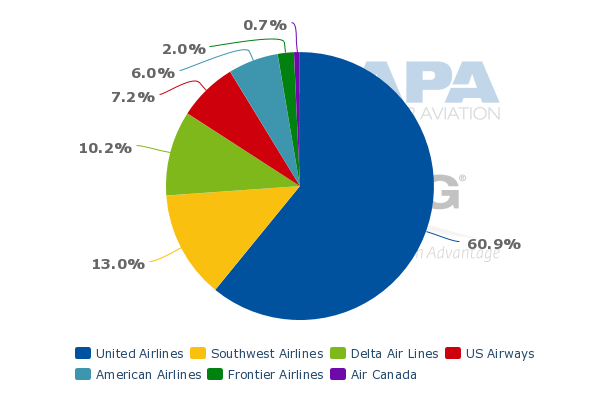 Cleveland Hopkins International Airport capacity by carrier (% of seats): 23-Jun-2014 to 29-Jun-2014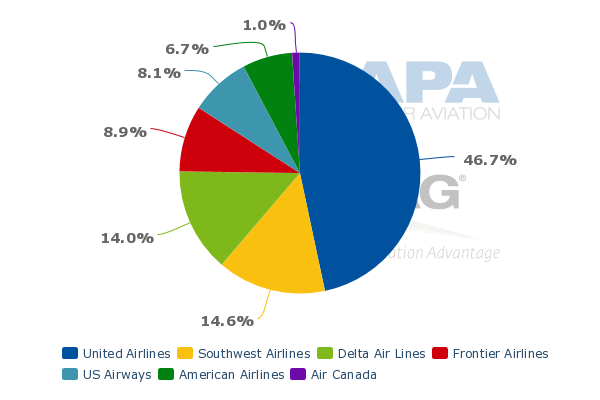 Frontier is introducing service to three markets United is exiting from Cleveland – Atlanta, Phoenix and Raleigh-Durham. Delta is also launching flights from Cleveland to Raleigh-Durham and Indianapolis in Jun-2014.

In addition to competing with Delta on service from Cleveland to Atlanta and Raleigh-Durham, Frontier also faces a familiar competitor on service from Cleveland to Fort Lauderdale, For Myers and Tampa – United Airlines. Frontier and United have been competing from Denver, where United holds a 40% seat share, for years.
Prospects look favourable for Frontier in Cleveland
But as Frontier works to complete its transition to an ultra low-cost carrier similar to Spirit Airlines, it is presumably targeting a more cost-conscious, low-yielding leisure customer that is increasingly unattractive to major carriers. That is a cornerstone of Spirit's strategy that has consistently produced profitability for the carrier. If Frontier can get its costs to effective ULCC levels and charge low fares consistent with that model, it should co-exist with larger carriers. During 1H2013 before it was sold to Indigo, Frontier's unit costs excluding fuel were roughly USD7.7 cents.
Spirit's unit cost during FY2013 were USD5.9 cents, so Frontier needs to hone its cost cutting as it works to complete its business model transformation. That is something its new owners are adept at executing, so for now Frontier should get the benefit of the doubt that its costs will reach ULCC levels.

Frontier is also offering fewer frequencies than those carriers in its markets from Cleveland, which allows the major airlines to price their product higher to match the business demand for more convenient schedules, and Frontier, in turn, can target the customers looking for cheaper travel.

All of those moving parts should give Frontier a decent chance of attaining success in building Cleveland into a focus city. But of course its ultimate success rests on keeping costs in line in order to offer low fares.

See related report: Indigo's real work in Frontier's ultra low-cost aspirations begins in earnest as the deal closes
Small cities continue to bear the brunt of US airline consolidation
At Washington National, American and US Airways were required to divest 52 slots pairs in order to proceed with their merger. The US Department of Justice (DoJ), which required the divestiture, postulated it would create a more favourable environment for consumers if low-cost carriers were able to expand their presence at the airport. Southwest, JetBlue and Virgin America gained slots at the airport.

But none of those carriers is backfilling the numerous small markets the merged American cut from National as a result of the slot divestitures, so markets like Little Rock, Arkansas and Jacksonville, North Carolina are essentially losing key air service.

A similar scenario appears to be playing out in Cleveland. Although Cleveland is not slot constrained, the likes of a Spirit or Frontier with their single fleet of Airbus narrowbodies do not have the desire to serve Erie, Pennsylvania or Flint, Michigan. Perhaps those types of routes are simply unviable for direct service, but fares in those markets will inevitably rise as travellers will have to connect through other markets to reach their ultimate destinations.

See related report: Has Southwest Airlines lost its market disruption powers as it quietly enters Washington National?
Frontier attempts to capitalise on consolidation while it forges a ULCC path
United's decision to initiate a significant pull-down in Cleveland is one of the latest ripples in the US market place stemming from the wave of consolidation in the country. The gaps created by the mergers of United-Continental, Delta-Northwest, American-US Airways and Southwest-AirTran do potentially ofer many interesting opportunities for smaller carriers looking to capitalise on the inevitable service reductions those tie-ups create.
Frontier stands in the unique position of seizing those opportunities while attempting to replicate the ULCC model successfully. The stakes are high, but in the past Frontier's new owner has enjoyed nice rewards from its ULCC gambles. As average fares surge with consolidation, these gambles should become less risky.