Final line-up of airlines announced for next week's CAPA Aviation Finance Summit in Singapore
Over 50 senior executives from more than 30 airlines have confirmed their attendance at next week's CAPA Aviation Finance Summit – Asia. The Summit, to be held on 20/21 March at the Shangri-La Sentosa resort, Singapore, will feature the unique Fleet MarketPlace, where assembled airline delegates will meet with finance industry professionals to exchange contacts and build relationships.
Confirmed airlines participating in the Fleet MarketPlace include Air France-KLM, Air New Zealand, AirAsia Bhd, AirAsia Singapore, All Nippon Airways, Bangkok Airways, Cebu Pacific, China Southern Airlines, China West Air, Finnair, Garuda Indonesia, Golden Myanmar Airlines, Lion Air, Malaysia Airlines, Mandala Airlines, Mega Maldives Airlines, Nok Air, Peach, Qantas, Qatar Airways, Royal Brunei Airlines, Scoot, Singapore Airlines, SkyJet, SkyWest Australia, Sriwijaya Air, Thai AirAsia, Thai Airways, Tiger Airways, TransAsia Airways and VietJet Air. Several of these carriers will be officially presenting their medium term fleet and financing plans on stage through the course of the two-day event.
Final delegate registrations for this landmark aircraft financing and fleet planning event can be made online, by clicking here.
CAPA is also pleased to acknowledge the support of our sponsors DVB, citi and BOC Aviation, as well as our Innovation Roadshow partners FuelPlus and Morten Beyer & Agnew.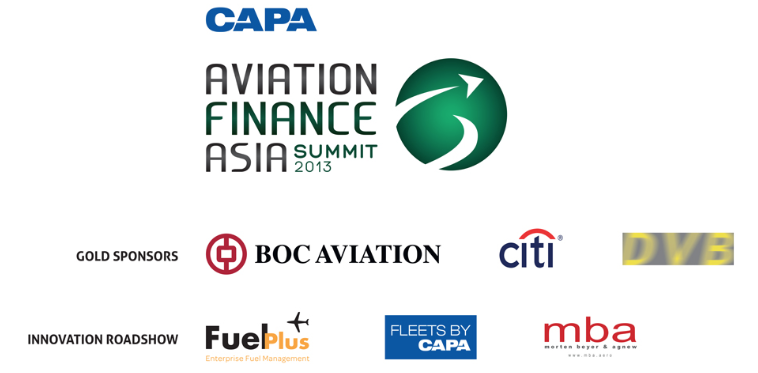 Summit programme finalised
The Summit Programme, featuring numerous finance industry leaders, has also been finalised and includes the following topics:
Perspectives on Aviation's medium-term financing requirements in the Asian region;
What influences an aircraft order?.. A narrowbody example...;
A Primer on Engine Leasing Equity funding for Asian Airlines and Lessors in 2013;
The new ASU & ECAs in 2013;
Lessors as Speculative Aircraft Purchasers... Does it make sense in 2013?;
Special aspects of MRO requirements for leased aircraft;
Home grown – The Role of Regional Asian Banks in Aviation Financing;
The Economic Life of an Aircraft, Depreciation Policies and Value Retention. Are we getting the picture?;
The Samurai in the Shadows – the changing role of Japanese players in Asian Aviation.
CAPA Aviation Finance Summit Confirmed Speakers (as at 13 March)
Acumen Aviation Consultants LLP, India, Alok Anand, CEO;
Air New Zealand, Clovis Peryer, Head of Funding & Fleet Transactions;
Avolon, Ranga Karumbunathan, Managing Director Origination;
AWAS, Jon O'Connell, Managing Director, Asia Pacific Sales;
BOC Aviation, Robert Martin, Managing Director and CEO;
BOC Aviation, Peter Davis, Head of Treasury;
Cabot Aviation, Vincent H M Lam, SVP Asia Pacific;
China West Air, Zhou Feng, CFO;
CIT Aerospace, Gwyn Scourfield, SVP and Global Head of Marketing;
CitiBank, Anup Mysoor, Managing Director;
Development Bank of Japan, Masao Masuda, Director;
DVB Group Merchant Bank (Asia), Vicente Alava Pons, Managing Director;
DVB Group Merchant Bank (Asia), James Treseder-Griffin, SVP Aviation Investment Management (Deucalion Aviation Funds);
DVB Bank SE, Bertrand Grabowski, Member of the Board of Managing Directors;
Engine Lease Finance Corp, Jon Sharp, President & CEO;
Golden Myanmar Airlines Public Company, Aung Gyi, CEO;
IBA, Phil Seymour, Group's President & COO, a Senior Istat Appraiser and the current Chairman of the ISTAT Appraiser Program;
KFW, Joerg Fischer, Vice President Aviation;
Lufthansa Technik, Harry Seeger, Director Key Account Lessors & Banks;
Mandala Airlines, Paul Rombeek, CEO;
Mango Aviation, Andrew Cowen, Managing Partner;
Maybank Kim Eng, Saurabh Gupta, Head of Transportation & Infrastructure Investment Banking;
mba International, Christian Nuehlen Managing Director;
MEGA Maldives Air, George Weinmann, CEO;
Nok Air, Patee Sarasin, CEO;
Peach, Shinichi Inoue, CEO;
Qantas, William Osmond, Head of Group Fleet Planning;
Scoot, Campbell Wilson, CEO;
Skyjet, Dr Joel Mendoza, President & CEO;
The Tokyo Star Bank, Limited, Fintan Smyth, Marketing Director, Global Business Group;
Transportation Partners (representing the Lion Group), John Duffy, COO;
Vietjet Air, Dr Nguyen Thanh Hung, Vice Chairman.
With one week to go, delegate and hotel places are filling up. Delegate registrations can be made online, by clicking here.