El Al swings to net loss in 2Q2011. Shake-up in Israeli market ahead?
Analysis
El Al Israel Airlines swung to a net loss of USD19.7 million in the three months ended 30-Jun-2011 (2Q2011) from a USD14.8 million net profit in 2Q2010, as costs grew at nearly three times the rate of revenue. The Tel Aviv-based carrier felt the impact of increasing fuel costs, a stronger shekel and rising competition in the quarter, prompting CEO and President Elyezer Shkedy to note that the company is working to adapt its strategies to meet challenging commercial realities.
Mr Shkedy stated competing airlines have grown their seat capacity by around 25% over past two years and 13% over the past 12 months while El Al has contracted its size. The competitive pressures are likely to intensify, especially when an open skies agreement with the EU is implemented in coming years.
The loss of market share, rising fuel costs and the strengthening of the shekel against the US dollar has put a focus on cost reduction. As part of this, the carrier is re-examining its network, with the carrier already announcing the closure of Sao Paulo service from Nov-2011. This will free up B777 equipment for use on another sector. It also plans to remove other inefficient aircraft from service, and to add winglets to some types to reduce fuel burn.
El Al this month filed a complaint with the Israel Antitrust Authority alleging price fixing by foreign airlines on transatlantic routes, El Al's main source of revenue and profits. It complained that airlines in alliances including United-Continental, Air Canada and Lufthansa Group carriers Lufthansa, BMI, Swiss International and Austrian Airlines have created "impossible" competitive conditions.
The open skies policy adopted by Israel to increase competition among airlines serving Israel is not as open as it could – or should – be, El Al said in its complaint. The carrier stated it is disadvantaged by not being a member of a global alliance, adding that it was this competition that drove El Al off the Brazil route two and a half years after it was launched.
Consolidation in Israel a possibility
El Al has seen a negative return of 14% to investors who acquired shares in its IPO eight years ago, according to Globes Online. El Al's share price is only slightly higher than it was in 2008, with significant investor concern existing around the carrier's outlook. El Al's local rivals, such as Arkia Airlines and Israir Airlines, are also suffering from losses related to the rise in the amount of foreign carrier capacity to Israel and wider macroeconomic pressures. This has created speculation of consolidation in the local airline market.
El Al Israel Airlines share price: Sep-2010 to Aug-2011
Mr Shkedy, commenting on the speculation, said: "In the wider world, mergers, acquisitions, and alliance agreements are important and happen all the time, and it's right that such a trend should develop in Israel as well. We are constantly studying and enquiring, and if there is something relevant, it is brought up for discussion." The carrier in Jun-2011 confirmed reports that it was in talks to acquire Israir Airlines, the fourth largest carrier in the Israeli market, and Tourism LT from Nochi Danker-controlled IDB Tourism Ltd.
Capacity (seats) by carrier to/from/within Israel (15-Aug-2011 to 21-Aug-2011)
Revenue growth of 6% outpaced by 17% increase in operating expenditure
During the quarter, El Al revenues increased 6% to USD530.5 million, with both passenger and cargo revenue growth of 6%. Passenger revenue growth was driven by an increase in traffic (RPKs) and yields, while El Al noted that cargo revenues also rose due to yield improvements. This was despite an overall reduction of around 2% in its cargo volumes at Ben Gurion Airport.
However, the revenue growth in the quarter was outpaced by a 17% increase in operating expenditure to USD470.2 million. The 47% increase in the price of aviation fuel, and the 9% increase in the value of the shekel vis-à-vis the dollar increased the company's costs by about USD80 million before hedging in the quarter.
Most of the increase stemmed from the costs of aviation fuel, which totalled USD183.5 million (representing about 34.6% of turnover) compared to USD155.6 million in the parallel period last year (31% of turnover). The company's expenditure on jet fuel increased largely as a result of the sharp increase - about 47% - in the average price of the fuel. During the quarter, El Al was reimbursed for hedging against fuel prices by around USD20.9 million (compared to hedging costs of around USD19.7 million in 2Q2010). Also impacting cost was the upward revaluation of the shekel against the dollar and salary increases of around 3% in accordance with labour contracts.
In a positive development, the carrier has signed an agreement with the Ministry of Finance on security costs. The government covered 60% of the carrier's security costs in 2010, with this to increase to 65% in 2011, 70% in 2012, and 75% when the open skies agreement is signed with the European Union, and a maximum of 80% when the open skies agreement is implemented (most probably in 2014/15). Commenting on the agreement, Mr Shkedy stated: "This is a good and fair agreement that will enable fair competition against foreign carriers that do not have these overheads." El Al's current security costs are around NIS120 million (EUR24 million) p/a.
El Al sees declining dominance at Ben Gurion hub
El Al reported 12% higher passenger traffic on routes to Western Europe in the quarter, a 9% rise in passenger traffic to Central and Eastern Europe, and a 37% rise to the CIS. Transatlantic passenger traffic rose 1%, while traffic to the Far East declined by 4%. Western Europe, Eastern/Central Europe and North America are the carrier's largest international markets. The carrier's top three routes are Tel Aviv-New York JFK, Tel Aviv-Paris CDG and Tel Aviv-London Heathrow.
El Al international capacity (seats by region) (15-Aug-2011 to 21-Aug-2011)
El Al top ten international routes (seats, 15-Aug-2011 to 21-Aug-2011)
Total passenger traffic at Ben-Gurion Airport in 2Q2011 rose by 11.5% to 3.1 million passengers. However, El Al's market share in combination with Sun D'or declined from 37.7% in 2Q2010 to 33.5% in 2Q2011, and is down from 42.0% in 2Q2004. El Al assumed the scheduled flight operations of subsidiary Sun D'or on 01-Apr-2011, upon the suspension of the carrier's licence. The CAA stated the carrier failed to meet Israeli regulations and international standards that are required from Israeli carriers. The cancellation of the licence reportedly follows complaints from European authorities that the carrier was not functioning as an independent entity, making use of El Al aircraft and crew.
El Al and Sun D'or (scheduled and charter) share in total traffic at Ben Gurion International Airport: 2Q2004 to 2Q2011
Passenger load factors increased by 1 ppts to 81.1%, which compared to 77.7% for the rest of the flights of scheduled air carriers at Ben Gurion Airport, the carrier said. Seat capacity at the airport for the carrier remained unchanged, while other carriers increased capacity at an average rate of 13%.
El Al and competitor seat capacity and passenger load factors for scheduled service at Ben Gurion International Airport: 2Q2006 to 2Q2011
El Al had a 31.5% cargo market share at Ben Gurion as at 2Q2011, marking a weakening over recent years.
Ben Gurion International Airport cargo market share for El Al and competitors (excluding transit cargo): 2!008 to 2Q2011
Cargo traffic through Ben Gurion International Airport: 2Q2008 to 2Q2011
Maintains positive cash flow and high liquidity levels
El Al VP Finance Nissim Malki stated that in spite of the challenging commercial conditions, El Al has systematically managed to present high liquidity. The carrier had a cash balance of USD174 million as at 30-Jun-2011 and a positive cash flow of USD20 million in the quarter. The carrier invested around USD24 million in fixed assets in 2Q2011 and USD63 million in 1H2011 (including the purchase of a B747-400, a replacement CFM engine and advance payments for the purchase of B737-900ER aircraft) and continued with all its planned investment activity in the quarter.
Cash balances, including deposits at June 30 (El Al solo)
El Al cash flow from operating activities
"Within the ongoing regular framework of managing our cash flow, it should be noted that from the start of 2011 we have taken action to extend the average duration of our bank credits. We have reached an agreement with three banks on rescheduling our balloon payments to an extent of a total of USD260 million. Those payments should have been made over the period spanning 2011 to 2013, so that they are now spread over a longer period. As a result, El Al does not have any burden of significant balloon repayments until 2017," Mr Malki said.
The carrier has also reached an agreement with one of its lenders concerning a loan, the balance of which is currently around USD157 million, and whose original repayment date was to be Jul-2013. According to the agreement, a balance of about USD104 million of the entire loan amount will be repaid in equal quarterly installments until Jul-2017, while the balance of around USD53 million will be repaid in a lump sum in Jul-2017. Similar agreements have also been reached with two other smaller loans. This means El Al has no significant balloon payment to make until Jul-2017.
Overall, El Al is in a defensive mode, trimming expenditure, cutting costs and unprofitable routes. El Al has strong backing, but its loss of market share would be of concern for its owners, with no clear strategy for addressing it. It is unlikely that the storms affecting El Al will pass any time soon, meaning that some form of realignment in the marketplace is likely over the medium term.
BACKGROUND INFORMATION
El Al financial highlights for the 3 months ended Jun-2011:
Revenue: USD530.5 million, +6.0% year-on-year;

Passenger revenues: n/a +6%;
Cargo revenue: USD51.3 million, +6.0%;

Operating costs: USD470.2 million, +17.3%;
Gross profit: USD60.3 million, -41%;
Gross profit margin: 11.4%, -8.8 ppts;
Operating profit (loss): Loss of USD23.2 million, compared to a profit of USD25 million in p-c-p;
Net profit (loss): Loss of USD19.7 million compared to a profit of USD14.8 million million in p-c-p;
Market share: 33.5%, -4.2 ppts;
Passenger traffic: +8%;
Capacity (ASKs): +9.7%;
Passenger load factor: 81.1%, + 1 ppts;
Cash balances, cash equivalent values and short-term investments: USD173.8 million as at 30-Jun-2011.
El Al ownership structure: 30-Jun-2011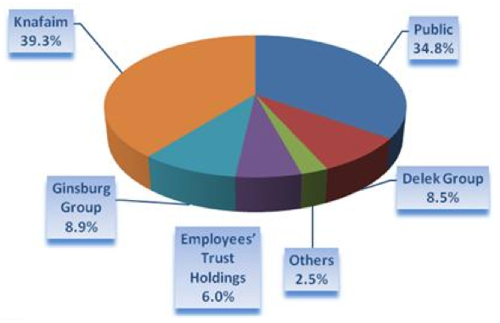 El Al operates a fleet of 42 aircraft at present, with four B737-900ERs on order. 62% of the carrier's fleet is owned. 45% of its fleet are narrowbodies with the remainder widebodies. Earlier this month, the carrier stated Global Knafaim Leasing, the aircraft leasing unit of controlling shareholder Knafaim Holdings Ltd, agreed to buy two A320s and one B737-800 for an estimated USD80 million. Knafaim expects the unit to generate USD173 million in the next four years from leasing after the acquisitions are completed.
El Al fleet profile: Aug-2011