Economic uncertainty, freight weakness and financing requirements weigh on the airlines: IATA
Analysis
Weakening consumer confidence and economic uncertainty is placing further pressure on the world's airlines and their investors. Airline share prices have taken a battering amid renewed economic concerns and representing a large downward revision in financial market expectations for airline profits. Jet fuel prices, while down from their Apr-2011 peak, continue to pressure the sector, according to IATA, while a slowing in travel volumes and slumping freight demand are also of concern. A continued influx of new aircraft is also driving continued capacity expansion, potentially impacting yields and load factors, and creating significant financing yields in an economically-weak environment.
Airline share prices down 30% on market pessimism
IATA, in its Sep/Oct-2011 Airlines Finance Monitor, stated airline share prices, measured using the Bloomberg Global Airlines Index, are still down almost 30% so far in 2011 on gloomy financial market view of profits. IATA noted that while share prices rallied at the end of Oct-2011 following a new package had been agreed to resolve the Eurozone crisis, they have subsequently weakened as the Greek Government put the resolution to a national referendum.
Bloomberg Airlines Index: Jan-2007 to Oct-2011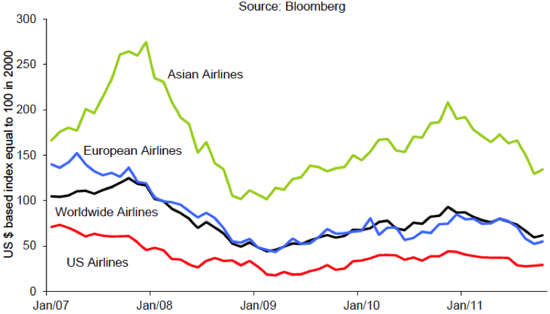 According to CAPA's Share Price Analyser, the world's five largest carriers by system capacity (ASKs) levels – Delta, American, United, Lufthansa and Air France – have all witnessed significant share price declines in 2011. However, there have been some improvements over the past month.
Airline share prices (Index: 01-Jan-2011 = 100) of the world's five largest listed carriers by capacity (ASKs): 12 months to Nov-2011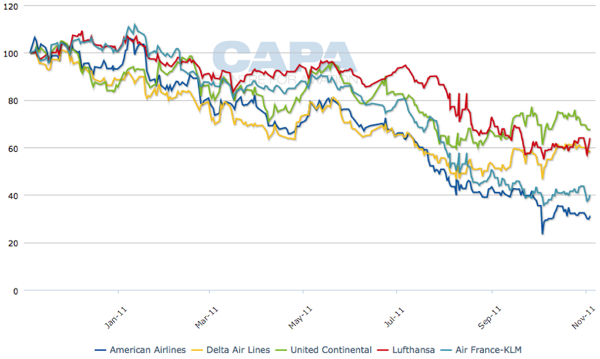 Back to 2010 performance
From a sample of 25 airlines predominantly from North America and Asia reporting financial results for 3Q2011, IATA stated airline profits have significant improved in the quarter and are now back up to performance in 2010 after being down 60% in 2Q2011. "Better performance was widespread across the regions, reflecting the rebound in passenger revenues from Q2 and better asset utilisation. However, the outlook continues to look more challenging," IATA said.
Airline net and operating profitability: 3Q2010 vs 3Q2011 (USD million)
IATA, in its most recent financial forecast released on 20-Sep-2011, forecast the aviation industry will see total industry profits fall from USD6.9 billion in 2011 to USD4.9 billion in 2012. IATA Director General Tony Tyler has also subsequently cautioned that airline profits forecast to total USD28 billion in the three years through 2012 may be unsustainable as over-capacity and looming regulatory costs weigh on margins. This will create an average net margin of only 0.8%, which could weaken even further if economic growth slows to less than 2.4%.
See related article: IATA upgrades 2011 airline industry profit forecast but warns of weaker 2012
Jet fuel prices remain 35% higher
After a slight reprise for the world's airlines in Sep-2011, jet kerosene prices rose back to USD128/barrel in late Oct-2011 and are still 35% higher than 2010 levels. Without hedging this fuel cost increase would add 10% to airline operating costs, IATA said, adding that "the actual impact is estimated to be half that".
Jet fuel and crude oil prices (USD/barrel)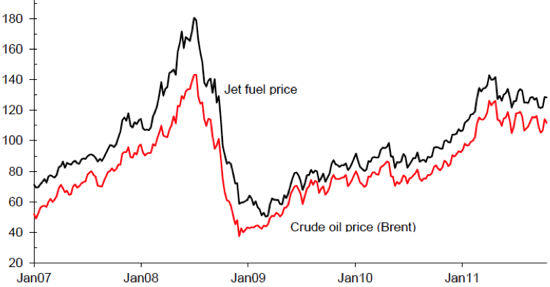 IATA noted that "part of the reason for the rise in oil prices was financial market optimism that the Eurozone threat to global growth had been resolved. Oil demand also remains underpinned by robust developing economy demand. The Eurozone situation could still reverse but, that apart, there appear few downward pressures on fuel prices".
According to Platts data utilised in IATA's jet fuel price monitor, jet fuel prices in the week commencing 28-Oct-2011 stood at USD130.6/barrel, a 36.9% year-on-year increase and a 6.3% month-on-month increase. IATA estimates an average jet fuel price of USD127.6/b in 2011, for an additional fuel cost of USD60 billion compared to the 2010 total. Looking into 2012, IATA has stated it expects fuel prices to decline, but to remain above USD100/b.
IATA jet fuel monitor: week commencing 28-Oct-2011

IATA jet fuel monitor by region: week commencing 30-Sep-2011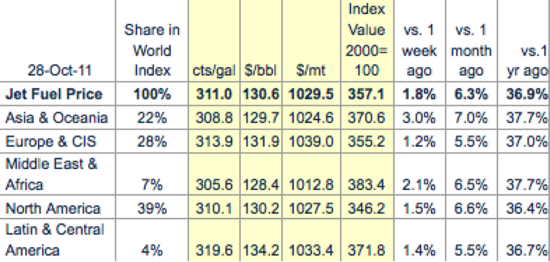 Every USD1 increase in the price of Brent crude adds USD1.6 billion to industry costs, IATA has said. The rising price of oil means that fuel will account for 30% of industry costs this year, compared with 13% a decade ago.
Passenger yield improvement slow

IATA noted that the pace of passenger yield improvements has slowed in Sep-2011 but is still trending upwards. Yield growth has been occurring as high load factors supported tight supply-demand conditions despite the economic gloom in Europe. As has been the case of late, US airlines are in a relatively strong position to improve yields with very little capacity additions and the highest load factors. Average international fares are rising at a slower pace but, like yields, are around 7% higher in 3Q2011 than in 3Q2010.
Average international return fare and US passenger yields (US cents per RPM) and fares (USD per passenger)(seasonally adjusted): 2007 to 2011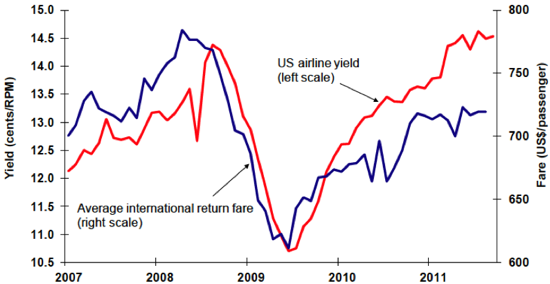 In-service fleet expanding at slower 4-5% rate
During Sep-2011, 98 new jets and turboprops were delivered to the world's airlines, expanding the increase in seats to an annualised increase of 4-5%, slower than the annualised increase of 6-7%, boosted by new deliveries averaging 100 aircraft per month and an increase in the number of aircraft taken out of storage. This is a slower pace than the overall 8% growth reported in the previous Financial Monitor for Aug/Sep-2011.
Aircraft retirements and deliveries: 2007 to 2011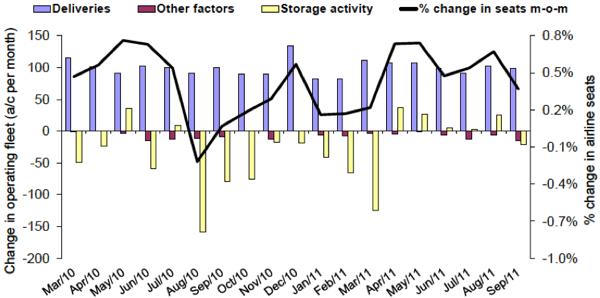 Single-aisle aircraft to rise by 20% with 91% rise in wide-body deliveries
BOC Aviation Head of Strategy and Market Research, Peter Negline, in IATA's Analyst Viewpoint for Oct-2011, stated annual single aisle aircraft deliveries (100+ seats) are due to rise by 20% from 2010 to 2013. He continued: "More alarmingly, annual wide-body aircraft deliveries are due to rise by 91% over the same period – due in part to previous delays in the programmes for the B787, B747-8 and A380. Together, this 33% jump in annual production over the three year period equates to an extra 350 aircraft deliveries per year". He continued: "More worryingly, the growth in production rates does not stop in 2013".
Annual commercial production rates: 2000 to 2016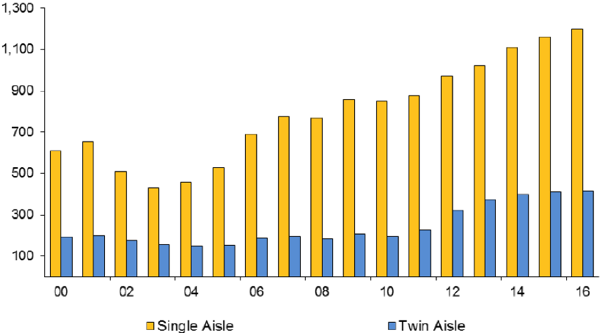 Mr Negline stated there has been a "ferocious appetite for new, fuel efficient aircraft" in 2011, with orders, especially for narrow-bodies, now well above their previous peak in 2007. The 2011 order spurt has been driven by high oil prices, demand for improved fuel efficiency gains, fears of a protracted period of USD weakness and replacement aircraft demand in the US, Mr Negline said.
A significant portion of forthcoming deliveries will be for replacement of older aircraft.
Commercial aircraft orders: 2000 to 2011*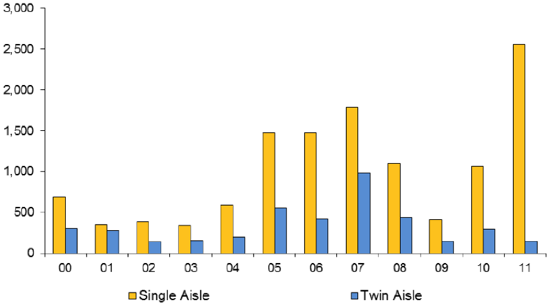 Flurry of orders create financing challenges
This flurry of orders has in itself created a new challenge, intensified by the current economic concerns in the Eurozone, as a number of European banks, including Societe Generale (SocGen), BNP Parabis, DVB Bank, BNP Parabis and Natixis, scale down their aircraft financing businesses. SocGen, BNP Paribas, Natixis and Credit Agricole arrange around 30% of aircraft agreements that include arranging financing from other lenders.
Boeing Capital Corp VP Asia and Greater China Foster Arata this month stated the Asian region, led by China, is best placed to benefit from aircraft investment opportunities created by the expected reduction in aircraft investment by European banks. "Asia continues to be the world's leasing growth region, and it has the most likely opportunity to prosper from stepping into the breach created by Europe's debt crisis," he said. Airbus has stated it expects US and some Asian banks to fill the gap commercial banks will leave. US Export-Import Bank Chairman and President Fred Hochberg in mid Oct-2011 also noted concerns of a potential funding gap in 2012 but said capital markets, where it is an already an active player, would remain a solution and it would continue to be involved in this arena.
Based on BOC Aviation's estimate, the value of annual commercial aircraft deliveries that BOC Aviation is interested in is due to increase 47% from 2010 to 2013 – or USD30 billion in additional annual capital expenditure (CAPEX) over three year period.
Annual commercial aircraft deliveries by value (USD billion)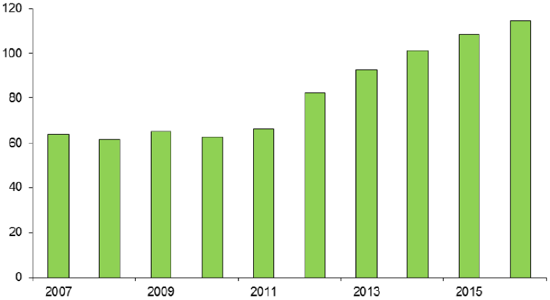 Tough times ahead as air traffic weakens
As previously, air travel rose significantly in Sep-2011 producing a strong third quarter and solid load factors, with air travel continuing to expand close to the trend. The deterioration in air freight during the third quarter was insufficient to offset better passenger markets. Meanwhile, airlines continue to expand passenger capacity at a fairly steady pace close to 6%. While there have been a number of announcements of cuts and planned cuts, there has so far been "no slowdown in the pace of ASK increases".
See related article: Surprising passenger growth in Sep-2011 but weakness expected in the months ahead: IATA
International passenger (ASKs) and freight (AFTKs) capacity (seasonally adjusted): 2007 to 2011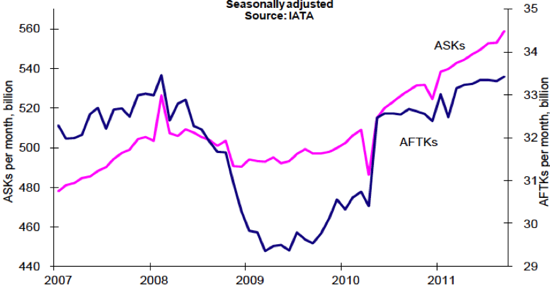 International passenger (RPKs) and freight traffic (FTKs) volume (seasonally adjusted): 2007 to 2011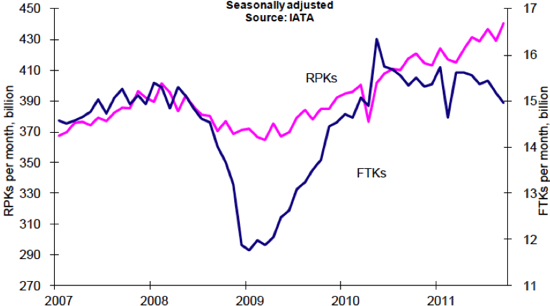 Passenger and freight load factors (%) on international markets: 2007 to 2011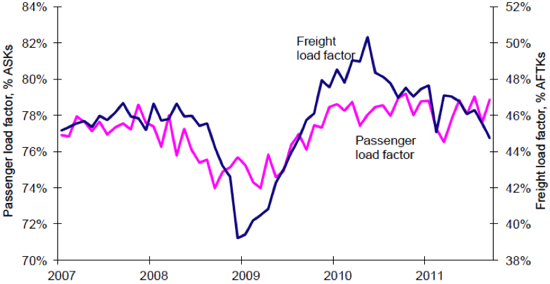 Challenges ahead and continued uncertainty for the world's aviation industry
The aviation industry is remaining cautious about the remainder of the year amid continued reductions in business and consumer confidence and current economic uncertainty and weak trade conditions, which are all likely to weaken air travel and air freight further. Weak global economic indicators, impacting freight and increasingly passenger demand, combined with continued increases in aviation taxes and stubbornly high fuel prices, are all key concerns for the industry and barriers to profitability in an industry already pressured by weak margins. Meanwhile, with an influx of new aircraft and capacity, concerns centre on whether airlines' can maintain their yield and load factors levels, with have aided in a recovery in profitability following the 2008/2009 economic downturn. Financing concerns also remains an every-present challenges amid continued profitability pressures and a worsening financing environment.