easyJet celebrates its 20th birthday with another record profit and 22% return on capital employed
Analysis
Just after celebrating its 20th birthday, easyJet reported another record profit. From FY2010, when Carolyn McCall became CEO, to FY2015, revenue grew by nearly 60% and pre-tax profit more than quadrupled. In FY2015, it generated an industry leading 22% return on capital employed.
EasyJet has a strong pan-European network, a successful digital strategy and a very competitive cost base compared with the legacy carriers with which it mainly competes. Buoyed by its profitable growth record, easyJet has added 36 aircraft to its orders and will grow its fleet from 241 in FY2015 to 347 in FY2022. It now plans average seat growth over this period of 7.5% pa, up from 6% previously.
Nevertheless, two indicators are deteriorating. One is on time performance, which has been sliding since peaking at 88% in FY2012, although it remains healthy at 80%. The other is unit cost, which only fell in FY2015 due to currency movements and lower fuel prices. Excluding these factors, cost per seat increased by 3.5% and is expected to rise again in FY2016. With load factor above 91% and unit revenue growth harder to achieve, unit cost will be a priority for new CFO Andrew Findlay.
EasyJet's fifth successive year of record profits
In FY2015 (year to Sep-2015), easyJet grew its pre-tax profit by 18.1% to GBP686 million, in line with its guidance range issued in early Sep-2015 of GBP675 million to GBP700 million. This was its fifth successive year of record pre-tax results. Revenue increased by 3.5% to GBP4,686 million and operating profit grew by 18.4% to GBP688 million.
EasyJet's operating margin (operating profit as a percentage of revenue) increased by 1.8ppts to 14.7%, a strong result by industry standards and its highest ever, but less than Ryanair's 22.3% operating margin for the same 12 month period. In line with its policy to distribute 40% of its net profit to shareholders, easyJet has proposed a dividend of 55.2p per share, a year on year increase of 21.6%.
easyJet financial highlights FY2013
Balance sheet is strong, but structure to be reviewed
EasyJet's balance sheet remains one of the strongest in the airline industry. It enjoyed a net cash position of GBP435 million at the end of Sep-2015, up GBP13 million from a year earlier. Its gross cash balance of GBP939 million (including money market deposits) at the end of FY2015 was equivalent to 73 days, or 20%, of revenue.
This liquidity gives it a significant cushion against unexpected events and flexibility in financing its capital expenditure programme. EasyJet expects its total expenditure on fleet and overhaul to amount to 11% of revenue in FY2016, the same level as in FY2015, rising to 13% in FY2017 and 17% in FY2018, before falling to an average of 12% in FY2019 to FY2022. This expenditure will be funded through cash, debt and operating leases (via sale and lease back).
New CFO Andrew Findlay, who joined easyJet on 2-Oct-2015, told analysts at a presentation on the FY2015 results that he would review easyJet's capital structure in order to balance risk and capital efficiency, while maximising returns. For many airlines, it would be a luxury to be able to review the balance sheet structure, rather than be forced to ensure its survival.
Seat growth was 4.0%, load factor at 91.5%
EasyJet grew its seat capacity by 4.9% year on year in FY2015, while passenger numbers grew by 6.0% and load factor gained 0.9ppts to 91.5%. Load factor has increased from 83.7% in FY2007 and further meaningful improvements will now be very difficult.
Among its major country markets, its seat growth was strongest in the Netherlands (+17%), where it is number two with a 9% market share. EasyJet also grew rapidly in Germany (+15%), although its markets share there is only 4%. Other markets where it grew more quickly than its overall rate in FY2015 include Switzerland (+9%), Portugal (+8%), Italy (+7%) and France (+6%). EasyJet is number two in France, with a 14% market share.
Seat capacity was increased more slowly in the UK (+3%), where easyJet is the number one short haul airline with a 20% share, and Spain (+2%). In the UK, competitor capacity grew by 9%, but at the presentationeasyJet CEO Carolyn McCall said at the FY2015 results presentation that its major competitors in the London market, namely Ryanair and British Airways, were "all doing different things". She noted that much of Ryanair's growth was the result of load factor increases and that there had been little change in the degree of overlap between it and easyJet in recent years.
Ms McCall said that Ryanair overlapped with easyJet on 6% of its airport pairs and 30% of its city pairs from London. This is higher than the overlap across easyJet's entire network, where Ryanair operated on 5% of easyJet's airport pairs and 16% of its city pairs in summer 2015, according to a CAPA analysis of Feb-2015.
See related report: easyJet & Ryanair: squaring up to each other as head to head competition increases
At the end of Sep-2015, easyJet operated 735 routes, involving 136 airports. This compares with Ryanair's more than 1,600 routes and 161 airports.
easyJet operational KPIs FY2015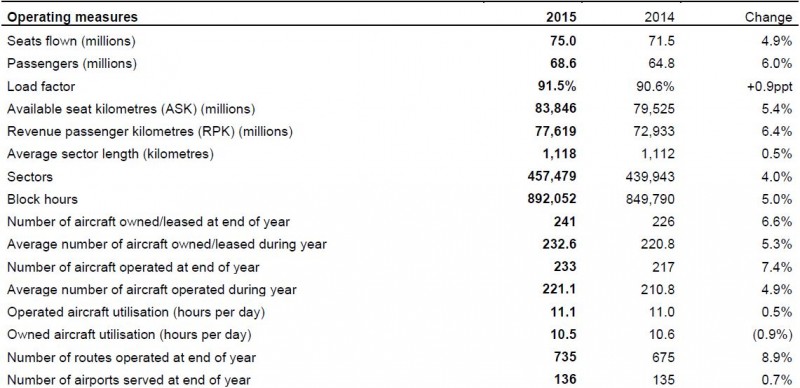 Revenue growth of 3.5%, less than seat growth, but diluted by currency
EasyJet's reported revenue growth of 3.5% was less than its seat growth of 4.9%, with revenue per seat falling by 1.3% in GBP terms. However, this was due to movements in foreign exchange, in particular the weakening of EUR (accounting for 43% of revenue) against GBP. Excluding currency, revenue per seat increased by 1.5% (driven both by the load factor increase and a modest increase in revenue per passenger at constant currency), reflecting healthy demand, particularly in the summer.
Underlying unit revenue growth in the summer was also enjoyed by Ryanair, but not by the major European legacy airline groups. Nevertheless, easyJet cautiously expects a slight decline in revenue per seat at constant currency going into 1H2016, partly due to lower fuel prices.
See related reports:
IAG again beats Lufthansa & Air France-KLM in 3Q2015, but unit revenue is weak
Ryanair's "bumper summer" delivers 41% operating margin; 2016 target raised. 180 million pax by 2024
easyJet unit revenue metrics FY2015


Demand driven by airport network and service quality
The weaker EUR actually helped to drive UK demand for travel into continental Europe, a market that was also buoyed by poor summer weather in the UK. Demand for easyJet's product reflects the strength of its airport network, which includes more of the top 100 European airport pairs than that of any other airline. Moreover, 52% of its seats are in airports where it is number one and 83% where it is in the top two. According to the airline's FY2015 results presentation, it is number one or number two in the primary airport in 12 of Europe's top 25 catchment areas by GDP.
EasyJet's network and service quality helped it to make 74% of its seat sales to returning passengers in FY2015, up from 68% in FY2010. It aims to drive customer loyalty up further with the introduction in Jan-2016 of a new loyalty scheme, Flight Club, following an 18 month trial. This will not feature the miles-related rewards of traditional airline FFPs, but will offer benefits such as free name and booking changes, a dedicated help desk and a low price promise.
On time performance, while still healthy, slipped again
EasyJet has done a very good job in improving its customer proposition over the past few years, including improving its operational performance. However, on time performance (the proportion of flights arriving within 15 minutes of schedule) has slipped every year since its peak in FY2012, when it reached 88%. In FY2015, it was 80%, a level that is unlikely to lead to significant customer dissatisfaction, and much better than the 65% level of FY2010. Nevertheless, a deteriorating trend is not welcome.
With further load factor gains likely to be more challenging in the future, easyJet will need to generate increases in revenue per passenger in order to grow revenue per seat. This will require continued improvement to its product and service.
easyJet on time performance* FY2010 to FY2015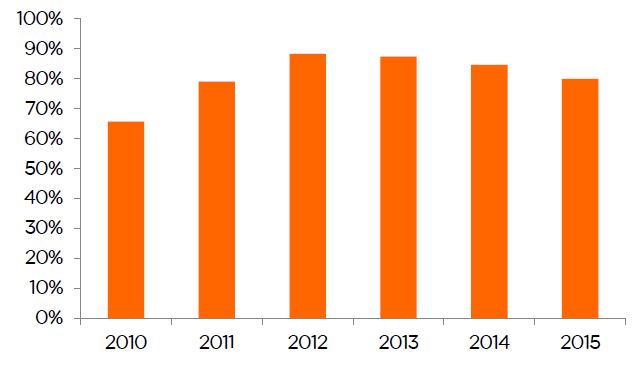 Costs increased by 1.4%, less than revenue growth, helped by fuel and currency
EasyJet's costs (at the level of profit before tax) increased by 1.4%, less than the increase in capacity and revenue. This performance was helped by a 4.2% drop in fuel costs (although easyJet's fuel hedging programme diluted the beneficial impact of lower fuel prices). Ex fuel costs went up by 3.9%, driven by factors including price increases at regulated airports, higher de-icing and disruption costs and a one off GBP8 million payment to Eurocontrol.
Cost per seat fell by 3.4% as reported, but this was flattered by currency movements and lower fuel prices. At constant currency and excluding fuel, cost per seat increased by 3.6% (less than the constant currency increase in revenue per seat). New CFO Andrew Findlay said at the FY2015 results presentation that reinforcing easyJet's cost focus would be one of his main priorities.
Certainly, this is a key area for a low cost carrier, even one that has strong brand recognition and product features. The company has said that it expects ex fuel cost per seat at constant currency to be up by 2% in FY2016, with overall cost per seat down by 1% thanks to fuel.
At the level of pre-tax profit, currency movements had a net negative impact of GBP12 million, as their benefit on the cost line was just outweighed by their detrimental affect on revenue.
easyJet unit cost metrics FY2015


Aircraft orders increased by 36
EasyJet has added 36 new aircraft orders to its fleet plan, for delivery between 2018 and 2021. This equipment will consist of 30 A320neos and six current generation A320s, all with 186 seats. EasyJet's existing A320 fleet has 180 seats per aircraft, but all new deliveries from May-2016 will have 186 seats and the airline also plans to retrofit its currently operated fleet in the new configuration.
Ms McCall said that the additional 36 aircraft would give easyJet greater flexibility to the upside, while its fleet plan already had good flexibility on the downside (through the deferral of deliveries and the termination of leases). Under its base case, the fleet will grow from 241 aircraft at the end of FY2015 to 347 in FY2022 (up from 311 under its previous plan).
easyJet fleet plan to FY2022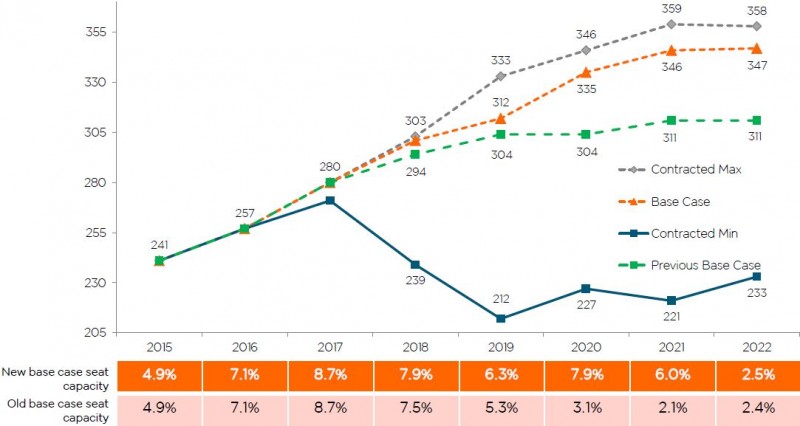 EasyJet's new fleet plan will lead to an increase in its average annual seat growth between 2015 and 2022 under its base case scenario from 6% to 7.5%, although capacity growth in FY2016 is unchanged at 7.1% and in FY2017 at 8.7%. The new orders will allow it to maintain a slightly higher growth rate into the outer years of the plan.
The largest use of the incremental aircraft in the plan from FY2016 onwards will be for adding frequencies on existing routes and 'joining the dots' between airports in the existing network, followed by network growth through new bases and airports. Natural market growth on existing routes will be the smallest use of the added aircraft.
"If you are making a return of 22%, you ought to be reinvesting some of it…"
Ms McCall said that easyJet analysed its capacity growth on a regular basis and currently saw "so many more opportunities" beyond what was in the plan, which she described as "conservative".
She added that growth gives scale and that scale allows for greater productivity and efficiency. "If you are making a return of 22%, you ought to be reinvesting some of it into profitable growth," she said.
EasyJet has come a long way since its first flight from London Luton to Glasgow on 10-Nov-1995.
It's track record since Ms McCall became CEO in 2010 suggests that she is more than capable of guiding easyJet to achieve sustained profitability through the cycle. Nevertheless, further margin expansion may become more difficult to achieve and so earnings growth will likely be driven more by top line growth.