Ryanair's "bumper summer" delivers 41% operating margin; 2016 target raised. 180 million pax by 2024
Analysis
Ryanair CEO Michael O'Leary has said that the airline's strong 2Q financial performance was the result of a "bumper summer". Although the major legacy airline groups also reported improved profits for the quarter, Ryanair's operating margin of almost 41% sets it in a class of its own.
Moreover, its improvement was not mainly the result of lower fuel prices: Ryanair managed to increase unit revenue, in spite of double digit passenger growth and in contrast to the legacy airlines. This again demonstrates the success of Ryanair's customer service and network improvements. The airline has now raised its FY2016 traffic and net profit targets, thanks to higher load factors than previously expected.
In spite of the strength of its 2Q results and its positive outlook, Mr O'Leary attempted to inject a note of caution by noting that the revised profit guidance was "heavily dependent" on 4Q bookings, where there is "almost zero visibility". Nevertheless, his underlying confidence in Ryanair's strategic direction was illustrated by an increase in its FY2024 passenger target from 160 million to 180 million, which would represent a more than doubling of traffic over 10 years.
2Q operating margin tops 40% for the first time in 11 years
In 2Q of its FY2016 (Ryanair has a March year end, so 2Q is Jul-Sep) Ryanair's net profit jumped by 94% to EUR1,161 million (or EUR1.16 billion). This was boosted by a EUR318 million gain on the sale of its 30% stake in Aer Lingus to IAG. Nevertheless, even without this, the adjusted net profit grew by 41% to EUR843 million.
Operating profit increased by 39% to EUR972 million, on revenue growth of 17% to EUR2,387 million, and the operating margin gained 6.4ppts to reach 40.7%. This was the first time a quarterly operating margin had beaten 40% since 2Q of FY2005, when Ryanair's revenue was just over one sixth of the level just reported. Ryanair's margin for the quarter was more than twice that of the best of Europe's big three legacy airline groups, IAG, which achieved 18.5%.
For 1H, Ryanair's revenue grew by 14% to EUR4,040 million and its operating profit increased by 35% to EUR1,261 million. 1H operating margin gained 4.8ppts to 31.2%.
Mr O'Leary attributed Ryanair's "bumper summer" to a "very rare confluence of events", including the strength of GBP versus EUR, poor weather in Northern Europe (which added to demand for summer leisure routes), modest industry capacity and lower fuel prices.
Shareholders have continued to participate in Ryanair's successful financial performance. The airline completed a EUR400 million share buy back in Aug-2015 and plans to return its EUR398 million proceeds from the Aer Lingus sale to shareholders in Nov-2015. Its net cash balance was EUR976 million and its gross cash was EUR5.2 billion at the end of Sep-2015. Even after subtracting the Aer Lingus cash, the remaining EUR4.8 billion is equivalent to 285 days of revenue.
Ryanair 2Q (three months to Sep) and 1H highlights FY2016 versus FY2015
| | 2Q FY2015 | 2Q FY2016 | Change | 1HFY2015 | 1HFY2016 | Change |
| --- | --- | --- | --- | --- | --- | --- |
| Passengers million | 27.1 | 30.1 | 11.2% | 51 | 58 | 13% |
| Load Factor | 91% | 95% | 3ppts | 89% | 93% | 5ppts |
| Avg. Fare (incl. bag) EUR | 62 | 66 | 7% | 54 | 56 | 2% |
| Rev. Per Pax. EUR | 75 | 79 | 5% | 69 | 70 | 1% |
| Revenues EUR million | 2,042 | 2,387 | 17% | 3,537 | 4,040 | 14% |
| Operating profit EUR million | 702 | 972 | 39% | 933 | 1,261 | 35% |
| Operating margin % | 34.4 | 40.7 | 6.4ppts | 26.4 | 31.2 | 4.8ppts |
| Profit after Tax EUR million | 598 | 1161 | 94% | 795 | 1406 | 77% |
| Adjusted profit after tax* EUR million | 598 | 843 | 41% | 795 | 1088 | 37% |
Traffic grew 11% and load factor rose to 95% in 2Q
Ryanair's passenger numbers grew by 11%, well ahead of its seat growth of 7%, and load factor reached 95% in 2QFY2016. The year on year load factor gain of 3ppts was slower than in recent quarters. This slowing rate of improvement was inevitable given that Ryanair's 2Q load factor is seasonally the highest, but forward bookings suggest further gains will be recorded in 2H.
Indeed, traffic figures for Oct-2015 (the first month of 2H) show passenger growth of 15% and a 5ppt load factor gain to 94%. Ryanair expects passenger numbers to grow by 17% in 3QFY2016 and by 22% in 4QFY2016.
Ryanair load factor by month FY2013 to FY2016*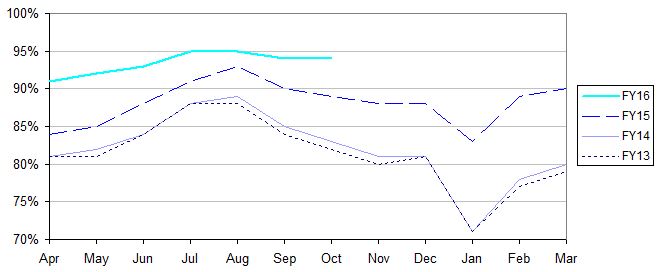 Ryanair revenue was up 17%
Revenue grew even faster than seat and passenger numbers, increasing by 17% in 2QFY2016. Scheduled ticket revenue, which includes bag check, grew by 19%, while ancillary revenue grew by only 7%. The lower growth in ancillary revenue partly reflects a strong prior year performance due to the earlier loading of Ryanair's summer 2015 schedule and partly reflects the short notice ending by Hertz of the airline's car hire partnership in Jul-2015 (since replaced by CarTrawler).
As a result, ancillaries' share of total revenue fell from 18% in 2QFY2015 to 17% in 2QFY2016. Due to the seasonality of Ryanair's business, ancillaries are always a lower proportion of revenue in 2Q, when scheduled revenue is highest (in FY2015, ancillaries were 25% of revenue for the year). For FY2016, it expects ancillary revenue to grow more slowly than passenger numbers, but to remain ahead of its long term target of 20% of revenue.
Average fares increased by 7% year on year to EUR66 and total revenue per passenger increased by 5% in 2QFY2015. Total revenue per seat grew faster, by 9%, thanks to the increase in load factor. This compares favourably with falling unit revenue for Europe's big three legacy airline groups in the quarter.
See related report: IAG again beats Lufthansa & Air France-KLM in 3Q2015, but unit revenue is weak
Ryanair describes its approach to revenue management as "load factor active, yield passive". To achieve growth in both average fares and loads is a vote of confidence in Ryanair's 'Always Getting Better' customer service improvement programme and its increased appeal to business passengers (including the use of more primary airports).
Ryanair is a little more cautious for 2H and expects average fares to be broadly flat year on year in 3Q and to fall by 4% in 4Q. Ryanair is known for its caution with guidance, particularly looking into further out quarters where visibility is lower and there is probably upside to this 4Q average fare outlook.
Ryanair 2Q revenues FY2016 versus FY2015 (three months to Jun)
| EUR million | 2Q FY2015 | 2Q FY2016 | Change | % of total in 2Q FY2016 |
| --- | --- | --- | --- | --- |
| Scheduled revenues | 1671 | 1992 | 19% | 83% |
| Ancillary revenues | 371 | 396 | 7% | 17% |
| Total | 2,042 | 2,387 | 17% | 100% |
Ryanair costs rose 6%, well below capacity growth, but higher GBP increases labour costs
Total operating costs increased by 6% year on year in 2QFY2015, slower than the growth in seats and revenues. Fuel costs fell by 2% and ex fuel costs increased by 12%. Labour costs grew by 16%, affected by a 2% pay increase in Apr-2015 and the strengthening of GBP versus EUR.
Ryanair has 95% of its FY2016 fuel needs hedged at USD898 per metric tonne, compared with an average price paid in FY2015 of USD950, and consequently expects a saving of EUR100 million in FY2016. For FY2017, it has hedged 95% of its fuel needs at USD622 and expects a saving of EUR430 million. This will allow it to fund lower fares, thereby driving traffic growth.
Total cost per seat fell by 2% and ex fuel cost per seat was up 4% (both less than the 9% increase in revenue per seat). Ryanair's preferred measure of unit cost is cost per passenger, which fell by 5%. Ex fuel cost per passenger was flat.
Ryanair 2Q costs FY2016 versus FY2015 (three months to Jun)
| EUR million | 2QFY2015 | 2QFY2016 | Change | % of total in 2Q FY2016 |
| --- | --- | --- | --- | --- |
| Fuel and oil | 608 | 597 | -2% | 42% |
| Airport & handling charges | 213 | 238 | 12% | 17% |
| Route charges | 161 | 178 | 10% | 13% |
| Staff costs | 132 | 154 | 16% | 11% |
| Depreciation | 98 | 109 | 11% | 8% |
| Marketing, distribution & other | 64 | 74 | 15% | 5% |
| Maintenance, material and repairs | 30 | 31 | 5% | 2% |
| Aircraft rentals | 34 | 35 | 2% | 2% |
| Total | 1,340 | 1,415 | 6% | 100% |
| Costs ex fuel | 732 | 818 | 12% | 58% |
Outlook: Ryanair's FY2016 traffic and profit targets are adjusted upwards
Further product and service improvements planned this year include new cabin crew uniforms, a more personalised website, inflight menus, new cabin interiors and better seating in the 28 new Boeing 737-800 aircraft to be delivered this winter (and more thereafter). Ryanair also says that its new car hire partnership with CarTrawler has improved service and availability. Its network will include the opening of new bases at Berlin Schoenefeld, Corfu, Gothenburg and Milan Malpensa and add 119 new routes.
For FY2016, Ryanair now expects 105 million passengers, a 16% increase on FY2015 (the previous FY2016 target was 104 million, raised in Sep-2015 from 103 million). Its guidance for FY2016 net profit is now at the upper end of its EUR1,175 million to EUR1,225 million range, implying an increase of more than 40% on last year.
The long term traffic target is also raised
In a further sign of its growing strategic confidence, Ryanair has also increased its FY2024 passenger target from 160 million to 180 million. This 2024 target is twice the number of passengers carried in FY2015 will require a compound average growth rage of 7.9% pa.
Ryanair fleet and traffic plan to FY2024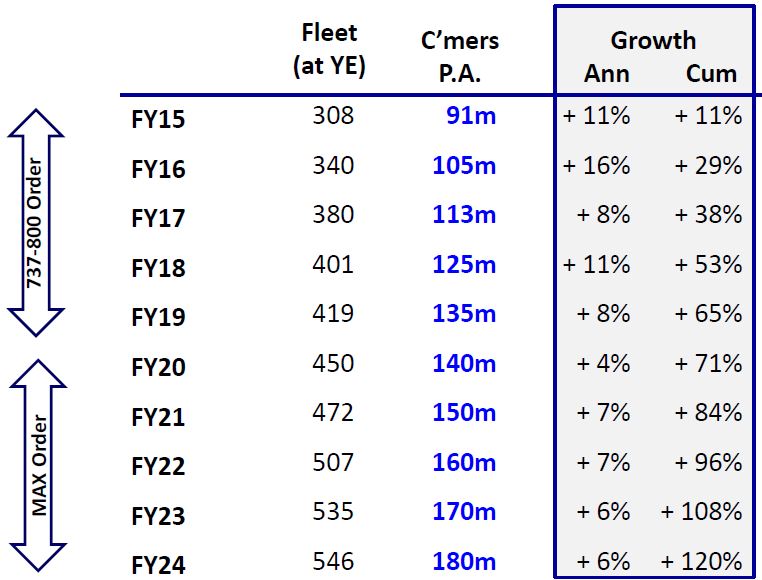 Although this is slower than its 11% growth of FY2015 and 16% growth planned for FY2016, it is considerably faster than likely market growth and there is a risk that all the extra capacity will place downward pressure on Ryanair's yields.
However, this risk is likely to be mitigated by lower fuel costs, at least through FY2017; by the fact that Ryanair's average fares are significantly lower than its competitors'; and by its customer service improvements and further addition of primary airports into its network.
With its "Always Getting Better" programme now well established, Ryanair has demonstrated a remarkable ability to increase its appeal to passengers, whether travelling for leisure or business, without losing the strong cost discipline that has always been at the core of its approach.
By some distance the largest airline by seats on intra-European routes, it also has significant scale, an advantage both in negotiating with suppliers (airports, aircraft manufacturers and others) and in offering passengers a wide network.
Ryanair is well positioned to remain Europe's highest margin airline for some time to come.
See related report: Europe's airlines underachieve in profit margins, but LCCs typically perform better than FSCs
Top 10 airlines Europe to Europe by seats 2-Nov-2015 to 8-Nov-2015
| Rank | Airline | Share of total seats |
| --- | --- | --- |
| 1 | | 11.2% |
| 2 | | 7.2% |
| 3 | | 6.8% |
| 4 | | 6.1% |
| 5 | | 4.5% |
| 6 | | 4.0% |
| 7 | | 3.9% |
| 8 | | 3.9% |
| 9 | | 2.7% |
| 10 | | 2.7% |