Downturn hits Association of Asia Pacific Airlines. AAPA needs a fundamental rethink
2009 was an annus horribilis for the Association of Asia Pacific Airlines (AAPA) in more ways than one. AAPA's members carried 5.7% fewer passengers last year than in 2008, racking up significant losses in the process. But the Association also suffered the losses of Qantas and Air New Zealand from its membership, raising questions in some quarters as to the future prospects of the regional airline body.
Reviewing the 2009 traffic figures, AAPA Director General, Andrew Herdman, stated, "we have been through downturns before, but none as severe as we've experienced in the past two years. As a result of the global recession, demand for passenger travel and air cargo shipments both recorded sharp falls. The business impact on airlines was even more dramatic as the collapse in corporate travel and intense price competition in a shrinking market saw airline revenues falling by 20-25%".
AAPA international passenger and freight traffic growth (% change year-on-year): 2003-2009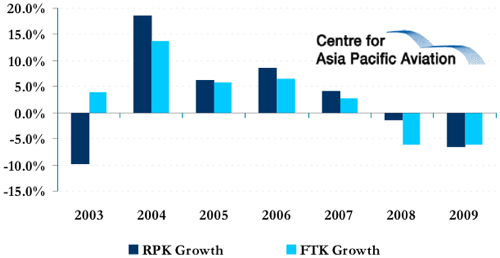 Discussing its reasons for dropping its AAPA membership, Qantas stated its interests in the broader Asia Pacific region have evolved and now extend beyond those focussed on by the AAPA. The Australian airline added, "with the growth of aviation in Asia, and the need to manage our premium brand, Qantas, and our low fare Jetstar brands, it is now more appropriate for the Qantas Group to manage more stakeholder relationships in the Asia Pacific directly or in tandem with regional airline partners".
Air New Zealand declined to renew its membership of AAPA at the end of 2009, without disclosing reasons, but, like Qantas, is pursuing a very different strategic agenda in this new decade.
Qantas and Air NZ have been marginal players in the grouping for several years, sending lower-level representation to recent regional gatherings. Their exit from the group is not unexpected and, in reality, is part of cost-saving initiatives. But their readiness to sacrifice membership - at the same time as Qantas is actively talking up its future in Asia - suggest that AAPA is not seen as core to its needs.
Association of Asian Airlines? Smaller, but vital future
The loss of its end-of-the-line 'Pacific' carriers, Qantas and Air New Zealand, will sharpen AAPA's focus on the needs of its remaining 15 Asian-based full service carrier members: ANA, Asiana Airlines, Cathay Pacific, China Airlines, Dragonair, EVA Air, Garuda Indonesia, Japan Airlines, Korean Air, Malaysia Airlines, Philippine Airlines, Royal Brunei Airlines, Singapore Airlines, Thai Airways and Vietnam Airlines.
This is a much more congruent membership list, facing common threats:
AAPA will therefore retain a vital role in representing the core interests of much more aligned constituent base in the future.
This will work for the Association in the short term. But the fact is that most of its members, rather than expanding aggressively in the high growth Asian market, are in contraction mode. Certainly their market share is fast being eroded.
The loss of Qantas and Air NZ is not critical in that respect. More important is the part that the two categories which are actually expanding rapidly are not members: LCCs and the Chinese airlines.
This creates a fundamental dilemma for AAPA. Do the existing members draw their wagons in a tight and largely homogeneous circle - or do they dilute their commonality and go all out to attract new members from these other groups?
AAPA is a highly conservative grouping, for most of whom liberalisation is still generally seen as a threat, rather than an opportunity. After all, most of the benefits of removing regulatory barriers have not accrued to them.
The Association still retains a valuable function for its members and the region's airlines need a voice in global aviation today more than ever. But a substantial rethink is clearly in order.
Traffic back to 2005 levels

AAPA members carried 132.9 million international passengers in 2009, down 5.7% year-on-year to a level not seen since 2005. Passenger traffic measured in RPKs fell by 6.5%, reflecting particular weakness in demand on long-haul routes. Capacity (ASKs) was reduced by 6.1%, resulting in a marginal drop in the average passenger load factor by 0.4 ppts to 74.6%.
AAPA international passenger numbers (mill) and passenger numbers growth: 2003-2009
Members' international air cargo traffic for 2009 (FTKs) suffered an "even more significant decline", according to AAPA, falling 11.0% for the year. Airlines made corresponding reductions in cargo capacity, resulting in an average cargo load factor of 66.1%, almost unchanged from the previous year.
AAPA international passenger and freight traffic growth: Dec-08 to Dec-09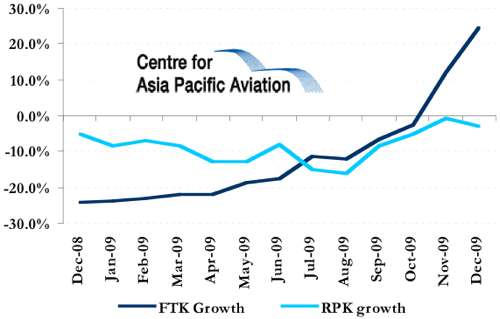 Outlook: Is smaller better?
Looking ahead, Mr Herdman stated, "on a more optimistic note, traffic trends in recent months have shown signs of recovery, in line with the improving global economic outlook led by developing economies in the Asia Pacific region.
He added, "the cargo business is regaining some of its dynamism, and passenger demand on short haul leisure routes within the region has already picked up, although business travel demand is recovering more slowly".
Mr Herdman concluded, "Asia Pacific airlines remain focused on conserving cash, rebuilding damaged balance sheets, and carefully managing capacity to match demand as they work towards restoring profitability. Whilst we remain hopeful about future prospects, the outlook for 2010 very much depends on the sustainability of what still appears to be a rather fragile global economic recovery."
In these circumstances, it is not surprising to see some churn in airline strategies – and indeed the structure of the AAPA grouping.
A streamlined member list – just like a focused route network – may help AAPA and its members to a brighter, more effective future, but one which promises marginalisation. That prospect is not without value for its members, but it surely is decision time for the Association.
More than ever, Asia needs an effective industry voice. In little over a decade it will become the biggest world market. Yet, unlike other regions, it has no regional government aviation body. And its only airline body is contracting. Not the formula that logic would suggest.