'Disney Factor' indicative of airport passenger losses
The Economist's Big Mac Index of currencies has become an accepted test of whether a currency is undervalued or overvalued by examining the cost of a Macdonald's ® Big Mac in a typical restaurant in a country's capital city. Equally, a 'Disney' test could be applied to the prospects for tourism-generated travel in the downturn, certainly in the US. The 11 Disney theme parks are typically quieter in the run-up to Christmas but they are most definitely open for business. Many are designed to be accessible by air and if the Disney Corporation cannot inspire vacationers to get on an aeroplane, who can?
The Disney Corporation's largest collection of theme parks is at the sprawling, 43 square mile Walt Disney World Resort near Orlando in Florida, which was specifically chosen as the site of the second theme park by Disney himself in 1963 because of the well-developed highway system and because of the proximity of the McCoy air force base, later to become Orlando International Airport. Disney was also aware that only 2% of Disneyland's (California) visitors came from east of the Mississippi, home to 75% of the US population.

He could never have imagined in the 1960s that global air transportation would grow to such a degree that millions of visitors would arrive by air from abroad. In order to acquire a site Disney initially negotiated with the Sanford City Council, now home to the second civil airport serving the Disney World location at Lake Buena Vista, 15 miles from Orlando.

Orlando and its environs do not rely exclusively on the Disney dynasty. Orlando itself, very much a sun-belt working city, is home to many high-tech companies. But the driving force behind the city's prosperity is undeniably the tourism generated by Disney and other theme parks in the region. The Magic Kingdom, Epcot, Hollywood Studios and Animal Kingdom collectively generate 47 million individual visits annually.

So it must be un-nerving for Orlando International Airport to report a 9.9% reduction in domestic passengers (2.7 million) in Oct-08 on aircraft movements of 23,976 (-18%). Cargo volume was also down, by 19.3%. Especially un-nerving when Disney says its projected gate volume is down by only 1%, which indicates that foreign and long distance domestic visitors in particular are staying away.

Orlando was the world's 20th busiest airport in 2007 with 36,480,516 passengers, an increase of 5.3% over 2006. But despite a good start to 2008, traffic has declined in the last three months; by 6.0% in August, and by 12.9% in September (18.9% international), in addition to the poor October figure. The rolling 12 month figure in Sep-08 was +2.21% and in Oct-08 +0.52%.

The Orlando management takes a positive position, insisting that international traffic swung violently in October to record a 10.5% increase and that, conversely, it was only domestic traffic that declined. Also that international traffic is up by 20% in the calendar year to date.
Orlando Airport passenger numbers growth: Nov-07 to Oct-08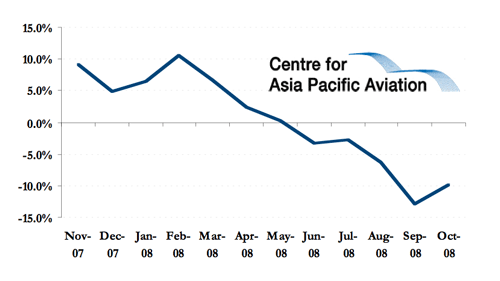 Sanford reliant on international charter operators
The region's other facility is the public-private partnership, TBI managed, Sanford International Airport, 18 miles northeast of Orlando, and home to eight airlines, mainly UK charter carriers (First Choice/Thomas Cook/Monarch/Thomsonfly/Flyglobespan) plus Jetairfly (Belgium), Icelandair (which shifted operations from Orlando) and the small US carriers, Allegiant Air and Directair.

Domestic traffic was up in Nov-08, by 4.6%, but international was down by a whopping 50.85%, giving an overall negative of -11.69%.

October was -8.37% and -29.39% respectively and September -22.31% and -30.31%. In the first half of the year traffic had shown small but steady gains in most months.

The other US two airports that might expect to demonstrate the Disney effect are Los Angeles International (LAX) and John Wayne at Anaheim, both close to the original Disneyland Resort in southern California.
LAX has more O&D traffic than any other
LAX is the world's fifth busiest airport but claims to have more O&D passengers than any other (i.e. it is not significantly a hub). Total traffic in 2007 was 62.4 million, an increase of 2.3%.

LAX has been adversely affected this year by several factors quite apart from tourism, notably a shrinking Californian economy that was and still is heavily dependent on aerospace and CIT industries, (potentially leading to state bankruptcy according to local reports) and even a more extensive series of bush fires this year than in most. It has been as badly affected as any US airport by the downturn and already had to fight off emerging competition from San Diego, San Francisco and Seattle airports (also Vancouver just across the border) as the principal Pacific gateway entry point for North America.

There has been criticism that the airport has failed to keep up with the demands of the 21st century aviation industry, for example by not investing quickly enough in facilities to handle the A380, but both Qantas and Emirates commenced A380 service in Oct-08 and the USD5 billion airport modernisation plan seems to be back on track.
Los Angeles International Airport passenger numbers growth: Nov-07 to Oct-08
Traffic peaked in 2000 at 67.3 million, following seven years of successive growth. Since 2001 traffic has stabilised at just over 60 million annual passengers. So far in 2008, along with many other major US airports, traffic is down, in this case by around 2% up to Jun-08 and falling. Seat capacity for the winter period is down by some 13% this winter. Research suggests that many of the service cuts have come on routes operated by smaller aircraft.
Disney is the biggest employer in Anaheim
But if there are multifaceted factors in play at LAX that is not the case at John Wayne (Orange County) Airport, 15 miles from Anaheim. Anaheim, population 350,000, is the archetypal US middle class low-rise suburb, even if it has witnessed an input of working class foreign immigrants during the last decade. There is little at Anaheim apart from rows of well kept single story homes, Disneyland (the second most visited theme park in the world after the Magic Kingdom with 15 million in 2007), Knott's Berry Farm, assorted other tourist attractions and a convention centre. Disney is the city's biggest employer by far.

John Wayne Airport is owned and operated by the County of Orange, i.e. is not part of the Los Angeles World Airports group. It serves only domestic destinations. In 2007, nearly ten million passengers were served. It grew quickly through the 1990s, twice achieving double-digit growth, but more steadily in this decade, with +3.8% recorded in 2007. Again, traffic fell dramatically in Sep-08 (-12.2%), Oct-08 (also -12.2%), and Nov-08 (-17%). The Disney effect can be observed here.
John Wayne Airport passenger numbers growth: Dec-07 to Nov-08
The average passenger decline for all the Orlando, Sanford and John Wayne airports in the periods in question is 12.5%. By comparison, the average reduction at eight leading airports in the US (Atlanta, Chicago O'Hare, Dallas Fort Worth, Las Vegas, Houston, Newark Liberty, Phoenix, Detroit in Aug-08 (the most recent statistic available from ACI) is 4.825%.

The following airports actually recorded gains during that month: New York JFK (1.8%), Denver 1.6%, San Francisco 4.9%, Seattle-Tacoma 2.8%.

The Disney test, if not proven, is at least largely substantiated. The Sanford and John Wayne airport results in particular are representative of the effect of the downturn on both US and international leisure travel spending habits.

[The other theme parks (Paris, Tokyo and Hong Kong) are served by airports with too diversified a traffic mix to be influenced by visitor numbers to Disney parks.]