Denver International Airport expands international: to host CAPA Americas Aviation Summit 2019
CAPA is pleased to announce that Denver, Colorado, will be the location for the 5th annual CAPA Americas Aviation Summit.
The unique high level aviation strategy summit, to be held on 18-19 March 2019, will examine key commercial and operational issues affecting airlines and airports in the Americas, focusing on both US domestic issues and growth prospects in key international markets. Register here: https://amas19.capaevents.com/
With an expected delegation of 250 senior executives from airlines, airports and industry suppliers, the Summit forms part of CAPA's suite of global aviation events held throughout the world, including in Europe, Asia, the Middle East and Australasia.
US airline industry undergoing dynamic changes
In line with previous editions of the Americas Aviation Summit, CAPA will challenge leaders of North America's aviation industry to reflect on what is needed to drive the industry forward, using examples of innovation in outside markets as a benchmark to follow.
Industry rationalisation has helped the US majors enjoy very healthy profits in recent years. But this has not always been kind to airports which previously enjoyed hub status. In addition, the infrastructure that supports the airline industry's growth needs reform.
ULCCs are also making an impact, forcing the US majors to deploy an array of tactics to keep them at bay, in the form of segmented fare families and product unbundling. Further north, in Canada, ULCC start ups have injected renewed competition into the tightly held Canadian market.
Long haul low cost international operations are becoming a feature of the US-Europe market, introducing a new dynamic into the equation. These have until now been the territory of foreign airlines, but with airlines like the mid-cost/mid-frills jetBlue now about to embark on trans-Atlantic operations, a new era of competition could be in the wind.
Meanwhile, new aircraft technology is also reshaping route economics and opening up new markets in ultra long haul destinations to and from the continental US. A notable beneficiary of the new technology is the US-Singapore market which will have 41 nonstop flights at the end of 2018, compared to zero two years ago.
The threat of a global trade war is becoming a real threat to the industry
Yet geopolitical developments could create uncertainty for the industry. An escalating US-China trade war, alongside existing tariffs on steel and aluminium imports from the EU, Canada and Mexico risk escalating aircraft manufacturing costs and adding further instability.
Already, concerns about the impact of trade tariffs and threats of retaliation have reportedly prompted many of the aircraft purchasers at the recent Farnborough Airshow to remain anonymous, generating the largest ever list of unnamed buyers.

The Denver Summit agenda will provide thoughtful insights on topical strategic issues
With aviation in this highly dynamic state, the CAPA Americas Aviation Summit 2019 will address how airlines and airports can deal with these new challenges:
The geopolitical outlook and its impact on aviation industry
The state of US infrastructure and ATM reform
The sustainability of revenue optimisation strategies, including fare families and product unbundling
The impact of New Generation aircraft on long haul route economics; enabling new growth opportunities between SE Asia and the US and Lower South America and North America
Immunised JVs and market access
Disruption on the North Atlantic; market impact of incursions from new low cost long haul entrants
The impact of ULCCs on the Canadian airline industry
Distribution in the digital age and latest NDC developments
Use cases for AI, automation and blockchain – what it could bring to the airline business
Coping with disruption and structural change – what airlines can learn from other sectors
With a high level speaker and audience profile, these issues will be examined in creative and authoritative ways.
Denver Airport is embarking on unprecedented international airline expansion
CAPA Executive Chairman Peter Harbison said: "We are pleased to be partnering with Denver International Airport for our 5th CAPA Americas Aviation Summit. As one of the US's busiest airports, Denver plays a critical role in enabling the growth of air services and continues to go from strength to strength as it embarks on unprecedented international airline expansion.
"The launch of low cost long haul services by Norwegian across the Atlantic, as well as new international services from WestJet, United and Edelweiss into Denver throughout 2018, should contribute meaningfully to the airport's healthy growth in international passengers, which was 12% in 2017 – more than double the overall traffic growth rate."
Denver International Airport domestic and international passenger traffic, 2012-2018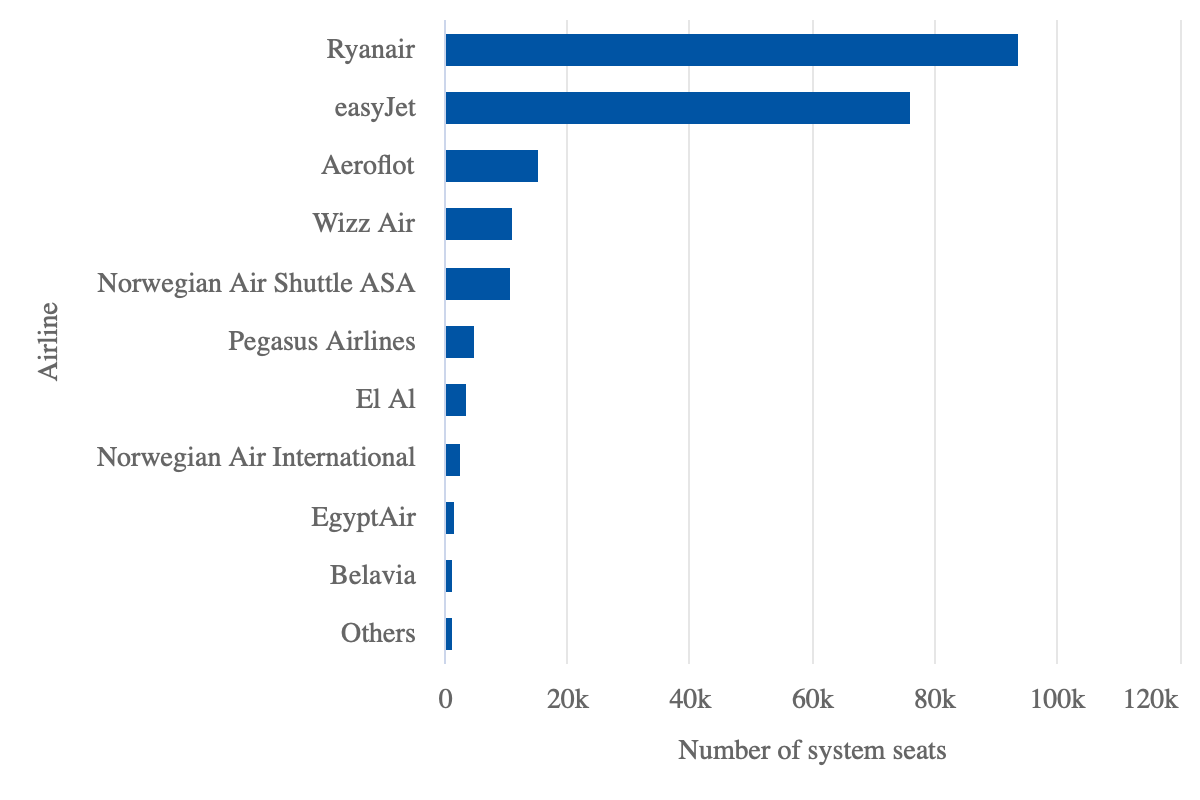 Past speakers at the CAPA Americas Aviation Summit have included American Airlines, Chairman and CEO, Doug Parker, Delta Air Lines, Executive VP & Chief Legal Officer Peter Carter, Spirit Airlines, CEO, Robert Fornaro, Hawaiian, CEO, Peter Ingram, JetBlue, VP Sales & Revenue Management, David Clark, Southwest Airlines, SVP of Network and Revenue Management, Andrew Watterson, Allegiant Travel Company, SVP Planning & COO, Jude Bricker, FedEx Express, Nancy Sparks, MD Regulatory Affairs, Senior VP & General Counsel, Rush O'Keefe, Indigo Partners, Managing Partner, Bill Franke, AirAsia, CEO, Tony Fernandes, Etihad Airways, Chief Strategy and Planning Officer, Kevin Knight, Norwegian, SVP Sales, Lars Sande, GOL, Chief Planning Officer, Celso Ferrer, Volaris, CEO, Enrique Beltranena Mejicano, Spring Airlines, President, Stephen Wang, U.S. Dot, Deputy Assistant Secretary for Transportation Affairs, Tom Engle, U.S. FAA, Deputy Administrator for Policy, International Affairs and Environment, Carl Burleson and dozens of others.
CAPA has become a highly influential aviation group, with its platforms helping the aviation sector and leading supplier businesses to stay informed, remain closely connected to industry leaders, be inspired to drive change and partake in industry evolution.
CAPA attracts 300+ executive level speakers and attendees at each of its global events held in key aviation markets around the world and reaches more than 350,000 unique website visitors each month.
Established in 1990, Sydney-based CAPA - Centre for Aviation is the leading provider of independent aviation market intelligence, analysis and data services, covering worldwide developments. CAPA runs C-level aviation and corporate travel summits in key markets around the world, bringing together the leading stakeholders of the global commercial aviation industry.
Understanding aviation markets is our great strength and our passion. Providing our CAPA Members, clients and partners with an unparalleled level of expertise and insight is our business.

For media enquiries and to learn more about the Denver Summit, please contact:
Daniella Baxter
Head of Marketing
CAPA – Centre for Aviation
P: +61 2 9241 3200
dbaxter@centreforaviation.com
Event website: https://amas19.capaevents.com/