Continuing weakness in Brazil pressures 3Q earnings for the country's major airlines
Prolonged weakness in the Brazilian domestic market resulted in a depressed 3Q2012 financial performance for the country's major airlines Gol and TAM even as the carriers have continued to cut domestic capacity throughout 2012. Both airlines believe they are taking the necessary steps to combat the continued sluggish demand that prevails in Brazil, but challenging conditions continue to be a significant threat heading into 2013 as the country's stagnant economy struggles to regain momentum.
Both Gol and TAM's parent LATAM recorded losses during 3Q2012 that were in part fuelled by the Brazilian economic slowdown and a 24% depreciation of Brazil's currency against the US dollar. LATAM, the merged entity of Chile-based LAN and TAM, also recorded integration charges of USD20 million and a one-time USD70 million tax charge related to an increase in the Chilean income tax rate which resulted in a net loss of USD64 million. Excluding those items LATAM recorded a USD21 million net profit.
Gol's 3Q2012 BRL309 million (USD149 million) loss was more pronounced, but still a 40% improvement over the BRL509 million (USD246 million) loss recorded during the year-prior. In addition to Gol's high exposure to the flailing domestic market, the airline also recorded a 20% increase in fuel costs and cited rising airport fees as contributors to its quarterly loss, which follows a 1H2012 loss of BRL756 million (USD365 million).
LATAM financial results: 3Q2012 vs 3Q2011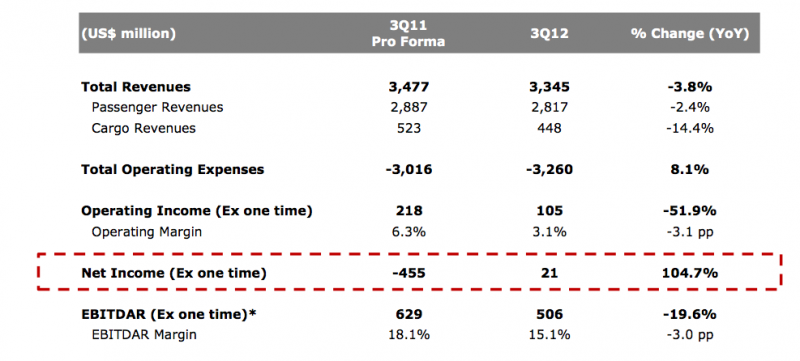 Gol financial results: 3Q2012 vs 3Q2011
Gol's latest financial performance is dimming hopes previously expressed by the carrier that it would record some improvements in its fortunes during 2H2012, and the carrier's executives are now declining to offer any specific timeframe for a return to profitability other than surmising that there is no doubt that 2013 will be a better year. But after recording a BRL700 million loss in 2011 and facing the same scenario in 2012, investors are looking for more than mere pledges that better days are ahead.
See related article: Gol attempts to improve its fortunes in 2H2012 as market conditions continue to weaken
Progressively worsening conditions within Brazil was a major driver of a 9% decline in yields for LATAM during 3Q2012 to USD10.7 cents. Company executives in outlining LATAM's quarterly performance explained Brazilian yields increased in Jul-2012 but declined in Aug-2012 and Sep-2012. TAM's domestic capacity fell 3% year-over-year during 3Q2012, which with a 12% rise in traffic helped drive the carrier's load factors up nearly 11ppt to 78%. LATAM's consolidated load factor grew 3.7ppt year-over-year to 80%.
TAM capacity and traffic growth: Jan-2012 to Sep-2012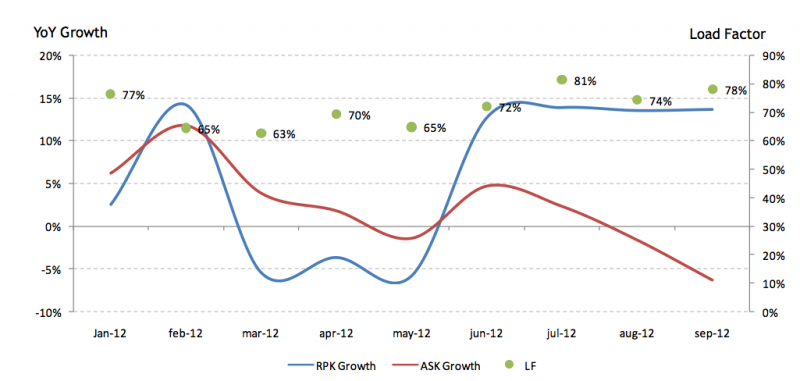 LATAM select consolidated operating statistics: 3Q2011 vs 3Q2012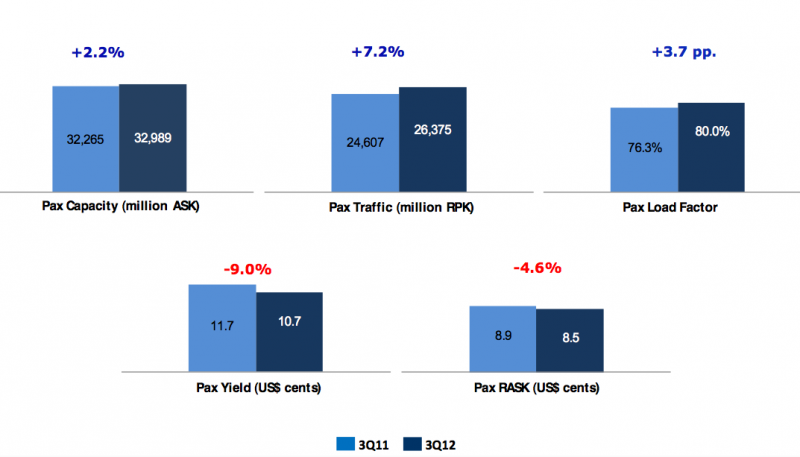 In addition to citing the now familiar challenges of the Brazilian domestic market and currency fluctuations, LATAM management remarked that demand also decreased among corporate travellers. TAM has a larger exposure to the corporate travel market than its rival Gol, which does not offer a distinct product targeted to corporate customers. However, smaller but rapidly expanding Brazilian carrier Avianca Brazil began targeting corporate travellers once its rebranding from OceanAir was completed during 2010.
See related article: Avianca Brazil accelerates expansion as ex-LAN A318s and new A320s are added to fleet
TAM, through its participation in LATAM, has greater resources than Gol to dull the effects of Brazil's lacklustre economy and the ensuing weakening demand through capacity diversification into other geographic regions. But TAM's status as the largest carrier in Brazil resulted in the country's domestic market representing 36% of LATAM's ASKs during 3Q2012.
The LATAM model allows redistribution of capacity into other markets
To combat Brazil's weak domestic conditions, TAM is planning an overall 2% reduction in domestic capacity during 2012 and a 7% cut during 1H2013. LATAM executives stated the company is still analysing its capacity projections for the second half of 2013. No concrete details have emerged with respect to how LATAM will manage TAM's planned capacity reductions other than executives previously stating that some of the decrease would be managed through cuts in aircraft utilisation.
Company executives have also stated that the merger allows for the redeployment of Brazilian domestic capacity to stronger regions in the broader LATAM network. But pulling that particular lever is a possibility that now appears further out into the future as LATAM management stated it was in the process of finalising the management of TAM's fleet, and it will take about eight months to institute changes, which includes gaining necessary approvals to redeploy the aircraft.
See related article: TAM to slash domestic capacity in 2013 in an attempt to help rationalise the Brazilian market
Once LATAM has all the pieces in place to strategically redeploy some of TAM's aircraft, possible locations include the Chilean domestic market, where ASKs grew 17% year-over-year "in line with strong demand trends" said LATAM management. Capacity in the Peruvian market increased 7% year-over-year during 3Q2012, and LATAM executives have previously stated their intent to leverage Lima as connection point for strong north-south traffic to North America. Lima eventually could be a landing point for TAM's aircraft.
See related article: LAN-TAM parent LATAM's first combined financials offers a mixed bag behind consolidated net profit
In the Brazil market, improved revenue management strategies for TAM are on the way
LATAM management believes the improved revenue management it is applying to the Brazilian domestic market coupled with the decline in capacity should result in the start of a turnaround in the coming quarters. Gol has worked throughout 2012 to pull-down its domestic capacity with TAM later following suit. Gol calculates capacity growth in the Brazilian domestic market was essentially flat year-over-year during 3Q2012, which helped to drive promising increases in industry traffic and load factors.
But the country's airlines that have grown ASKs throughout the year – Azul, Trip and Avianca Brazil – continued that trend during the quarter. Those airlines need to refine their aggressive growth targets in order to ensure any prolonged stability in the domestic market place.
Brazil domestic supply and traffic growth: 3Q2012

Gol's uphill climb continues
Gol managed to maintain flat yields year-over-year during 3Q2012 after posting a tepid 0.8% increase in yield growth during 2Q2012. An 8% reduction in capacity during 3Q2012 versus the year prior outpaced a nearly 6% fall in traffic on Gol's domestic routes, which helped to lift load factor 2ppt to 74%. The carrier did post unit revenue growth of 3.4% during 3Q2012, down from the 6.3% increase posted in 2Q2012.
Gol select operating statistics: 3Q2012 vs 3Q2011 and 9M2012 vs 9M2011

Gol has been the most aggressive in cutting capacity in the domestic market throughout 2012, and anticipates its overall reduction in 2012 will fall between 2% and 4.5%. Gol and Webjet, which it acquired in 2011, have cut 130 loss-making flights during 2012. At the same time the carrier has also continuously searched for ways to improve its cost efficiency, but its unit cost grew 2.3% during 3Q2012 to BRL9.63 cents (USD4.6 cents) while top line expenses increased 14% to BRL2.2 billion (USD1.1 billion). Contributors to the rise in unit revenue were currency depreciation, higher landing fees and pressure on fixed costs due to capacity reductions. Gol expects unit costs for 2012 to remain in the BRL9 cent to BRL9.6 cent range after remaining flat year-over-year in 9M2012 at BRL9.37 cents (USD4.5 cents).
Continuing deterioration in the Brazilian domestic market place has forced Gol during the last year to reverse course from a stringent focus on domestic expansion to diversifying into international markets within South America. During 3Q2012 Gol's international capacity increased 7% as demand in those markets grew nearly 8%. The carrier has launched service from Sao Paulo Guarulhos to Montevideo, Asuncion and Santa Cruz, and plans to launch service to Miami and Orlando via Santo Domingo in Dec-2012. But international capacity still accounts for a small portion of Gol's business, which leaves the carrier more exposed to Brazilian domestic market fluctuations than rival TAM.
Presently Gol is not offering specific capacity guidance for 2013 as rival TAM has declared its aggressive 7% reduction for 1H2013. Gol executives stressed to analysts the airline "started the movement" with respect to capacity reduction, and indicated the carrier would no increase capacity in 2013 without offering any further guidance.
Tough domestic economic conditions in Brazil promise a difficult short term environment
Gol's efforts during the last year to stem the negative effects of the domestic market place are commendable, but company management is giving no indication of when it will reverse its prolonged losses against the backdrop of unsteady demand patterns in the Brazilian domestic market. Unlike TAM, Gol does not have the flexibility of a larger network to absorb unprofitable capacity.
In the short term no dramatic change is forecast for the tough conditions within Brazil, and Gol's leverage continues to deepen as its debt in 3Q2012 was nearly 18 times its 12 months trailing pre-tax earnings, up from a multiple of 16 in 2Q2012. As investor patience wears thin, Gol needs to formulate a plan to convince the market it has the wherewithal and business acumen to navigate through prolonged market downturns.
background info
Gol's outlook for 2012 and performance for 9M2012