Cologne/Bonn Airport illustrates many of the strategic themes in European aviation
Analysis
Cologne/Bonn ranks only among Germany's mid-sized airports. Its traffic suffered in the global financial crisis and did not recover its pre-crisis level until 2015. It is not a major hub and barely has a long haul network. Nevertheless, it provides much of interest to students of Europe's airline industry.
Cologne/Bonn is now one of Germany's fastest-growing airports, with this expansion stimulated by Europe's lowest cost airline, Ryanair. The Irish LCC chose Cologne/Bonn to launch its re-entry into the German domestic market in 2015. The airport is also the biggest base for the Lufthansa Group's low cost brands (whether Germanwings or Eurowings) and the first base for its low cost long haul operation (under the Eurowings brand). Meanwhile, long haul connections to Asia Pacific are increasing with the growth at Cologne/Bonn of super connector Turkish Airlines.
Size is most certainly not everything.
Cologne/Bonn was Germany's fastest growing airport among those with more than 10 million pax in 2015
Cologne/Bonn was Germany's seventh biggest airport by passenger numbers in 2015, when it handled a total of 10.3 million, just less than sixth ranked Stuttgart's 10.5 million. Among the seven German airports with more than 10 million passengers in 2015, Cologne/Bonn enjoyed the fastest growth, with an increase of 9.5% over 2014.
Germany: top 10 airports by passenger numbers 2015
| Rank | Airport | Passengers | Growth vs 2014 |
| --- | --- | --- | --- |
| 1 | | 61,040,613 | 2.5% |
| 2 | | 40,998,553 | 3.2% |
| 3 | | 22,459,480 | 2.9% |
| 4 | | 21,005,196 | 1.5% |
| 5 | | 15,586,301 | 5.7% |
| 6 | | 10,491,149 | 8.2% |
| 7 | | 10,326,336 | 9.5% |
| 8 | | 8,526,268 | 16.9% |
| 9 | | 5,439,182 | 3.2% |
| 10 | | 3,368,026 | 4.0% |
The airport ranked just behind Cologne/Bonn on 2015 passenger numbers was Berlin Schönefeld, whose 16.9% increase in passenger numbers made it the fastest growing airport in Germany's top 10. The two are the most important German airports for LCC capacity.
Cologne/Bonn will be Germany's biggest LCC airport by seats in summer 2016
For the week of 15-Feb-2016 Cologne/Bonn has 16% fewer LCC seats than Berlin Schönefeld. Schönefeld has more domestic LCC seats than any other German airport, although, at 32% of its total LCC seat numbers, domestic LCC is still a relatively small part of its market.
However, Cologne/Bonn has a more seasonal pattern of capacity fluctuations and will have 5% more LCC seats than will Schönefeld in the week of 27-Jun-2016, making it Germany's biggest LCC airport in the summer 2016 schedule.
The LCC presence at Cologne/Bonn is mainly due to Germanwings/Eurowings and Ryanair (see below), but also includes Pegasus Airlines, Wizz Air, TUIfly, easyJet, Blue Air and Air Arabia Maroc. In Feb-2016, Cologne/Bonn became the first international destination for Russia's only LCC, the Aeroflot subsidiary Pobeda, which has launched a daily service from Moscow Vnukovo (this is also now Cologne/Bonn's only destination in Russia).
Germany: top 10 airports by LCC seats 27-Jun-2016 to 3-Jul-2016
| Rank | Airport | Total Seats |
| --- | --- | --- |
| 1 | | 229,694 |
| 2 | | 219,024 |
| 3 | | 208,271 |
| 4 | | 170,030 |
| 5 | | 155,907 |
| 6 | | 98,994 |
| 7 | | 97,946 |
| 8 | | 62,334 |
| 9 | | 51,030 |
| 10 | | 48,036 |
Cologne/Bonn's 2015 traffic was back to pre-crisis levels
Cologne/Bonn's strong growth in passenger numbers in 2015 took its total traffic back to the 10.3 million level reached in 2008, before the global financial crisis. It suffered a 5.8% drop in passenger numbers in 2009 and, after a 1.0% recovery in 2010, numbers fell again in 2011 (-2.1%), 2012 (-3.6%) and 2013 (-2.2%) to reach a post-crisis low level of 9.1 million.
Cologne/Bonn annual passenger numbers (million) and annual growth (%) 2008 to 2015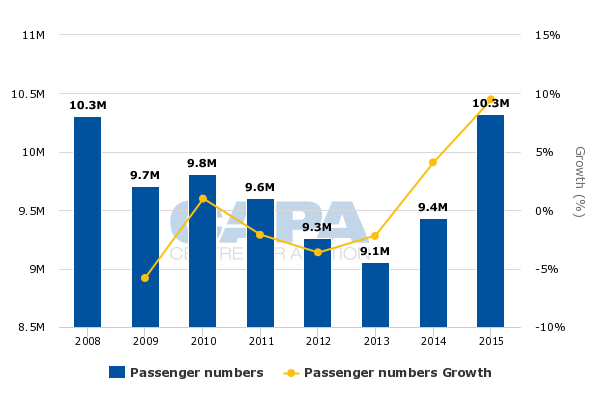 Cologne/Bonn's schedule is dominated by short haul routes. The European market (including domestic routes) accounts for 95% of seats in the week of 15-Feb-2016 and 97% of seats in the week of 27-Jun-2016, according to OAG data.
Domestic capacity is fairly stable in both of these sample weeks, but seats to Western Europe will increase by 58% and seats to Eastern/Central Europe will increase by 134% from Feb-2016 to late Jun-2016. Total seat capacity will be 40% higher in late Jun-2016 than in Feb-2016.
Cologne/Bonn Airport seats by region week of 15-Feb-2016 and week of 27-Jun-2016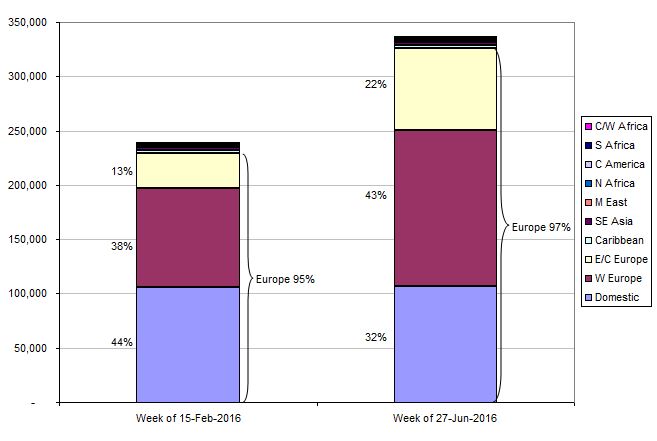 The leading airline at Cologne/Bonn by seats is the Lufthansa LCC brand Germanwings, which operates 39 routes from the airport in the week of 15-Feb-2016. It has 37% of seats in the week of 15-Feb-2016, ahead of Ryanair's 21% and airberlin's 16%.
Cologne/Bonn Airport share of seats by airline 15-Feb-2016 to 21-Feb-2016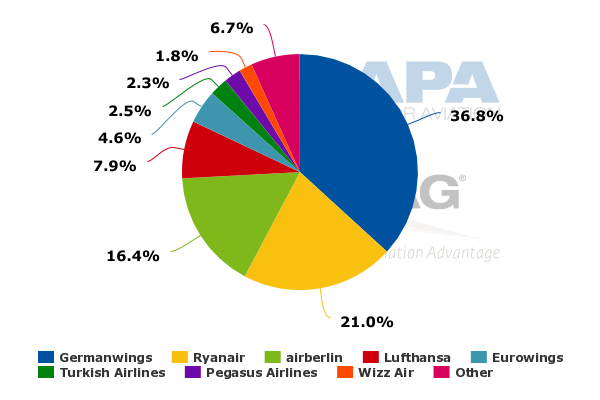 The three leading airlines at Cologne/Bonn have different degrees of seasonality at the airport. Germanwings' schedule will increase by more than that of the airport as a whole as it moves from winter into summer. Ryanair's schedule will be fairly stable from winter to summer, and airberlin's will grow more slowly than total seat numbers at the airport.
Germanwings' route count will increase from 39 to 74 and its share of seats will increase to 41% in the week of 27-Jun-2016. Ryanair's route count will increase from 17 to 20, but its seat share will decrease to 17%. Airberlin will increase the number of routes from eight to 14 and its seat share will be down only slightly, at 15% in the week of 27-Jun-2016.
Cologne/Bonn Airport share of seats by airline 27-Jun-2016 to 3-Jul-2016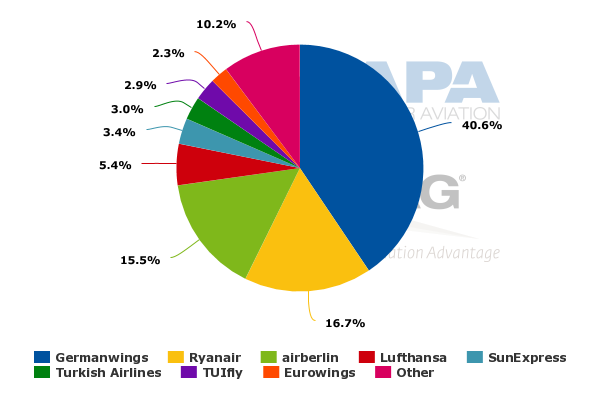 Ryanair has been main driver of traffic growth at Cologne/Bonn
Setting aside seasonal fluctuations, the most significant airline schedule development at Cologne/Bonn over the past eighteen months has been Ryanair's rapid expansion since Oct-2014, when it established an aircraft base there.
From a one-way weekly seat count of less than 4,000 at Cologne/Bonn in summer 2014, Ryanair grew to around 8,000 weekly seats in winter 2014/2015 and 12,000 in summer 2015. In winter 2015/2016, it is operating around 25,000 weekly seats, and this will grow to 28,000 this summer.
Ryanair's expansion was the most important driver of Cologne/Bonn's passenger traffic growth in 2015. Its increase in weekly seats at the airport from summer 2014 to summer 2016 will be around 24,000, as illustrated by the orange line in the chart below. This increase by Ryanair accounts for almost all of the total increase at the airport of around 26,000 weekly seats over this period (using the weeks of 30-Jun-2014 and 27-Jun-2016 as reference points).
Route launches by Ryanair from Cologne/Bonn in 2015 included:
In Mar-2016, Ryanair is to launch service from Cologne/Bonn to Malta (competing with airberlin's summer only operation), and Kerkyra Corfu in Apr-2016 (competing with Germanwings and airberlin, who operate summer-only services).
The chart below also illustrates Lufthansa's (the red line) capacity reduction and Germanwings' (the yellow line) growth between 2012 and 2014. The German national airline embarked on a strategy of transferring its short haul routes not involving either of its hubs at Frankfurt or Munich from Lufthansa to Germanwings. Airberlin's slow decline can also be detected. Its share of seats between Cologne/Bonn and Europe is around 17% in the week of 15-Feb-2016, down from 24% four years previously.
Cologne/Bonn Airport: airlines by one-way weekly seats to Europe 19-Sep-2011 to 25-Jul-2016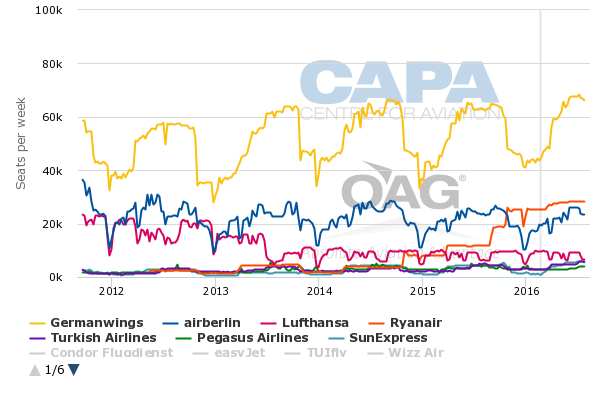 Ryanair's domestic entry has grown the market
Ryanair's Sep-2015 entry into the German domestic market with the launch of its Cologne/Bonn-Berlin Schönefeld service has given it a share of around 12% of domestic seats at Cologne/Bonn (week of 15-Feb-2016, source: OAG). This market share has come mainly from the Lufthansa Group, but also from airberlin.
Germanwings now has just under 38% of domestic seats, compared with 43% a year ago; Lufthansa has 18%, down from 25% a year ago, but Eurowings has just under 2%, up from nothing a year ago. The Lufthansa Group's share of domestic seats for the week of 15-Feb-2016 is around 57%, compared with 68% a year ago. Airberlin's share of domestic seats has fallen from 32% a year ago to a little over 30% in Feb-2016.
However, as is often the case with new entry, particularly by LCCs, the overall market has grown. The week of 15-Feb-2016 has around 14,000 more seats in the domestic market from Cologne/Bonn compared with the same week a year earlier.
Ryanair is responsible for a little less than half of these additional seats. Airberlin and the Lufthansa Group (mainly through Germanwings) are each responsible for approximately one quarter of the additional seats.
Specifically on Cologne/Bonn-Berlin, almost 11,000 weekly seats have been added compared with Feb-2015. Ryanair has added 6,400, Germanwings 3,500 and airberlin 1,100 of these seats.
Ryanair continues to have plans for more significant expansion in Germany. It has said that it plans to increase its share of the German market (international and domestic) to 20% in the coming years, from 5% currently.
See related reports:
Ryanair, with costs 60% below Lufthansa's, begins an onslaught on domestic Germany
Ryanair's customer refocus delivers 1Q load factor and 25% profit rises; Germany the next big target
Cologne/Bonn is Germanwings' largest base. So far, the transfer of capacity from Germanwings to Lufthansa's now preferred LCC Eurowings has not had a significant impact at the airport. The Group is progressively moving routes from Germanwings, which is not sufficiently low cost, to Eurowings. Cologne/Bonn is also still the largest base for either Germanwings or Eurowings.
In the week of Feb-2016, Germanwings' total of 39 routes compares with Eurowings' 12. Only five of these 12 are within Europe, which is Germanwings' sphere of operation, and Eurowings is now operating alongside its sister company on all five (rather than replacing it). These routes are from Cologne/Bonn to Hamburg, Prague, Dresden, Milan Malpensa and Leipzig Halle.
Other than Hamburg, Eurowings is operating all of these short haul routes as winter-only with a single weekly service deploying 86 seat Bombardier CRJ Regional Jets. The Hamburg service also deploys regional jets, but with 9 weekly flights. Eurowings is to replace its remaining 16 CRJ900s with A320s as it assumes Germanwings' short haul routes, so these five routes are being readied for the transition.
Meanwhile, Cologne/Bonn's main purpose for Eurowings is to provide it with a long haul base from which the Lufthansa Group can develop its LCC brand on intercontinental routes, which has never been part of Germanwings' business.
The seven current Eurowings destinations outside Europe are Dubai, Punta Cana, Varadero, Bangkok, Phuket, Cancún and Puerto Plata. Eurowings will add Mauritius in May-2016. Plans to launch Las Vegas, Boston and Miami services have reportedly been delayed until Jun-2016.
See related reports:
Lufthansa to Germanwings to Eurowings. Long haul and lower cost as Lufthansa seeks solutions
Lufthansa's new long-haul low-cost plans show new CEO Carsten Spohr's eagerness to move forward
Meanwhile, although long haul remains a very small part of Cologne/Bonn's capacity, global super connector Turkish Airlines has been quietly growing at the airport. Its summer 2016 seat numbers, while only a low single-digit percentage of the total, will be up by around 70% compared with summer 2014, according to data from OAG. It will have significantly more seats than Eurowings' long haul capacity (and around two thirds of the latter will be to Latin America).
In the absence of significant competition on long haul routes to Asia Pacific (and Africa), Turkish Airlines is well placed to capture eastbound long haul traffic via its Istanbul hub in preference to Lufthansa's Frankfurt hub. It was partly out of anxiety over Turkish Airlines' growth in German secondary cities that Lufthansa ended codeshare arrangements with its Star Alliance partner in 2013.
See related reports:
Lufthansa ends codesharing with Turkish Airlines. A full rift would mean new strategies for each
Turkish Airlines' targets for 2016 display its confidence in spite of unit revenue risks
The more recent decision by Lufthansa to outsource Eurowings' long haul operation to SunExpress, a 50/50 joint venture company with Turkish Airlines, is a sign that the two can still work together. Nevertheless, Turkish continues to grow in secondary German cities.
Cologne/Bonn illustrates many developments in European aviation
The story of Cologne/Bonn in recent years has illustrated a number of developments in the European airline industry:
the strategic response by a legacy airline group to short haul LCC competition (Lufthansa's transfer of routes first to Germanwings and then to Eurowings);
the further development of the pan-European LCC business model (Ryanair's opening of a base at Cologne/Bonn and its subsequent entry into the German domestic market);
the growth of global super connector airlines (Turkish Airlines) in European secondary cities;
the response by a legacy group to growing long haul competition (Lufthansa's launch of Eurowings as a long haul LCC brand);
the challenges to growth faced by a mid-tier full service airline (airberlin's steady decline); and
the stimulating impact on the market of new entry by LCCs.
More developments can be expected in this continually evolving marketplace.