Chinese airline rebound not expected until 2013, dragging down global industry profitability
Narcissistic would not be an inaccurate description for Chinese carriers earlier in 2012 when they started fretting over slowing growth that on a global scale would still make many carriers envious. As profits fell after demand slowed and fuel and exchange losses went up, the atmosphere was that this was a passing moment as Beijing with all its power – and capital – would create a stimulus in the second half that would boost demand back up.
But for a number of reasons this stimulus has so far been small, with further measures not likely until the end of 2012 at the earliest, making it unlikely for carriers to gain much of a drip-down from it until 2013, even if the larger economy is – officially – feeling it. The early implications of that will be seen when carriers in late Oct-2012 report expected declining 3Q earnings, with early indications that will continue in 4Q. What was once a relative nuance will take on greater proportions globally, dragging down what IATA already expects to be a weak 2012 with global profits of USD4.1 billion and a margin of merely 1.6%.
Chinese airlines are seeing drops in second half profits
The July through December half is traditionally stronger for Chinese carriers and so far 2012 is supporting this, with regulator CAAC reporting that Chinese carriers are collectively posting profits. This is unlike the dismal 1H2012 that saw a number of monthly losses. But there is growing concern for the outlook since profits are weakening. Jul-2012 saw a collective profit of RMB6,400 million (USD1,024 million) while Aug-2012 saw a 17% drop to RMB5,830 million (USD933 million) and Sep-2012 a 29% drop to RMB2,300 (USD368 million).
Chinese carrier monthly profit: Feb-2012 to Sep-2012
| | Profit/Loss (RMB million) |
| --- | --- |
| Feb-2012 | -540 |
| Mar-2012 | -180 |
| Apr-2012 | 1840 |
| May-2012 | -1370 |
| Jun-2012 | 2150 |
| Jul-2012 | 6400 |
| Aug-2012 | 5830 |
| Sep-2012 | 2300 |
It has been tempting for many to attribute declining profitability to exchange rate losses as the yuan appreciates against the dollar, a trend that dipped in May but has shot back up with the yuan in Oct-2012 hitting record highs. But exchange gains/losses are recorded below the operating profit line, and in 1H2012 operating profits at the Big Three – Air China, China Eastern and China Southern – were down.
Air China, China Eastern and China Southern exchange loss/gain (RMB millions): 1H2012 vs 1H2011
Chinese yuan-US dollar exchange rate: Oct-2011 to Oct-2012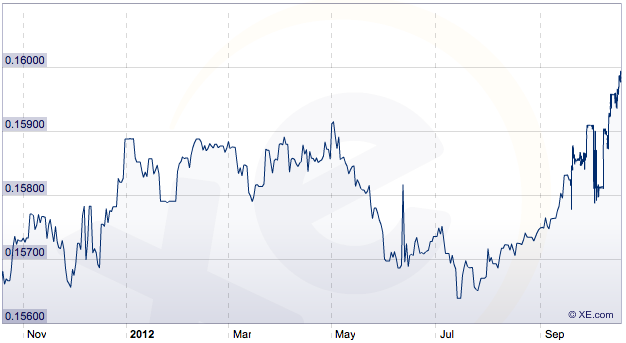 As CAPA previously wrote:
The depreciation is a sensitive state matter as it is likely being used to reduce the cost of Chinese exports during an era of global demand decrease, thus making Chinese exports more attractive, often to the chagrin of the importing countries. The matter is unlikely to subside in the near future, with consensus being a 1% yuan depreciation is to be expected.
See related article about 1H2012 results: Air China, China Eastern and China Southern plot continued growth despite lower profits
Weaker operating profits are resulting from operational matters. In 1H2012 (latest data available) yields grew but typically not enough to offset higher fuel costs. China Southern disclosed fuel surcharges covered only 78% of the additional cost of fuel while the figure for China Eastern is around 70%.
Air China, China Eastern and China Southern yield (per passenger kilometre in RMB) summary: 1H2012 vs 1H2011
| Carrier | Domestic Yield | YoY change | Regional Yield | YoY | International Yield | YoY Change |
| --- | --- | --- | --- | --- | --- | --- |
| Air China | 0.74 | 5.7% | 0.83 | -2.4% | 0.54 | 0 |
| China Eastern | 0.65 | -1.52% | 0.82 | 2.5% | 0.62 | 1.6% |
| China Southern | 0.68 | 4.6% | 0.84 | -5.6% | 0.52 | -7.0% |
Fuel prices dipped in mid-2012 but have been back up on the rise, although Sep-2012 saw a decrease - owing, IATA said, to North America and Saudi Arabia mulling a production increase, with Saudi Arabia saying it has concerns over long-term fuel prices over USD100 per barrel.
Jet fuel and crude oil price (USD/barrel): Jan-2007 to Sep-2012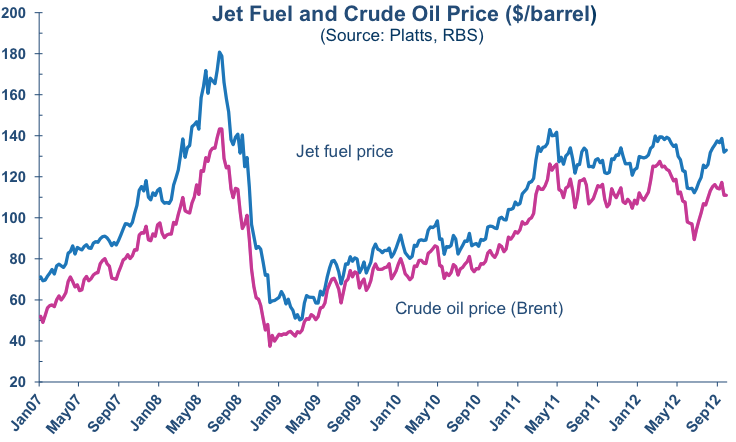 Adding to this, capacity is slightly outstripping demand, notably in the domestic market where carriers deploy the vast majority of their capacity.
Air China, China Eastern and China Southern load factor summary: 1H2012 vs 1H2011
| Carrier | Domestic Load Factor | YoY change | Regional Load Factor | YoY change | International Load Factor | YoY change |
| --- | --- | --- | --- | --- | --- | --- |
| Air China | 81.0% | -1.5 ppts | 78.0% | -0.4 ppts | 79.1% | 0.2 ppts |
| China Eastern | 79.4% | -.5 ppts | 74.5% | 3.8 ppts | 78.7% | 4.7 ppts |
| China Southern | 81.2% | -1.1 ppts | 71.4% | -3.8 ppts | 64% | -1.0 ppts |
Chinese airline growth has been slowing and becoming inefficient
While China since 2009 enjoyed domestic growth well over 10%, and often around 20%, growth in 2012 dipped to below 10%.
Chinese carriers' domestic and international passenger growth rates: Jan-2008 to Aug-2012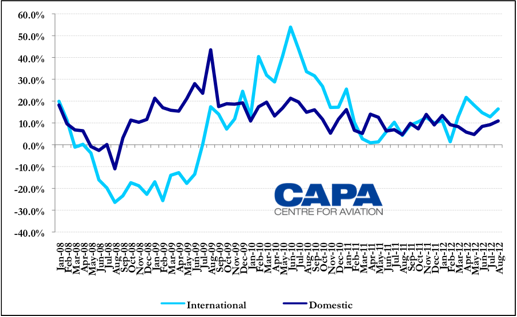 A critical problem for the Big Three is that they have grown without becoming more efficient, a pressing matter since their government-owned heritage and clunky mergers have left them with considerable baggage compared to smaller but leaner carriers, ranging from the sizeable Hainan to the small and no-frills Spring Airlines. China Southern has acknowledged a gap in efficiency between itself and part-owned subsidiary Xiamen Airlines.
This was on display at China's Mid-Autumn Festival/National Day holiday, one of the busiest travel peaks in the year. Traffic, according to the CAAC, has grown each holiday period since 2010 but load factors have dropped tremendously, from 81.5% in 2010 to 64% in 2012.
Mid-Autumn Festival/National Day: 2010-2012
| | 2010 | 2011 | 2012 |
| --- | --- | --- | --- |
| Passengers | 5.8 million | 6.0 million | 7.6 million |
| Domestic flights | 39,112 | 42,263 | 55,000 |
| Average load factor | 81.5% | 78-79% | 64% |
Once-expected central government stimulus to take longer to drip down
China Southern, in reporting its weaker 1H2012 profit on the back of lower demand in the domestic market (of which it is most exposed to) foreshadowed an expected stimulus that other industries had been expecting too. The carrier said: "To respond to the difficult domestic and international economic situation, the Chinese government has given top priority to 'maintain stable growth' and intends to further stabilize economic growth by continuously strengthening the magnitude of each controlling policy. It is expected that with the launch and adoption of the policies, the domestic economy growth is likely to be stabilized in the second half of 2012 which in turn stimulates the aviation market."
The timeframe on this stimulus has slipped. While the mood seems to be that the current government for some months has favoured taking the reigns and introducing sharp economic measures, it has become somewhat powerless ahead of the country's once-a-decade leadership transition to take place at the 18th National Congress. While that event had always officially been on a generic 2H2012 timeframe until 08-Nov-2012 was set in late Sep-2012, some observers believe the congress was to be held earlier but stymied by various setbacks, ranging from riffs in factions to dealing with former member Bo Xilai, whose wife was found guilty of murdering a British businessman. A later leadership transition means policies will take longer to be implemented and trickle down to the market. Any affect on airlines in 2012 from a stimulus would be only lightly felt, with more noticeable gains occurring in 2013 – and, possibly, well into 2013, when demand increases will be needed to avoid a repeat of the losses that occurred in early 2012.
The stimulus is expected to be less than the government's 2008 RMB4 trillion (USD568 billion at the time) stimulus, and in Sep-2012 RMB1 trillion (USD160 billion at current rates) in spending was approved for 60 infrastructure projects. But some of these, like airports, had been flagged previously, giving caution that this could be more fast-tracking than entirely new initiatives. While China in Oct-2012 released official figures showing a rebound for the economy at large, the market is indicating this has not been enough or far-reaching for airlines, with fares, especially for corporate travel, projected to be sharply down from last year as companies wait for government spending approval to turn into planning while others await more stimulus spending. (And this ignores growing signs a stimulus and infrastructure spending in general will not be as easy as it once was.)
In 1H2012 airlines generally traded small dips in load factors for higher yields, although offset by increased fuel prices, but the market is of the view there is a limit on how much of a trade-off the airlines are willing to make, pointing to a loose correlation of declining load factors leading to subsequent average fare drops in the short-term, resulting in yield momentum slowing. A declining international scene – primarily in Europe but with some impact in Japan from territorial disputes – will not help either.
See related article: China-Japan/Philippines territorial disputes simmer as China-Japan air traffic lowest since 2004
Weaker Chinese performance will affect industry's outlook
The concern going forward is that the economy will continue to produce slower growth for air travel, undermining airline profitability on its own and also because airlines are expected to drop fares as a result, even if they might be able to keep higher yields. That suggestion about yields is something of a contention between the carriers and the market, which wants to see greater efficiency in revenue management, yet carriers are working off consumer confidence and other statistics observers increasingly think are fattened to make China's economy look stronger.
Whatever the machinations are, the calculation will not be a lift for the aviation industry. IATA in Oct-2012 increased its industry profitability outlook from USD3 billion to USD4.1 billion (including a USD300 million uptick for Asia-Pacific), but the resurgence in Chinese air travel growth many are buoyed by will increasingly not be matched by profitability.
See related article: Airline profitability prospects improve but profit margins remain anaemic
The industry's overall profitability in 2013, IATA cautions, is contingent on factors including "that the Chinese economic slowdown is stabilized". What remains to be seen is how much of 2013 will feel the Chinese stimulus. While there will be global implications, the first who want to know are the Chinese carriers themselves.