China-Japan/Philippines territorial disputes simmer as China-Japan air traffic lowest since 2004
Analysis
It comes as a welcome sign that diplomatic, if back door, talks are beginning between China and Japan as well as the Philippines, two nations with territorial disputes with China that have flared in recent months, causing air traffic capacity between the nations to make double-digit percentage drops.
While some of the extreme public protests in China against Japan have become more subdued, consumer sentiment continues to be affected, as airlines on each side extend capacity cuts and offer special fares to stimulate traffic.
For individual carriers, the cuts are not as pronounced as at the market level given their large networks. Profitability will undoubtedly be affected, but if diplomacy prevails and the status quo is restored, these summer 2012 incidents will be a blip but reminder of the region's fragility. Imminent leadership issues in China and Japan have played no small part in the recent surge of nationalistic rhetoric and, as those political events are put to rest, so hopefully the often-orchestrated demonstrations of nationalistic fervour will be quietened too.
China-Japan airline capacity at lowest since 2004
Airline seat capacity between the two countries in Oct-2012 was down 9% year-on-year. The main cause: China and Japan are in dispute over a series of relatively unimportant islands (but with bigger symbolic representation as well as possible resources value in surrounding waters) in the East China Sea called Diaoyu in Chinese and Senkaku in Japanese. The dispute flared on 11-Sep-2012 when Japan "nationalised" the islands by purchasing them from current Japanese landowners, setting off fierce protests in China and calls for boycotting Japan, from cars to air travel. The sometimes violent protests were not only tolerated by China but actually encouraged according to some reports.
The Oct-2012 year-on-year fall is against already low 2011 levels following the Mar-2011 earthquake and tsunami in Japan. Traffic figures are at their lowest point since 2004 and come as China-Japan traffic in 2012 was experiencing something of a renaissance, with traffic earlier in the year at four year highs.
China-Japan one-way seats: Jan-2012 to Dec-2012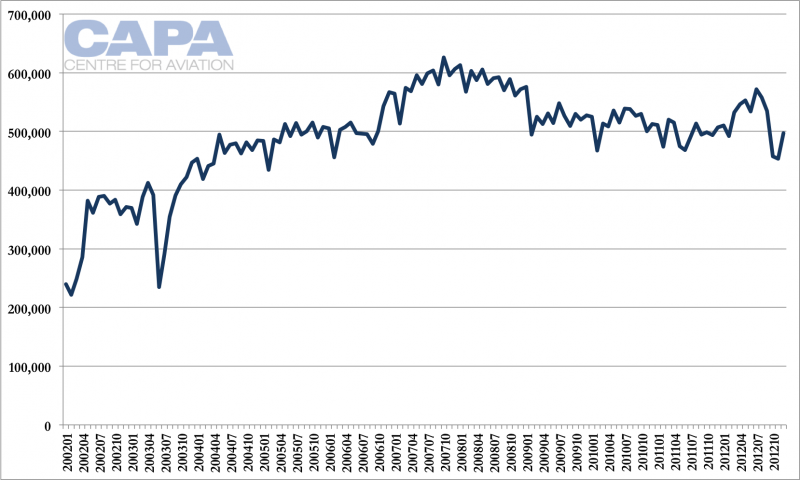 Service cancellations have continued since an initial pull-down for the month of Sep-2012, initially covering only a few weeks' capacity reductions as carriers gauged the market. Most recent capacity cuts are through Nov-2012 with Dec-2012 rebounding (with capacity down 2% year-over-year) but this may change as the situation continues to evolve.
See related articles:
Profitability will suffer as a result of the cutbacks, but carriers are being conservative with outlooks. Japan Airlines, which in Sep-2012 cut Chinese capacity by 22%, projects that some of the losses will be compensated by Japan-originating passengers selecting other destinations on its network, JAL president Yoshiharu Ueki told the Wall Street Journal. JAL earlier indicated the majority of ticket cancellations on its services were originating from Japan.
Mr Ueki said however that the China market only accounted for 3-4% of JAL's total revenue, reflecting the carrier's very high exposure to its domestic market, where yields are much higher. Whereas JAL is reducing capacity by the cancellation of services, other carriers, including All Nippon Airways and China Eastern, are merely down-gauging operating aircraft. Smaller carriers, however, typically already operate with narrowbody aircraft and are only left to cancel services outright.
Spring Airlines, China's LCC, applies low cost airline pricing techniques to restore traffic
Spring Airlines, China's only LCC, is also extending capacity cuts with plans to cancel 18 Shanghai Pudong-Ibaraki (an alternative to Tokyo) flights between Oct-2012 and Dec-2012, resuming its normal schedule in late Dec-2012. Spring does not anticipate cutting services to its other Japanese destinations, although in Sep-2012 it shelved plans to open Shanghai Pudong-Tottori. Spring plans to offer JPY1 (USD1.3 cents) fares between Shanghai Pudong and Saga (an alternative to Fukuoka) to stimulate travel.
Spring reported a 16ppt drop in load factor on Shanghai-Ibaraki (Tokyo), with Aug-2012's 79% figure (albeit at the height of tourism) dropping to 63% in Sep-2012.
Shenzhen Airlines in the first nine days of Oct-2012 saw its Wuxi-Osaka Kansai load factor drop to below 20% after 1H2012 averaged 65% – hardly commercially viable – with 81% in Jul-2012 and 77% in Aug-2012. The carrier previously cancelled Wuxi-Tokyo Narita services.
The Japan-China market – in the more normal operating environment of Aug-2012 – was dominated by Chinese carriers that account for 60% of capacity. From the Chinese side, capacity is largely concentrated between Air China and China Eastern, with China Southern also a notable player.
Japan-China market share by airline based on seats: 20-Aug-2012 to 26-Aug-2012
Regimented situation between China and the Philippines keeps traffic down as relations warm
The geopolitical situation is different between China and the Philippines. While carriers between China and Japan are electing to cancel capacity as a result of individual cancellations, capacity between China and the Philippines has been reduced as a result of China issuing a travel warning to the Philippines, and travel agencies subsequently not selling the country.
The dispute between the two nations is over the Scarborough Shoal, and the situation has gone largely unnoticed with each nation's general public, let alone the international community. The Philippines, like Japan, is beginning to meet Chinese officials to seek to reconcile the disagreement. While in the China-Japan situation this warming of relations will see the start of a rebound – JAL believes the market has already seen the worst – the China-Philippines market will see little change until China lifts the travel warning, likely to be done once negotiations are concluded.
That longer time-frame is apparent from the planned capacity levels between China and the Philippines being down 18% year-over-year in Dec-2012, whereas China-Japan sees a more modest 2% decline, although the China-Philippines market is a fraction of the China-Japan market. China-Philippines capacity in Oct-2012 was down 17% and is scheduled to be down 11% in Nov-2012.
China-Philippines one-way seats: Jan-2012 to Dec-2012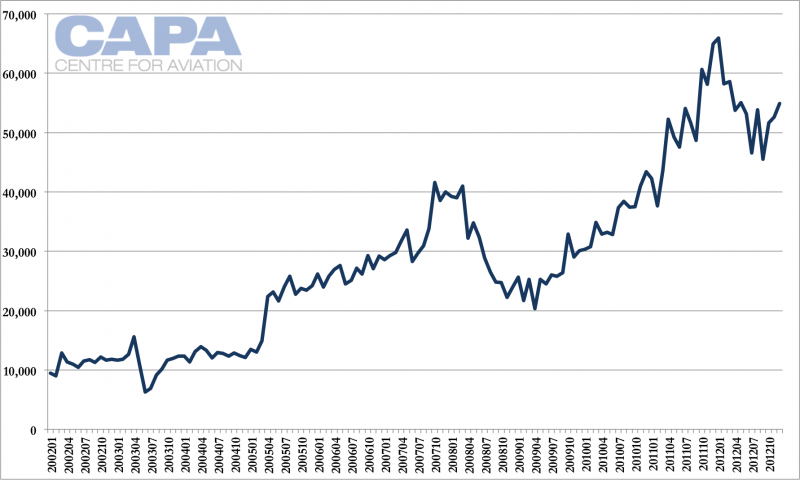 Air markets show depth of geopolitical dynamics, but are still under-achieving
The more substantial effect of the China-Philippines dispute (proportionally) compared to the dispute between China and Japan is a reminder that the more prominent expressions of public sentiment and attention do not always correspond to the deeper situation.
Why one dispute gains greater traction is a reflection of the complexity in the Notheast Asian geopolitical arena, especially when China is concerned. It serves as a reminder that the status quo can be shift relatively quickly and quietly, undermining the promise of growth this region is to deliver.
The size of the Japan-China market should begin to grow as new LCCs enter the market and as airline liberalisation spreads. Meanwhile, traffic flows remain inhibited by low frequencies, legacy airline pricing and limited city-pair links. As the market grows, the improved social and economic links should progressively help to soften the sort of political differences witnessed recently.