Cathay & HK Airlines enter Male as Hong Kong leverages hub and Chinese demand for the Maldives
Analysis
It is better late than never for Hong Kong to use its proximity and scale with mainland China to cater to the booming China-Maldives market. Chinese nationals are the single largest inbound group to the Maldives, with 230,000 visitors in 2012 – more than double the next largest market, Germany, with 98,000 visitors in 2012. A few weeks after Hong Kong Airlines resumed service to Male, the main gateway of the Maldives, Cathay Pacific on 22-Jul-2013 opened reservations for four weekly flights from 27-Oct-2013. Reflecting inertia at the legacy carrier, Cathay spent over a year deliberating on whether to serve the Maldives, while Singapore Airlines and scheduled/charter carrier MEGA Maldives effectively cleaned up the market.
Cathay's services will bring stiff competition to SIA. Cathay and its Dragonair subsidiary have a far deeper China network than SIA and its SilkAir subsidiary, and connecting through Hong Kong is shorter than via Singapore. But SIA has a strong frequency advantage – double daily – and uses regional aircraft light on premium seats whereas Cathay will use a long-haul aircraft heavy on premium seats.
Although there is considerable wealth in the outbound Chinese leisure market, it is still price sensitive and primarily package-driven. Existing operators Hong Kong Airlines and MEGA Maldives should consider gaining scale to reduce unit costs.
Chinese nationals are now the Maldives' largest visitor stream
The strong and growing interest from China to the Maldives may be a surprise, but the market is driven by Chinese desires for a holiday or honeymoon in a location with natural beauty and without crowds, faceless busy cities or pollution – all categories the Maldives neatly ticks and for which its has been rewarded with Chinese arrivals. The growth of Chinese national tourists in the Maldives conveniently comes as Europe, the Maldives' traditional market, weakens due to the ongoing economic gloom.
Maldives tourist arrivals and market share of top 10 markets: 2012
China's growing interest in the Maldives is good news to non-mainland Chinese airlines; slow to market Chinese carriers themselves serve the Maldives poorly, leaving a large swathe of the market to be carried by sixth freedom airlines.
As CAPA previously wrote:
Chinese tourist arrivals in the Maldives have increased by almost 300% over the last three years from about 60,000 in 2009 to about 230,000 in 2012, according to Maldives Ministry of Tourism data. Chinese nationals accounted for 24% of tourists in the Maldives in 2012, making China for the first time a bigger source of tourists for the Maldives than Western Europe.

Western Europe accounted for 22% of all tourist arrivals as the Western Europe-Maldives market grew by 4% to about 220,000. Back in 2009 China accounted for only 9% of tourists while western Europe, which traditionally has been the largest source market for tourists in the Maldives, accounted for 26%.
See related report: China-Maldives airline market grows rapidly; MEGA Maldives, SIA, SriLankan & Chinese carriers win
Monthly arrivals of Chinese tourists to the Maldives: 2008-2012
Cathay Pacific on 22-Jul-2013 filed in the GDS four times weekly A330-300 flights from Hong Kong to Male commencing 27-Oct-2013. Cathay will become the sixth greater China carrier to serve the Maldives after China Eastern, China Southern, Hainan Airlines, Hong Kong Airlines and Sichuan Airlines. Cathay's entry with scheduled services comes after periodic charters over the past decade. Hong Kong Airlines on 10-Jul-2013 started schedule service to Male after also having charter flights in the past.
Cathay's weekly return capacity of 1,936 seats will make it the eighth largest scheduled carrier between the Maldives and Asia and 13th largest scheduled carrier overall in the Maldives. (This ranking excludes large operator MEGA Maldives, whose flights are charters, except for scheduled services to Hong Kong and Beijing.)
But few of those carriers can target sixth freedom traffic from China to the Maldives. Singapore Airlines, Hong Kong Airlines, Malaysia Airlines and Korean Air are the only carriers that can target the China-Maldives connecting market with significant scale.
SriLankan Airlines has a large China network that it serves via Bangkok. It has fifth freedom rights between Thailand and China and this is a main driver of traffic, followed by Chinese passengers connecting in Bangkok and Colombo to the Maldives.
End to end traffic to/from Colombo is very small. SriLankan's capacity in China is small with a low frequency, but it will still be impacted by Cathay's entry. Cathay, which is sponsoring SriLankan's entry into oneworld, so far does not have plans to cooperate with SriLankan on the Hong Kong-Male route. SriLankan serves Hong Kong three times a week via Bangkok.
Asia-Maldives international capacity by carrier (ranked by seats): 28-Oct-2013 to 3-Nov-2013
Rank
Airline
Total Seats
1
UL
SriLankan Airlines
14,956
2
SQ
Singapore Airlines
7,980
3
EK
Emirates
4,656
4
AI
Air India
3,794
5
HX
Hong Kong Airlines
3,626
6
Q2
Maldivian
2,970
7
MH
Malaysia Airlines
2,310
8
KE
Korean Air
1,680
9
BA
British Airways
1,476
10
PG
Bangkok Airways
1,400
11
HU
Hainan Airlines
1,398
12
CZ
China Southern Airlines
1,312
13
SG
SpiceJet
1,092
14
MU
China Eastern Airlines
990
15
WY
Oman Air
230
Cathay's flights will be operated by Cathay Pacific and not its Dragonair regional subsidiary. Hong Kong-Male is an approximately six hour flight time and the return service is an overnight flight, a combination deemed too long for Dragonair. Dragonair's current longest sector is between Hong Kong and Bangalore, which is about 500 miles shorter than Hong Kong-Male. Bangalore-Hong Kong is also an overnight flight, but the market is very regional and yield often low whereas there is potential to develop premium traffic to the Maldives. Dragonair's new business class is still a regional offering whereas Cathay will use the A330 with its long-haul lie-flat business class seat.
Cathay's Male flight will also be non-stop, which is noteworthy in the context of the Maldives, where fuel and, to a lesser extent, catering costs are exceptionally high. Some airlines, such as British Airways and China Eastern, route their services via nearby Colombo in Sri Lanka in order to take advantage of Colombo's lower costs. Although airlines sometimes try to pass this off as catering to the emerging Sri Lankan market, the stopover is driven by costs. But a stopover in Colombo, which would have reduced costs, would have been seen by Cathay as un-competitive since other Male-Asia operators, except China Eastern and Korean Air, do not stop in Colombo.
Airlines often depart for Male with as much fuel as they can carry, operationally or profitably, to reduce the amount of expensive fuel they have to acquire at Male. But with a six hour Hong Kong-Male sector, Cathay's tankering capabilities will be more limited than, for example, SIA, which has only a 4.5 hour service from its home base to Male (SIA also operates the A330-300 into Male). The result is to disadvantage Cathay's cost comparison.
Cathay's targeting of Hong Kong and mainland China passengers to visit the Maldives is a challenge to the ambitions of the Seychelles as a competing holiday destination, and to its national carrier Air Seychelles, to target China. But Cathay and Air Seychelles could still proceed with planned cooperation once Cathay's IT upgrade settles down.
See related report: Air Seychelles looks to ride Chinese boom & grow in tandem with part-owner Etihad – Australia next?
Maldives international seat capacity by carrier: 28-Oct-2013 to 3-Nov-2013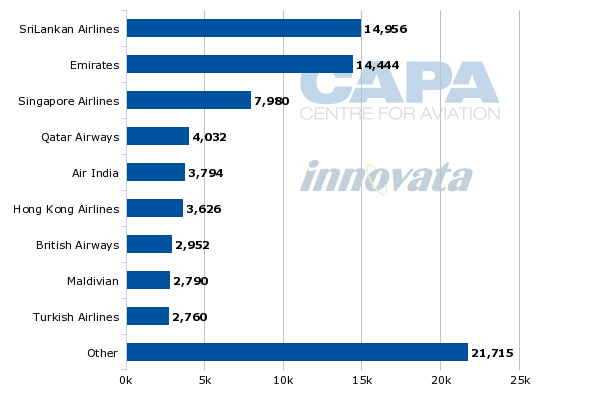 Maldives international seat capacity by region: 28-Oct-2013 to 3-Nov-2013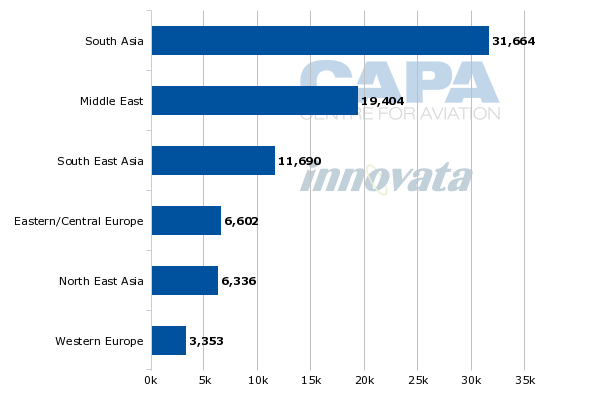 Mainland Chinese airlines, focusing on domestic market, have little capacity to the Maldives
Cathay will leapfrog ahead of the four mainland Chinese airlines in the Maldives. At the start of the northern winter 2013/2014 schedule, they will collectively have about 3,700 seats, about the same amount of capacity Hong Kong Airlines alone will have (3,600) and half the capacity of Singapore Airlines (8,000).
It may seem odd that carriers from the Maldives' single largest market are so under-represented. But there is a confluence of factors at play. First, Chinese carriers are heavily focused on the domestic market. When they look to international opportunities, the focus is short-haul to Northeast and Southeast Asia. Long-haul capacity, with generally higher risk and overall cost, is generally an afterthought.
Air China has the largest proportion of international capacity, but still derived 67% of its revenue in 2012 from the domestic market. Adding in short-haul regional and international markets, revenue was 78%.
Air China international seat capacity by region: 28-Oct-2013 to 3-Nov-2013
Chinese carriers on average have a significantly higher yield on domestic than international services. They are also still building up the international marketing and agency relations that carriers like Cathay and SIA have a wealth of experience with. Cathay is a promoter of travel agency familiarisation trips to foreign destinations, and has been rewarded with an increase in bookings.
Air China, China Eastern and China Southern yield (RMB per RPK): 2012
| | Air China | China Eastern | China Southern |
| --- | --- | --- | --- |
| Domestic | 0.73; -1.58% | 0.66; -4.39% | 0.69; 1.5% |
| Regional | 0.83; 27.13% | 0.84; 4.00% | 0.84; -4.5% |
| International | 0.56; -1.75% | 0.62; -1.09% | 0.53; -5.4% |
| System Average | 0.67; -0.87% | 0.65; -4.17% | 0.66; -1.5% |
Visitors to the Maldives almost exclusively use agents to book their trip.
Method of booking trip to the Maldives from select nationalities: 2012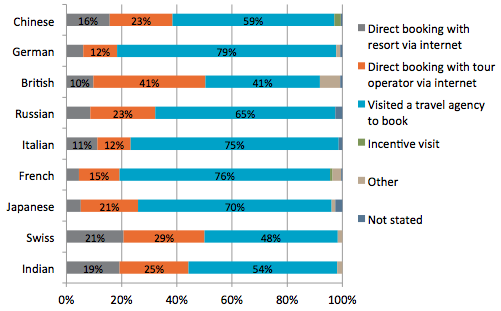 For the sixth freedom China-Maldives market, Cathay and Dragonair have a strong advantage given their superior network out of mainland China. Their combined 181,000 weekly seats is more than triple SIA/SilkAir's 54,000. Additionally, Cathay and Dragonair reach 18 mainland Chinese cities compared to SIA/SilkAir's nine and Hong Kong Airlines/Hong Kong Express' 17. Cathay/Dragonair will be able to directly reach markets SIA/SilkAir cannot, although demand for the Maldives is greatest in the large and wealthy cities like Beijing and Shanghai, where SIA is strong but not nearly as much as Cathay/Dragonair.
Even Hong Kong Airlines and Hong Kong Express are formidable competition to SIA and Cathay (Hong Kong Airlines will have more capacity to the Maldives than Cathay eventually will). The two carriers will have more capacity than SIA/SilkAir and almost as much as Korean Air, whose traffic out of China is considered healthy. But the sheer capacity numbers do not reflect that some Hong Kong Airlines/Express markets are served only a few times a week, limiting connecting options to the Maldives.
Top 10 airlines ranked on international seat capacity from mainland China: 28-Oct-2013 to 3-Nov-2013
| | | |
| --- | --- | --- |
| Ranking | Airline | Seats |
| 1 | | 289,668 |
| 2 | | 235,298 |
| 3 | | 218,510 |
| 4 | | 181,230 |
| 5 | | 75,608 |
| 6 | | 68,394 |
| 7 | | 63,350 |
| 8 | | 57,652 |
| 9 | | 53,590 |
| 10 | | 45,356 |
The tremendous strength of Cathay/Dragonair out of mainland China but previously absent in serving the Maldives is indicative of the carrier's inertia and deep conservatism. This has seldom served any airline well. The Maldives could have been an easy market for Cathay long ago, but the time it took the carrier to plan the service means entering will not be easy as it could have been only one or two years ago.
While SIA offers a double daily service to the Maldives, it was only as recently as Mar-2011 when its capacity was more than seven weekly flights and Mar-2012 saw the service have 14 weekly flights. While it is good Cathay is serving the Maldives, it is troubling how long it took the carrier to enter. Leaner and more agile carriers will continue to cause Cathay trouble this decade.
See related report: Cathay Pacific, posting 84% drop in profits, seeks consistency but offers no brave new strategies
SIA/SilkAir have strengths: frequency advantage, stronger economy class emphasis
While Cathay/Dragonair may have greater strength out of mainland China over SIA, SIA is stronger on the connecting segment to the Maldives. A double-daily offering is far and above what Cathay initially will offer. One of SIA's two daily flights matches Cathay's outbound service: an evening departure that allows a full day's worth of connections, and an inbound red-eye flight. SIA's second daily flight offers advantages to those looking to maximise their time in the Maldives. Its mid-afternoon departure arrives in Singapore in the late evening, allowing for late overnight connections to Beijing and Shanghai that arrive early in the morning.
A passenger needing to be back at work on a Monday morning in Beijing or Shanghai would have to depart the Maldives Saturday evening on Cathay Pacific and arrive back in Beijing or Shanghai mid-day on Sunday. But on SIA a passenger could depart Sunday afternoon and arrive in Beijing or Shanghai early Monday morning, gaining an extra night and morning in the Maldives. With China's wealthy travelling class, their constraint is less money (or an additional night's accommodation) than it is time. Holiday time is sparse as an almost national work ethic keeps most people productive. The typical Chinese national spends four nights in the Maldives, significantly lower than other Asian and non-Asian nationals.
Number of nights spent in the Maldives by select nationality: 2012
SIA will also have a stronger emphasis on economy class, which is appropriate for the Maldives. Both SIA and Cathay will use the A330-300 to Maldives but SIA will have 30 business class seats and 255 economy for a total of 285. Cathay will have 39 in business, 28 in premium economy and 175 in economy for a total of 242. SIA's A330-300 has a regional configuration of 2-2-2 in business while Cathay's A330 is more medium/long-haul with a 1-2-1 configuration in business.
Cathay's product is overkill for a highly leisure six hour flight. Although there are wealthy travellers going to the Maldives, the route is still leisure in nature and does not provide New York or London equivalent yields. While Cathay could fill its business class seats, it is difficult to see the carrier doing so at a high enough yield that offsets its lower economy class seat count (255 on SIA to 203 on Cathay, premium economy and economy combined).
Non-European outbound markets (India, China, Russia) to the Maldives differ in that at least 60% of visitors are under the age of 34 whereas for European markets the majority are under 60. That could mean a lower demand for premium class travel by virtue of age and wealth. But the large number of honeymooners visiting the Maldives could create demand for premium class travel to celebrate their honeymoon. Cathay will have done its homework, but these are competitive markets.
Age of visitors to the Maldives: 2012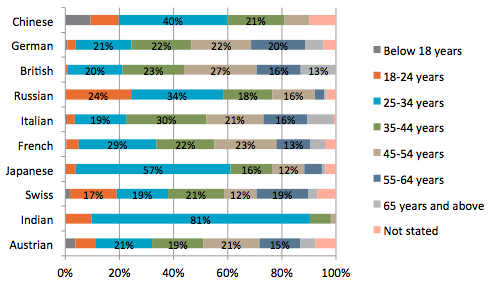 Purpose of visit to the Maldives: 2012
Cathay will have an advantage in offering a mid priced premium economy cabin, which no other major competitor to Maldives has. SIA has continuously looked at but rejected a premium economy cabin. Premium economy can have the highest yield relative to required cabin space and service (for example yields are high but premium economy passengers are not offered lounge access and the cost of premium economy meals is closer to economy than business class). Premium economy may be better suited to the Maldives market than business class, and working with agents can ensure uptake.
Cathay will not always be able to offer premium economy on the entire itinerary since the seating is not available on short-haul routes like those from China to Hong Kong. Occasional Beijing and Shanghai flights operated by Cathay Pacific use long-haul aircraft that have premium economy. A more northern or western Chinese city could have a flight to Hong Kong of three hours before connecting to a six hour flight to the Maldives. That means premium economy would only be offered on two-thirds of the flying time. Taking a connecting flight to a more traditional long-haul flight of 12 or even 15 hours increases the proportion of time premium economy is offered, and also the justification for premium economy's higher price.
There are other Asia-Pacific markets airlines can tap for the Maldives
China is the clear lead market in Asia-Pacific for the Maldives, accounting for 67% of Asia-Pacific visitors to the Maldives. This excludes South Asia, as individuals in those countries are highly unlikely to travel to the Maldives via a North Asian or Southeast Asian carrier - hence Sri Lankan's key role.
There are other smaller origin markets that carriers like Cathay and SIA can also tap. This will be especially important for SIA as it will inevitably lose some passengers to Cathay. Assuming Cathay in its first year remains at four weekly services with an average 80% load factor, it can transport 40,000 passengers, of which the vast majority would be from mainland China.
Cathay's annual Maldives capacity is 22% of the total number of visitors from mainland China to the Maldives in 2012, leaving a healthy amount for other carriers to transport. The competitive impact of Cathay's entry could be diluted given the growth of the China-Maldives market, which increased by 31,000 visitors in 2012 compared to 2011. Chinese arrivals into the Maldives are up 56% in the first six months of 2013, although early 2012 was unseasonably low. Jun-2013 Chinese arrivals (28,000) are up over Jun-2012 (18,000) and Jun-2011 (15,000).
The three next largest Maldives markets after China are Japan, Korea and Australia with 36,000, 24,000 and 15,000 respective visitors in 2012. SIA is ideally suited for Australia given the carrier's geography and large Australian network, and to a lesser extent for MAS. It would not be typical for Cathay to target the Australian market given a connection through Hong Kong is some 1500 miles longer than via Singapore, but based on capacity and fluctuations it would not be unsurprising to see occasional passengers from Australia.
From Japan and Korea, Cathay's Hong Kong hub will have a geographical advantage of about 500 miles. Cathay has a strong advantage in Japan in terms of destinations and seat capacity (77,000 to SIA's 43,000) while the two are about equal in Korea. Korean Air serves the Maldives three times a week via Colombo. The geography of Incheon is advantageous for the Chinese and Korean sixth freedom markets to the Maldives. Even if Korean Air flew every single Korean that visited the Maldives in 2012, its planes would only be 55% full. Korean Air, and Asiana, are targeting the sixth freedom market from China given their large capacity and number of destinations served. Korean Air is also making a direct push into long-haul leisure markets from Japan with a new Tokyo-Honolulu service.
As a short-term matter, Cathay is looking to boost its outbound Japanese market after seeing traffic dips due to 2012's political tension between Japan and mainland China, which impacted Hong Kong as well. Singapore has a strong local market with 10,000 Singaporeans visiting the Maldives in 2012, but this does not take into account the portion of Singapore's large expat community that visited the Maldives but was counted by the tourism authority on their nationality and not country of origin. The tourism authority does not give a breakdown for visitors from Hong Kong.
Taiwan's airlines not yet in Maldives; bilateral traffic rights limit sixth freedom operations
One group of Asian carriers not serving the Maldives are the main Taiwanese carriers, China Airlines and EVA Air. The impediment to their taking part in this market is that, due to bilateral traffic restrictions, they cannot carry China-originating passengers beyond Taiwan. Once that restriction is lifted, which should occur with time, Taiwanese carriers will receive a significant traffic boost. They have wide networks in China, Taiwan has favourable geography and high cultural interest makes it a worthwhile stopover point.
Cross-Strait flights between mainland China and Taiwan are heavily restricted and so yields are high. This could be disadvantageous for connecting flights to the Maldives, but likely once the sixth freedom restriction is lifted the mainland China-Taiwan market will be more open with more cross-Strait flights, which will normalise the current high yields and make a connection via Taiwan feasible.
Outlook: Maldives market may segment into premium and non-premium
Cathay's initial four weekly flights to the Maldives are testing the water and, if successful, will increase with time. Greater premium capacity will further segment the market into premium and non-premium operators. If that is the case, carriers like Cathay and SIA that have a strong and focused premium offering should do well. The challenge is for smaller or new carriers like MEGA Maldives and Hong Kong Airlines that are capturing more of the mass-market, even if they offer a premium product. Additional capacity from Cathay could present an opportunity or force the smaller carriers to focus even more on the mass-market (which Cathay, with its low economy seat count, is not as focused on).
Seat density is the obvious target. Hong Kong Airlines is tracking slightly ahead of SIA with seven extra seats: two in business and five in economy. Cathay's 39 business class seats are likely too much for the Maldives, but so too are the 30 and 32 business seats from SIA and Hong Kong Airlines. MEGA's 767-300 has 12 business seats, 42 premium economy and 196 economy. SIA is very unlikely to offer a cabin retrofit as the aircraft are used on routes with higher premium demand and are also leased aircraft due to be replaced this decade. MEGA and Hong Kong Airlines could look to increase economy seating density, such as moving economy from seven abreast on the 767 to eight abreast, or eight abreast to nine abreast on the A330.
The stakes are lower for MEGA with its leaner management and all routes going to the Maldives whereas Hong Kong Airlines has a wider network – and is also embarking on a dual-brand strategy that theoretically means it should not have a tight nine abreast economy configuration. Eight abreast on MEGA could be supportive of the Maldives market as the vast majority of passengers are travelling with one other person. The 767's 2-3-2 configuration means more couples would be split up then if a 2-4-2 configuration was used.
Whatever the outcome to respond to additional capacity, the Asia-Maldives market is becoming a different market. As competition increases, both between airlines and for different market segments, the need for calculated differentiation grows greater.