Caribbean Airlines' regional leadership has vaporised; control issues and instability persist
Analysis
Caribbean Airlines has made moves during the last year that seemed to indicate its desire to create a path to sustainability, including cutting ill-advised long haul flights to London, and the declaration of its intent to achieve a break-even financial performance in 2017.

Top management upheaval continues at the airline, yet Caribbean's strategy of attaining profitability does seem clear-cut. It faces ample competition on its long haul routes to North America from airlines that have much more brand recognition and financial wherewithal.

Caribbean appears stuck in a rut as it continually pledges change but never seems to deliver on its promises. One obvious remedy would be for the government of Trinidad and Tobago to relinquish control of the airline, but that is unlikely to happen, resulting in the Caribbean region continuing to lack a true flag carrier.
Over the course of the past few years Caribbean has absorbed Air Jamaica, but the merger has done little to change the region's aviation industry. Since 2012 there have been at least three CEO changes at the airline. Caribbean's latest CEO, Michael DiLollo, resigned in Oct-2015 and the company's CFO, Tyrone Tang, is the acting CEO. Caribbean had also opted to launch ill-fated long haul flights to London Gatwick in that time period, which proved to be drag on its profits.

At one point Caribbean's debt stood at USD200 million. In 2013 the airline stated a turnaround could be two to three years into the future, but that deadline has now slipped to 2017 at the earliest.

See related reports:
Recently the news outlet the Trinidad and Tobago Newsday reported that Caribbean's management had stated that the airline was committed to achieving a mandate by the company's shareholders (the government of Trinidad and Tobago) to break even in 2017.
Caribbean drops London and other routes and shrinks its fleet to create a path to stability
Caribbean finally made the wise decision to cut the long haul flights from its Port of Spain hub to London Gatwick in early 2016, ridding itself of two Boeing 767 widebodies that it used for the operations. As previously reported by CAPA, Caribbean underestimated the complexities of adding long haul flights, and encountered certification issues for the flights.
It has never been clear why Caribbean opted to launch long-haul service when it was in the midst of combining its operations with Air Jamaica and cutting unprofitable flights from the combined portfolio (including Air Jamaica's long-standing service from Montego Bay to Philadelphia). Caribbean's execution of the new Gatwick service was weak as it opened up sales for service about four months prior to launch, which is little time to build up awareness for a significant long-haul flight.

The airline also underestimated the complexity of introducing widebodies as evidenced by the certification issues it encountered with the aircraft. Now with service under way, Caribbean is still only operating three weekly flights from Port of Spain to Gatwick after making professions that it would offer daily service.
More than a year before Caribbean ceased long haul operations in early 2016 the airline's owners – the governments of Trinidad and Tobago – admitted that the operation was unprofitable.
In addition to shedding its 767 widebodies, Caribbean also shrank its fleet of Boeing 737 narrowbodies. As of Apr-2014, Caribbean operated 15 of the narrowbody jets. By late May-2016 its fleet of 737s had dropped to 12. The airline's overall fleet during that two-year time period fell from 23 to 17.
Caribbean Airlines fleet summary as of 27-May-2016
Right-sizing its fleet was a wise move to trim costs as Caribbean continues to work to achieve a positive financial situation. In addition to the necessary cutting of long haul routes, during the past year Caribbean has also discontinued services from New York JFK to Grenada, and Georgetown to Toronto. The airline's total system-wide seats fell 4% year-on-year in 2015.
Caribbean Airlines system capacity year-on-year (number of seats): 2012 to mid-2016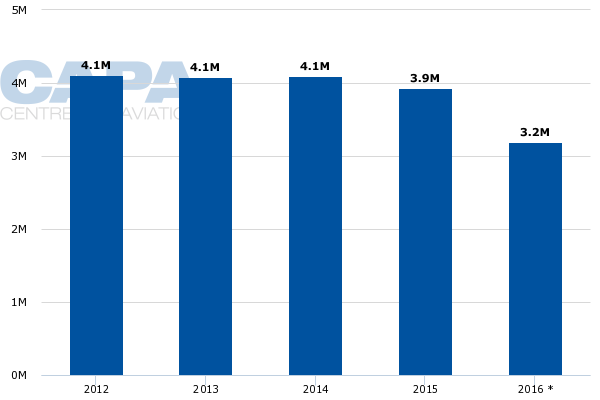 Caribbean faces tough and more stable competitors on its key North American routes
Data from CAPA and OAG show that 44% of Caribbean's international seats are deployed to North America (23-May-2016 to 29-May-2016), and the US represents 83% of that total.
Caribbean Airlines international capacity by region (% of seats): 23-May-2016 to 29-May-2016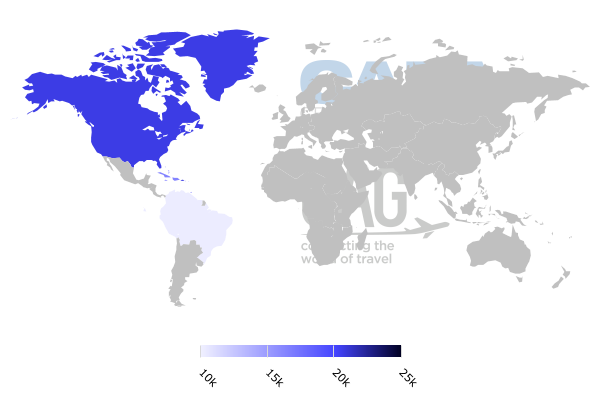 Caribbean obviously leverages most of its North American flying from its Port of Spain hub, where the airline represents a nearly 70% seat share for the week of 23-May-2016 to 29-May-2016.
Port Of Spain Piarco Airport capacity by airline (% of seats): 23-May-2016 to 29-May-2016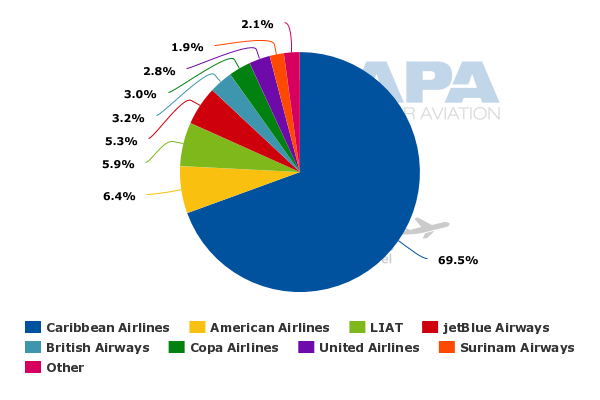 During recent years jetBlue has heightened competition with Caribbean Airlines, breaking Caribbean's monopoly on the JFK-Port of Spain pairing and adding service from Fort Lauderdale to Port of Spain.
The two airlines compete on six of Caribbean's routes to the US, with Caribbean holding a majority seat share between JFK, Fort Lauderdale and Port of Spain.
Competitors and seat share on Caribbean Airlines flights to North America: 23-May-2016 to 29-May-2016
On many of Caribbean's North American routes there are two of its competitors based in the region, which begs the question of the airline's performance in those markets. Obviously, Caribbean has some point of sale strength in Trinidad and Tobago, and can market connections to North America from various points in the Caribbean. But its competitors are in far better financial shape, and have the scale to compete aggressively against Caribbean. Additionally, traffic originating in North America represents a lot of the demand to the Caribbean.
Most of the large US airlines have increased their seating capacity to the Caribbean year-on-year, as of late May-2016. jetBlue posted a 14% increase while United's seats on offer increased 16% year-on-year. Delta and Silver Airways each posted an 11% rise.
American's seats jumped 39% – but that number is distorted due to American and US Airways uniting under the American brand after their systems cutover in 2016. American, jetBlue, United and Delta represented 81% of the seats on offer between the US and the Caribbean as of late May-2016. Caribbean had a 4% share.
Top five airlines with the highest seat share between the Caribbean and US: 26-May-2016 to 29-May-2016
Caribbean aviation lacks vision; Caribbean Airlines' leadership role never materialised
The moves that Caribbean Airlines has made during the past year – shrinking its fleet and exiting unprofitable routes – are a welcome sign for an airline that held so much promise just six years ago, when it embarked on a merger with Air Jamaica in the hopes of creating a strong and viable flag carrier for the Caribbean.

Instead, Caribbean has been besieged by management unrest and financial instability. The best remedy for the airline's woes would be for the government to relinquish control of the airline.
But the Caribbean region in general continues to lack a vision for the aviation sector, as taxes, fees and governmental influences make operating within the region considerably challenging. For now, Caribbean Airlines believes that it can start to stave off losses in 2017. It is hard to have much faith that the company will meet its stated deadline.