CAPA Profiles: What's driving the world's busiest airports? #3 Chicago O'Hare still a vital hub
Analysis
Long before airplanes existed, Chicago was already a transportation hub. Since the mid-1800s it has been a rail hub, linking the Eastern US with the central states and points west. A quick look at the US interstate highway network reveals that the city is also a vital intersection for surface transport.
And eventually, air
As air travel developed in the 20th century, Chicago began to claim predominance in that realm as well. Midway Airport was opened in 1923 and by 1932 was the nation's busiest. It lost that title for a while to New York's LaGuardia but eventually regained the top spot, which it held until 1961 when it ceded the position to Chicago's O'Hare, opened in 1955.
Until overtaken by Atlanta in the 21st century, O'Hare's position was uncontested anywhere in the world. In 2010, it dropped to third behind Beijing, but O'Hare continues to be an important network inclusion for many of the world's airlines and the airport boasts a reach that goes west to Hong Kong and East to Delhi.
Hub times two.
It is also one of the few major airports on earth that is a primary hub for two carriers. The only other airport in the US where that is true is New York JFK. As the first chart shows, United and American do battle for passengers at the airport—with both having significant O&D traffic as well as being a primary connecting point.
Chicago O'Hare International Airport capacity (seats per week, to/from) by carrier (28-Mar-2011 to 03-Apr-2011)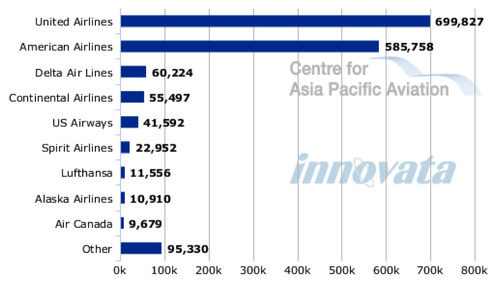 While both carriers have a longstanding presence at the airport, their present positions are the result of decades of consolidation and airline failures. In 1980, just after deregulation, the current pattern had yet to congeal and TWA was a major presence in trunk markets. Passengers to Denver and Los Angeles were very likely flying Continental, but not to Houston where traffic was split between American and Braniff.
Already in 1985, the airport was an international hub second only to New York, but US carriers served only three destinations nonstop: TWA to Heathrow, American to Frankfurt and Northwest to Tokyo. All other international flights were operated by foreign flag carriers.
Split alliance presence as well
Due to the presence of both United and American, there is a parallel division of alliance representation, with Star holding an edge over oneworld due to United's stronger position and the significant presence of Lufthansa. While Delta flights are limited primarily to other Delta hubs, five of SkyTeam's international partners fly to ORD; KE, AF, KL, AM and AZ. This differs noticeably from Atlanta where non-SkyTeam international service is virtually non-existent.
Click here for more schedule data on Chicago O'Hare
Chicago O'Hare International Airport capacity share by alliance (28-Mar-2011 to 03-Apr-2011)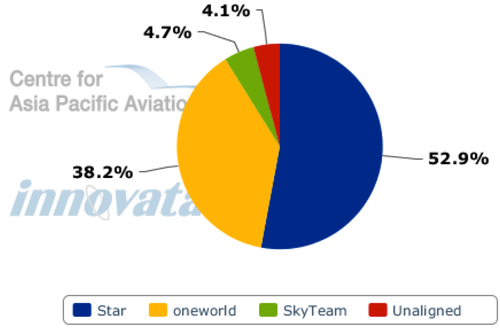 Longstanding links to Europe
The dominance of Western Europe is a reflection of Chicago's long history as the alternative gateway to JFK. Before international service spread to virtually every major hub, the two primary service points for European international carriers were New York and Chicago. Many European operators have been present at ORD for 50 years.
While the airport has connections to Abu Dhabi, Amman and Istanbul, it has yet to be targeted by Emirates (UAE rival Etihad operates daily with A340-600s). In terms of international destinations, South America is the least served, with American focusing all its flights on New York, Dallas and especially Miami. United operates a daily nonstop to Sao Paulo.
Chicago O'Hare International Airport international capacity by region (28-Mar-2011 to 03-Apr-2011)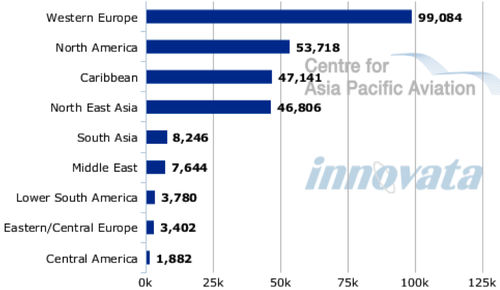 Domestic dominates
Despite all of that, O'Hare, like most American airports, is overwhelmingly a domestic service airport. Though international flights form a larger share than is seen at Atlanta, over 80% of the passengers fly domestically.
Chicago O'Hare International Airport international vs domestic capacity share (28-Mar-2011 to 03-Apr-2011)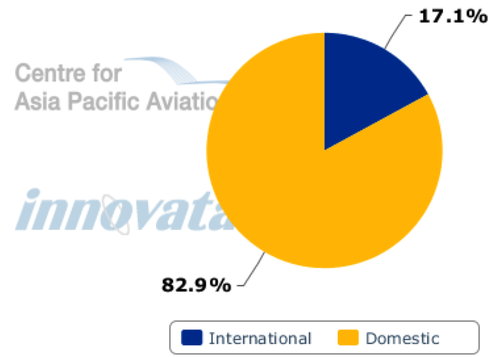 LCCs are down the road (at Midway)

O'Hare is also unique in that it has a miniscule presence of Low Cost carriers, almost all of that traffic being located at Chicago's other airport, Midway. JetBlue and Virgin America have made some inroads but given the general preference of LCCs for Midway, their presence at ORD will likely remain small.
Lots of service, competitive fares
With two carriers having a hub at the airport, competitive fares are a by-product. Service between O'Hare and New York's LaGuardia is provided by American, United and Delta with Continental offering regular service to Newark. In addition, JetBlue flies to JFK and Southwest serves LGA from Midway.
With all that choice, fares display relative stability and, with the exception of holiday spikes, stay primarily in the USD240-270 range to LaGuardia. There is a bit more variance to Newark but the range is similar. With a journey of just over 700 miles, the average yield is about $0.28 per mile.
Click here for fares data on Chicago O'Hare
Building for the Future.
Since 2005, the City of Chicago has been actively modernizing and renovating O'Hare in an effort to keep the airport's facilities current with 21st century demands. The final plan envisions 8 runways—6 parallel and 2 crosswind. Despite this abundance of runways, hourly movements peak at under 180, more generally in the 160 range, indicating more than adequate capacity.
Fearing an increase in charges, both American and United filed suit to halt the next phase of construction but in Mar-2011 an agreement was reached, making the completion of the plan a reality.
Chicago is an economic and manufacturing hub that has attracted every form of transportation infrastructure since its founding. O'Hare, while no longer number 1, will continue to be an important global hub.