CAPA Americas Summit: ULCC ambitions in the US remain high
Analysis
Opinions abound over the ultimate size and shape of the ULCC model in the US market place. The market share of Frontier and Spirit remains in the mid-single digits, but their growth rates and order books indicate that their ambitions to capture a larger share of the market remain robust.

As Frontier and Spirit continue their growth trajectories, US full service airlines are using segmented fares and hub densification to beat back the ULCC threat. But if Europe is any example, full service airlines may need to shift their focus as the market evolves.

ULCCs cannot rest on their laurels either. In order to remain competitive they need to think outside the box, and a planned codeshare between Frontier and Volaris could be the first test of the model's evolution.
Summary
US ULCCs could more than double their combined US domestic traffic share during the next seven to eight years.
The ULCC specialist Indigo Partners ponders how the ULCC model could evolve in the future.
US ULCCs have the potential to reach 20% market share during the next 7 years
For the 11M ending Jan-2018 US ULCCs Frontier and Spirit held a combined 6% of US domestic traffic. But the ULCC investment specialist Indigo Partners, which has previously held a controlling stake in Spirit and owns Frontier, believes those airlines could grow their market share to 20% during the next seven or eight years.

Speaking at the recent CAPA Americas Aviation Summit in Houston, Texas, Indigo Partners Managing Partner William Franke remarked that 42% of pan-European travel occurs on low cost and ultra low cost airlines. With US ULCCs holding just a 6% market share, "you have to expect US ULCCs will continue to grow", Mr Franke said.
Queried about the specific share ULCCs could achieve in the US during the next few years, Mr Franke remarked that it was a tough question to answer; however, he stated that ULCCs could achieve a 20% share of the US market as their robust order books will continue to support healthy growth rates.

In late 2017 Indigo placed a historic order for 430 aircraft for its portfolio of four ULCCs – Frontier, JetSMART, Volaris and Wizz Air. Frontier's share of the order was 134 jets (100 A320neos and 34 A321neos), and the airline has a total order book of 197 aircraft.
Frontier Airlines fleet summary as of 23-Apr-2018

Spirit has a smaller order book than Frontier, but now that it has reached a new collective bargaining agreement with its pilots the airline is examining its aircraft options.
Spirit chief commercial officer Matt Klein told the news outlet Bloomberg at the conference that the airline was evaluating possibly adding smaller narrowbody aircraft to its fleet. As previously reported by CAPA, the new partnership between Airbus and Bombardier on the Canadian airframer's CSeries jet could open up new opportunities for Bombardier.
Spirit Airlines fleet summary as of 23-Apr-2018

Spirit's network composition includes large metro markets and smaller medium sized markets. With Airbus' sales and technical support, Spirit could give a higher level of consideration to the CSeries than in the past. Both the CSeries and Spirit's Airbus A320neo family jets are powered by Pratt & Whitney geared turbofan engines, which would create some maintenance efficiency and factor into Spirit's evaluations.

See related report: CSeries aircraft could get second looks from Airbus customers through new Bombardier partnership
Indigo Partners Managing Director William Franke speaks at the CAPA Americas Summit
Europe may be a blueprint for ULCC evolution in the US
Mr Franke remarked that US ULCCs will continue to grow at annual rates above the industry average, noting that it is not uncommon to see ultra low cost airline growth rates of 15% to 20% compared with 7% to 9% for the rest of the US airlines.

Spirit has consistently grown its annual capacity at 15% or above since 2011, and data from CAPA and OAG show that Frontier's ASKs increased by 19% in 2016 and 24% in 2017.
Spirit Airlines annual ASM growth from 2010 to 2017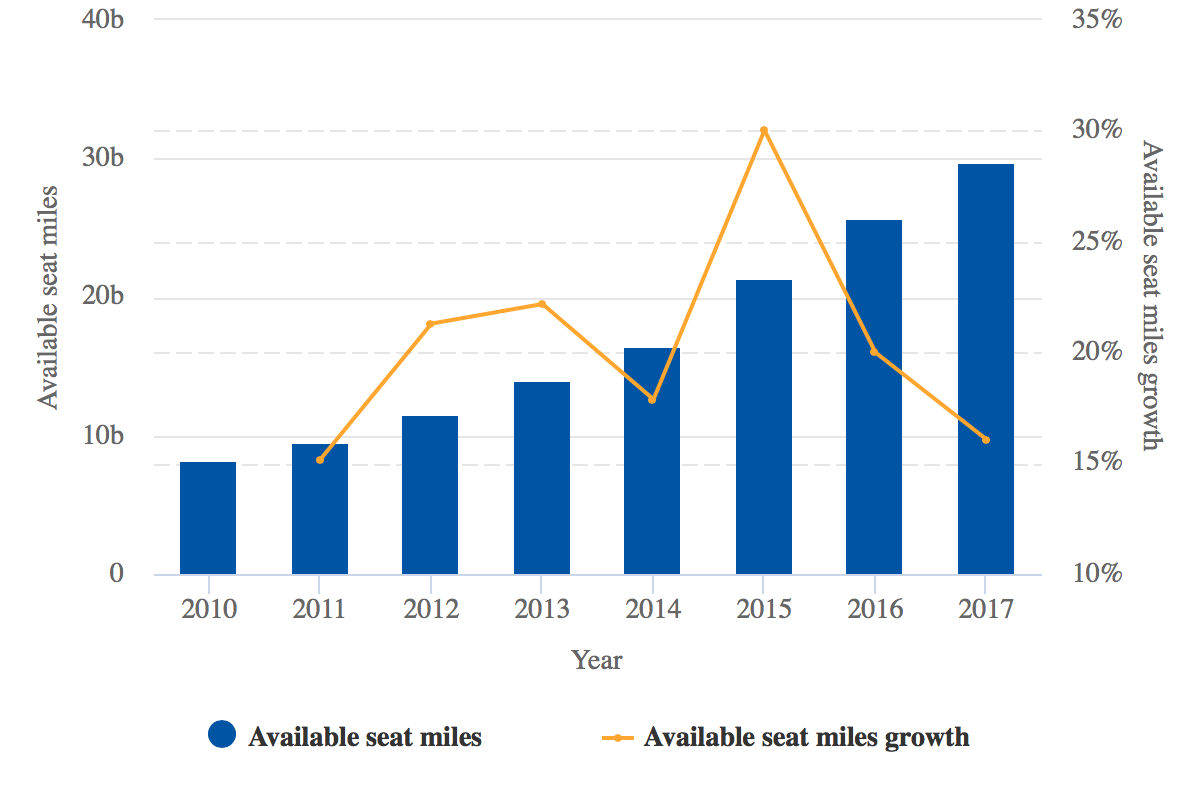 As Frontier and Spirit work toward reaching a possible combined double-digit market share in the US, full service airlines are not sitting idly by and watching their market share erode. The large US global full service airlines have responded to ULCC growth through fare segmentation that features a basic economy offering, and by bolstering connectivity at their respective hubs.

Mr Franke noted that larger full service airlines were adding capacity at a much faster pace than in previous years. United is forecasting capacity growth of 4.5% to 5.5% in 2018, while Delta's projected growth this year is 2% to 3%. American's planned capacity growth for 2018 is 2.5%.

Historically, ULCCs have expanded passenger levels when they enter a new market, which could continue in the US. Mr Franke sees ULCCs growing their share through a combination of passenger stimulation and inevitable market share gains at the expense of higher-cost legacy airlines.

Using Europe as an example, Mr Franke remarked that ULCCs and LCCs had expanded to the point where they had taken significant domestic share, and larger airlines are focused more on medium and long haul operations. "Will that happen in the US?" Mr Franke said; "My own view is it probably will."
Codeshares could be the tip of the ultra low cost model's evolution
Mr Franke also offered ways that ULCCs could possibly evolve while maintaining their crucial cost advantage. "Is it possible for a ULCC to associate with a full cost, full service airline?" he asked. "Think about that. Can they survive one another to equate a network opportunity?"

He also pondered whether innovative codeshares between ULCCs were a logical evolution of the model.
An early high profile example of that type of partnership is the planned codeshare between two of the Indigo-backed airlines: Frontier and the Mexican ULCC Volaris. Mr Franke acknowledged that while codesharing does bring a certain level of complexity to the ULCC model, "...we see mutual benefits and revenue opportunities in that case [Frontier and Volaris] making it worth the circumstances".

Another potential opportunity for ULCC evolution is managing costs efficiently, and scale effectively, by doing things in a different way.
Mr Franke said that Indigo's order for 430 Airbus narrowbodies "underscores the ability of ULCCs to cooperate in innovative ways", due to the fact that the order was spread across Indigo's portfolio. Following on from that order, said Mr Franke, "can ULCCs develop opportunities to jointly source certain services...can we commonly approach maintenance and spares in a way that benefits both parties?"
Indigo will remain on the cutting edge of developing the ULCC model worldwide
With a stake in four ULCCs and involvement in several other ULCCs that have launched over the past decade-and-a-half, Indigo Partners has a pertinent view of the model's evolution.

Although Indigo believes the ULCC model is no longer in its infancy in the US, the company has also acknowledged that ultra low cost airlines continue to be disruptive in the market.
The ultimate composition of ULCCs in the US market has yet to unfold, but Indigo is already examining the ways that the model can evolve.