British Airways India routes: aircraft gauges changed & partners considered as third party hubs loom
Analysis
Recent equipment changes by British Airways on four of its five routes to India have reduced its total seat capacity, but its operations are now better suited to each of the markets it serves. It is even considering down-gauging its biggest route, London-Delhi, from Boeing 747-400 aircraft to the 787-9. This exercise has improved its cost efficiency and provided it with a basis for future growth in the UK-India market, in which it is the leader by seats on direct routes.
CEO Keith Williams has said that BA will "see how the market develops" over the next two to three years, before looking to partner with an Indian carrier in hub-and-spoke operations (Press Trust Of India, 29-Nov-2014). Our analysis suggests that it may not be so easy to find a suitable Indian partner in this time frame.
Meanwhile, third party hubs (in particular Dubai and Abu Dhabi) already have a large share of traffic in the market. Moreover, much of BA's India-UK traffic is in fact in the highly competitive India-US market. BA's relationship with oneworld partner Qatar Airways could point the way forward.
The US continues to be by far BA's biggest international market both by seats and by ASKs. India is BA's most important market in Asia Pacific by ASKs and its number two international country market after the US, accounting for around 6% of its international ASKs (India is BA's number three after South Africa in the Dec-2014 schedule, but number two in the May-2015 schedule). BA has a very strong and well-established brand in India having operated to the market for 90 years.
British Airways international ASKs by country: 15-Dec-2014 to 21-Dec-2014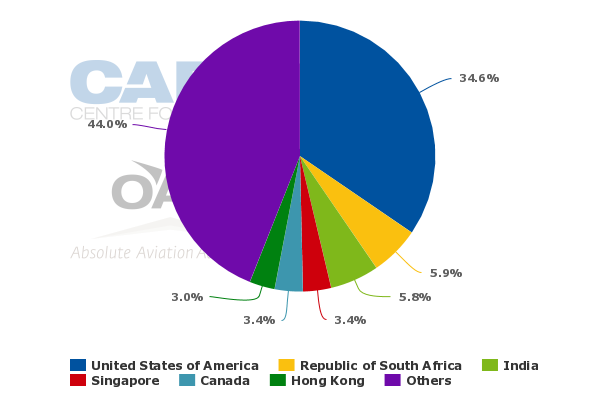 British Airways international ASKs by country: 25-May-2015 to 31- May-2015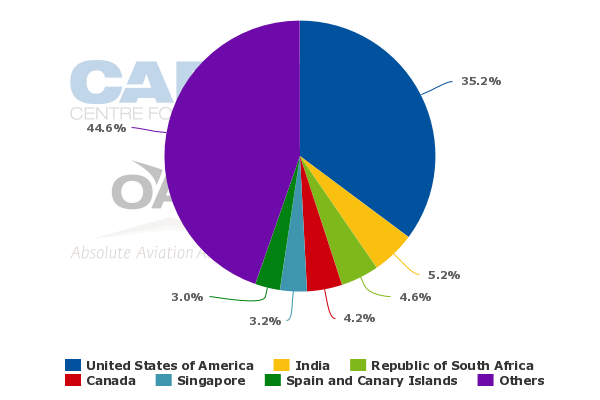 BA is the leading airline on UK-India, with a fairly stable share of seats
Changes in the aircraft deployed by BA on four out of five of its routes to India have resulted in an 11% year on year capacity cut this winter (week of 15-Dec-2014, source: OAG). Nevertheless, it remains the leading airline by the number of seats offered on non-stop routes between the two countries. Moreover, its share of seats on routes between the UK and India has been fairly stable over the past couple of years. However, this does not tell the whole story as it does not take account of transfer traffic (discussed later in this report).
In the week of 15-Dec-2014, BA's seat share is 40%, down from 43% a year earlier as a result of a capacity cut. However, in spite of capacity expansion by competitor Air India and market entry by Thomson Airways this winter, BA's seat share between the two nations will increase to 42% by the start of the summer 2015 schedule, thanks to capacity reduction by Virgin Atlantic.
Virgin will withdraw from London Heathrow to Mumbai at the start of Feb-2015, after two and a half years on the route. This could result in improved yields for other operators as a happened when Kingfisher terminated operations. Air India is to increase its capacity on Delhi to Birmingham by 75% at the end of Dec-2014. Thomson Airways commenced its winter-only Manchester to Goa route and a year round London Gatwick to Goa service at the start of the winter schedule in late Oct-2014.
United Kingdom to India (weekly seats, one way): 19-Sep-2011 to 31-May-2015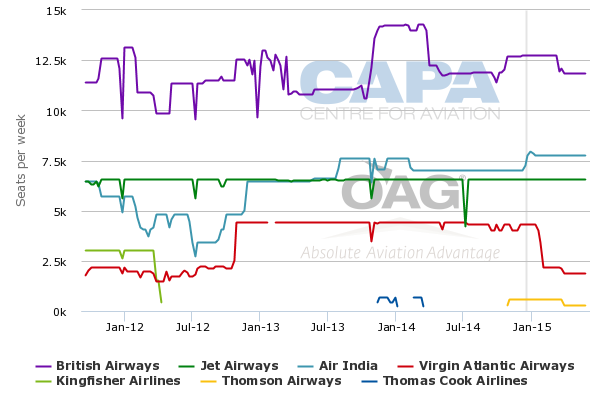 United Kingdom to India, share of weekly seats, one way: 19-Sep-2011 to 31-May-2015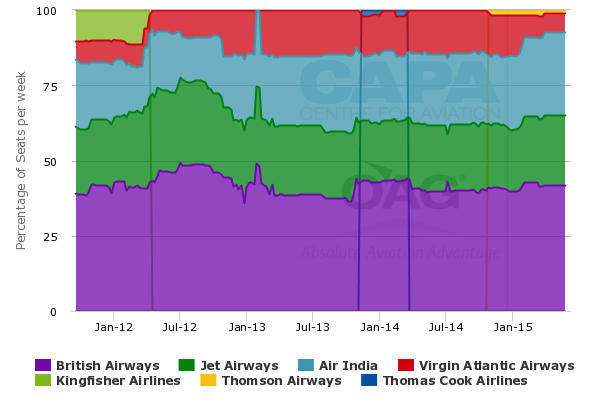 London to Delhi and Mumbai dominate
BA operates on the top five out of the eight direct routes currently connecting the UK and India. The top two routes, London Heathrow to Delhi and Mumbai, dominate this market and account for 79% of all seats between the two countries.
All routes between United Kingdom and India ranked by total number of seats week of 15-Dec-2014
| Rank | Origin | Destination | Total Seats | BA share of seats |
| --- | --- | --- | --- | --- |
| 1 | | | 12,943 | 34% |
| 2 | | | 11,865 | 30% |
| 3 | | | 1,771 | 100% |
| 4 | | | 1,498 | 100% |
| 5 | | | 1,498 | 100% |
| 6 | | | 1,280 | 0% |
| 7 | | | 291 | 0% |
| 8 | | | 291 | 0% |
BA is number one on four of its five routes to India
BA faces competition on the two major routes, but it is a monopoly operator on the other three of its routes - Bangalore, Hyderabad and Chennai. It is the number one operator on London-Delhi and number two to Jet Airways on London-Mumbai. It does not operate on the Birmingham-Delhi route served by Air India, nor on the two Goa routes operated by Thomson. There are also no other operators on these three routes not served by British Airways.
British Airways routes from London to India as at week of 15-Dec-2014
| Destination from London Heathrow | Aircraft/weekly frequency | BA rank by seats on city pair | Competitors and seat share on city pair |
| --- | --- | --- | --- |
| | 747-400, 14x | 1 | |
| | 777, 7x | 1 | BA 100% |
| | 787-8, 7x | 1 | BA 100% |
| | 777, 14x | 2 | |
| | 787-8, 7x | 1 | BA 100% |
Aircraft gauge changes on four of BA's routes to India
BA has made changes recently to aircraft gauge on four of its five routes to India, leading to an 11% reduction in its total seat numbers in this market (week of 15-Dec-2014, source: OAG). Compared with Dec-2013, BA's seat capacity is down by 20% to Bangalore and Mumbai, reflecting its down-gauging from Boeing 747-400 aircraft with 315 seats to Boeing 777 aircraft with 253 seats.
Capacity is down by 13% to Hyderabad, where BA is now operating 787-8 equipment with 214 seats compared with 777-200ER a year ago. On the Chennai route, BA is operating 787-8 equipment with 214 seats, down-gauging from the 247 seat 777-200ER, but has also increased the frequency from six times weekly to daily, thereby keeping total seat capacity more or less stable.
BA has not yet made any changes to capacity or its choice of aircraft deployed on London to Delhi, where it continues with a twice daily Boeing 747-400 service, but CEO Keith Williams has said the carrier may consider operating a Boeing 787-9 on the route (Press Trust Of India, 29-Nov-2014). Virgin Atlantic will deploy Boeing 264 seat 787-9 equipment on its daily London Heathrow-Delhi service from 29-Mar-2015, replacing 309 seat A330-300 equipment, according to data from OAG.
These aircraft changes have allowed BA both to fit capacity to demand and to adjust its operating costs better to market conditions on its routes to India.
Partners in India will not be easy to find. IAG may in future look at opportunities to invest.
BA's search for partners in India may not be easy. The leading airline between India and Western Europe is Lufthansa, with 19% of seats in this market, while BA is number two with 17%. The two Indian airlines between India and Western Europe are Air India, with 17% of seats in this market, and Jet Airways, with 16%. Air India is a member of the Lufthansa-led Star Alliance and therefore pretty much unthinkable as a partner for BA, which is a member of oneworld.
Jet Airways is not a part of any of the three major global branded alliances, but is now part of Etihad's new Partners grouping and is also 24% owned by the Abu Dhabi-based airline. Membership of Etihad Partners does not preclude membership of one of the major alliances, as demonstrated by oneworld member and 29% Etihad affiliate airberlin.
Indeed, Jet Airways codeshares with oneworld's Malaysia Airlines and Qantas, for example. However, Jet also codeshares with several members other alliances, including SkyTeam's Air France, KLM and Alitalia and Star's United, Air Canada, ANA, Brussels Airlines and South African Airways.
Nevertheless, it seems that Jet Airways' preferred European codeshare partners on its network are Alitalia, also due to become an equity investment of Etihad's, and Air France-KLM, which itself also codeshares with Etihad. Much of Etihad's rationale for its investment in Jet turns on drawing traffic from across India to its Abu Dhabi hub for onward carriage to other regions of the world, including Europe. All this would seem to suggest that Jet is now an unlikely partner for BA.
CAPA believes India's LCCs are unlikely to be interested in long haul international expansion. Nevertheless, they could arguably be potential domestic partners for foreign carriers over time, although their point to point model and lack of codeshare experience does not make them obvious candidates.
The largest airline in the domestic market by seats is IndiGo, which is also the only Indian airline to be profitable in FY2014. However the carrier has no track record of codesharing and is unlikely to seek such an arrangement.
See related report: India's aviation: new leadership holds the promise of positive change, but there is much to do.
SpiceJet, until recently number two in the domestic market, is experiencing financial struggles. Fifth ranked GoAir is reported to be considering starting international operations. As with IndiGo, neither SpiceJet nor GoAir has experience of codeshares. Newly established AirAsia India, a joint venture between Tata Sons and Air Asia Investment Limited, will need time to build a track record. Moreover, the AirAsia model does not involve codeshares or partnerships with other groups.
Airlines in India domestic market ranked by seats: 15-Dec-2014 to 21-Dec-2014
| Rank | Airline | Share of seats |
| --- | --- | --- |
| 1 | | 34.8% |
| 2 | | 17.0% |
| 3 | | 17.4% |
| 4 | | 19.7% |
| 5 | | 8.8% |
| 6 | | 1.3% |
| 7 | Air Costa | 0.9% |
| | Total | 100.0% |
Third party hubs account for 55% of total UK-India traffic
As noted earlier, BA has a fairly strong position in the direct market between the UK and India in terms of seats offered, but this does not take account of connecting traffic. Passengers transferring via one or more hubs on indirect routes are important in two ways. First, there are passengers with an origin or destination in the UK or India, but who travel via hubs located between the countries. Second, there are passengers flying non-stop between the UK and India, but whose ultimate origin and/or destination is in another country.
Regarding the first of these, data from OAG Traffic Analyser show that 55% of total traffic between the two countries has travelled via third party hubs in 2014.
In particular, 16% of the total number of UK-India passengers (both direct and indirect) make a connection via Dubai, more than the number connecting through Mumbai and Delhi added together (according to data for calendar 2014 from OAG Traffic Analyser).
The renegotiation of the India-Dubai bilateral in Feb-2014, which delivered an increase of 20% in weekly seat entitlements by Apr-2015, has prompted both Emirates and flydubai to expand in this market. They are seeking a further increase of at least 40,000 weekly seats as well as access to additional points in India.
Abu Dhabi transfers only account for 4% of UK-India passenger, but Etihad is also taking advantage of its increased bilateral entitlements. This and its partnership with Jet effectively led to Etihad's doubling its weekly seat capacity to India last year. In FY2015, Etihad is expected to increase capacity to India by a further 50%. This is in addition to the expansion by Jet Airways on routes between India and Abu Dhabi.
Among European hubs, transfers via Frankfurt have the highest share of total UK-India traffic, but the German hub accounts for only 1% of the market. Istanbul accounts for less than 1%, but Air India's entry into the Star Alliance could in theory provide Star member Turkish Airlines with opportunities to increase this share subject to be being granted additional seat entitlements which are currently exhausted.
Traffic between UK and India (two way): connecting versus direct 2014
| Connecting airport | |
| --- | --- |
| | 15.9% |
| | 10.0% |
| | 7.9% |
| Doha | 5.1% |
| Abu Dhabi International Apt | 3.9% |
| London Heathrow Apt | 3.8% |
| | 1.1% |
| | 1.0% |
| Bandaranaike Intl | 0.8% |
| | 0.7% |
| | 0.7% |
| Other connecting airports | 4.5% |
| Total connecting airports | 55.4% |
| Direct traffic | 44.6% |
| | 100.0% |
A significant proportion of BA's traffic from India is connecting via London to the US
The second way in which transfer traffic changes the picture is when its ultimate origin or destination is in a country other than the UK or India. In BA's case, a large number of passengers carried from India to London Heathrow is US-bound. If these passengers are excluded from market share data, then data from OAG suggest that BA is only the number three carrier of India-UK O&D traffic, behind Air India and Jet Airways. BA's O&D traffic between the two countries is only a little more than that of fourth placed Emirates, which is comfortably ahead of Virgin Atlantic, Qatar Airways and Etihad (in that order).
This means that an important driver of BA's strategy on routes to/from India is its position in the market between the US and India. Whereas 45% of the UK-India market is on direct routes, only 10% of the US-India market is non-stop. Air travel between India and the US is dominated by transfer traffic, a much more competitive and price sensitive segment than for direct traffic. Taking account of both direct and connecting traffic, the top five airlines in the India-US market have 56% of the market, compared with 81% in the India-UK market (according to data from OAG analysed by CAPA).
The OAG traffic data also show that Emirates and Air India lead the total US-India market, each with around 60% more passengers than third placed BA, who is just ahead of United. Lufthansa is fifth, followed by the other two of the Gulf Big Three, namely Qatar Airways in sixth and Etihad in seventh place. The top ten for O&D traffic between India and the US is completed by number eight-ranked American Airlines, ninth placed Delta and Jet Airways at number ten.
Thus, the key competitors to BA in connection with its India network are the two major international Indian carriers, the Big Three Gulf carriers and the North Atlantic joint ventures within the three branded global alliances. BA must defend its position in the UK-India market, both for its own sake and also for its importance to the US-India market. On the Atlantic, it has a strong position, supported by its immunised JV, while on the India leg, it is essentially on its own.
BA does not serve five of the top 10 Indian airports for international arrivals
BA's future strategy in India will, it appears, need to develop without relying on Indian partners. It may be able to achieve some growth in its current markets through up-gauging of aircraft where and when appropriate, but will also need to seek new markets by adding new cities to its network in India. Among the top 10 airports for international arrivals into India, BA does not serve fifth ranked Kolkata or any of the airports ranked seventh to 10th (Kochi, Ahmedabad, Goa and Pune).
BA pulled out of the London-Kolkata market in 2009, a couple of years or so after Lufthansa initiated a direct Frankfurt-Kolkata service. This had put competitive pressure on BA's yields as passengers could also fly London to Kolkata via Frankfurt, underlining that it is not only the Gulf hubs that provide competition to BA's direct service. However Lufthansa itself subsequently pulled out of Kolkata in 2012.
The airports below Kolkata in the list are significantly smaller in terms of international arrivals and this may make them less attractive for BA to enter. However, Goa is already connected directly to the UK and the others are accessible via a single stopover. For example, Kochi can be reached from London with one-stop via Dubai with Emirates, Abu Dhabi with Etihad, Delhi with Air India, Jet Airways via Mumbai and Qatar Airways via Doha.
Top 10 airports for flights arriving into India ranked by seats: 15-Dec-2014 to 21-Dec-2014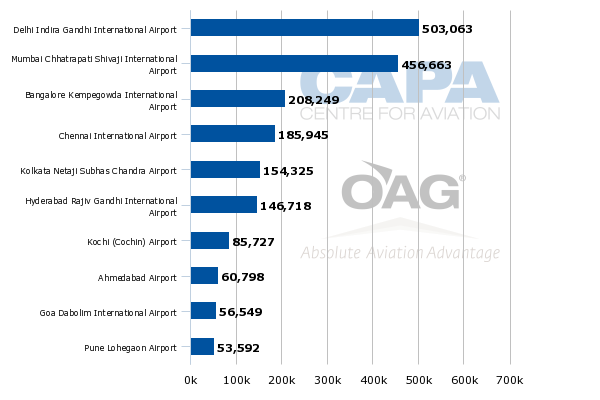 The Qatar Airways-BA relationship offers potential
The last route option listed in the preceding paragraph points to a further key element of BA's likely future India strategy, namely partnership with Qatar Airways. Doha connecting traffic is responsible for 5% of total UK-India traffic (see above) and Qatar Airways currently operates to 12 points in India from this hub, seven more than BA.
BA currently carries the code of oneworld partner Qatar Airways on some UK domestic routes from Heathrow in addition to its London Heathrow to Hamburg and Amsterdam services. Qatar Airways carries the BA code on routes from Doha to Addis Ababa, and five points in the Indian subcontinent: Dhaka, Islamabad, Karachi, Lahore and Peshawar.
BA's equipment changes on routes to India have helped it modernise its offering, to be better adapted to market conditions and have given it a solid platform in this market. Looking to the future, building on its relationship with Qatar Airways looks likely to offer BA more options than seeking Indian domestic partners as it seeks to grow in India.
However, a key issue for the carrier is the growing presence of Gulf carriers on India-US routes. This traffic is vital to supporting the routes and frequencies that BA offers in India and the increased competition represents a major challenge - and perhaps an opportunity.