British Airways and bmi: two years after integration, BA has grown some services, reduced others
Analysis
British Airways and parent company IAG are both ahead and behind on their incorporation of bmi, acquired in 2012 with integration commencing later that year. Financially, BA is ahead, with bmi contributing about GBP30 million of profit in 2013 (all earned in 2H2013) from a previous estimate of a GBP50 million loss. BA looks well on schedule to meet its original goal of having bmi contribute EUR100 million (GBP83 million) of profit in 2015.
But that stronger financial performance may indicate BA has not moved to open new long-haul destinations as quickly as previously implied . Such additional points carry substantial start-up costs but can offer larger profits, helping BA and IAG meet their commitment for better return on capital. Since northern winter 2011/2012 BA has opened from Heathrow only three long-haul destinations: Austin, Chengdu and Seoul Incheon. No others have been publicly announced despite BA highlighting the medium and long-haul growth opportunities bmi would bring - although this was always a long-term objective.
The largest changes to the former bmi operation are decreases to three domestic routes (Aberdeen, Edinburgh and Manchester) - although Virgin Atlantic has more than backfilled capacity. BA has also cut a number of bmi's North African routes while expanding to a number of European points, no doubt a slot holding exercise until long-haul opportunities are able to be realised.
British Airways will operate 4% more flights in 2014/2015 than the combined BA/bmi of 2011/2012
This report compares the winter London Heathrow schedule of British Airways and bmi from Nov-2011 through Jan-2012 measured against BA's schedule from Nov-2014 to Jan-2015, as filed with OAG. This report uses exact months rather than IATA seasons, which can vary in the number of days and thus services.
In Dec-2011, International Airlines Group (IAG, the owner of BA) announced the purchase of bmi from Lufthansa. BA received approval to take 42 of bmi's 56 prized London Heathrow slots; the balance of 14 were offered as a concession for competitors to launch services.
See related reports:
BA in northern winter 2014/2015 has fewer bmi-acquired slots than the combined BA and bmi did in winter 2011/2012. But BA in winter 2014 (three months through Jan-2015) will operate 4% more flights than in winter 2011. Commercial factors may be a decision (BA is intentionally not using its full slot portfolio in 2011/2012), but bmi did not have access to its full slots in winter 2011/2012 as some were leased to other carriers.
Additionally, since the bmi acquisition, BA has gained other Heathrow slots, such as the ones leased from Qantas in 2012. The additional third party slots and bmi re-gaining leased slots can offset (or more) the slots BA gave up to secure approval for the bmi acquisition.
In winter 2011/2012, bmi (and bmi Regional) operated 26 routes from Heathrow. Of these 26, 10 were also served by BA while 16 were not served by BA. Between winter 2011/2012 and winter 2014/2015, BA has ended eight routes from London Heathrow, five of which are routes formerly served only by bmi. BA has not entirely cut any routes served both by itself and bmi.
In addition to the five bmi routes cut, BA at Heathrow has ended service to three African destinations: Algiers in North Africa, Dar es Salaam in East Africa and Lusaka in Southern Africa. While Algiers is now served from London Gatwick, Dar es Salaam and Lusaka remained unserved. Marrakech, a former bmi route, is served from London Gatwick but none of the other bmi routes BA has ended from Heathrow see service.
British Airways/bmi suspended London Heathrow destinations: Nov-2014 to Jan-2015 compared to 2011/2012
The bmi routes BA has cut are predominantly in North Africa, and Morocco specifically. These are largely leisure routes with minimal premium demand. Further, LCCs have grown their share of Morocco following an open skies agreement. Ryanair opened two bases in Morocco in Apr-2013.
See related report: Ryanair opens two new bases in Morocco, 6 months after charges dispute; and RAM looks for a partner
Part of the bmi network that BA inherited was an A321 premium product to mid-haul points mainly in the Middle East, which have undergone market changes due to political events. BA at IAG's Capital Markets Day in Nov-2013 flagged it had "not optimised this bit of our business" and would look to change the network. Although BA only mentioned frequency and timings, cancellations apparently may occur too.
British Airways has launched 13 new routes, mostly short-haul leisure. Only three are long-haul
Between winter 2011/2012 and winter 2014/2015, BA has opened 13 new destinations from London Heathrow. At the time of the bmi acquisition BA spoke of the opportunity to grow its long-haul presence. However, of the 13 new routes, only three – Austin, Chengdu and Seoul Incheon – are long-haul routes.
The remaining 10 new destinations from Heathrow are all to European points, and they have a distinct leisure flavour. Portugal (with new Heathrow service to Faro and Porto) and Spain (Heathrow service to Gran Canaria, Malaga and Palma) stand out as countries with new BA Heathrow service. BA has also added one UK domestic destination, Leeds.
British Airways new London Heathrow destinations: Nov-2014 to Jan-2015 compared to 2011/2012
It is likely many of these European destinations, in whole or part, are not the ultimate objective for the slot. Some destinations and frequencies are effectively a slot-holding exercise until BA can acquire long-haul aircraft and go through the process of launching new routes.
O&D versus connecting traffic has not substantially changed since bmi acquisition
Not all of the bmi slots will be used for long-haul services, at least in the foreseeable future. BA needs to balance long-haul services with short-haul feed. At IAG's Capital Markets Day in Nov-2013, BA CEO Keith Williams remarked transfer traffic accounts for 30-40% of BA's passengers at Heathrow, relatively unchanged from 2009.
BA has adjusted the proportion of transfer traffic, such as when the euro exchange rate makes it more favourable to carry connecting continental European passengers.
The largest frequency reductions were domestic UK, but offset by larger aircraft use
In addition to ending Heathrow service to eight destinations, BA has cut frequencies across its domestic, short-haul Europe and long-haul network. But the largest changes by far are in its domestic network. In the three months from Nov-2014 through Jan-2015, BA will operate 362 fewer flights between Heathrow and Manchester, a former bmi destination.
Here BA and bmi had considerable overlap. Two other bmi destinations that overlapped with BA – Edinburgh and Aberdeen – are undergoing over 250 frequency decreases over three months. This equates to three or four flights cut per day per destination.
Largest frequency decreases on British Airways London Heathrow network: Nov-2014 to Jan-2015 compared to 2011/2012
| | |
| --- | --- |
| Destination | Slot Decrease |
| | 362 |
| | 321 |
| | 260 |
| Moscow DME | 173 |
| | 160 |
| | 140 |
| Barcelona | 121 |
| | 97 |
| | 90 |
| | 80 |
| Milan MXP | 77 |
| | 70 |
Between Heathrow and Manchester BA has reduced frequencies by 29% when comparing the number of services offered by both BA and bmi in 2011/2012 and then by BA in 2014/2015. However, by using larger-capacity aircraft, seat capacity sees only a 27% decrease. Including Virgin Atlantic, frequencies are down 7% but overall seat capacity is up 2%.
Manchester-London Heathrow seat capacity by carrier: Nov-2014 to Jan-2015 compared to 2011/2012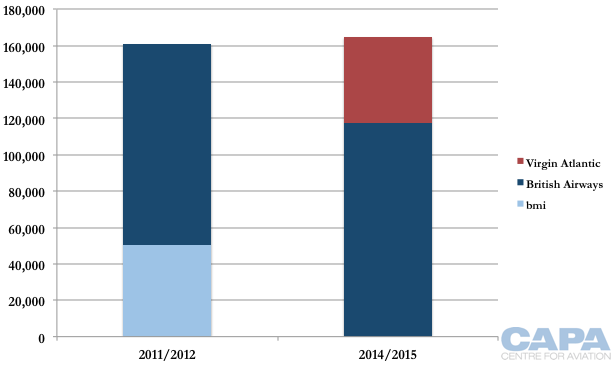 Georgia, 'Times New Roman', Times, serif;"> Source: CAPA - Centre for Aviation and OAG
Post-bmi, BA has cut frequencies between Edinburgh and London Heathrow by 25% while seat capacity has decreased by a smaller 19% due to larger aircraft. Including Virgin Atlantic, frequencies have actually grown by 17% while seat capacity has grown by 33%.
Edinburgh-London Heathrow seat capacity by carrier: Nov-2014 to Jan-2015 compared to 2011/2012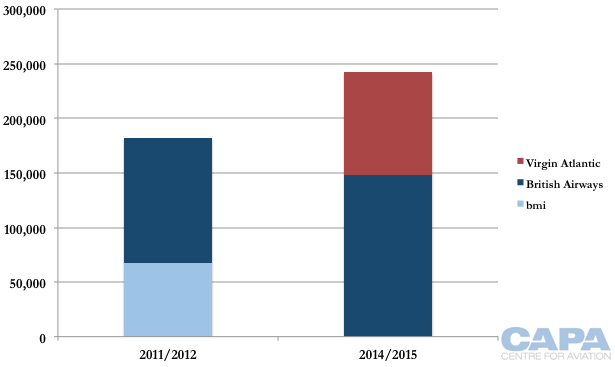 Georgia, 'Times New Roman', Times, serif;"> Source: CAPA - Centre for Aviation and OAG
Between Aberdeen and Heathrow, the smallest of these three routes, BA has cut frequencies by 26% while dropping seat capacity by only 3%. Including Virgin Atlantic, frequencies have grown by 1% while seat capacity has grown by 44%.
Aberdeen-London Heathrow seat capacity by carrier: Nov-2014 to Jan-2015 compared to 2011/2012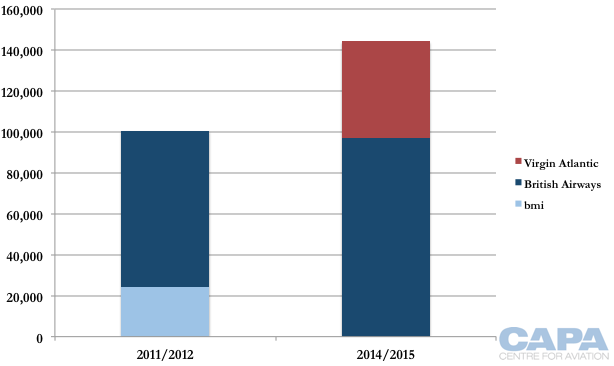 Georgia, 'Times New Roman', Times, serif;"> Source: CAPA - Centre for Aviation and OAG
The difference between frequency and capacity changes becomes evident when looking at the average number of seats per flight. bmi was using sub-optimal aircraft. By consolidating flights on small capacity aircraft onto larger ones, BA frees up slots for other services.
Looking at the overall average including Virgin Atlantic, Virgin Atlantic's "Little Red" services operated by Aer Lingus use 174-seat A320s, further pushing up the average. As BA retrofits its short-haul fleet, the average will further increase.
Average seats per flight: Nov-2011 through Jan-2012 compared to 2014/2015
Georgia, 'Times New Roman', Times, serif;"> Source: CAPA - Centre for Aviation and OAG
While this answers where BA has moved slots, it should not be taken to be a final analysis of the domestic UK market. BA has grown domestic services out of London City airport, although not enough to offset the decline. Rail competition also means that some domestic air frequencies are no longer needed.
Barcelona, Basel, Moscow and Nice have largest decreases of European frequencies
There are a few European routes whose frequency cuts stand out. Frequencies on London Heathrow-Barcelona, only served by BA, have dropped by 17% while seats have decreased at a faster 29%, according to OAG data. To Basel, BA and bmi jointly operated about 63,000 seats in the 2011/2012 period under consideration but in 2014/2015 BA, now the only operator, will operate about 42,000 seats – more than BA alone operated in 2011/2012, but less than BA and bmi jointly. To Nice, BA and bmi operated about 88,000 seats in 2011/2012 but in 2014/2015 BA will only operate 58,000 seats – fewer than the 68,000 seats it alone operated in 2011/2012.
BA has also decreased its presence to Moscow. In 2011/2012 BA and bmi operated about 88,000 seats but in 2014/2015 BA will only operate about 58,000.
BA's largest frequency increases are to New York and across Europe
BA's largest slot increases (equating to more than 3x weekly service) from Heathrow are all to European destinations, as well as to New York JFK. Some adjustment is needed as BA has taken over an American Airlines flight as part of their trans-Atlantic joint venture; the two have done so to ensure every London-New York flight they collectively offer has a lie-flat product in business class.
BA inherited bmi's Dublin (and Belfast) services and is growing its offering considerably in Dublin. Other standouts are the handful of Nordic cities (Stavanger, Bergen, Oslo, Stockholm and Copenhagen) as well as hubs of major competitors (Amsterdam, Geneva, Munich, Paris Orly and Istanbul).
Largest frequency increases on British Airways London Heathrow network: Nov-2014 to Jan-2015 compared to 2011/2012
| | |
| --- | --- |
| Destination | Slot Increase |
| | 293 |
| | 215 |
| New York JFK | 196 |
| | 134 |
| | 102 |
| | 98 |
| | 94 |
| Oslo | 88 |
| Stockholm | 86 |
| | 73 |
| | 62 |
| | 60 |
| | 53 |
| | 50 |
| Istanbul | 50 |
BA brings bmi to profit ahead of schedule
At the time of the bmi acquisition, IAG projected the vestiges of bmi would contribute EUR100 million in profits by 2015. However, IAG is tracking significantly ahead of this. IAG had thought it would make a GBP50 million loss in 1H2013 and then be break even in 2H2013, but actually reached break even in 1H2013 and in Nov-2013 projected a GBP30 million profit for 2H2013 – a swing of GBP50 million.
Outlook: more long-haul services await
While BA now has a much larger portfolio of precious London Heathrow slots, its projected growth means BA ASKs in 2015 will still be lower than they were in 2001, a function of BA lowering seat density to have more higher-yielding premium seats. BA stands out amongst Europe's major carriers in being smaller now than last decade.
London still has a profile of being connected to fewer long-haul destinations than other European points. In the medium term this will not change but BA can help narrow this as it redeploys bmi-inherited slots to long-haul services. In this regard, BA is dependent on new aircraft, which of course take longer to arrive than slots. A jump in BA's long-haul fleet size will occur in 2016.
British Airways long-haul fleet plan to 2018
However, long-haul fleet growth could be impacted by accelerated 747 retirement; BA is noting the increasing cost of operation, especially for 747 engine maintenance. Should this occur without accelerated deliveries, slot occupation may persist, further delaying long-haul growth.
IAG fleet plan detail: as of Nov-2013
On the short-haul side, Virgin Atlantic has backfilled BA capacity cuts in the domestic market, but Virgin Atlantic's dismal performance – a 38% load factor – should raise the question how consumers have fared. An answer – which must encompass fares as well as services from alternative airports – is not straightforward.
See related report: Virgin Atlantic Airways sees more than a little red, but things were much simpler 30 years ago
No doubt the fast-moving IAG CEO Willie Walsh saw that BA, not Virgin, would take bmi slots. Now that BA has the slots and is working to use them, perhaps BA's more ponderous decision making system explains the underwhelming long-haul growth of BA. IAG projects overall capacity growth from 2013 to 2015 to generate GBP800 million in revenues, with more revenue generated the longer the aircraft flies (profit can be a different story).
British Airways revenue growth plans: 2013-2015
BA's slower reaction speed was acknowledged by Mr Walsh, who remarked at IAG's May-2014 briefing for 1Q2014 results: "The thing I would say about Qatar is Akbar al Baker makes very quick decisions, so if they want to move quickly they can probably actually move a hell of lot faster than we could."
Long-haul growth is naturally more sustainable where there is cooperation, and this dynamic has changed since BA acquired bmi. Across the Atlantic, BA's joint venture with American and Iberia has grown to include Finnair and US Airways, while a JV with Japan Airlines and Finnair to Japan was started. The Mar-2014 introduction of TAM to oneworld may further strengthen ties between IAG and TAM between North America and South America. Of the three long-haul routes launched, only one – Austin – is covered by a JV. Chengdu and Seoul Incheon are not.
In 2014/2015 BA will operate about 4.5 more flights a day (including the new Austin service and the large increases to New York JFK) to the US compared to 2011/2012, although this was a weak period.
In many instances capacity is being added while JV partner American withdraws. Overall, long-haul flying at BA has actually slightly decreased in share following the bmi acquisition. From Nov-2011 to Jan-2012, long-haul flying comprised about 75% of BA's network, but from Nov-2014 to Jan-2015 this is projected to drop to 74%.
With Mr al Baker indicating a JV with IAG is close, further opportunities may present for more strategic – and ultimately more profitable – use of the bmi slots.