Boeing's 787 takes flight, but the real test remains
Boeing completed the first B787 test flight on 15-Dec-2009, with the aircraft powered by Rolls-Royce Trent 1000 engines. The flight begins the aircraft's flight test and certification programme, to be conducted with six aircraft.
The test schedule is very tight, as the first delivery for the B787 is scheduled for 4Q2010 to All Nippon Airways (which had initially been hoping to operate the aircraft to last year's Beijing Olympic games).
The B787 has more than 840 firm orders from fifty-five customers, although Boeing has lost close to 100 orders for the aircraft due to the delays, including 83 cancellations for the year to date. At one stage in late 2008, the aircraft had close to 950 firm orders. United Airlines placed an order for 25 B787s early this month, as well as 25 for Airbus' rival A350 XWB, due to fly in 2013.
Finally in the air...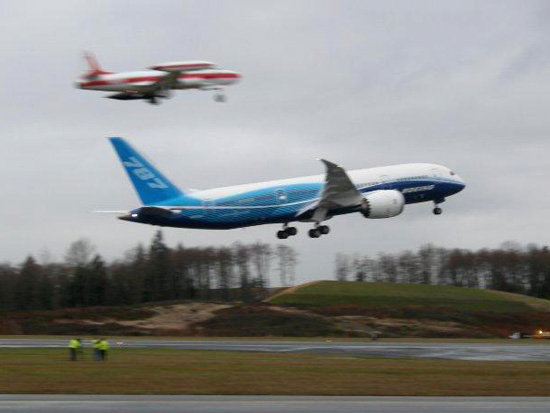 Test phase critical to delivery before the end of 2010
Now that Boeing has got the aircraft into the air, pressure will mount on the manufacturer to meet its delivery targets. The critical test phase is expected to last nine to ten months, if everything goes to plan.
What Boeing does not want is to repeat the example of Airbus and its A380, which suffered more delays in its test flight phase and gained weight due to modifications needed to meet certification requirements. Boeing's first new aircraft for ten years represents a radical departure for the manufacturer, eschewing traditional aircraft materials in favour of composites, in the pursuit of efficiency and lightness. If the composites, comprising 50% of the aircraft by weight, do not perform as expected, major headaches could emerge.
Rival Airbus is still having problems meeting its initial delivery schedule for the A380, more than two years after it entered service with Singapore Airlines. The manufacturer had projected a full rate production of 45 aircraft p/a by 2010, but now hopes to deliver less than half that amount next year. The problems with the A380 are still affecting the European plane maker's bottom line.
Boeing has already had a much publicised structural problem with the B787, forcing it to modify the wing-to-side-of-body attachment points, strengthening them with titanium plates. A more permanent solution will be incorporated into production aircraft. Boeing booked a USD1.6 billion loss in 3Q2009 on the latest delay to the programme (and a separate USD1 billion loss on the B747-8), and subsequently cut its full year outlook.
Production of the B787 will slowly be ramped up over the next few years. Assembly of the initial aircraft will be conducted at the manufacturer's home at Everett in Washington State.
A second assembly line will be located in South Carolina, the first outside of Boeing's home state. Boeing's continuing problems with unionised labour, culminating in a two-month machinists strike in late 2008, was a strong factor in the manufacturer's decision on the location of the second production line.
B787 first flight path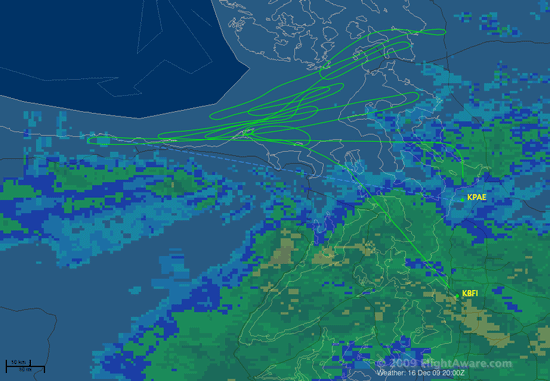 A "new era" for airlines
With efficiency and economies forecast at 20-30% better than the similarly sized B767 and A330, and range approaching 9,000 miles, the B787 is expected to be a game changer for the airlines that have ordered it. It will give them the capability to open up new routes between point-to-point destinations, forsaking the old 'hub-and-spoke' model. Japan Airlines, in congratulating Boeing on the first flight, made it clear that it would use the aircraft "on new long-haul routes between Tokyo and America, Europe, as well as Southeast Asia".
Boeing's next objective is to get the B747-8 into flight testing, hopefully early in 2010. Once that gets under way, the company can concentrate on production and the development of new models.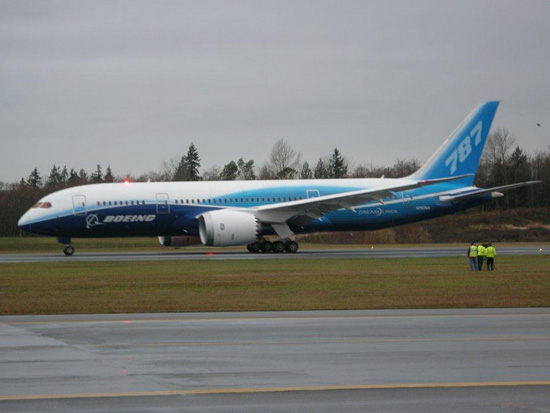 Where next for Boeing?
Boeing has already confirmed that it will not develop a replacement for the B737 family until 2020 or beyond (with Airbus in a similar position). However, a programme to re-engine the aircraft with new technology engines, offering 12-16% improvements in fuel burn, is expected to commence in 2010. Pratt and Whitney President David Hess, stated yesterday that Airbus and Boeing are considering "re-engining programmes that could potentially get launched" in 2010. Both P&W and General Electric (through its CFM joint venture) are offering engines, which will mature in the 2013-2015 timeframe.
The next major aircraft programme for Boeing looks likely to take the shape of a B777 replacement. Several carriers recently selected Airbus' larger A350 XWB over the B787, despite its later entry into service, as its capacity of 270-410 seats better suits their requirements. In mid-2009, Boeing mooted putting a new wing on the B777, a concept that found little traction with airlines, which would prefer a new design. Airbus suggested a similar concept for its initial A350 design, but was forced into an expensive design update as airlines felt it did not offer enough of a performance enhancement.
Boeing's shares eased 0.7% yesterday.
Selected Aviation suppliers' daily share price movements (% change): 15-Dec-09