Boeing predicts USD4 trillion market through 2030, fleet to double
Analysis
Issuing its latest Current Market Outlook on the eve of the Paris Air Show, Boeing sees a market for 33,500 new aircraft over the next 20 years valued at USD4 trillion. Back in the US, airline executives are questioning such robust forecasts, arguing that the domestic industry will have very low growth rates, making other forecasts, particularly for infrastructure needs questionable.
Boeing's latest forecast, delivered in Paris by VP Marketing Randy Tinseth, certainly bears this out, although it says the US remains the top market followed by China and the United Arab Emirates in terms of deliveries. However, it does not question infrastructure expansion saying it is critical if aviation is to reach its potential. It specifically pointed to air traffic management modernisation as critical to enhancing system efficiency.
Few would argue with the necessity of air traffic management modernisation although airlines question airport expansion in the US even as airports argue airlines' reluctance to support airport projects rests on their desire to keep the market constrained.
Countering airline angst
Mr Tinseth countered US airline executive angst as he recounted the airline industry worldwide has grown 5% annually through four recessions, two financial crises, two Gulf wars, an oil shock, SARs and 9/11. This healthy assessment certainly flies in the face of the concern surrounding the US economy as consumer prices ex fuel and food rises and job creation remains dismal.
Even so, airline management and their philosophy based on capacity discipline is new to the current environment which values profitability over market share and could change such forecasts as suggested by US Airways CEO Doug Parker. Indeed, analysts are already expressing concerns about the post-August period not only because of the already announced drop in capacity but also rising concerns on the European financial crisis contagion and falling consumer confidence, however, short term they may be compared to Boeing's 20-year forecast.
"The world market has recovered and is now expanding at a significant rate," said Mr Tinseth. "Not only is there a strong demand for air travel and new aircraft today, but the fundamental drivers of air travel – including economic growth, world trade and liberalization – all point to a healthy long-term demand."
Passenger traffic is expected to grow at its usual 5% rate - 5.1% annually, to be exact - over the long-term and the world fleet is expected to double by 2030, said Boeing. The narrowbody market will continue to see strong demand around the world and is expected to increase its share of the market. Fleet composition will change significantly by 2030 with narrowbody aircraft making up 70% of the total.
Strong, long-term growth
Boeing noted that within North America, the market will experience a tepid average annual traffic growth of an aneamic 2.3% compared with 4% in Europe, 7% within Asia Pacific and 7.2% in between the world's two hottest regions - Middle East to Asia Pacific.
Traffic growth
Consolidation will bring stability to the North American market, said Boeing, which added that once the Southwest/AirTran merger is complete the US market will be a long way toward the market concentration predicted since deregulation. Indeed, Boeing indicated that the top four airlines - Delta, American, United and Southwest - will control 80% of market capacity.
Despite airline executives' doubts about the growth of what they term a mature market, Boeing upped its delivery forecast, saying the North American market, despite its below-average 2% annual growth rate, will take an additional 330 narrowbody aircraft for a total of 6800 by 2030. It agreed that executives would keep capacity discipline tight similar to 2010 when traffic grew 3% to capacity's 1%. It said the additional aircraft demand can be attributed to flow traffic to economically dynamic regions as South and Central America. Long-haul traffic is expected to grow at a 4.5% growth rate requiring an additional 1180 twin-aisle aircraft.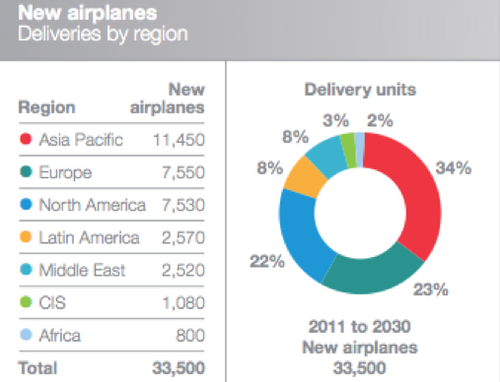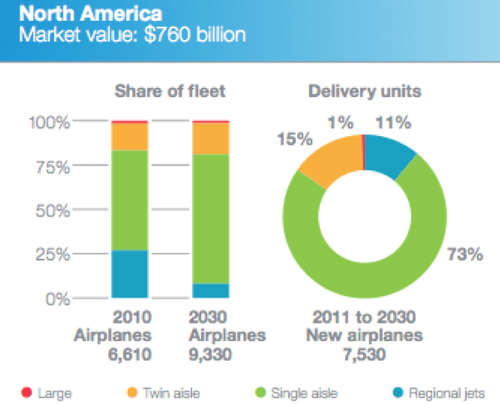 Boeing proved to be conservative in forecasts
Saying it's forecasts for the past decade have proven to be conservative versus actual performance, Boeing's said continued liberalisation and low-cost carrier expansion worldwide is driving the demand for narrowbody aircraft which will be 70% of the deliveries and 40% of the value over the next two decades while long-haul aircraft will account of 22% of deliveries and 43% of the value.
Current market outlook
Worldwide GDP is pegged at 3.3% annually over the forecast period, according to Boeing while passenger traffic will average 5.1% growth and cargo 5.6% annual rate. The fleet will grow at an annual rate of 3.6%, nearly doubling the current fleet which stands at 19,400 aircraft to 39,500 in 2030, making for more growth than replacement aircraft as has been predicted by US domestic carriers.
Meanwhile, in March, Airbus projected a 4.8% passenger growth rate annually through 2030
Demand for more growth aircraft than replacement
European and North American carriers will continue to see demand for replacement aircraft with 94% of Europe's 2030 fleet delivered after 2011. Some 40% of all deliveries will be for replacement, rather than growth aircraft. With 1400 deliveries, twin-aisle aircraft will make up 19% of the total European deliveries during the forecast period. Large aircraft will make up a market segment valued at USD270 billion.
Despite expectations that 78% of demand for new aircraft will be beyond American borders with a third of deliveries headed to the Asia Pacific region, Boeing indicated the greatest demand for new aircraft – by country – will come from the US, followed by China. United Arab Emirates will be the third largest market despite its limited population base at 9 million. Boeing cited the robust growth of its airlines.
Worldwide aviation landscape changing as ROW leads North America and Europe
Boeing noted that the 12,100 narrowbody aircraft represent 62% of the current jet fleet and will more than double over the forecast period to 27,750 aircraft and become 70% (23,370) of the fleet. It cited the rapidly expanding Asian market, intra-regional air travel in emerging economies and the growth of the low-cost carrier model. The narrowbody, 2010 delivery rate at 830 aircraft, was the second highest in history and the company expects a wave of narrowbody replacements for the B737 Classic, early A320 and MD 80s/90s in the 2016 period when the A320neo will be a year on the scene if all goes according to plan.
However, twin-aisle aircraft will grow at a faster clip, said the company - at 4.4% annually from 3650 aircraft to 8570 in 2030. Very large aircraft will grow modestly from 770 today to 1140 aircraft by 2030, most of which will be for freighters while large passenger aircraft will remain around 450.
Despite all the talk at the recent International Society of Transport Aircraft Traders conference about significant upgauging, Boeing believes upgauging will be modest despite fuel and operating costs mitigating for higher seat counts. It noted the trend toward replacing small RJs with larger ones but added that they will also be replaced by small narrowbody aircraft for short haul. In addition the 787 and the A350 will replace the 767 and A330 as those aircraft age.
Increased frequencies and non-stops have met demand
Robust growth in China, India and other emerging markets will lead to a more balanced aircraft demand worldwide. China, which has experienced double-digit growth in gross domestic product in recent years, is forecast to grow at 7% annually, while South Asia, which includes India, is forecast to grow at 7.1%.
Asia Pacific is forecast to need the most new aircraft over the next 20 years and will represent the largest market by value of deliveries at more than USD1.5 trillion. The region will account for more than a third of new deliveries worldwide, while the Middle East and Latin America will also continue to show very strong growth.
Boeing projects the world freighter fleet to increase from 1760 to 3500 aircraft. Additions to the fleet will include 970 new-production freighters (market value of USD250 billion) and 1990 aircraft converted from passenger models. Large (more than 88.2 tons capacity/80 tonnes) freighters will account for 690 new-build aircraft. Medium (44.1 to 88.2 tons/40 to 80 tonnes) freighters will total 280 aircraft. No new standard-body freighters (49.6 tons/less than 45 tonnes) will be required, but there will be 1240 standard-body conversions. On average over the next 20 years, air cargo traffic will grow at a rate of 5.6%.