bmi's exit from Star Alliance has a minor effect but potential departure by TAP will be more felt
Bmi's exit from Star Alliance has only a minor effect on the group's global footprint, but a potential departure from TAP Portugal would leave a much larger mark on Star's connectivity especially in the Iberian peninsula, where it already lost Spanair in Jan-2012. TAP, which has an extensive network in South America and Africa that would appeal to any global alliance, is slated to be sold off by the Portuguese government later this year. If TAP were to be sold to a non-Star affiliate, such as International Airlines Group (IAG), it stands to lose three European members in 2012.
Bmi formally exited the Star Alliance network on 20-Apr-2012 following the conclusion of the sale of the UK-based carrier to IAG. Star carriers are in the process of ending their codeshare agreements with bmi as principally Star Alliance does not allow a member airline to codeshare with a member of another alliance although some exceptions are permitted with Star Alliance authorisation.
bmi's departure from Star reduces the alliance's share of global seat capacity only slightly, with a 0.2 ppt decrease to 21.5%. But the impact is more substantial in the UK, where Star is already small owing to the dominance of oneworld. The acquisition of bmi by IAG and the consequent integration of bmi's operations in BA's network further strengthen the dominance of oneworld in the UK. Oneworld now accounts for about 23% of total capacity in the UK market, compared to 21% prior to IAG's acquisition of bmi.
The revenue loss for Star could be greater proportionally given London's high-value premium market. Although it was mainly other Star carriers that linked Heathrow to Star hubs, leaving bmi to focus on regional and niche routes, Star may find itself with a decreasing customer base in London as the bmi exit has reduced options to give patronage to Star carriers.
UK capacity share (% of seats) by alliance: prior to bmi leaving Star
UK capacity share (% of seats) by alliance: after bmi leaving Star and transitioning to oneworld
At London Heathrow, the sale of bmi leaves Star much weaker and reduces its capacity share by 2 ppt to about 19%. In contrast oneworld's share of seat capacity at Heathrow has increased to about 55%.
The condensed market share, the loss of a UK based airline and the unaccommodating Heathrow premises for Star Alliance passengers (its member airline operate mainly from terminal 1 and terminal 3, with still some flights leaving from terminal 4, which makes connecting very cumbersome and confusing) could well have a further downwards impact on Star's traffic at the airport. Star tells CAPA that it "keeps the planned co-location of all Star carriers in terminal 2 high on the agenda in spite of bmi's departure. We continue to work with BAA and our requirements have not changed with the departure of bmi from the alliance."
London Heathrow capacity share (% of seats) by alliance: after bmi leaving Star and transitioning to oneworld
Star loses UK domestic and international connectivity
bmi operates on a network of 44 passenger destinations, including nine in the UK, 18 in Europe, seven in Africa, seven in the Middle East, and three in Asia-Pacific, according to Innovata data. About 63% of bmi's capacity (seats) is deployed on domestic routes and 37% on international routes. The majority of bmi's capacity is deployed from Heathrow.
From a network point of view, bmi's exit comes with a loss to Star of just seven airports worldwide: Amritsar in India; Groningen in the Netherlands; Esbjerg in Denmark'; and Belfast City, East Midlands, Norwich and Leeds/Bradford in the UK. All routes operated by bmi Regional on behalf of bmi are part of the exit, Star tells CAPA. bmi Regional connects UK regional airports with other Star airlines' hub, such as Glasgow-Copenhagen, East Midlands-Frankfurt, East Midlands-Brussels, Edinburgh-Zurich and Leeds/Bratford-Brussels. Bmi Regional also operates a number of domestic routes from Heathrow under the BD code.
IAG on 10-May-2012 signed a binding agreement to sell bmi Regional to Sector Aviation Holdings Ltd (SAH) for a total consideration of GBP8 million in cash. The sale includes all of bmi Regional's fixed assets and long-term liabilities, including owned and operating lease aircraft. The sale is conditional to the approval of the UK CAA.
See related articles:
IAG first quarter loss doubles on shabby Iberia performance and pilot strikes
British Airways/IAG with bmi looks to re-establish world leadership – and long-term survival
IAG acquisition of British Midland would give British Airways 20%-40% capacity increase at Heathrow
Star has lost connectivity in all but one of bmi's 20 largest routes. On all ten largest bmi domestic routes and nine of the carrier's 10 largest international routes in terms of seat capacity, bmi is the only Star member airline operating (see Background Information). The only exception is Heathrow-Cairo, which is also operated by Star member EgyptAir.
As part of a series of restructuring and cost saving exercises bmi over the past years pulled out of most routes connecting London Heathrow with the main Star Alliance hubs in Europe and left them in the hands of the main Star carrier on these routes, and these consequently are not touched by the bmi exit. Star has a presence on Heathrow-Frankfurt and Heathrow-Munich with Lufthansa service, Heathrow-Copenhagen and Heathrow-Stockholm Arlanda with SAS service, Heathrow-Vienna with Austrian service, Heathrow-Istanbul with Turkish Airlines service, Heathrow-Brussels with Brussels Airlines and Heathrow-Zurich with SWISS.
Two so far: bmi departure follows on Spanair demise
The Apr-2012 bmi departure from Star Alliance follows the loss of Spanair in Jan-2012. The Spanish member, which filed for bankruptcy on 27-Jan-2012 after continual financial difficulties and despite several capital injections from the regional government, places Star in the uncomfortable position of being the only alliance without a home based carrier in Spain and the Canary Islands (although admittedly a problem not entirely evident in the current economic climate). Star's share of capacity in the Spanish market is now only about 5%.
Spain and Canary Islands capacity share (%) of seats by alliance: 14-May-2012 to 20-May-2012
At time of Spanair's collapse, 59% of the carrier's capacity based on available seats was allocated to the domestic market. Spanair's largest base was at Barcelona El Prat, with Madrid Barajas a third smaller. The carrier also held notable presence at Spain's islands.
Spanair's top 10 domestic routes (seats per week): prior to collapse
More than half of Spanair's largest international routes in terms of seat capacity connected to Star Alliance hubs or bases, such as Copenhagen, Frankfurt, Munich, Stockholm and Hamburg.
Spanair's top 10 domestic routes (seats per week): prior to collapse
TAP could be the next carrier to leave Star Alliance
There could be more bad news for Star Alliance. IAG has publicly expressed its interest in acquiring TAP Portugal, although during the recent 1Q2012 IAG results presentation to analysts IAG CEO Willie Walsh appeared less enthusiastic about the possible purchase indicating oneworld would not need TAP's extensive network into Latin America if the new LATAM Airlines Group chooses to join oneworld over Star.
LATAM Airlines Group, which is the new parent company being established as a result of merger of oneworld member LAN and Star member TAM, is expected to select oneworld. But even if IAG decides against pursuing TAP, LATAM itself could make its own bid. LATAM is interested in potential acquisitions outside Latin America and TAP would make sense give the carrier's strong network in the region and Portugal's historic and economic ties to Brazil.
See related article: oneworld favoured with more at stake than Star in LAN-TAM alliance decision
If IAG or LATAM acquires Portugal's TAP, Star would be left without any presence in the Iberian peninsula. Based on Innovata data, Star's capacity share in Western Europe would contract to about 20% whereas oneworld's would expand to about 16%.
Western Europe capacity share (% of seats) by alliance with bmi and TAP in Star: 14-May-2012 to 20-May-2012
Western Europe capacity share (% of seats) by alliance with bmi and TAP in oneworld: 14-May-2012 to 20-May-2012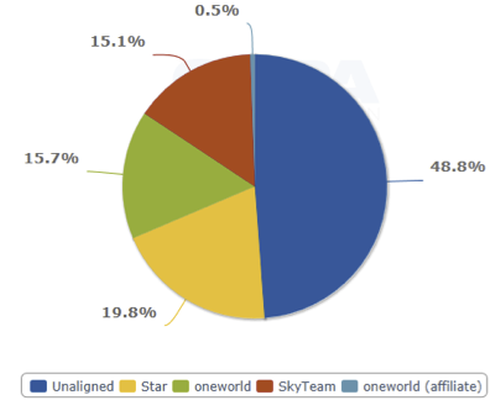 IAG's interest in TAP is primarily TAP's network into South America, mainly Brazil where it serves nine destinations. The European Commission probably will have a thorough look at IAG's plans to own the Iberian peninsula's two main carriers, Iberia and TAP, but Portugal has to sell TAP to comply with the terms of a EUR78 billion bailout package from the European Commission and the International Monetary Fund.
Star Alliance would not want to see TAP go to a competing alliance. Lufthansa Group CEO Christoph Franz on 16-May-2012 for the first time explicitly expressed an interest in buying the Portuguese carrier. "I am absolutely ready to go on with regard to consolidation if there are valuable targets. That is not something we are excluding," Mr Franz said in an interview with the Financial Times. "[TAP] is one of the larger carriers who manage the gateway to Latin America, and that is clearly a good reason to at least listen if your colleagues [at TAP] are giving you a phone call."
Mr Franz's statement reflects Lufthansa's - and Star's - deep concern that oneworld could swallow up TAP. Previously it seemed Lufthansa would not be interested in further expanding its portfolio of carriers. Mr Franz in recent months has instead emphasized the need to increase his group's EBIT margin and has said that the focus would be on turning around or divesting the loss-making acquisitions of the past years and not buying more airlines. The apparent U-turn on TAP indicates the seriousness of the situation and the need for Star to retain TAP.
New Star members in growth markets cushion the loss of European members
As airlines consolidate the landscape of the alliances is changing. LATAM is expected to join oneworld, which would give IAG a strong Latin America presence. Adding TAP – the largest carrier between Europe and the emerging market of Brazil – is compelling. Not to be overlooked is TAP's African network, which IAG has previously mentioned is also of interest. But with TAP, IAG would have hubs in three cities and, as it now stands, London and Madrid are relatively isolated from each other with few network synergies realised from the merger.
If TAP ends up in oneworld, Star will lose three European member airlines in one year. It will make oneworld even more dominant in the Iberian peninsula and South America. LATAM's expected selection of oneworld would also result in the loss of another member for Star in Brazil's TAM, although TAM would likely not formally leave the alliance until next year.
While losing four members seems like a big blow for Star there are now four new members in the process of joining the alliance, three of which are expected to be formally added by the end of this year: Avianca-TACA and Copa, which will mitigate the impact resulting from TAM's expected exit, and Shenzhen Airlines. As a result Star should end 2012 with at least the same number of members it started the year with – 27. While the loss of European members is painful, Star overall is still relatively strong in Europe, particularly Central Europe. Given current market conditions, losing members in Europe while gaining members in growth markets such Latin America and China is not necessarily a bad scenario.
Background information
bmi top ten domestic routes by capacity (seats per week): 14-May-2012 to 20-May-2012
bmi top 10 domestic routes: other operators
Route

Operators

LHR - BHD

Bmi

LHR - EDI

Bmi

LHR - MAN

LHR - ABZ

Bmi

LHR - NCE

Bmi

MAN - ABZ

Bmi

EDI - MAN

Bmi

RUH - DMM

Bmi

NAS

JED - RUH

Bmi

NAS

ABZ - NWI
bmi top ten international routes by capacity (seats per week): 14-May-2012 to 20-May-2012
bmi top 10 international routes: other operators
| | |
| --- | --- |
| DUB – LHR | |
| LHR – BSL | |
| LHR – DME | |
| LHR – BEY | |
| LHR – NCE | |
| LHR – AMM | |
| LHR – CAI | |
| LHR – EVN | |
| EVN – IKA | |
| LHR – GYD | |