Beijing and Frankfurt to be first international Boeing 787 destinations for ANA
All Nippon Airways (ANA), the launch customer of the B787, has announced the first international routes for the much-anticipated aircraft: the Tokyo Haneda-Beijing and Tokyo Haneda-Frankfurt sectors. ANA's international growth is largely built around the delivery of the B787 - an expansion agenda that has been frustrated by a series of delays to the new aircraft. ANA has labelled the B787 "a game-changing aircraft" marking a "new horizon for aviation and the company".
ANA will introduce its B787 equipment initially as follows:
International routes: The B787 will operate its regular long-haul international operation on the Tokyo Haneda-Frankfurt sector, a new route to operate from Jan-2012, initially with three times weekly frequency, increasing to daily in Feb-2012. The date services begin and other information will be released as soon as they are confirmed. The service will be operated as part of the ANA/Lufthansa JV. The aircraft will also be used on the Haneda-Beijing route from Dec-2011, marking the aircraft's first regular international service. The B787 will be operated on the route "approximately once a week", until the Haneda-Frankfurt service commences the following month. Further details of the date the service will begin and other information will be released, alongside those of the Haneda-Frankfurt route, when confirmed;
Domestic routes: The B787's first regular domestic service will be the Haneda-Okayama route starting on 01-Nov-2011, with a flight on the Haneda-Hiroshima route also departing the same day. By the end of this fiscal year, the aircraft will be successively used on routes connecting Haneda with Itami, Yamaguchi -Ube, and Matsuyama;
Charter and excursion flights: As previously announced, ahead of its regular services, ANA will also operate a special charter service between Narita and Hong Kong on 26-Oct-2011 and 27-Oct-2011. It will be the world's first B787 passenger service. From mid Sep-2011, premium package tours incorporating Business Class charter services will be sold in a charity auction websites. Excursion flights departing to/from Narita will also be operated, on 28-Oct-2011 and 29-Oct-2011.
By the end of Mar-2012, ANA is expected to further expand its international B787 network, with routes to US and/or Europe from Tokyo Haneda, rather than Narita, Japan's traditional long-haul gateway. The international route plan is part of ANA's drive to become Asia's largest international carrier, Senior Executive Vice President Mitsuo Morimoto said. ANA had surpassed Japan Airlines as Japan's largest international carrier by the end of FY2010.

Operating from Tokyo Haneda, the B787 aircraft will expand the carrier's network for its existing 76 destinations. As soon as the first one is operational, things will move quickly. Twelve B787s – two a month – are due for delivery by Mar-2012, to be followed by eight B787s in the following year. ANA, the launch customer for the aircraft, has ordered 55 of the type for deployment on both domestic and international routes.
ANA B787 interior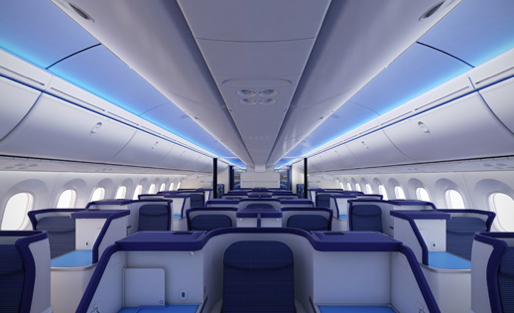 ANA's Tokyo Haneda expansion coincides with B787 deliveries
Coinciding with the B787 deliveries, ANA is also taking advantage of the increased number of slots at Tokyo Haneda it believes will further enhance its competitiveness and provide the opportunity to regain international travellers from its Asian rivals.

Tokyo Haneda Airport is ANA's "biggest source of revenue", having undergone a once-in-a-generation expansion in 2010 as a new fourth runway opened for the winter 2010/11 schedule. The result was a massive increase in the number of available slots, notably for international long-haul services, where previously the airport had been limited to domestic operations. The newly available capacity at Haneda, as well as at Narita, along with JAL's downsizing, conveniently made expansion and new entry possible for ANA. A further increase in runway slots is planned in the medium term, representing an opportunity for ANA group to expand operations in what is becoming an intensely competitive business environment.
ANA revises flight schedule for 2HFY2011
The carrier has separately announced its revised flight schedule for 2HFY2011. ANA noted that although demand for air travel was severely affected by the Great East Japan Earthquake, it is now recovering gradually.

Upon the release of the carrier's financial results in late Jul-2011, ANA noted that traffic "bottomed out" in the second half of Apr-2011 and business demand for both domestic and international services is rebounding. ANA Senior Vice President Eiji Kanazawa, noted that Japanese aviation "remains in a severe condition, though a recovery can be seen in some parts". He added although despite the gradual recovery, "our view is that it will take until the end of this fiscal year for demand to return to the pre-disaster levels."
See related article: ANA first quarter losses widen but full year profit still expected. Some B787s deferred.
The second half network changes will involve the launch of a number of new domestic and international routes and the introduction of larger aircraft and increased frequencies on some city pairs. On a number of domestic routes, frequencies will be decreased to reflect demand. Details, in addition to the separate B787 network announcement, are as follows:
International network: ANA will be improving and expanding its network with a new route between Chubu Nagoya and Hong Kong and changes aircraft type on the Narita-Xiamen/Guangzhou routes. The carrier will suspend daily Chubu Nagoya-Shanghai service and reduce Narita-Shingyang and Narita-Chengdu frequency;
New international cabin product: ANA's new "Inspiration of Japan" product on the B777-300E will be introduced on the following routes as ANA gradually refurbishes its fleet. From Oct-2011, the product will be deployed from Narita to Paris, with San Francisco (06-Dec-2011) and Los Angeles (21-Jan-2012) to follow;
Domestic network: As demand recovers gradually following the earthquake, ANA continues to focus on achieving a balance between supply and demand by increasing or decreasing flight frequency in accordance with market conditions. The carrier will launch or resume nine domestic routes and suspend or reduce frequency on 12 domestic routes;
Cargo services: ANA has decided to increase cargo flights to China and Southeast Asia on the following routes to take advantage of increasing demand and improve aircraft utilisation. (See appendix for more information)
APPENDIX: ANA 2HFY2011 schedule changes
ANA new international routes for 2HFY2011

ANA suspended international routes for 2HFY2011

ANA international aircraft changes for 2HFY2011

ANA new domestic routes and increased frequencies for 2HFY2011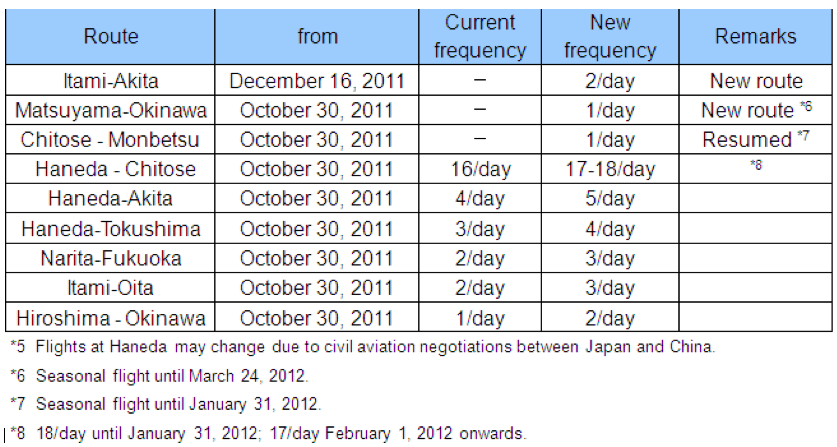 ANA suspended domestic routes and decreased frequency for 2HFY2011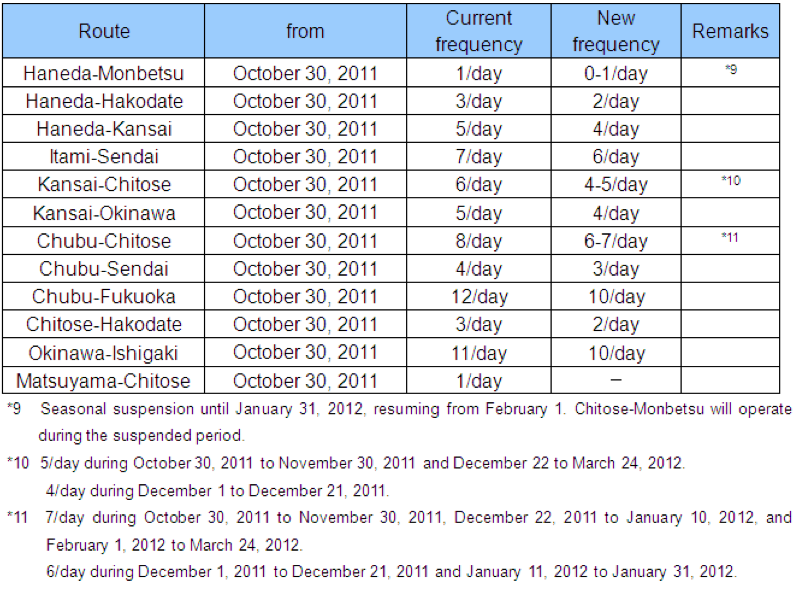 ANA cargo service changes for 2HFY2011