Australia-India a market of large potential, but dream unlikely to become a reality in 2012
Analysis
India-Australia is a largely untapped market with significant potential, given both the volume of trade, tourism and VFR traffic between the two nations, yet it remains without direct air service. Several factors are at play here. Few aircraft types of the appropriate size are capable of non-stop service in both directions; and the sixth freedom competition from carriers such as Singapore Airlines creates a high hurdle.
India's international carriers remain financially challenged while Qantas is also suffering losses across its international network and is similarly focusing on profitable, higher-yielding markets.
At the same time, concerns centre on the yield-generating ability of India-Australia services and the need for beyond traffic rights to make the routes profitable. However, Sydney Airport CEO Kerrie Mather has said that the market has evolved so rapidly over the past 10 years that India-Australia routes are now able to be supported in their own right, supported by USD20 billion in annual trade between the two nations.
Air India's plans continue to be delayed
Meanwhile, Air India's plans to launch service from India to Australia have again been delayed, leaving both Melbourne and Sydney without their much-anticipated connection to India. Air India filed for landing and take-off slots to operate Delhi-Sydney-Melbourne from Oct-2012 with newly-delivered Boeing 787 equipment, although this has not become a reality. The carrier is now unofficially stating the service would not be launched until 1Q2013 (in three to four months time). Whether this happens, remains to be seen.
Potential for India-Australia services in Mar-2013, but 'planets are aligning'
Ms Mather, speaking at the CAPA India Aviation Summit last month, confirmed Air India's latest delays to its Sydney service and noted that the airport is open to any Indian airline operating to Sydney (the airport has met with Air India, Jet Airways and the Civil Aviation Minister regarding potential services). On the Air India service to Sydney, she said the 787 was the ideal aircraft to fly the route, while adding the "planets are aligning" for the launch of the route (Delhi-Sydney and Delhi-Melbourne sectors are among the 11 new international routes allocated to the carrier by the Ministry in 2012).
Tourism Australia MD, Andrew McEvoy similarly last month told the Australasian Hotel Industry Conference that he regarded the launch of Air India services to Australia before the end of 2012 as unlikely, given the limited selling period Air India would have if service were to be launched this year.
Stressing that it was only his personal view, Mr McEvoy predicted that a probable triangular service between Delhi, Sydney and Melbourne may launch in 1Q2013, possibly Mar-2013. Comments by the carrier on the sidelines of the CAPA India Aviation Summit at the end of Oct-2012 indicated a similar timeline. However, the commentary from Ms Mather indicated that the launch of services will only be believed when there is an actual Air India aircraft on the tarmac. Similarly, Melbourne Airport said it would welcome services but noted that there was no agreed timeframe. "We look forward to the day it does happen," the airport said.
While no Australian or Indian carriers operate non-stop services between the two countries, Qantas, Virgin Australia and Jet Airways serve the route through codeshare arrangements. Ms Mather, who has been strongly promoting services connecting the two countries both on behalf of the airport and Tourism NSW, noted the India-Australia route is the largest underserved route for both countries, noting the enormous potential of the services, which has currently been captured by carriers such as Singapore Airlines, Malaysia Airlines and the Middle Eastern airlines, offering connections over their respective hubs.
Meanwhile, Sydney Airport notes that non-stop access remains a challenge, in face of a growing number of connecting services offered via Southeast Asia. This includes some of the most competitive pricing in the region; most recently the AirAsia group launched new routes connecting Sydney (and other Australian points) via Kuala Lumpur to major East and South Indian destinations.
Most Indian travellers to Australia presently travel through Southeast Asian hubs in Singapore, Bangkok and Kuala Lumpur. Singapore Airlines and its subsidiary Silkair currently offers the most frequent one-stop connections between 11 Indian and six Australian cities (capturing 31% of the total market in the 12 months to Jun-2012), including codeshare arrangements with Virgin Australia. Malaysia Airlines has also seen strong growth, from 8% of the market three years ago to 20% in 2012. Qantas has a codeshare agreement with Jet Airways from Singapore.
Key airlines and share of passengers between Australia and India (indirect and direct capacity flows): 2012
On Sydney-India routes, Southeast Asian carriers have a combined market share of around 59%. Singapore Airlines has a 42% share of the Sydney-India market, with Malaysia Airlines having 16% and Thai Airways a 9% market share.
Indian passenger share between India and Sydney by airline: 2007 to 2012
Sydney-India air traffic flows: 2012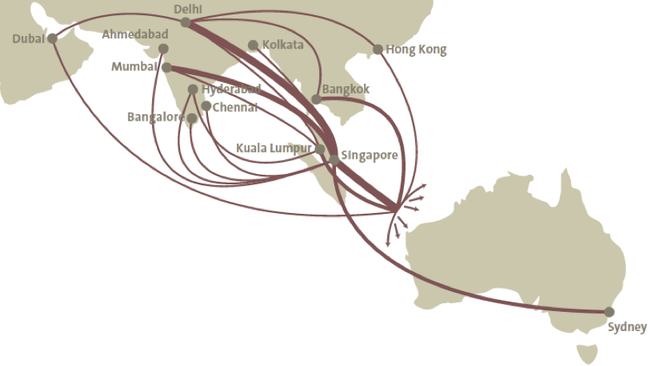 Air India operated between India and Sydney until 1991, while Qantas operated non-stop India services until Jun-2009 when it replaced its three times weekly non-stop A330-200 Sydney to Mumbai services with a Singapore-Mumbai service. This service was terminated in May-2012. The air services agreement allows sufficient capacity for airlines of both sides to commence services should they choose to. The most recent agreement between India and Australia was signed on 06-Mar-2006, permitting 6,500 weekly seats from both sides including access for Australian carriers to operate to/from Mumbai, New Delhi, Kolkata, Chennai, Bangalore and Hyderabad, and access for Indian carriers to operate to Sydney, Melbourne, Brisbane and Perth.
Enough demand to fill four daily services between India and Sydney: Sydney Airport
According to Ms Mather, "India is currently Australia's largest unserved route with no direct flights between India and Australia". She continued, "In 2011, Sydney recorded 120,000 visitors on the Delhi-Sydney route and 60,000 passengers on the Mumbai-Sydney route. This is enough to fill four daily direct flights. We are currently seeing double-digit growth in traffic from India to Sydney. Asian and Middle Eastern carriers are taking advantage of this traffic between both countries through their hubs in Singapore, Hong Kong, Dubai, etc."
Direct services between India and Sydney would lead to significant growth in traffic. Sydney Airport continues to stress that India is a "priority market" which has a high potential for growth with direct services. To support the links, Sydney and Delhi Airports in Apr-2012 signed a strategic partnership intended to encourage co-operation in route development, passenger facilitation and infrastructure development and planning.
Sydney Airport destination market analysis: India
India-Sydney and India-Australia markets
Meanwhile, Mr McEvoy said direct services between the two countries would give the market a "shot in the arm" but reiterated it would not be the "panacea". Several carriers already operate one-stop services from India through Asia which serves the markets well. However, Mr McEvoy added he was keen to see a direct codeshare service between Jet Airways and Qantas. The two carriers already codeshare through Singapore.
India a large – underserved – tourism market for Australia
Starting from a low base of 41,000 in 2000, Indian arrivals have grown at a compound annual growth rate of 12.3% to reach 148,200 visitors in 2011 (+7% year-on-year). In Tourism Australia's Tourism 2020 projections, India has the second fastest rate of growth, behind China, albeit from a much smaller base, with the potential for longer-term growth also considerable, given the growing middle class and large population base in the Indian market. The Strategy estimates that India has the potential to grow to between AUD1.9 billion and AUD2.3 billion (USD2.0 billion and USD2.4 billion) in total visitor expenditure by 2020.
India potential for overnight tourism expenditure (total expenditure including pre-paid international air fares and packages) in nominal terms (000s)
In 2011, Indian visitors spent a total of 9.4 million nights in Australia, up 11% on 2010 levels, while Indian visitors spent a total of 1.4 million nights outside Australia's gateway cities of Sydney, Melbourne, Brisbane and Perth, up 33% on 2010. Australia ranks eighth amongst all out-of-region outbound destinations for Indian travellers.
Australia's Tourism Forecasting Committee's Forecast (April 2012) estimates that arrivals from India will increase by 5.7% in 2011/2012 and 6.8% in 2012/2013, with a compound annual growth rate of 7.5% between 2010/2011-2015/2016. Meanwhile, overall trade between the two nations stands at around USD20 billion, with the potential to double over the next four years, according to Ms Mather.
In 2011, India was Australia's 11th largest inbound market for visitor arrivals, 10th for total expenditure and sixth for visitor nights, according to Tourism Australia. Visitors from India to Australia generated AUD0.8 billion (USD0.8 billion) in total expenditure in 2011. Of the total Indian visitation to Australia, 52% were repeat visitors and an also high 52% were leisure visitors with an average spend of AUD6,033 per visit. But Australia ranked only 18th among all outbound destinations for Indian travellers, a 1.0% market share.
International arrivals from India to Australia
International arrivals from India to Australia: Visitor nights and Total Inbound Economic Value (TIEV)
Sydney Airport estimates Indian visitor numbers to grow by more than 16% by 2020
Sydney Airport noted that while the Sydney-India market has grown substantially over the past four years, with 6.3% compounded annual growth, the Indian originating and beyond traffic segments have been severely constrained by the loss of direct Qantas services.
The Airport is more bullish on expansion prospects, estimating that Indian visitors to Sydney will grow by more 16% annually over the next seven years, after growing at 11.5% year-on-year in the 12 months to 30-Jun-2012 as Indian national numbers grew at 9.8%. Another source, the NSW Visitor Economy Taskforce (VET), estimates that there were 69,000 visitors to NSW from India in 2011 with a total expenditure of AUD0.2 billion (USD0.2 billion). VET has set the target of increasing this to 146,100 visitors spending AUD0.5 billion (USD0.5 billion) by 2020, 150% more than in 2011 levels.
NSW Visitor Economy Taskforce tourism estimates by market
According to Sydney Airport, India is poised for strong growth akin to China (estimated to be over 16% per annum) and its current population of 1.1 billion will grow by 371 million by 2026, taking it beyond China's current 1.35 billion. Sydney Airport considers India "a rising giant with high growth in international travellers who have a high propensity to travel". The biggest markets are Greater Mumbai (18.4 million), Delhi (16.3 million), Kolkata (14.1 million), Chennai (8.7 million) and Bangalore (8.5 million).
India's top 10 cities by population size
The economy of India is the 10th largest in the world by nominal GDP and the third largest by purchasing power parity (PPP). During the next four decades, and despite recent hiccups, GDP is expected to grow at an annualised average of 8%, making India potentially the world's fastest-growing major economy until 2050.
India GDP, inflation and population forecasts: 2006 to 2013F
According to the High Commission of India in Australia, India was Australia's fourth largest export destination for its goods and fifth largest trading partner in goods and services in 2010/2011. Australia was India's eighth largest trading partner in the same period.
India-Australia trade in goods (AUD): 2005 to 2011
Australia is India's 10th largest source country
According to India's Bureau of Immigration, Australia was India's 10th largest source market in 2011, with 186,000 foreign tourist arrivals. This equated to 2.96% of the market.
Top 10 countries by foreign tourist arrivals in 2011
Market potential considerable but direct services remain the key to real growth
As Australia and India embark on an ambitious plan to double two-way trade to USD40 billion by 2015, a direct service between the two nations is a must. India is a country with a booming economy, a population of 1.2 billion and a booming middle class. Australia is strongly focused on attracting this market, with the India 2020 Strategic Plan focused on the tourism potential of India and developing the economic benefit of such a market.
However, the lack of direct service between the two countries is limiting this potential, with the long travel time (with a stop over in Asia or the Middle East required) and the strength of the Australian dollar being key detractors. Whether Air India launches its much-anticipated Australia services with its 787 fleet in 1Q2013 is still uncertain. But it will not be until a stable operation is established that the true potential of the market can be achieved.
APPENDIX: International tourist arrivals from India to Australia