Global alliances vie for blue chips in Latin America
In a move that is doubtless designed to blunt the dominance of oneworld in South America, current and future Star Alliance members have announced their intent to embark on a codesharing initiative that will strengthen the alliance in the region.
The partners in this effort are United, now of course including the Continental routes, Copa, Copa Colombia and Avianca/TACA. Geographically, this grouping encompasses the primary carriers in Central America and the most dominant airline on the northern region of South America.
Key piece still missing
Still unknown, and key to the final resolution of the alliance battle, is the affiliation of TAM once the LATAM links are solidified. Should TAM remain with Star, that group's influence will stretch from Texas to the Argentine border. However, if the LATAM group all has oneworld ties, the power axis will shift east to American's Miami hub and include the major economic powers in the region.
Copa and Continental have a long history together. In the late 1990s, Continental owned 51% of the central American carrier, but through public offerings that has now dropped to about 10%. Nonetheless, these historical links will significantly aid the group as it integrates service and benefits.
Forging links for the future
One of the primary goals of the cooperation is to provide a seamless connection between markets in Asia and Latin America. The chart, taken from a previous CAPA article; "Copa's hub touted as ideal link between economic powerhouses: Asia and LatAm", shows just how the two regions are becoming more intertwined.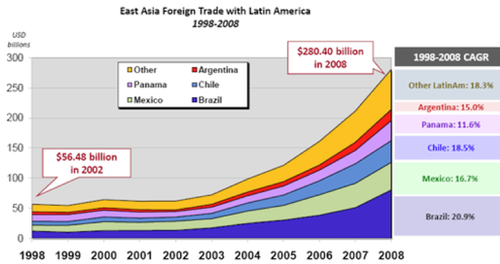 Copa's broad regional network, linked to Asian members of Star that might serve Panama, is seen as the ideal way for travellers to shuttle between the two markets, providing a route over the Pacific that avoids the complex visa requirements that plague travel via the US.
Complex retooling
Achieving the proposed integration will not be without its challenges. The airlines currently have routes that overlap, codeshares with airlines in other alliances and services in New York that use different airports.
Plus there is a great deal of alliance turf-treading in the region. LAN has just bought Aires, Colombia's second largest carrier and Copa has a Colombian subsidiary that directly challenges it new partner, Avianca. TACA also has a substantial operation at Lima that directly confronts oneworld's LAN Peru.
The former United was very poorly represented in Latin America, a problem solved by the merger with Continental, which has a substantial presence in the region. It is probably safe to assume that the focus of this coordination will primarily be at Houston and Newark. However, currently the Latin American partners are operating at JFK.
Connections between primary United hubs in SFO, DEN, CHI and WAS and Bogota are non-existent, except at IAD where Avianca currently operates in codeshare with Delta. A number of TACA services at Lima carry either TAM or LAN flight numbers as well.
When contacted, a spokesperson for Avianca/TACA noted that TACA is already present at both Los Angeles and San Francisco, with double daily flights to San Salvador. But currently connections from these services are limited to a few regional destinations. However, the response also indicated that the overall plan includes expansion of service between US hubs and Bogota, significantly challenging the current strength of oneworld due to LAN's strong presence, especially in California.
Biggest loser is Skyteam
Clearly, there will be some significant house cleaning and rearrangement of network furniture. Skyteam airlines will continue to lag as their competition in the region further organises itself, and the addition of Aerolinas Argentinas will provide limited consolation.
In terms of the other two alliances, a final assessment will only be possible after the sorting is done at LATAM.
If TAM remains a Star member, the two alliances will be rather evenly matched, but with different strengths.
Much of this speculation is based on the status quo, which has not existed in the region for some time. LAN has been aggressive in starting affiliates in areas where opportunity exists, or as in the case of AIRES, buying a presence. The spread of TACA from a Peruvian base shows that Star partners are equally willing to plant an operation elsewhere, so the real or perceived weaknesses of either side may disappear over time—except for SkyTeam.
Latin American airlines are now setting the standards

Having for decades been a quiet aviation backwater, with a series of failed and dubiously funded airlines, Latin America is emerging not only with strong, world-class airlines, but also with a level of innovation, creativity and consolidation that is setting a new global standard.
The final configuration is still unclear but the process keeps revealing surprises. Undoubtedly there will be more to come, as the global alliances press to gain coverage of what promises to be a valuable long term market.